A shock to the system
Andalusia knocks Anniston out of 4A playoffs with a stunning last-minute punt return; Anniston led 21-0 at halftime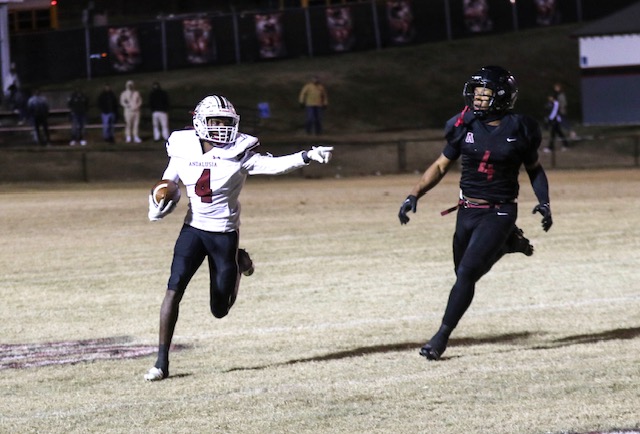 CLASS 4A PLAYOFFS
Andalusia 35, Anniston 28
Montgomery Catholic 21, Handley 14
Oneonta 62, Deshler 21
Cherokee County 35, Randolph 21
By Brant Locklier
For East Alabama Sports Today
Shocked. Stunned. Numb. Pick any of those words to describe the way the Anniston football team felt after the way their Class 4A playoff game ended Friday night.

Two great storied high school football programs, separated by 237 miles, met for the first time ever Friday night in the third round of the Class 4A state playoffs and produced a game for the ages.

In a battle of highly ranked Bulldogs, Andalusia rallied for 28 points in the final 9:45 of the game to stun Anniston 35-28 and won it on a very special last-minute special teams play..

The clinching score came with 27 seconds left as Tycamron Jackson took a punt at midfield, got around the corner and sprinted down the Andalusia sideline, diving for the end zone, to break a 28-28 tie and put Andalusia ahead for the first time in the game.
"I just caught it and thought if I could get around the first guy that I might have a chance and I just ran as fast as I could and I got in the endzone," Jackson said.

Andalusia head coach Trent Taylor said, "We had the block on and everybody was going after the block and we got a touchdown return instead," Andalusia coach Trent Taylor said. "It shows you what us coaches know."

When it was over, the Anniston players fell to the turf or slumped on the bench stunned at the way their season had come to an end. They had led 21-0 at halftime.

Each of the last three years Anniston has been eliminated in the playoffs by a spirit-crushing defeat. The Bulldogs were put out in last year's first round 28-26 by St. James and lost to Bibb County in the second round of the 2020 playoffs 29-28 when their game-winning field goal attempt with five seconds left just missed. Neither of those Anniston teams had the record this year's state title hopeful had.
It was that kind of game.

Anniston took the ball on their first play and Jaylon Cunningham broke loose in the secondary. He got hit and and the ball flew back 15 yards, recovered by Andalusia at the 50. That was about all the good news Andalusia had in the first half as the Anniston defense shut it down until midway in the second quarter.

Anniston scored on two Kam Sandlin passes to Cunningham and Cunningham ran another one in and with 10:13 to go in the second quarter it looked like the game was over. Anniston led 21-0 and had 190 total yards to Andalusia's 5.

Slowly, Andalusia began to change the momentum. Its next two drives were successful, but produced no points. The south Alabama Bulldogs were stopped on downs at the Anniston 1 and Kaden Denson returned an interception but dropped the ball as he was going into the end and it rolled out for a touchdown. Thus, it remained a 21-0 Anniston lead at the half.

Andalusia began to ratchet things up coming out in the third quarter. It got on the board with a 10-yard run by Jamarion Burnett. Still, the visiting fans from South Alabama thought it was over and the call came in the press box for the Andalusia bus drivers to come heat up the buses.
Nobody told the football team as Andalusia was playing relentless defense while the offense had finally come to life. The bus drivers begin to drift back into the stadium.
Anniston got the ball back and went for it on a fourth-and-two at its own 28 and all of a sudden Andalusia had a chance. It quickly scored on a 2-yard run with 9:47 left and it was 21-14.

Anniston went three-and-out on its next possession and Andalusia's Denson scored on a 14-yard run to tie it at 21 with six minutes left in the game.

Sandlin led Anniston back down the field with a brilliant drive and he scored from 5 yards out with 2:41. It appeared Anniston was ready to put the game away.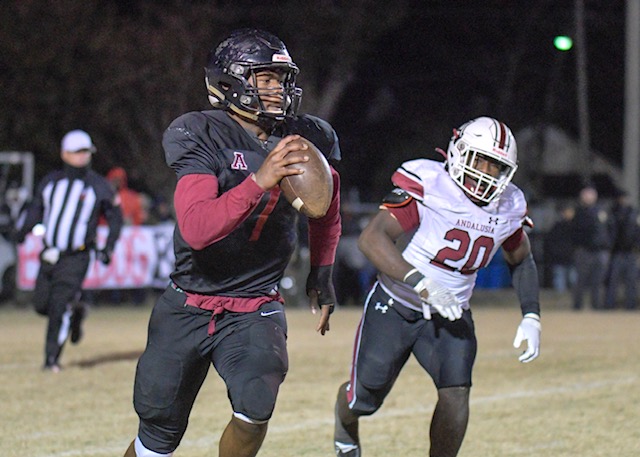 Andalusia had no quit as it returned the kickoff to the 50. Andalusia quarterback Jack Lathrop, 4-of-14 passing at one point in the game, hit on his fifth consecutive pass to get a first down. A penalty on the next play backed it up, but Lathrop found Denson running free for a 53-yard touchdown pass that retied the game at 28.
Anniston ran the kickoff back 60 yards, but there was a holding penalty that put it back to the 9. Three incomplete passes forced it to punt with precious little time on the clock. Jackson brought it all the way back for the go-ahead score.
Both teams played like champions, but Andalusia will move on to face top-ranked Catholic-Montgomery next week in Montgomery for a trip to the state finals in Auburn.

"I told our kids at halftime, don't pay attention to the score and just pay attention to detail.," Taylor said. "We did not change a whole lot in the second (half) in that locker room, but we came out and just played much better. Maybe we were a little lucky, I don't know. What a game!"
Anniston came in undefeated at 11-0 and Andalusia came in 11-1 with its only loss to the team they will face next week.
It is eerie how similar the two programs have been over the years and how the game played out as both teams had 345 total yards in the game.
There were many other similarities:
Both teams were averaging 42.3 points a game this season entering the game and giving up 13 points a game. Both teams are the Bulldogs. Both have team colors that are red, white and black. Both have two state titles in their history and both are covered by local media with the same name.

Their arch-rivals are both black and gold with a big gold O on their helmet (Opp and Oxford). Opp is Andalusia's most common opponent and Andalusia holds 52-36 -4 edge in the series. Oxford is Anniston's most common opponent and Anniston holds 48-27-4 edge. Both are 60 percent winning percentages.
Andalusia has an all-time record of 602-404-39, while Anniston is 595-399-27. Both are winning percentages of 60 percent. Andalusia has won 39 playoff games while Anniston has won 35 playoff games in history.
Both teams highest scoring game was 89 points and those games were in 1933 and 1934. Both teams have over 200 shutouts in their history (Anniston 218, Andalusia 235).
Both teams have their same stadiums that they started with and both were affiliated with minor league baseball teams back in the day. They both have that same concrete block wall around the home side of the stadium.
Both teams had one great coach that now has their name affiliated with the stadium – Don Sharpe (76-7-2) and Chink Lott (90-23-11). They were the winningest coaches in school history. Taylor broke Sharpe's record this year as he is 81-25 at his alma mater.

It's no wonder the game went down to the wire.
| | | |
| --- | --- | --- |
| AND (35) | | ANN (28) |
| 16 | 1st Downs | 13 |
| 29-136 | Rushes-yds | 45-189 |
| 12-25-1 | Passing (C-A-I) | 5-18-3 |
| 209 | Passing yds | 156 |
| 0-0 | Fumbles-lost | 3-3 |
| 6-28.4 | Punts-avg | 3-33.0 |
| 12-72 | Penalties-yds | 6-40 |
| | | | | | |
| --- | --- | --- | --- | --- | --- |
| Andalusia (12-1) | 0 | 0 | 7 | 28 — | 35 |
| Anniston (11-1) | 14 | 7 | 0 | 7 — | 28 |
Ann – Jaylon Cunningham 27 pass from Kam Sandlin (Kam Sandlin kick), 8:11 1Q
Ann – Jaylon Cunningham 14 run (Kam Sandlin kick), 4:59 1Q
Ann – Jaylon Cunningham 39 pass from Kam Sandlin (Kam Sandlin kick), 10:31 2Q
And – Jamarion Burnett 10 run (Byron Stewart kick), 3:54 3Q
And – Jamarion Burnett 2 run (Byron Stewart kick), 9:47 4Q
And – Kaden Denson 14 run (Byron Stewart kick), 6:05 4Q
Ann – Kam Sandlin 5 run (Kam Sandlin kick), 2:41 4Q
And – Kaden Denson 53 pass from Jack Lathrop (Byron Stewart kick), 1:39 4Q
And – Tycamren Jackson 50 punt return (Byron Stewart kick), 0:27 4Q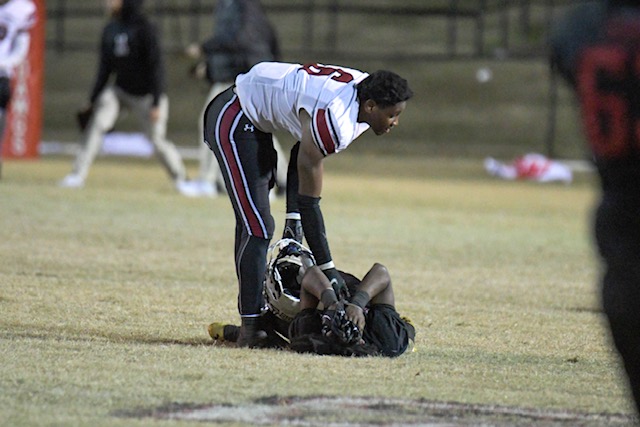 Cherokee County 35, Randolph 21
HUNTSVILLE — Jacob Cornejo rushed for 195 yards and three touchdowns to lead Cherokee County into the Class 4A semifinals, the Warriors deepest penetration in the playoffs since their state championship season of 2009. The Warriors will host Oneonta Friday for a trip to the state finals in Auburn.
| | | |
| --- | --- | --- |
| CHER (35) | | RAND (21) |
| 18 | 1st Downs | 19 |
| 40-234 | Rushes-yds | 31-140 |
| 4-5-0 | Passing (C-A-I) | 18-27-0 |
| 74 | Passing yds | 114 |
| 0-0 | Fumbles-lost | 1-1 |
| 1-34.0 | Punts-avg | 2-34.0 |
| 2-10 | Penalties-yds | 4-25 |
| | | | | | |
| --- | --- | --- | --- | --- | --- |
| Cherokee Co. | 6 | 15 | 7 | 7 — | 35 |
| Randolph | 7 | 7 | 7 | 0 — | 21 |
R – Nic Strong 1 run (J.J. Chung kick)
C – Jacob Cornejo 26 run (kick failed)
R – Nic Strong 14 run (J.J. Chung kick)
C – Malachi Horton 49 pass from Cade Hopper (Jacob Cornejo run)
C – Jack Amos 1 run (Will Frampton kick)
C – Jacob Cornejo 11 run (Will Frampton kick)
R – Nic Strong 1 run (J.J. Chung kick)
C – Jacob Cornejo 5 run (Will Frampton kick)
Catholic 21, Handley 14
MONTGOMERY — Handley's Jay Haynes won the showdown between two dynamic running backs, but Catholic quarterback Caleb McCreary accounted for 176 yards of offense and the Knights' defense kept Handley out of the end zone in the second half to win the Class 4A playoff game.

Catholic (13-0) will host Andalusia Friday for a trip to the state championship game. That winner will face either Cherokee County or Oneonta in Auburn for the title.

Haynes rushed for 217 yards and two touchdowns for Handley, but McCreary offset those gains by passing for 143 yards, rushing for 33 more and scoring touchdowns each way. Handley's defense limited Catholic's Auburn-committed running back Jeremiah Cobb to 69 yards rushing.

The Knights held a 16-14 halftime lead, then shut out Handley in the second half while extending their lead on a Gabe Russo field goal and their second safety of the game.

| | | |
| --- | --- | --- |
| HAND (14) | | CATH (21) |
| 12 | 1st Downs | 13 |
| 39-173 | Rushes-yds | 33-113 |
| 6-16-1 | Passing (C-A-I) | 11-26-0 |
| 106 | Passing yds | 143 |
| 0-0 | Fumbles-lost | 0-0 |
| 5-34.8 | Punts-avg | 8-40.3 |
| 10-75 | Penalties-yds | 9-85 |
| | | | | | |
| --- | --- | --- | --- | --- | --- |
| Handley (11-2) | 7 | 7 | 0 | 0 — | 14 |
| Catholic (13-0) | 7 | 9 | 3 | 2 — | 21 |
H – Jay Haynes 2 run (Landon Bozeman kick), 9:19 1Q
C – Caleb McCreary 21 run (Callan Gadilhe kick), 7:43 1Q
C – Safety, 9:10 2Q
C – Luke Harkless 10 pass from Caleb McCreary (Callan Gadilhe kick), 6:23 2Q
H – Jay Haynes 92 run (Landon Bozeman kick), 1:47 2Q
C – Gabe Russo 42 FG, 8:08 3Q
C – Safety, 0:42 4Q