Eye on the prize
Oxford's Keur, George win Bulldog Twilight races at McClellan with course records, Southside sweeps team titles by narrow margins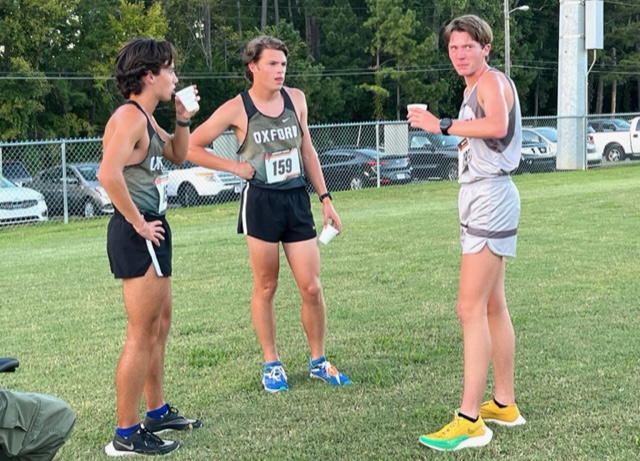 By Al Muskewitz
East Alabama Sports Today

After setting school records in big races Saturday, Oxford's Katie Keur and Noah George were using Tuesday night's Bulldog Twilight race as a heavy training run, but it was hard not to think of it as more than that. If there's a race to run, there's a race to win.

Both Oxford aces won their respective races at McClellan Tuesday evening by wide margins, setting course records in the process. Keur won the girls race in 18:35.93, nearly 40 seconds ahead of friendly rival Maddyn Conn of White Plains. George won the boys race is 16:26.73, slower than he ran over the weekend in Scottsboro, but still 37 seconds ahead of runner-up teammate Evan Somers.

Both winners finished third in this race last year.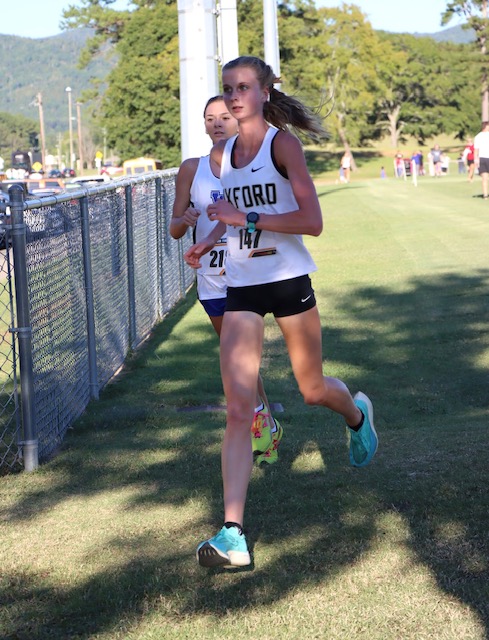 "I really wasn't concerned about placement at all," George said. "I was just going trying to hit the paces that my coach gave me. It got me to a win, but I wasn't really concerned about it."

Normally, the plan is to go out really fast and then throttle back as the race moves along. On this day, the Yellow Jackets took an opposite approach.

It was that reverse approach that helped Keur pull away. All season long she and Conn have been racing shoulder to shoulder. They separated themselves at the start Tuesday, but by the finish Keur was fresh enough to pull away from everybody.

"The plan was to go out the first mile kind of slower and then have negative splits," Keur said. "We went out in the first mile really fast and the second mile was not where I was supposed to be so he told me to speed up the last one. That was the only thing that was different."

Southside swept the team titles, winning a pair of nail biters. The girls scored 50 points and won by one point over White Plains and three over Jacksonville. The boys scored 42 points and won by three over Oxford, the fourth-ranked team in Class 6A.

The difference in the girls race was although White Plains placed all five of its counters in the top 15, the Lady Panthers positioned their top three runners between the Lady Wildcats' first two. 

In the boys race, Southside ran in a pack to help bring some of its other runners up and the Panthers' pack ran closer to the front than Oxford's did, with their top four going 3-5-6-7. After George and Somers going 1-2, the Yellow Jackets went 13-14-15.

"I'm so proud of all of the kids, they've all just improved," Southside coach Kim Nails said. "You're working for these wins all summer long. It's like you're putting money in the bank to draw out, and we were drawing it out today."
Bulldog Twilight
Girls team scores: Southside-Gadsden 50, White Plains 51, Jacksonville 54, Alexandria 78, Clay Central 125, Cedar Bluff 188, Vincent 207.
Boys team scores: Southside-Gadsden 42, Oxford 45, White Plains 92, Alexandria 111, Hokes Bluff 140, Jacksonville 164, Clay Central 185, Donoho 220, Gadsden City 277, Dadeville 279, Cedar Bluff 298, Vincent 352.
| | | | |
| --- | --- | --- | --- |
| GIRLS TOP 10 | | BOYS TOP 10 | |
| Katie Keur, Oxford | 18:35.93 | Noah George, Oxford | 16:26.73 |
| Maddyn Conn, White Plains | 19:14.21 | Evan Somers, Oxford | 17:03.67 |
| Emerson Maniscalco, Oxford | 20:22.04 | Evan Christopher, Southside | 17:17.70 |
| JoJo Watson, Alexandria | 20:56.12 | Jonah Medders, Alexandria | 17:33.25 |
| Emma Easterling, Jacksonville | 21:18.32 | Jackson Griggs, Southside | 17:37.53 |
| Sarah Burger, Southside | 21:34.61 | Max Valentine, Southside | 17:38.76 |
| Sarah Sloughfy, Jacksonville | 21:44.39 | Hayden Tucker, Southside | 17:40.93 |
| Michaela Moore, Alexandria | 22:01.74 | Bryer Morrison, Hokes Bluff | 17:41.71 |
| Mattie Todd, Piedmont | 22:04.52 | Austin Worthy, Clay Central | 18:17.03 |
| Mallory Tucker, Southside | 22:52.12 | Josh Duke, White Plains | 18:20.15 |