Bulldogs battle
Anniston builds big lead, then holds off furious Piedmont rally in fourth quarter to remain unbeaten, knock off a No. 1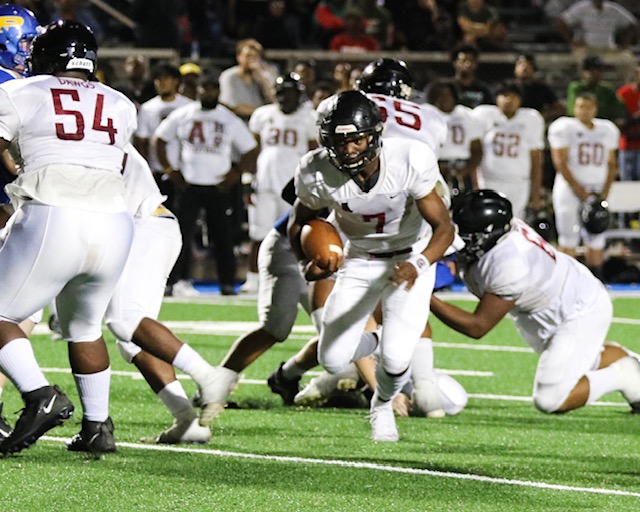 By Al Muskewitz
East Alabama Sports Today
PIEDMONT — Anniston carried a 23-point lead into the fourth quarter Thursday night and Bulldogs coach Rico White was still as nervous as he's ever been on the sidelines.
It was nothing against the resolve of his defense, he just knows the way Piedmont with Jack Hayes at the controls can come back on people.
Top-ranked 3A Piedmont almost pulled off another miracle comeback reminiscent of its state championship rally last December, scoring three touchdowns in the fourth quarter to make a lopsided score close, but it ran out of time and Anniston held on for a 30-28 victory to stay unbeaten.
This Battle of the Bulldogs, the first game between the teams since 1948, was played before a packed house at the Field of Champions, estimated in excess of 2,000.

It's the second year in a row Anniston, 6-0 for the first time since 2001, has beaten a No. 1 team. Last year, it knocked off Handley for a region championship eventually taken away from them by ineligible player forfeits. It is 6-5 all-time against No. 1-ranked teams.
Anniston, the No. 5 team in Class 4A, led 30-7 with 4:28 left in the third quarter and carried that margin into the fourth. But with Hayes on the other side no opponents' lead is ever safe and White knew it.
"The fact we had a big lead and they came back it's a couple of things," White said. 'One, we've never been in this position, especially against a top No. 1 team, so we kind of relaxed, but you can't.
"I told them they're not going to quit. They're champions, that's what they do. I told them at halftime we needed 30 more points. You can't rest on that team, especially with a quarterback like that."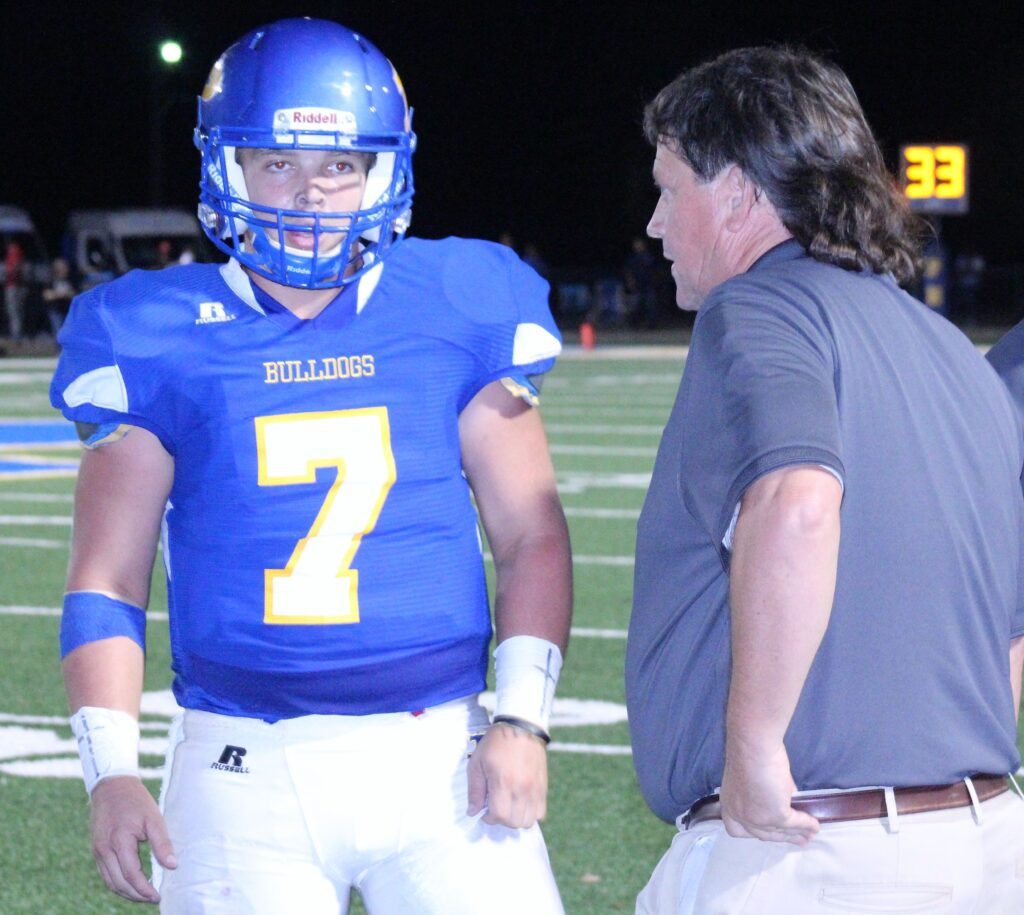 Hayes set the all-time state record for touchdown passes with the first of his three in the fourth quarter. He threw for four touchdowns in the game and extended the all-time record for touchdown responsibility he broke a week ago. Meanwhile, he continues to climb the lists for career completions, passing yardage and total offense.
He threw two touchdown passes to Ish Bethel and one each to Rollie Pinto and Thomas Propst. His 21-yarder to Bethel opened the scoring and tied the record held by Chris Smelley of American Christian and his 20-yarder to Pinto to open the scoring in the fourth quarter — one play after a defensive holding penalty on fourth down kept the drive alive — broke it. Hayes now has 137 career touchdown passes.
"I'm very proud for Jack,' Piedmont coach Steve Smith said. 'He's in that locker room right now and he's just like the rest of them: Jack wanted to win the football game. The record is nice and I know he'll have some time to reflect on that tomorrow (when he's made available to media) and we're very proud of him for all the things he's done for our program, but I think he'll tell you tonight he'd trade that record for three more points there at the end."
Hayes' opposite number, Anniston's Kam Sandlin, threw for two touchdowns and ran for another. He finished with 201 yards of offense. When his 14-yard touchdown run and two-point conversion with 4:28 left in the third put his team up 30-7 he was starting to feel cautiously confident.

"We thought it was over when we got that big lead, but they're known for coming back," Sandlin said.

Touchdown passes 31 seconds apart in the fourth quarter got Piedmont back in it and Hayes' 15-yard TD pass to Propst and two-point conversion pass to Pinto drew it to within 30-28 with 3:49 to play.
Anniston looked to have sealed it on Jaden Dobbins' interception with 1:38 left — his third takeaway of the game — but an illegal procedure penalty on a fourth-down play Sandlin appeared to have moved the chain forced it to punt with 26 seconds left, giving Hayes one last chance to save the day.

The Piedmont quarterback got his team near midfield and his final play ended with a series of laterals Anniston eventually shut down well short of the end zone.
"Everybody who was here tonight saw what these guys are made of," Smith said. "That furious rally you saw there is exactly what I would have expected coming out of the people in our locker room. To be down 30-7 in the fourth quarter and give yourself a chance there at the end, to have a chance to win the football game, I think it says volumes about our players and coaches and everybody not giving up.
"There are no moral victories, I want that printed. There are no moral victories at Piedmont. We lost the game tonight to a team that deserved to win the game. We'll get better from it."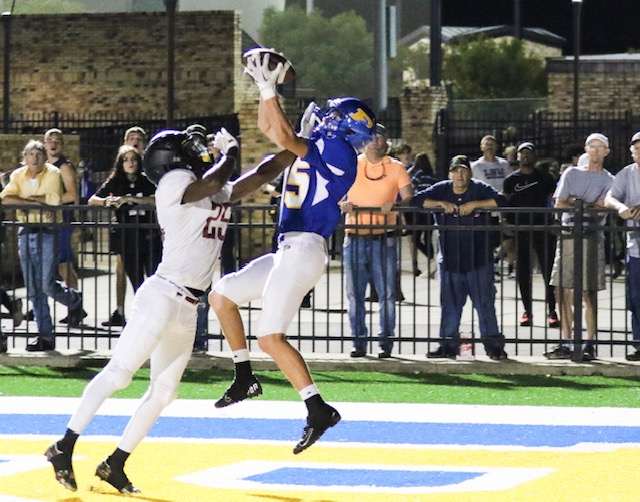 | | | |
| --- | --- | --- |
| ANN (30) | | PIED (28) |
| 14 | 1st Downs | 17 |
| 35-168 | Rushes-yds | 21-64 |
| 13-20-0 | Comp-Att-Int | 14-34-2 |
| 148 | Passing yds | 211 |
| 2-1 | Fumbles-lost | 1-1 |
| 7-30.6 | Punts-avg | 3-41.0 |
| 9-79 | Penalties-yds | 6-47 |
| | | | | | |
| --- | --- | --- | --- | --- | --- |
| Anniston (6-0) | 7 | 0 | 0 | 21 — | 28 |
| Piedmont (3-2) | 0 | 14 | 16 | 0 — | 30 |
P – Ish Bethel 21 pass from Jack Hayes (Sloan Smith kick), 4:52 1Q
A – Louis Lunsford 14 pass from Kam Sandlin (kick failed), 5:42 2Q
A – Jaylon Cunningham 23 pass from Kam Sandlin (Malachi Taylor run), 1:01 2Q
A – Malachi Taylor 42 run (Malachi Taylor run), 10:23 3Q
A – Kam Sandlin 14 run (Kam Sandlin run), 4:28 3Q
P – Rollie Pinto 20 pass from Jack Hayes (pass failed), 8:54 4Q
P – Ish Bethel 31 pass from Jack Hayes (Sloan Smith kick), 8:23 4Q
P – Thomas Propst 15 pass from Jack Hayes (Rollie Pinto pass from Jack Hayes), 3:49 4Q