SKCC Notebook
Early ACC team enjoys the opening round in colorful Hawaiian shirts, tournament leader plays two drivers in round, and more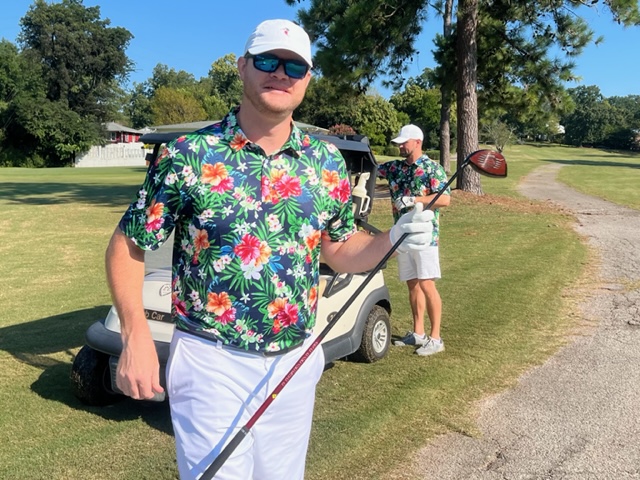 By Al Muskewitz
East Alabama Sports Today

They say if you look good, you feel good and you play good. One team in Friday's opening round of the Sunny King Charity Classic took that to heart and probably won the day as the most colorful team in the field.

Nick Pope and partner Kevin Patton showed up for the first tee time at Anniston Country Club Friday sporting some colorful polos that looked more suited for a beach day in July or poolside at the country club instead of the golf course. The only thing that seemed to be missing from the flowery print was a pink flamingo and a parrot.

You can't argue with the way it made them feel and play. They shot a respectable 1-under-par 69 in the best ball day for mid-range handicaps and had a good time doing it.

"I was in T.J. Maxx, where spontaneous things happen; it's like being at a yard sale," Pope said. "Picking through, I see the flowers, they yell at me, 'Kevin Patton would look good in that.' I can match his flavor, I can match his energy, we might just have a good day at the Anniston Country Club on Friday."

He went on the shopping spree last Friday after work. Patton, a former high school teammate now living in Tennessee, didn't go along, but Pope reached out on Facetime to compare fashion notes.

"I like it," Patton said. "When he sent me a picture of it, I showed it to my wife and she immediately signed off on it. I have to be honest, when he first showed it to me I was a little bit skeptical, but as I thought about it I said we need to something different, we've got to change things up. Played in this before and hadn't played very good and we played good today.

"I think it's a good look for us and we actually played better than I thought we would wearing these particular shirts."

"We looked good, we played good – until the last few holes," Pope said.

Alas, Friday is the only time you're likely to see them at the tournament.

"This is the only one we have," Pope said. "They were on sale because most people buy these at the beginning of the summer, but September we figured we'd be solo in some Hawaiian type shirts and we just went with it."

DOUBLE DRIVERS: Florida pro Jack Stumpfig took a Phil Mickelson approach to his first-ever round in the Sunny King Charity Classic.

He got around Silver Lakes Friday with two drivers in his bag. The longer of the two, which he used more frequently in this round, goes about 10-15 yards farther.

It's likely to be the only time he takes that approach, though. He said for the rest of the week he'll go with one driver and put the 3-wood back in the bag.

SHOTS OF THE DAY: Kyle Glover wasn't the only player in the field to hole out from the drop zone on Heartbreaker 7 for a double eagle-2. Scott Jackson did a little later in the afternoon.

The hole was playing 161 yards and Glover used an 8-iron. It wasn't known what Jackson used, but witnesses said it wasn't an 8-iron.

"It never left the flag," said Landon Straub, who played in the group with partner Jason Johnson. "We got up there and there was no ball. We finally looked in the hole and there it was."

WAITING TO POST: To reduce the specter of any impropriety during the final round while teams are jockeying for their final positions on the leaderboard, tournament officials said they would not be posting the results of the lower flights Sunday until the final group finishes for the day.

There seems to have been a noticeable uptick in the scores within the afternoon pairings in certain flights on Championship Sunday, which the committee attributes to the availability of the early scores and the calculating that results from it.

It's just another way of protecting the field.