This train's moving
After a balky start, UAB rising sophomore Paul Bruce carries a one-shot lead into the final round of the Gadsden CC Invitational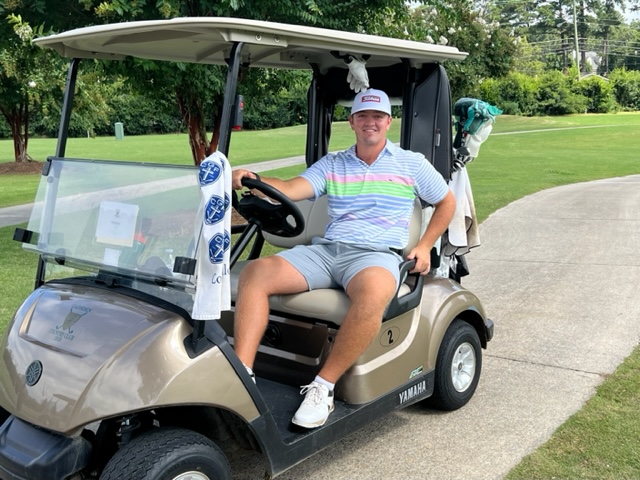 By Al Muskewitz
East Alabama Sports Today

GADSDEN — Paul Bruce watched with interest as the Tom Kim saga unfolded on the PGA Tour last weekend and after catching all of the backstory called it "pretty impressive." Of course, he had no way of knowing he'd be in position to do this same thing this week.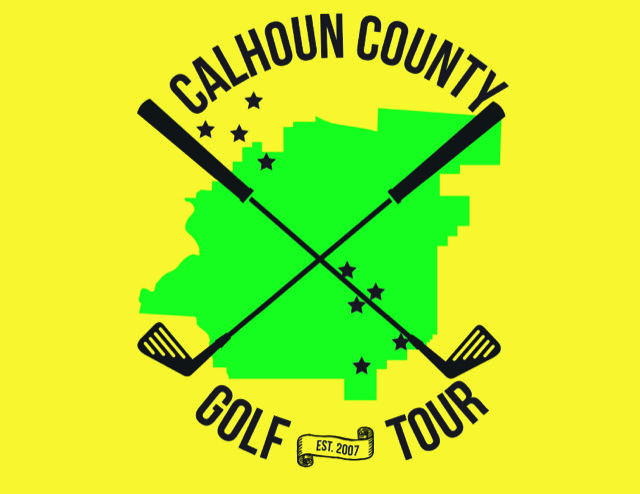 As all the golf world knows by now, 20-year-old Kim made a quadruple bogey on his first hole of the Wyndham Championship last week, then stormed back over the next 71 holes to get his first win on Tour and secure all the benefits that come with it.

Bruce, a 20-year-old rising sophomore at UAB, made a triple bogey on his first hole of the Gadsden Country Club Invitational Friday, but didn't let it get him down (like it might have before) and now is in position to get the biggest win of his career Sunday. He shot a 3-under-par 68 Saturday for a two-day total 137 and carries a one-shot lead over Brennan Clay and first-round leader Ty Cole into Championship Sunday.

Since that opening triple, which came at the expense of two balls out of bounds (and almost a third) and a 10-foot putt for the 7, the Guntersville native has played his last 35 holes in 8-under-par with 12 birdies.

"When I was younger I struggled really bad with if I had a bad hole it would just ruin my whole round and I wouldn't care about my round anymore," Bruce said. "I would just be out there so ready to be done. As I've gotten into high school and playing in state and got to the college level, (he's learned) every shot matters.

"It doesn't matter if you have a triple on the first hole, go make three birdies and get it back. You've just got to think that way. But at the same time you can't just press and just try to make birdie. You've still got to stay patient and stick to your game plan or else.

"That's what me and my college coach worked on a whole lot. I got better as the year went on at finishing better because I just told myself you've got to get into it. I would just always tell myself when I had a bad start 'there your round went,' but it's not really gone. You can get it back just as easy as you can give it away."

He got it back to 2-under by the end of the first round, four off Cole's lead, and was back within a shot of the lead after three holes Saturday. He took the lead for the first time Saturday with a birdie on the par-5 12th.

The round had an eventful finish. After retaking the lead with a birdie on 15, he finished with a three-putt bogey on 16, a 30-foot birdie on 17 and made bogey on 18 after his approach shot plugged in the greenside bunker.

He said it would be "pretty sweet" to come off the triple-bogey start and win Sunday. If it happens, he'd be the third straight college player to win the tournament after four straight wins by Cole.

Clay also learned the importance of staying calm after a bad hole early in the round. He started Saturday with a double bogey and was 3-over for the day through four holes, falling five shots off the lead, but made five birdies over the next 11 holes and was tied for the lead after playing 15.

His momentum stalled with a bogey on 17 after a bad tee shot, but he got up and down for par on 18 after short-siding himself to the right of the green.

"Very (proud of the comeback); I'm worn out now," Clay said. "That was the goal, to get it back as soon as possible with some breathing room.

"Ten years ago, I'd have shot 80 (after that kind of start), but I had 17 holes to get two shots back. It doesn't affect me as much as it used to; Jeremy (McGatha) tells me it's because I'm getting older. If that was 23-year-old Brennan, I would've shot 80, for sure."

Clay has always been in contention here. He will be playing in the final group for the third year in a row and fourth time in the last five years. He was second going into the final round in 2018, tied for the lead in 2020 and tied behind the co-leaders last year.

He has finished second in each of the last three Calhoun County Golf Tour events.

It was a frustrating day for the first-round leader. Cole held the lead at the turn, but fell back with bogeys on 11 and 12. He hit his second shot into 11 off a root and came up short, and his 9-iron approach into 12 rolled back into the water and his pitch after the drop rolled back to him.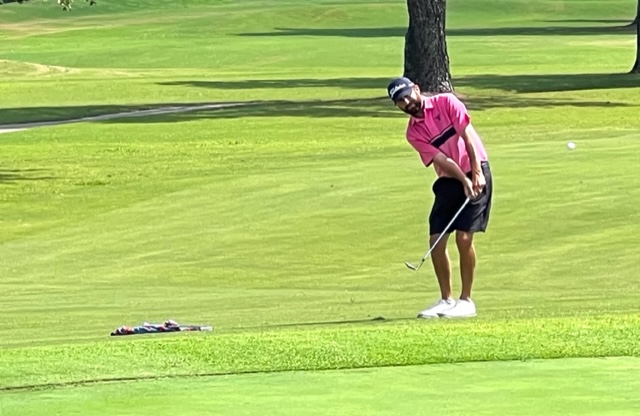 GADSDEN CC INVITATIONAL
| | | | |
| --- | --- | --- | --- |
| CHAMPIONSHIP FLIGHT A | R1 | R2 | TOT |
| Paul Bruce | 69 | 68 | 137 |
| Ty Cole | 65 | 73 | 138 |
| Brennan Clay | 68 | 70 | 138 |
| Woodie Eubanks | 70 | 70 | 140 |
| Dane Moore | 67 | 74 | 141 |
| Gary Wigington | 72 | 69 | 141 |
| Dylan Evans | 71 | 71 | 142 |
| Corey Ray | 72 | 70 | 142 |
| Dawson Garrett | 69 | 74 | 143 |
| Kevin Daugherty | 68 | 75 | 143 |
| CHAMPIONSHIP FLIGHT B | | | |
| Mason Dennis | 70 | 74 | 144 |
| Jeremy McGatha | 74 | 72 | 146 |
| Landon Straub | 73 | 74 | 147 |
| Morgan Cunningham | 72 | 76 | 148 |
| Chandler Richards | 77 | 71 | 148 |
| Chris Leonhardt | 76 | 73 | 149 |
| Justin Graveman | 77 | 73 | 150 |
| Tommy Simmons | 76 | 74 | 150 |
| Mark McCaig | 77 | 73 | 150 |
| Harrison Martin | 77 | 73 | 150 |
| CHAMPIONSHIP FLIGHT C | | | |
| Sam Bone | 73 | 78 | 151 |
| Chad Maples | 74 | 77 | 151 |
| Layton Bussey | 76 | 75 | 151 |
| David Kyatt | 71 | 81 | 152 |
| Tanner Wells | 77 | 77 | 154 |
| Anthony Mancini | 77 | 78 | 155 |
| Chris Messer | 77 | 80 | 157 |
| Drew Anderton | 77 | 81 | 158 |
| Josh Ashley | 77 | 82 | 159 |
| Dre Davenport | 74 | 85 | 159 |
| Braden Lovely | 77 | 87 | 164 |
| | |
| --- | --- |
| PLAYERS FLIGHT 1 | |
| Keith Crumpton | 68 |
| Jake Goggans | 69 |
| Seth Dodd | 69 |
| Jody Wooten | 71 |
| Daily Thomas | 72 |
| Ryan Limbaugh | 72 |
| Randy Lipscomb | 74 |
| PLAYERS FLIGHT 2 | |
| Ethan Davis | 75 |
| Nathan Nailer | 75 |
| Bradley Elliott | 77 |
| Bradley Landin | 77 |
| Andrew Ford | 78 |
| Matt Rogers | 78 |
| Hank Bangs | 79 |
| Luke Armstrong | 79 |
| Dallas Poe | 80 |
| Vance Lewis | 81 |
| Wayne Copeland | 81 |
| PLAYERS FLIGHT 3 | |
| Austin Elliott | 82 |
| Matt Greer | 82 |
| Joe Hedgepath | 83 |
| Ryan Moore | 83 |
| Bumper Jones | 86 |
| Jonathan Bowman | 86 |
| Scott Sanders | 87 |
| Mark Gaines | 88 |
| PLAYERS FLIGHT 4 | |
| Grant Gilmer | 91 |
| Blake Erwin | 92 |
| Andy Lang | 93 |
| Mike Morgan | 93 |
| Skylar Deerman | 99 |
| Keith Hutcheson | 100 |
| Trent Ingram | 102 |
| Guy Edwards | 103 |
| Chris Holderfield | 108 |
| SENIOR FLIGHT A | |
| Matt Bennett | 70 |
| Frank Shikle | 73 |
| Mark Dillard | 73 |
| Danny Dunlap | 74 |
| Don Sutton | 77 |
| Mark Cantrell | 77 |
| Steve Roach | 77 |
| SENIOR FLIGHT B | |
| Mike Douglas | 79 |
| Mike Lett | 79 |
| David Bowman | 80 |
| Bob Russell | 81 |
| David Lipscomb | 85 |
Sunday pairings
8 a.m.: David Bowman, Bob Russell, David Lipscomb
8:10: Don Sutton, Mike Douglas, Mike Lett
8:20: Danny Dunlap, Mark Cantrell, Steve Roach
8:30: Matt Bennett, Frank Shikle, Mark Dillard
8:40: Nathan Nailer, Skyler Deerman, Blake Erwin, Andrew Ford
8:50: Grant Gilmer, Scott Sanders, Mark Gaines
9:00: Ryan Moore, Bumper Jones, Jonathan Bowman
9:10: Austin Elliott, Matt Greer, Joe Hedgepath
9:20: Trent Ingram, Guy Edwards, Chris Holderfield
9:30: Andy Lang, Mike Morgan, Keith Hutcheson
10:30: Wayne Copeland, Vance Lewis, Dallas Poe
10:40: Luke Armstrong, Hank Bangs, Matt Rogers
10:50: Bradley Landin, Bradley Elliott, Ethan Davis
11:00: Ryan Limbaugh, Daily Thomas, Jody Wooten, Randy Lipscomb
11:10: Seth Dodd, Jake Goggans, Keith Crumpton
11:30: Drew Anderson, Josh Ashley, Dre Davenport, Braden Lovely
11:40: Tanner Wells, Anthony Mancini, Chris Messer
11:50: Chad Maples, Layton Bussey, David Kyatt
Noon: Mark McCaig, Harrison Martin, Sam Bone
12:10 p.m.: Tommy Simmons, Chris Leonhardt, Justin Graveman
12:20: Chandler Richards, Morgan Cunningham, Landon Straub
12:30: Jeremy McGatha, Mason Dennis, Dawson Garrett
12:40: Kevin Daugherty, Corey Ray, Dylan Evans
12:50: Gary Wigington, Dane Moore, Woodie Eubanks
1:00: Paul Bruce, Ty Cole, Brennan Clay