Playing for a cause
Oxford, Ohatchee win games in last inning in doubleheader played to raise money and awareness for childhood cancer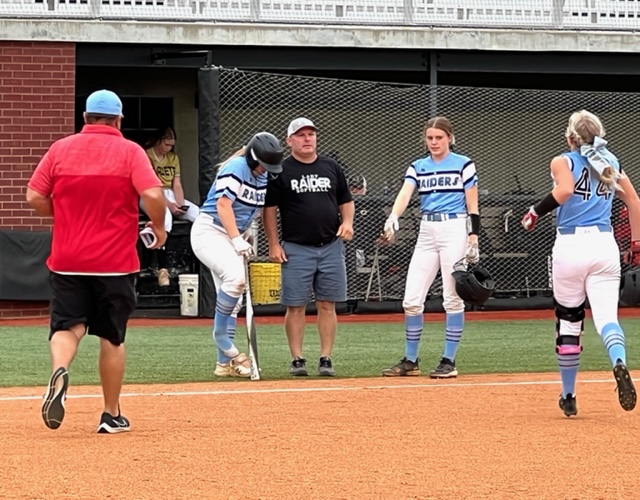 By Al Muskewitz
East Alabama Sports Today

OXFORD – Cohlee Boone and Mackenzie Luna stood on their respective baselines during the playing of the national anthem holding placards honoring relatives or close friends who fought the good fight against cancer. It's occasions like these that bring those memories to the fore.
It's also times like those that made what the two players did Wednesday night even more poignant.
Both delivered the biggest hits of the game they dedicated to their relatives as their teams won in the Strike Out Cancer doubleheader at Choccolocco Park.
Boone bounced a two-run single over third with one out in the bottom of the fifth to give Oxford a 7-6 come-from-behind victory over Pleasant Valley in the opener. Luna ripped a tie-breaking double off the base of the centerfield fence to cap a four-run fifth-inning rally that gave Ohatchee a 7-6 win over Ragland in the nightcap.
While the games brought awareness to childhood cancer and benefitted St. Jude Children's Research Hospital, both Boone and Luna listed great grandmothers they lost to the disease on their "I Go To Bat For …" cards the players and coaches displayed in pregame ceremonies.
"I was hitting for her and I hadn't hit big in a while so I'm glad I hit for her this game because I actually hit pretty good," said Luna, a freshman third baseman who was playing in honor of her MaMaw Sandi who she lost just a month ago. "She never got to see me play, but I think my mother sent her videos."
Kim Vickers, the associate executive director of the AHSAA who oversees softball and volleyball, was among the dignitaries at Choccolocco Park and delivered some moving remarks to the crowd during the opening ceremonies.
She was glad to have been asked to participate, but the trip from Montgomery and the cause took on special meaning after receiving her own breast cancer diagnosis about this time a year ago.
"(Ragland coach Rodney Lipscomb) asked me a long time ago and when he told me a little bit about what it was all about I said I'll do whatever I need to do," she said. "I'm just honored and flattered that I was invited to be here. It's a long drive from Montgomery, but I said I was going to go.
"I tell people all the time, and when I heard what they were doing here (for childhood cancer), it wouldn't have mattered how bad mine was I would have rather had it than one of my daughters having it. Just the thought of a child having cancer just breaks your heart."

Organizers are expected to have a count on the amount they raised for the cause sometime Thursday. The last two years they've held the game they have raised nearly $15,000 in cash and supplies.
Oxford 7, Pleasant Valley 6: Boone, playing in honor of her great grandmother Annie Boone, delivered her game-winning hit in her first game batting since injuring her left foot in a car accident a month ago. The senior outfielder played in the Lady Jackets' game against Springville last Wednesday, but didn't hit.

She walked and scored in her first at-bat and grounded out in her second.
Kylie Kiker started the rally with a leadoff single and moved to second on Kannon Slaughter's one-out single. Adajiah Wilson followed with a roller to second she appeared to have beaten but the throw to first got away, putting runners at second and third.
Boone followed with her bouncer into left field for the game-winner.
"Honestly, I didn't think I could do it because my foot is, like, hurt, so I was like I didn't have the most confidence," she said. "But I said I need to get a hit right here and I did."
The Lady Raiders took a 6-1 lead with three in the third on RBI doubles by Madyson Cromer and Haley Lee and an RBI single by Gracee Ward, but Oxford answered with three in the bottom of the inning.
Cromer had two hits and three RBIs and Lee went 3-for-3 with two doubles for PV. Ashlyn Burns hit a leadoff homer and was a triple way from the cycle for Oxford. She was on deck when Boone delivered the game-winner.
Curiously, the win was the Lady Jackets' first on the Signature Field this season.
"I think it's good positive energy with two weeks left before we start area (tournament) play," Oxford coach Wendy McKibbin said of the rally. "The kids are jelling, they're playing well. We've had some injuries earlier in the year and have gotten some kids back and they're contributing. It's not where you start, it's where you finish and how you finish. I'm excited to see what happens tomorrow against Southside and the next two weeks."
Ohatchee 7, Ragland 6: The Lady Indians trailed 6-3 going into the fifth. Two infield errors opened the door for Kylee Barnes' game-tying three-run homer and set the stage for Luna's heroics.

Whitney McFry followed Barnes' homer with an infield single. She was sacrificed to second by Alana Fitch and Luna ripped her go-ahead double off the base of the centerfield fence.

"We've had a hard time the past couple weeks finishing ball games," Ohatchee coach Kendall Poe said. "We've had a couple walk-offs on us the past two weeks, so that felt really good to come out the first inning and score and to finish that last inning."
Barnes finished it off in style from the circle. She retired the Lady Devils in order in the bottom of the inning.
"It was definitely nerve-wracking, but I've just got to throw the best I can and try to get outs," Barnes said. "Of course I wanted to play my best, especially this game for the cancer survivors, St. Jude and everything we were playing for."
Ragland took a 5-3 lead with four runs in the third. Campbell Adams and Sammie Day-Jones had back-to-back RBI doubles to tie the game and Jesselyn Carlisle gave the Lady Devils the lead with a two-run single into short left-centerfield.

Pleasant Valley 213 00 – 6    8  1
Oxford                    103 03 – 7  10  1
WP: Kannon Slaughter. LP: Lily Henry. 2B: Haylie Lee 2 (PV), Madyson Cromer 2 (PV), Ashlyn Burns (O). HR: Ashlyn Burns (O).

Ohatchee              201 04 – 7 6 2
Ragland                 014 10 – 6 6 4
WP: Kylee Barnes. LP: Jesselyn Carlisle. 2B: Mackenzie Luna (O), Campbell Adams (R), Sammie Day-Jones 2 (R). 3B: Ellie Carden (O). HR: Kylee Barnes (O).