Kite, Anniston edge Odam, Piedmont
Anniston gets back on track in a county tournament battle of Bulldogs matching the county's two most dynamic guards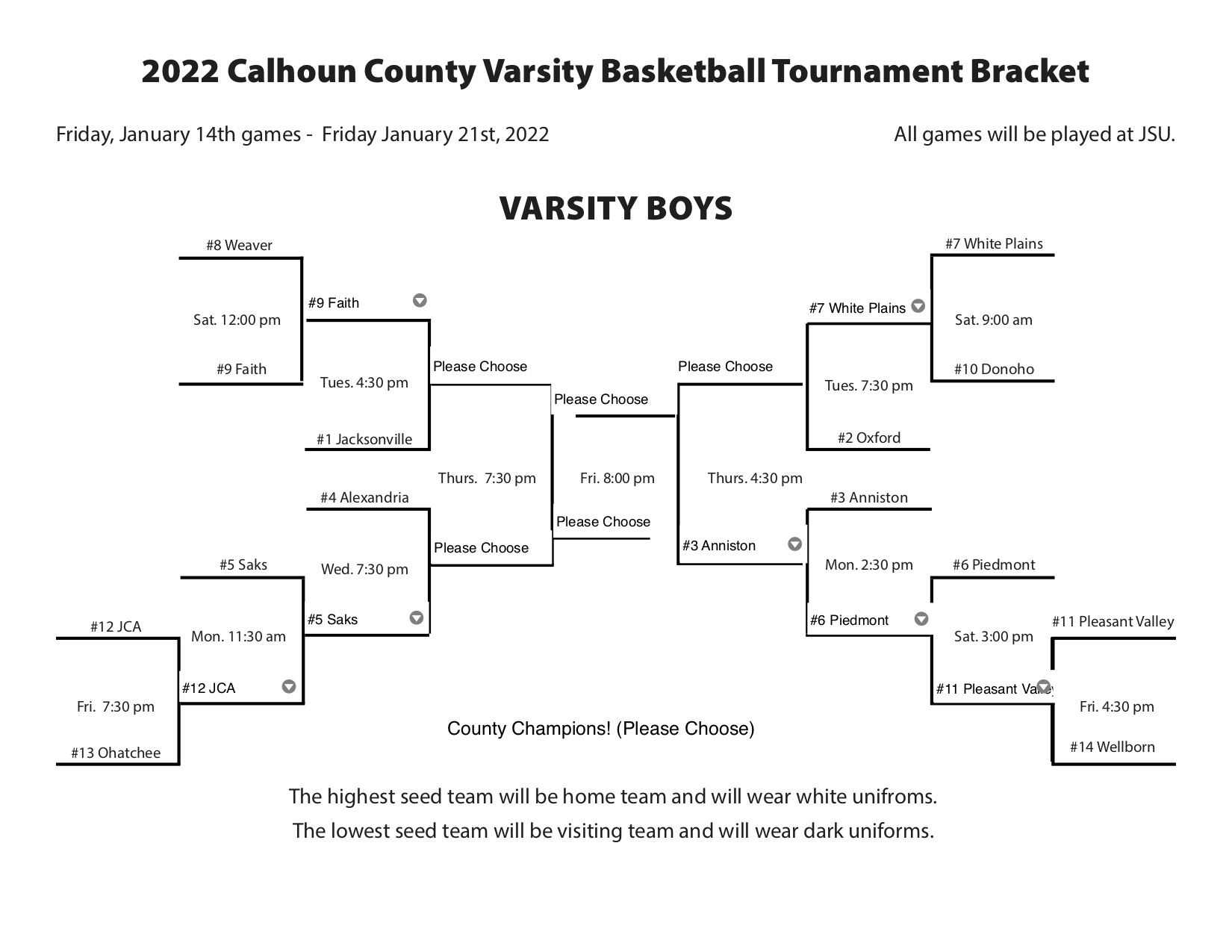 By Al Muskewitz
East Alabama Sports Today
JACKSONVILLE –– Anniston won the game mattered most, the one that played out on the scoreboard. Who won the game within the game depends on how you judge such things and which side of the center stripe you sat.
The Bulldogs earned a spot in the Calhoun County Basketball Tournament semifinals Monday with a much-needed 74-68 victory over Piedmont. They will play the winner of Tuesday's Oxford-White Plains game in Thursday's 4:30 p.m. semifinal.

In addition to seeing how/if Anniston could bounce back from what coach Torry Brown called "that (38-point) fiasco" at Jacksonville Friday night, all eyes were focused on the mano-a-mano matchup between Anniston's Antonio Kite and Piedmont's Alex Odam.
The county's two most dynamic guards put on a show and the two head coaches obliged by letting them play each other.
Kite went for 21 points after some early reluctance to shoot and, of course, ran the show for Anniston. Odam went for a game-high 32 and became Piedmont's all-time leading scorer in the process.

Odam scored 24 points in the second half — 22 in the fourth quarter when he started playing his game more, 17 after he set the record on a 3-pointer with 7:07 to play that got his team back to within 10, 52-42. He needed 15 to break the record (held by Piedmont girls coach Terrace Ridley) and now has 2,142 career points (36th on the current AHSAA list).
"It was good, it was great," Kite said of the game within the game. "He makes tough shots, he makes sure his team gets involved. I think we made him take a lot of tough shots, that's what made us keep the lead like that."

"It was fun," Odam said. "In recent memory it was one of the funnest games I've been a part of, that battle inside-the-game. I kind of knew what to expect playing against him, a lot of one-on-one stuff. I guess he won the battle, because they got the win, but it was lots of fun. On that stage, on that court, I think it was perfect."

Anniston junior forward Talib Christian seemed to sum up everyone else's reaction to it when he said "it was fun to watch."

After going at each other hard for 32 minutes, the two guards embraced going through the handshake line when it was over.

"It was all respect on both sides I think," Odam said.
There was one play in the final minute of the second quarter that exemplified the showdown. Odam came down the right side and set up for a 3. He took a step to his right away from a screen, Kite jumped the screen, went up and got the ball at the apex of Odam's jump, then raced down the floor for a layup to put Anniston up 36-18.
He would've dunked it had he not still be protecting the finger on his right hand he dislocated in the Jacksonville game. Both players remember the play.
"I got a lot of good steals, but he made a lot of tough shots," Kite said. "He's a great player, so he's gonna make a lot of tough shots."

"He's got such good hands," Odam said. "I thought I got enough separation from him, but he's so quick and athletic he took it."

There were secondary scorers on each side, too. Christian thoroughly enjoyed his first County Tournament experience at Jacksonville State. Flourishing in the Bulldogs' big lineup, he went for a career-high 23 points, getting nine in the first quarter to help Anniston grab a 19-14 lead and 12 in the second half to help them keep it.

"Coaches told me to go out there and have fun, so that's what I did," Christian said. "First time here so I had to show out. My team helped me a lot. They were bringing energy, so I fed off that."
No matter how inconsistent Anniston has played this year, you could almost count on it putting on a show once it got on this county tournament stage. The Bulldogs ran off to what seemed like a comfortable 18-point lead in the third quarter before Piedmont got more relaxed with the circumstances and worked its way back into the game.

"It's always good playing in a gym like this, in a crowd like this," Kite said. "I think it was a good win for us because we just come off a loss to Jacksonville. I'm glad our guys kept our heads up and kept it moving."

Odam and Ish Bethel helped bring Piedmont back. Odam got it within eight with a 3-pointer and later free throw. Bethel brought the final margin with a 3-pointer.

Bethel, a freshman, scored 17 points for the second game in a row.
"I think we fought," Odam said. "That's been our big thing all year. We've been behind and had close games all year. We've managed to stick with it and not get down on ourselves. It would've been really easy to let them pull away big down 16-18-20 but we got after it and started making more shots than we did the first half. I think we started having a little more fun with it."
Anniston 74, Piedmont 68
PIEDMONT – Alex Odam 12 5-5 32, Omarion Foster 2 0-2 5, Gavin Lawler 0 2-2 2, Cassius Fairs 0 0-0 0, Cole Wilson 1 0-0 2, Ish Bethel 5 5-6 17, Chance Murphy 2 2-4 6, Coleman Reid 2 0-0 4, Rhett Alford. Totals 24 14-19 68.
ANNISTON – Jaden Lewis 0 0-1 0, Antonio Kite 7 3-6 21, Tadyn Jones 5 1-1 13, Martez Reed 0 0-0 0, Tacorian Thomas 0 0-0 0, Troy Hall 1 0-0 2, C.J. Munford 0 1-2 1, Malik Bailey 0 2-2 2, Kam Sandlin 6 0-3 12, Talib Christian 9 4-7 23, Javen Croft 0 0-0 0. Totals 28 11-22 74.
Piedmont 14 6 16 32 – 68
Anniston 19 17 17 21 – 74
3-point goals: Piedmont 6 (Odam 3, Foster, Bethel 2); Anniston 7 (Kite 4, Jones 2, Christian). Total fouls: Piedmont 15, Anniston 17.