'Great way to get started'
White Plains sharp from the start in its earliest County Tournament game, routs Donoho after 18-0 start; bracket included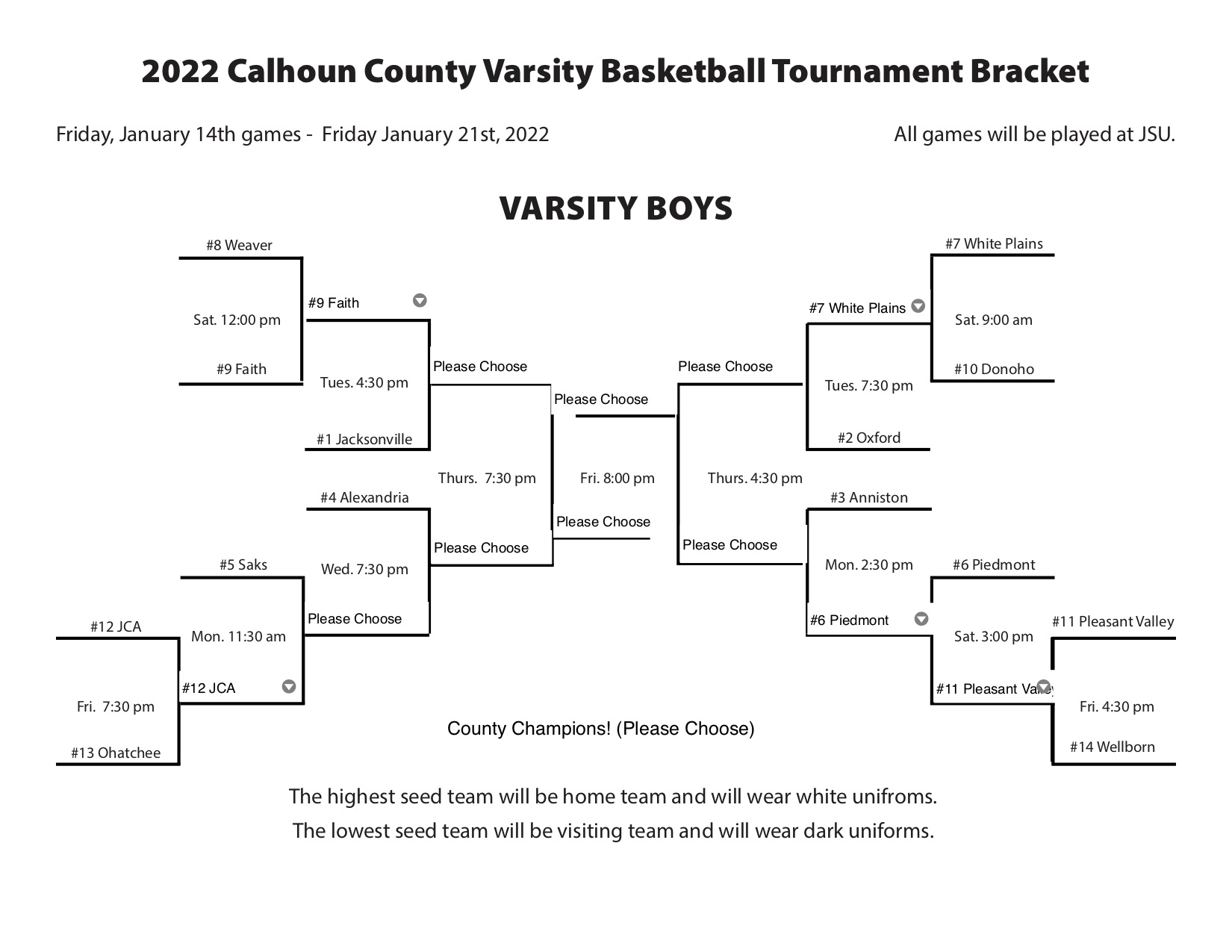 CALHOUN COUNTY TOURNAMENT
Saturday's Games
Boys Bracket
White Plains 66, Donoho 35
Faith Christian 76, Weaver 52
Piedmont 70, Pleasant Valley 36

By Al Muskewitz
East Alabama Sports Today
JACKSONVILLE – White Plains' 2022 Calhoun County Tournament experience couldn't have gotten off to any better start, maybe better than ever in all the years coach Chris Randall has been bringing a team here.
It certainly is the earliest.
But there was early-morning grogginess for the Wildcats. They scored the first 18 points of the first game of the day Saturday and went on to crush Donoho 66-35.
They will play second-seeded Oxford Tuesday at 7:30 p.m.

"It started at 6:45 when we met in the gym this morning," Randall said. "We practiced for an hour, hung out together. We wanted to get them out of bed and get them moving, so it started early.

"It was clean, we shared the ball. It was a great way to get it started."
Both teams were on the floor less than 12 hours after playing in a regularly scheduled area game the night before. White Plains came out sharp with Walker Osteen opening the game with back-to-back long range jumpers and Donoho never recovered.
It wasn't like the Falcons were sleep-walking through the morning, the Wildcats were just that much more active. They scored on 10 of their first 14 possessions and turned the Falcons over almost every time. They led 23-2 at the end of the first.
"We've been up for a while," Osteen said. "We just wanted to play hard, it didn't matter what time it was, really. We played really good in the first quarter and we just tried to keep playing like that the rest of the game."

The Wildcats have never played this early in the County Tournament before; typically, the first games of the longest days are girls games. The earliest Randall can ever remember being in this building was a Northeast Regional final several years ago.
Donoho finally got on the board on Isiah Smith's basket from in close with 1:15 left in the quarter. The quarter ended appropriately enough with Osteen blocking a shot at the buzzer.
Osteen finished with 15 points.
"I thought Walker was key," Randall said. "We can win if he shoots it bad but plays well; he's been playing well, he just hasn't been making shots. He's been rebounding, he's been guarding like crazy, he's been passing the ball good and the ball just hasn't been going in. Today, it was good to get him going.
"We made up our minds. We're going to him the first two or three trips. It was great to see him get going."
White Plains 66, Donoho 35
DONOHO – Dean Harrell 0 0-0 0, Isaiah Smith 3 0-2 7, Nick Goad 0 0-0 0, Drew Williamson 0 0-0 0, Sean Keel 0 0-0 0, Richrad Goad 2 1-2 5, Jack Burgess 1 0-0 3, Eric Tolson 3 0-0 6, Jordan Cameron 6 1-1 14. Totals 15 2-5 35.
WHITE PLAINS – Tucker Pearson 1 0-0 3, Paul Laube 3 2-2 8, Cole Senciboy 1 0-0 3, Josh Wheeler 3 3-4 10, Z.J. Rosario 2 0-2 6, Daniel Williams 4 0-1 8, Walker Osteen 5 4-5 15, Collin Spivey 2 0-0 4, Silas Hines 1 0-0 2, Luke Bussey 1 1-2 4, Coleman Ray 1 0-0 3. Totals 24 10-16 66.
Donoho 2 11 7 15 – 35
White Plains 23 11 18 14 – 66
3-point goals: Donoho 3 (Smith, Burgess, Cameron); White Plains 8 (Pearson, Senciboy, Wheeler, Rosario 2, Osteen, Bussey, Ray). Total fouls: Donoho 13, White Plains 12. Officials: Larkins, Brown, Dukes.