Kings of the Jungle
Lincoln takes 3 weight classes, two consy finals, to win tight four-team race for its first title of the season, Ranburne's Hall voted MVP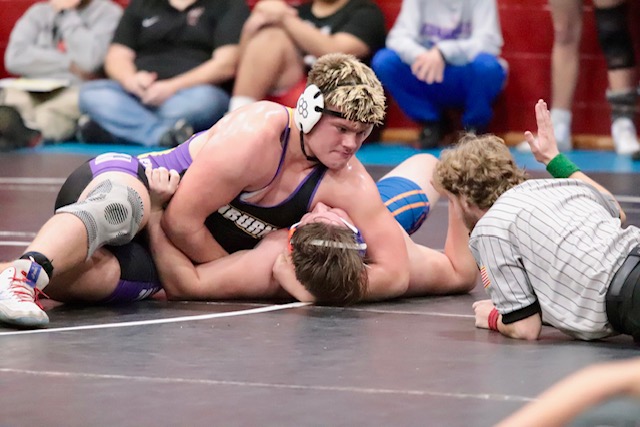 By Al Muskewitz
East Alabama Sports Today

HEFLIN – Brian Kelly needed a couple moments away from the victory celebration nearby to collect himself before talking about the special day that Saturday was for his Lincoln wrestling team. 

The Golden Bears gave their coach his first tournament title as a head coach when it held off three strong challengers to win Cleburne County's Rumble in the Jungle. It was such a momentous occasion it nearly brought the second-year coach to tears.

The Golden Bears scored 176.5 points to win the team title. Russell Clanton's pin at 222 in the final match of the day gave host Cleburne County (166) enough points to vault over Weaver (164) for second place. Ohatchee finished fourth (154).

"Give me a second," Kelly requested as he tried to collect his thoughts and emotions. "We thought we had a chance to place as a team, but to get first here … with this competition … is … fantastic."

Lincoln won three weight classes and won two consolation finals to finish atop what became a tight four-team race entering the championship session. John Kelly won at 134, Jamichael Finley at 140 and Landon McLendon clinched the title for the Golden Bears at 154.

For Kelly and McLendon, the team's two seniors, it was their first career titles. They were among eight wrestlers with four pins in the tournament, with McLendon putting together the fastest aggregate time (3:17).

"These guys have been working hard," Coach Kelly said. "To see some of these guys … get their first win … (it's emotional)."

The reaction wasn't surprising to Kelly's son, the 134 champion.

"It does mean a lot to him," he said. "It means a lot."

John Kelly was the first of Golden Bears' title trio to win in the finals. He was down throughout his match with Weaver's 15th-seeded Kaden Gaines, 10-4 going into the third period, but was never deterred.

There was a lot on the line. The Golden Bears were a half-point behind Cleburne County before the match and less than 10 points ahead of Weaver. Positions were changing in the team standings after every match.

"When I saw the score I was like, 'I've got to dig deep. I want this trophy for Lincoln. I can't lose this match,'" John Kelly said.

Finley inched the Bears closer with his major decision over Montevallo's Sam Adams and McLendon, a 10th seed, made them uncatchable when he pinned Oxford's Preston in under a minute.

"I was looking at the score and was just wanting to make sure my team had the victory," McLendon said. "We've all been really working hard at practice, so to be able to get us to secure this win meant a lot to me today."

Ranburne's Carson Hall was voted most outstanding wrestler after avenging an earlier loss to Cole Dennis of Montevallo in the 287-pound final with his 100th career pin. He has won more than 200 matches since seventh grade.

"It was amazing," Hall said of his milestone moment. "I wasn't expecting it at all. I just completely zone out, just trying to win as best I could. It was exhilarating, really."

Dennis handed Hall (28-1) his only loss of the season (and third in three seasons) in a 2-0 decision at Piedmont's Bulldog Brawl. The championship match looked like it was headed in a similar direction when Dennis took a 1-0 lead, but Hall tied the match with 1:26 left in the third period and 14 seconds later it was over.

It was his only pin in three matches on the day. Dennis pinned all three of his opponents prior to the final.

"I did my best, he did his best, I just came out on top," Hall said.

Weaver junior Anthony Usry's third-period pin of Dora's Jonathan Foster for the 172 title was voted the match of the tournament. Usry was among the eight with four pins.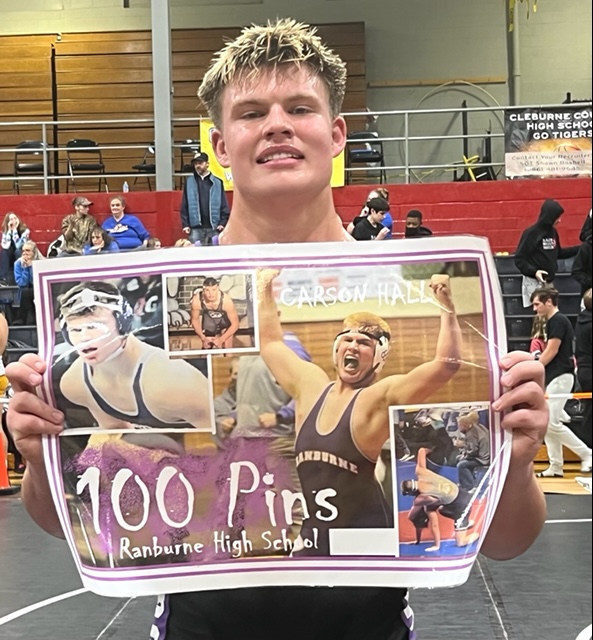 RUMBLE IN THE JUNGLE
At Cleburne County H.S.
Team scores: Lincoln 176.5, Cleburne County 166, Weaver 164, Ohatchee 154, Montevallo 134.5, Piedmont 132.5, Oxford 125, Ranburne 95, Dora 86, Saks 83.5, Pleasant Valley 38, Wellborn 37, ASB 36, Shades Valley 6.

Championship matches
108: Briley Carter (Ohatchee) dec. Dalton Fink (Weaver), 10-5
115: Shamar Heard (Cleburne County) pinned Izak Duke (Piedmont), 1:30
122: Kaleb Shelton (Oxford) dec. Austen Mayfield (Cleburne County), 6-0
128: Gavin Monk (Montevallo) pinned Luke Truett (Ranburne), 0:31
134: John Kelly (Lincoln) pinned Kaden Gaines (Weaver), 4:31
140: Jamichael Finley (Lincoln) maj. dec. over Sam Adams (Montevallo), 9-0
147: Michael Howell (Oxford) tech fall over Malachi Goble (Ohatchee), 4:36 (17-0)
154: Landon McLendon (Lincoln) pinned Preston Smith (Oxford), 0:57
162: Matthew King (Ohatchee) pinned John Bussey (Saks), 1:49
172: Anthony Usry (Weaver) pinned Jonathan Foster (Dora), 4:30
184: Devin Anderson (Weaver) pinned Payton Ratliff (Oxford), 1:35
197: Jalon Helm (Piedmont) pinned Matthew Davis (Lincoln), 3:23
222: Russell Clanton (Cleburne County) pinned Landon Smart, 3:09
287: Carson Hall (Ranburne) pinned Cole Dennis (Montevallo), 4:48

Third-place match
108: Austin Cummings (Montevallo) won by forfeit
115: Trent Hopkins (Saks) tech fall over Leo Mondragon (Weaver), 3:17 (15-0)
122: Baron House (Pleasant Valley) won by forfeit
128: Damon Clayton (Dora) pinned Bronson Bell (Cleburne County), 1:30
134: Charlie Paracca (Montevallo) pinned Ashton Gilmore-Smith (Dora), 2:11
140: Brent Lovvorn (Ranburne) won by forfeit
147: Bentley Chandler (Piedmont) pinned Brennen Butler (Cleburne County), 2:25
154: Deacon Engle (Ohatchee) won by forfeit
162: Rhett Walters (Lincoln) won by forfeit
172: Brayden Morgan (Piedmont) pinned James Howard (Ohatchee), 1:31
184: Micael Lawson (Lincoln) won by forfeit
197: Christopher Weaver (ASB) pinned Brandn Jolliff, 1:33
222: Hayden Ransom (Weaver) dec. Charles Adams (Montevallo)
287: Cameron Thornton (Weaver) won by forfeit
Dick Clem Memorial
MADISON – Preston Jones and Jaden New won their weight divisions and Juddson Cromer won his third-place match to lead Alexandria to a sixth-place finish in the Dick Clem Memorial Tournament at Bob Jones High School.
Jones won the 108 division with a 7-3 decision over Huntsville's Wallace Blue. New won at 154 win a 6-2 decision over Bob Jones' Manny Marrero. Cromer pinned Huntsville's Bradley Wilbourn (2:50) in the 287 consolation finals.
The Valley Cubs scored 92 points. Arab won it with 195.5, followed by Huntsville (185.5), Scottsboro (161), Bob Jones (147) and Sparkman (119.5)
DICK CLEM MEMORIAL TOURNAMENT
At Bob Jones HS
Team scores: Arab 195.5, Huntsville 185.5, Scottsboro 161, Bob Jones 147, Sparkman 119.5, Alexandria 92, Grissom 76.5, James Clemens 74.5, Southside 69, Buckhorn 50.5, Hartselle 50, St. John Paul II 34, Madison County 27, Hazel Green 24, Florence 7, Mae Jemison 4.
Championship matches
108: Preston Jones (Alexandria) dec. Wallace Blue (Huntsville), 7-3
115: Yanik Simon (Huntsville) pinned Troy Hennigan (Bob Jones), 5:36
122: Gage Roberts (Hartselle) dec. John Stewart (Scottsboro), 2-1
128: Clinton Stewart (Scottsboro) pinned Joseph Sowell (Huntsville), 1:03
134: Max Morrow (Huntsville) dec. Andy Hoggard (Sparkman), 8-7
140: Jon Michel Turis (Grissom) dec. Thomas Rackler (Southside), 10-5
147: Joshua Roe (Arab) dec. Ansel Goggans (Scottsboro), 3-1
154: Jaden New (Alexandria) dec. Manny Marrero (Bob Jones), 6-2
162: Jonas Cardamone (Sparkman) dec. Logan Silva (Arab), 11-6
172: Sebastian Davis (James Clemens) pinned Jacob Davis (Southside), 2:53
184: Caleb Roe (Arab) maj. dec. over Evan Pippin (Bob Jones), 11-3
197: Mason Ellis (Madison County) def. Jonathan Pugh (Arab), med. forfeit
222: William Caneer (Buckhorn) pinned Mohamed Al-khawlani (Arab), 0:33
287: Tafair Alcime (Bob Jones) pinned Kaiden Rovers (Sparkman), 4:45
Third-place matches
287: Juddson Cromer (Alexandria) pinned Bradley Wilbourn (Huntsville), 2:50