Bulldogs B'ham bound
Piedmont, Saks stage one of the county's greatest playoff games with Bulldogs winning in OT; play Montgomery Academy Thursday for title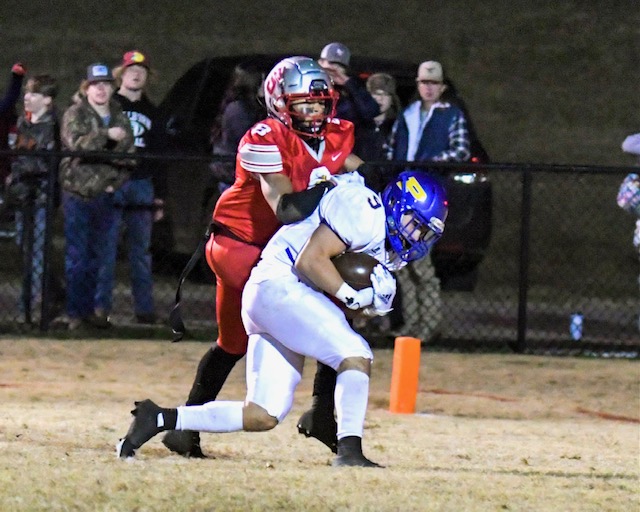 By Al Muskewitz
East Alabama Sports Today

Jack Hayes never wanted to get in the end zone more in his life.

It was only about a yard and a half away after a pass interference call on the previous play moved the ball halfway to the goal and it was only going to be worth two points, but given the circumstances of overtime he knew his Piedmont football team needed him to make it.
The violence with which he attacked the line of scrimmage and broke the plane showed everyone at Jack Stewart Field Friday night just how determined the Piedmont junior quarterback was.

The conversion, which came after a 13-yard Austin Estes catch-and-score on the opening possession of the first overtime, gave the Bulldogs a 52-44 lead and when their defense turned Saks away on a fourth-down pass in the end zone they had punched their ticket to next week's Class 3A state championship game.

The Bulldogs (12-2) will play Montgomery Academy (11-3) in Birmingham's new Protective Stadium Thursday at 11 a.m.

It's their third trip to the state finals in the last four years and fifth in the last seven years. They've gone in 2015 and 2016, 2018 and 2019 and now 2021. They won it during that stretch in 2015, 2016 and 2019.

If Hayes hadn't gotten in for his conversion to take a little pressure off the Bulldogs' defense when it was Saks' turn in overtime, the outcome might have been different or the teams still might be playing into the night.

"I knew we had to have it," Hayes said. "The line bowed their neck and really got some movement and gave me some room to get through. We knew they were going to go for 2 if they scored so we had to go for 2 and get it to really make sure we didn't lose. It was pretty simple, honestly. I just saw a hole and tried to dive over the top."

Saks coach Jonathan Miller called it the best high school playoff game he has ever been a part of. Piedmont coach Steve Smith said it was the biggest win in Piedmont football because it was this game. The players likened it to playoffs games they had with Mobile Christian in the 2019 title game and Fyffe in last year's semifinals.

Both quarterbacks put on a show. Hayes passed for 309 yards and a school-record six touchdowns, three to Omarion Foster and two to Austin Estes. He had two other touchdowns called back on penalties, but saved that a drive with his first touchdown pass to Foster. He also rushed for 55 yards.

He now has 118 career touchdown passes, one shy of third on the state's all-time list, and 158 career touchdowns accounted for, passing Alexandria's Mac Campbell for fourth on that list.

Saks' Sean Parnell threw five touchdowns (three to Shon Elston) and ran for one. Jalen McCants rushed for 145 yards and caught four passes for 36 yards.
"It was just a crazy night tonight," Smith said. "There were so many times that the momentum swung our way for a little while, then their way, then a big play here, a big play there. I don't know if you can say you walked away surprised after all the things that transpired during the game. … It was just a wild game. I'm just glad to get out of here with a win."
Saks (12-2) trailed by two touchdowns with 9:47 to play and tied it at 36 with 4:54 left and at 44 on quarterback Parnell's 1-yard run and two-point conversion pass to Elston with eight seconds left in the regulation.
Piedmont got the ball first in overtime and Austin scored on the second play, lunging into the pylon on a pop pass from Hayes. Knowing Saks would go for two if it scored, the Bulldogs went for 2 and caught a break when the Wildcats were called for pass interference. Moving closer to the goal line gave Hayes a chance to show his power and he drove into the end zone.
Saks looked a little confused when it came out for overtime, having to rush a lineman onto the field for the requisite 11. The Wildcats picked up five yards on two Parnell runs, then Omarion Foster broke up a pass in the end zone intended for Jalen McCants on third down.
On the Wildcats' final attempt to extend the game, Parnell's pass to Rickey Garrett missed the mark.
The Saks players were crushed. This was a season of big expectations and they took it to the last play of the year — in overtime.
"I don't know what to say," McCants said. "We gave it our all."
The 52 points were the most Piedmont had scored in a playoff game since a 55-26 win over Holly Pond in the 2016 opening round and the 96 combined points were the most by both teams in one of its playoff games since a 63-35 win over Hamilton in the 2009 third round.
It's the most by two teams in a Saks playoff game since a 64-41 win over North Jackson in the opening round of 2014. The Wildcats won a 46-43 shootout with Plainview in this year's opening round.
Saks' only two losses this year have come to the Bulldogs. They won 10 in a row in between.
"Our seniors made plays and got us in position to tie the game," Miller said. "The story of the night for us was we had a lot of chances to get off the field and we had them behind the sticks a lot and we just kept letting them get first downs. We just couldn't get that big stop when we needed it.
"We laid it on the line tonight, we just came up short. There were some plays we wish we had back, wish we could have executed a little bit better. There's only going to be one team at the end that's happy and I hate that it's not us."
Foster is better known for defending passes, but on this night he caught three passes for 88 yards (touchdowns of 10, 15 and 63 yards). His last touchdown and accompanying two-point conversion that no one is still sure how Hayes saw him when the original play broke down gave the Bulldogs a 44-36 lead with 4:43 to play.
"I just go in when my name is called," Foster said. "Our quarterback made good passes when I'm open. I just catch the ball and try to do my job. Whenever Coach Smith calls me in I just have to be ready and try to go make a play."
"Bringing Omar in really helped us spread out," Hayes said. "They had to put their best defender on one of them (Foster or Estes) and I don't think they could cover both of them being the athletes that they are and I think that's what really helped us get some big plays that we needed. He's been there before, but this was the first time we really used him a lot."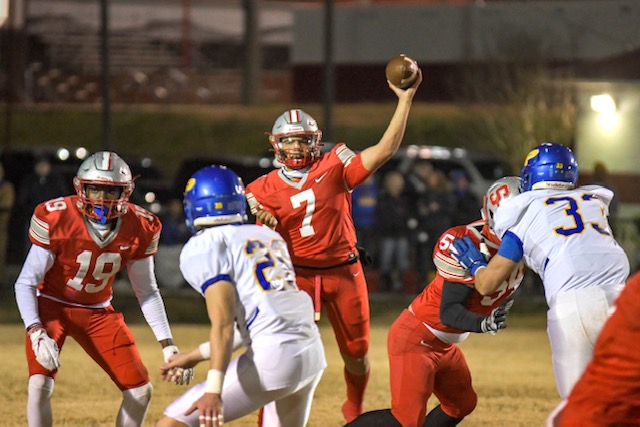 Piedmont 52, Saks 44 (OT)
| | | | | | | |
| --- | --- | --- | --- | --- | --- | --- |
| Piedmont (12-2) | 10 | 7 | 13 | 14 | 8 – | 52 |
| Saks (12-2) | 8 | 8 | 6 | 22 | 0 – | 44 |
P – Sloan Smith 34 FG, 8:12 1Q
S – Deniro Goode 40 pass from Sean Parnell (Deniro Goode pass from Sean Parnell), 3:10 1Q
P – Gatlyn Gardner 31 pass from Jack Hayes (Sloan Smith kick), 0:00 1Q
P – Omarion Foster 10 pass from Jack Hayes (Sloan Smith kick), 4:51 2Q
P – Rickey Garrett 6 pass from Sean Parnell (Jalen McCants run), 0:04 2Q
P – Brayden Morgan 11 run (Sloan Smith kick), 8:18 3Q
S – Shon Elston 15 pass from Sean Parnell (pass failed), 7:49 3Q
S – Omarion Foster 15 pass from Jack Hayes (kick failed), 0:57 3Q
P – Austin Estes 19 pass from Jack Hayes (kick failed), 9:44 4Q
S – Shon Elston 7 pass from Sean Parnell (pass failed), 7:47 4Q
S – Shon Elston 64 pass from Sean Parnell (Jalen McCants pass from Sean Parnell), 4:54 4Q
P – Omarion Foster 63 pass from Jack Hayes (Omarion Foster pass from Jack Hayes), 4:43 4Q
S – Sean Parnell 1 run (Shon Elston pass from Sean Parnell), 0:08 4Q
P – Austin Estes 13 pass from Jack Hayes (Jack Hayes run), OT
| | | |
| --- | --- | --- |
| Pied (52) | | Saks (44) |
| 19 | 1st Downs | 12 |
| 29-93 | Rushes-yds | 24-182 |
| 17-28-0 | Comp-Att-Int | 10-26-0 |
| 309 | Passing yds | 173 |
| 0-0 | Fum-lost | 0-0 |
| 3-17.7 | Punts-avg | 4-18.0 |
| 14-115 | Pen-yds | 9-83 |