Price points
Cleburne County senior guard reaches 1,000-point plateau, but the Lady Tigers fall in their third game of the Glencoe Thanksgiving Classic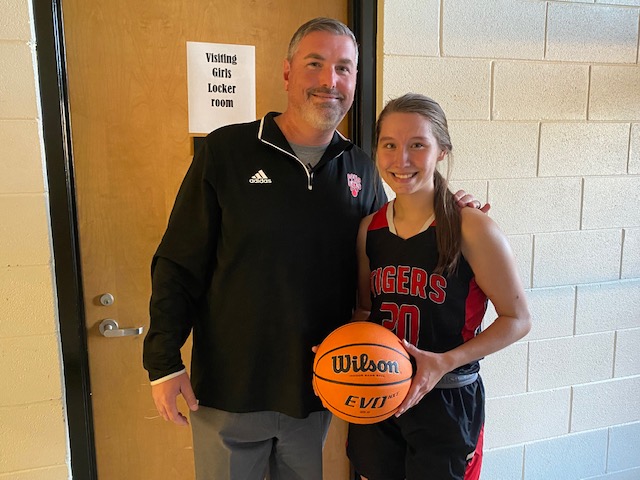 By Al Muskewitz
East Alabama Sports Today

GLENCOE – The Cleburne County Lady Tigers couldn't quite get over the hump to bring home a second victory in the Glencoe Thanksgiving Classic, but they still had something positive to take back with them.

Hailey Price scored a team-high 17 points Wednesday and reached a lifetime goal when she collected her 1,000th career point during the Lady Tigers' 51-48 loss to Fort Payne on the final day of the tournament.

The senior guard became the second girls basketball player in school history to reach the milestone, joining Brooklyn McDaniel, who set the standard last year and continues to build on it this season. Price now has 1,003 career points.

"Ever since I was little that's one of the biggest goals I have wanted to achieve," Price said. "I was just so excited. I couldn't believe it."

Price had been counting it down since coach Todd Gable told her before the season she needed 40 points to reach the milestone. She needed 14 entering the game and hit the mark on a driving layup with 4:19 left in the fourth quarter that stopped Fort Payne's decisive 9-0 run to open the quarter.

"I know that's going to be a relief off her because I know she's been wanting to do it," Gable said. "It's good to see her get it."

It was the second game in a row the Lady Tigers rallied from a double-digit deficit but came up short. They trailed Cherokee County by 20 Tuesday and got within five before the Lady Warriors pulled away.

The Lady Tigers (1-2) trailed Fort Payne by 12 midway through the second quarter, but made it a two-point game on back-to-back 3s by Price to close the half. It remained close until Fort Payne's decisive run to open the fourth quarter.

They got within three several times in the closing minutes, but each time Fort Payne answered to keep them at bay.

"We have to not only finish, but start better than we are," Gable said. "The last two games for some reason we started slow. Even the Glencoe game the first night we started slow, but they were slow, too. In our area, you can't start off slow. You can't get down to Anniston or Handley by that many. It's something we've got to fix."

McDaniel had her third double-double in three games, going for 15 points and 16 rebounds. She scored 64 points and grabbed 48 rebounds in the tournament, running her career totals to 1,291 points and 1,266 rebounds.

GLENCOE THANKSGIVING CLASSIC
Fort Payne 51, Cleburne County 48
CLEBURNE COUNTY (1-2) – Faith Brown 2-9 1-1 5, McKenzie Frames 0-0 0-0 0, Karley Boyd 0-1 0-0 0, Jacy Littleton 0-2 0-0 0, Hailey Price 7-10 1-1 18, Brooklyn McDaniel 10-16 4-6 25, Libby Altman 0-1 0-0 0. Totals 19-39 6-8 48.
FORT PAYNE (5-2) – Sydney Hickman 0 0-0 0, Graidin Haas 8 5-11 21, Anna Kate Akins 1 1-3 3, Abby Boatwright 1 1-2 3, Lydia Crane 1 0-0 2, Brylan Gray 7 6-6 20, Libby Redden 1 0-0 2. Totals 19 13-22 51.
Cleburne County 5 15 13 15 – 48
Fort Payne 12 10 13 16 – 51
3-point goals: Cleburne Co. 4-11 (McDaniel 1-1, Price 3-4, Brown 0-3, Boyd 0-1, Altman 0-1, Littleton 0-1). Total fouls: Cleburne Co. 17, Fort Payne 14. Officials: Askew, McCombs, Morriss.