'Major League' effort
Alexandria baseball team makes entertaining pitch in this season's fundraising drive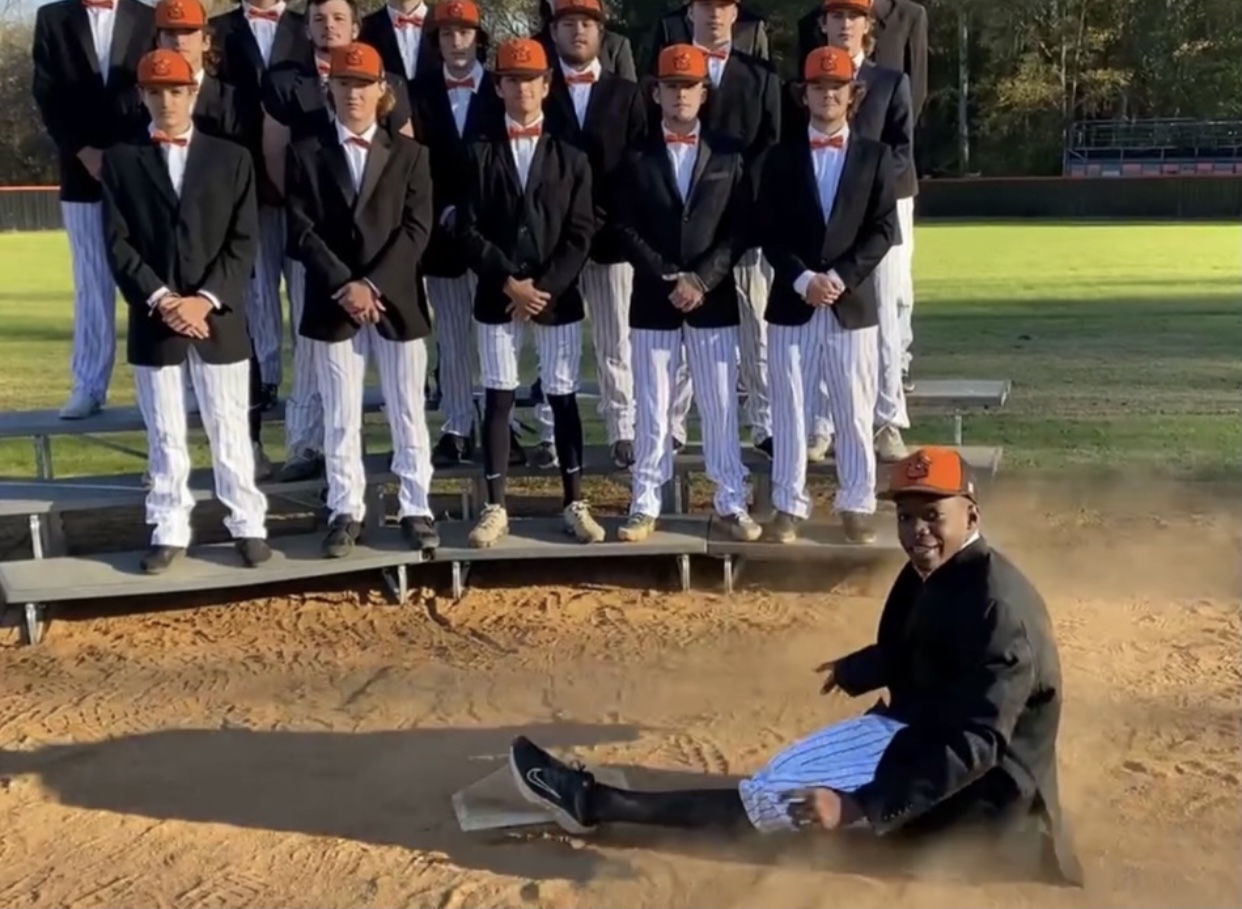 By Al Muskewitz
East Alabama Sports Today

Youth league and high school sports teams are constantly trying to come up with creative ways to raise money to keep their programs running during the year.
Most of the efforts involve bake sales, car washes, golf tournaments, draw downs and raffles or selling commemorative gear.
But the Alexandria baseball team is stepping up its game this year. The Valley Cubs have gone Hollywood, throwing back to a beloved baseball movie to make their pitch for donations.

It's "Major League" comes to the Valley. In a send-up that hit the Twitterverse Friday night, the Valley Cubs have recreated the iconic scene from the 1989 movie where the fictional Cleveland Indians do a "Don't Steal Home Without It" commercial for the American Express card.
(Back fact: According to reports, that scene almost didn't happen. AmEx only agreed to be part of the movie on the second-to-last day of shooting)

Click here to view the video: https://rb.gy/ss17rd

The concept was the brainchild of Valley Cubs assistant coach Zac Welch, who teaches a multimedia design class at the school and is always up for something out of the box. Remember the slam-dunk basketball goal during last year's playoff run? That was his.

"'Major League' has always been one of my favorite movies," Welch said. "We came up with the plan and it was pretty easy. The other players loved the idea.

"It came together pretty fast. We knew we wanted to do something other than the basic generic give-us-money video. We just started thinking about what we could do. I don't know where the idea came from, but once we hit on it the kids loved it and we went from there."

Once the groundwork was laid, the rest was easy. The players scoured local thrift stores for the $7 suit coats they wore, the choir lent the orange bowties and, of course, they had the Valley Cubs caps and pinstripe pants.

They filmed it all Friday morning, edited it in about 90 minutes and by that evening the 35-second spot was up and running. As of 1:30 Sunday afternoon the video had gotten nearly 40,000 views and, most importantly, helped the Cubs raise more than $2,500 of their $4,000 30-day snap-raise campaign goal. (By the start of school Monday those numbers were 78,000 views and $3,130 raised.)

The money goes to help defray costs of the team's spring break trip to the beach, uniforms and equipment, umpires and, of all things, grass seed for their field of dreams.

"Our goal as a program is to play as many games as we can with our kids without them paying any money out of pocket," Welch said. "We played the entire month of June with three different teams. When it was all said and done we spent a pretty penny on umpires, so we have to do a good job of fundraising just to cover that overhead. It all adds up."

Six of the 17 Valley Cubs players in the video have speaking parts, with Canyon Mickler, who isn't really a pitcher, in the Charlie Sheen role of Wild Thing Ricky Vaughn (because he had the best-looking mullet) and Deshaun Foster recreating Wesley Snipes' Willie Mays Hayes slide into home to deliver the punch line at the end (because he's their best baserunner and does the best slide).

The other players who speak are Sam Wade, Bryson Calhoun, Andrew Allen, Aaron Johnson and Austin West.

Some of the players got through their parts in one or two takes; Allen, they say, was a natural. A few took longer — not because they were nervous or flubbing their lines but because they couldn't keep a straight face. Cue cards were provided for those who couldn't remember their lines.

"It was a pretty much show up and see what we've got," Welch said. "They did better than I thought they were going to do, really."

Foster's slide into home took the longest because it just wasn't just right. Usually stoic head coach Andy Shaw was there behind the scenes the whole time laughing through it all.

"It took me five tries," Foster said. "The first few times I wasn't sliding right, I was just landing on the ground. After the first few times I got it down and then I was just saying my lines too fast. We were laughing for like a good three or four minutes."

"We'll put together a blooper reel at some point," Welch said. "I'm sure when we get back in school, we'll get that thing out there for everybody to see, too."

Foster had never seen the movie before and only watched the scene they were filming on YouTube for the first time once they committed to the project. The senior outfielder, his sister Madison and Maddie McCulley did the editing. The finished product has met with favorable reviews.

"I think it turned out great," Mickler said. "We all loved it. My family thought it was hilarious."