Giant killers
'Committed' Anniston stuns top-ranked Handley, pulls into three-way tie for first place in region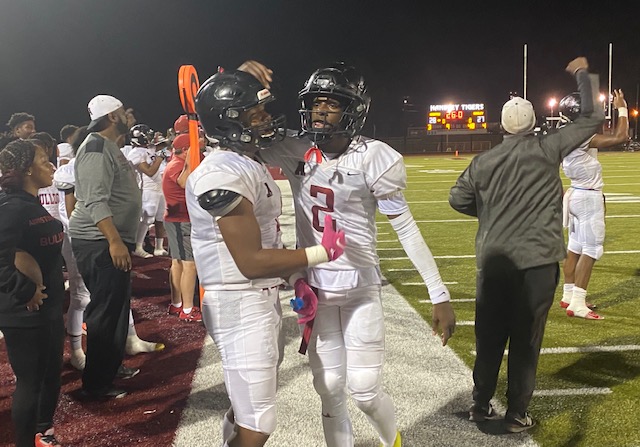 CLASS 4A REGON 4
Anniston 28, Handley 27
Cherokee County 31, Cleburne County 17
Munford 24, White Plains 14

STANDINGS

TEAM
OV, REG
RECORD
REGION
WINS
REGION
LOSSES
REGION
REMAIN
NRW
Handley
6-1, 4-1
Munford, Jacksonville, Cleb. Co., Cher. Co.
Anniston
WP
14
Cherokee County
6-2, 4-1
Anniston, WP, Munford, Cleb. Co.
Handley
J'ville
5
Anniston
6-2, 4-1
WP, Handley, Munford, Jacksonville
Cherokee County
Cleburne Co.
10
Jacksonville
4-4, 3-2
WP, Munford, Cleb. Co.
Anniston, Handley
Cherokee Co.
0
Cleburne County
4-4, 2-3
WP, Munford
Handley, Jacksonville, Cher. Co.
Anniston
7
Munford
3-6, 1-5
White Plains
Handley, Cleb. Co., Jacksonville, Cher. Co., Anniston
White Plains
2-6, 0-5
Cleb. Co., Anniston, Jacksonville, Cher Co., Munford
Handley
NRW: Wins by defeated non-region opponents (tiebreaker)

By Al Muskewitz
East Alabama Sports Today
ROANOKE — All week long Anniston coach Rico White had one question for the players who walked into his office or crossed his path at practice:

Do you just want to be in the game with No. 1 defending state champion Handley or are you committed to doing everything it takes to win the biggest game of the year?

White got his answer a little after 9:30 Friday night when the Bulldogs burst off the sideline at Wright Field after knocking off the Tigers 28-27.

"I'm very excited, very excited," said Anniston quarterback Kam Sandlin, who threw three touchdown passes in the victory. "My mind is just racing."

It was the Bulldogs' first win over a No. 1 team since the 1994 state championship season, when they did it twice on the road (Oxford in Week 2 and Shades Valley in the playoffs). They had lost their last four games against a No. 1-ranked team, but hadn't played one since 2012. They are now 5-5 all-time against teams ranked No. 1.

It also kept them in the hunt for the region championship. They're currently in a three-way tie for first (with Handley and Cherokee County). They have the head-to-head tiebreaker over the Tigers, but not over the Warriors.

Handley wasn't the only No. 1 to get knocked off Friday. Fyffe, 3A's top team and owner of the nation's longest active winning streak, suffered a one-point loss to Geraldine.

"It's a great feeling to win this game," Bulldogs sophomore defensive back Love Kirby said. "We've been looking for this all year."

"This is where I want the program to be," White said. "Not so much the win, but the fact when we play we're known. When I first got this job we were homecoming. My first four or five games when we traveled we were homecoming. Now, you've got to play us.

"It's about getting this program back where it needs to be. They always talk about the '89 and '94 (state championship) teams. That's what we're trying to get to, get back to that."

Kirby scored what proved to be the winning touchdown with 9:35 left to play when he stripped Handley quarterback Cannon Kyles and raced 50 yards for the score. Sandlin kicked the extra point to make it 28-21.

Kyles returned to the Handley lineup for the first time since Game 2 in the third quarter and got loose for a 46-yard touchdown pass in his second snap and first throw back from a very personal injury to give the Tigers a 15-14 lead. They extended it to 21-14 less than two minutes later after getting the ball back on a turnover.

Kirby's strip and score came less than a minute after Sandlin floated a 40-yard touchdown pass to tight end Omarion Jones. Sandlin kicked the extra point after the Bulldogs were called for holding on the two-point conversion to tie the game at 21.

"He'd been asking for it all year," Sandlin said of the play to Jones.

It was just one of the plays White admitted digging deep into the playbook for, something he might not usually do until the playoffs. But this game was as big as a playoff game for the Bulldogs.

Nothing was more out of the box than the double reverse pass that Sandlin wound up throwing to Javon Thomas that put Anniston up 14-8 in the third quarter. It started out going to Jacques Thomas, who handed it to C.J. Munford, who handed it to Sandlin, who lined up in the slot, and Sandlin found tight end Javon Thomas all alone over the middle.
"No matter what I called they still have to execute," White said. "The kids did a great job. We got some plays we worked on all year; we called them tonight.

"I asked them if they were interested in beating them or were they committed. Interested means you just want to be a part of it, but committed, you're going to do whatever it takes, and you saw the effort tonight.'

Handley wasn't finished. The Tigers took it down to the wire.

Kyles threw a 37-yard touchdown pass to Maurice Cameron with 1:59 to play to pull the Tigers within one. The offense jumped offsides on the two-point attempt — one of several mental mistakes Handley coach Larry Strain said plagued his team in the game — so their bid to go for the win was pushed back five yards.

This time, Kyles rolled left and threw towards the end zone, but Jamarius Billingsley knocked it down. A flag added to the drama, but it was a hold on Handley, and the penalty was declined.

"Everybody we play gives us their A game," Strain said. "Tonight, I thought our kids were ready to play. We just made too many mental mistakes."

Everyone knew an onsides kick was coming. Jacques Thomas recovered it and the Bulldogs ran out the clock.
Anniston 28, Handley 27
| | | | | | |
| --- | --- | --- | --- | --- | --- |
| Anniston (6-2, 4-1) | 6 | 0 | 8 | 14 – | 28 |
| Handley (6-1, 4-1) | 0 | 8 | 13 | 6 – | 27 |
A – Jamarius Billingsley 6 pass from Kam Sandlin (kick failed), 9:16 1Q
H – Quadae Lewis 19 run (Quadae Lewis pass from Ty Fetner), 2:34 2Q
A – Javon Thomas 34 pass from Kam Sandlin (Jamarius Billingsley run), 7:46 3Q
H – Jamarius Haynes 46 pass from Cannon Kyles (David Towers kick), 2:58 3Q
H – Tae Meadows 17 run (run failed), 1:00 3Q
A – Omarion Jones 40 pass from Kam Sandlin (Kan Sandlin kick), 10:30 4Q
A – Love Kirby 50 fumble return (Kan Sandlin kick), 9:35 4Q
H – Maurice Cameron 37 pass from Cannon Kyles (pass failed), 1:50 4Q
| | | |
| --- | --- | --- |
| Ann (28) | | Hand (27) |
| 12 | 1st Downs | 13 |
| 39-176 | Rushes-yds | 34-107 |
| 6-12-0 | C-A-I | 10-17-0 |
| 90 | Passing yds | 134 |
| 4-2 | Fum-lost | 2-1 |
| 2-32.0 | Punts-avg | 3-35.0 |
| 9-73 | Pen-yds | 5-50 |
Ramsey honors fallen teammate
CENTRE – Cherokee County senior running back Damien Ramsey honored a fallen teammate on the Warriors' senior night Friday, wearing Nathan Pittman's jersey number (88) and played an inspired game.
Ramsey ran for 78 yards and a second-quarter touchdown on 13 carries and also had an interception on defense as the Warriors turned back Cleburne County 31-17. Pittman died in an automobile accident in 2019 during his sophomore year.
The win, coupled with Anniston's 28-27 upset at top-ranked Handley, creates a three-way logjam atop the Region 4 standings. All three teams are 4-1 in region play. The Warriors lost at Handley last week 42-14, but defeated Anniston 21-20 back on Sept. 10.
CJ Gresham got the Warriors (6-2) on the scoreboard first with a 55-yard touchdown run. Daniel Mejia's extra point made it 7-0.
Mejia added a 21-yard field goal in the second quarter to put the Warriors up 10-0, but Cleburne County (4-4, 2-3) countered with Devante Cantrell's 66-yard touchdown run to make it a 10-7 game. Cantrell rushed for 91 yards on 12 carries.

The Warriors went back up by 10 points on Ramsey's 1-yard touchdown run and Cherokee County led 17-7 at the break.
Tae Diamond's 3-yard touchdown run in the third quarter put the Warriors in front 24-7. Diamond gained 60 yards on eight carries with a touchdown.
The Tigers' Noah Morgan trimmed the Warriors lead to 24-10 with a 20-yard field goal.
Lamycal Mitchell put the Warriors up three scores again with his 3-yard touchdown run in the fourth quarter. He finished with 42 yards on eight carries with a touchdown.
Cleburne County quarterback Kyler McGrinn connected on a 27-yard touchdown pass with Andrew Adams later in the fourth for the final.

McGrinn completed 10-of-22 pass attempts for 100 yards and a touchdown. He also led the Tiger ground game with 140 yards on 20 carries.
Cherokee Co. 31, Cleburne Co. 17
| | | | | | |
| --- | --- | --- | --- | --- | --- |
| Cleburne Co. (4-4, 2-3) | 0 | 7 | 3 | 7 – | 17 |
| Cherokee Co. (6-2, 4-1) | 7 | 10 | 7 | 7 – | 31 |
Cher – C.J. Greham 55 run (Daniel Mejia kick), !Q
Cher – Daniel Mejia 21 FG, 2Q
Cleb – Devante Cantrell 66 run (Noah Morgan kick), 2Q
Cher – Damian Ramsey 1 run (Daniel Mejia kick), 2Q
Cher – Tae Diamond 3 run (Daniel Mejia kick), 3Q
Cleb – Noah Morgan 20 FG, 3Q
Cher – Lamycal Mitchell 3 run (Daniel Mejia kick), 4Q
Cleb – Andrew Adams 27 pass from Kyler McGrinn (Jaylen Groce kick), 4Q
| | | |
| --- | --- | --- |
| Cleb (17) | | Cher (31) |
| 19 | 1st Downs | 14 |
| 33-225 | Rushes-yds | 44-221 |
| 11-27-3 | C-A-I | 3-6-0 |
| 115 | Passing yds | (-3) |
| 0-0 | Fum-lost | 0-0 |
| 12-54 | Pen-yds | 10-66 |
Munford climbs out of cellar
Connor Morgan threw touchdown passes to Riley Brown and Jacoby Young and Dakota Frank kicked a 28-yard field goal on the last play of the first half to give Munford a 24-14 lead over White Plains it maintained throughout the second half.

The victory was the Lions' first in region play this season and kept White Plains winless in Class 4A Region 4.