Hunter sees red, wins green
Mobile native channels emotion of near miss into third Rolling Red Tour title, wins Cider Ridge Classic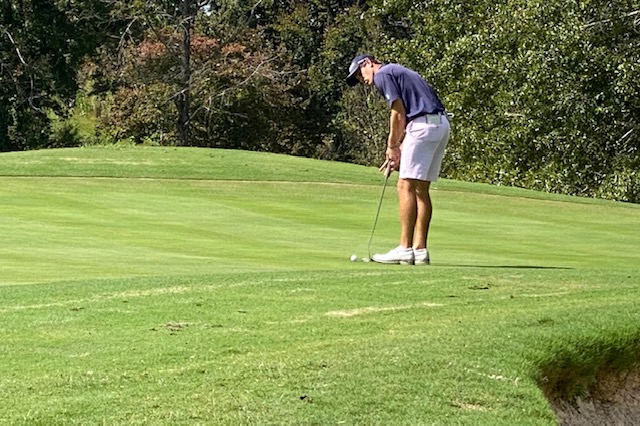 By Al Muskewitz
East Alabama Sports Today

OXFORD – If the players on the Rolling Red Tour didn't think of it before, the message should have come through loud and clear Friday.

Forget about being aware of the sick golfer. Beware the angry golfer. Or at least an angry Wesley Hunter.

For the second time this season the sting of a playoff loss lit a fire under the 26-year-old from Mobile that carried him to victory in the very next event.

The first time, back in August, Hunter lost a playoff in the Chateau Elan Classic, then won the Chateau Elan Open a few days later. Earlier this week he lost a playoff in the one-day Cider Ridge Shootout, then Friday closed out a victory in the Cider Ridge Classic.

"I don't really get bummed, I guess; I get more kind of angry and whenever I get angry, the fire gets back in me and I start playing better," he said. "I think I kind of needed it. It was kind of a kick in the butt for me.

"It's not that I get mad at the golf course. When I get in the car though something inside me just starts burning and gets me really, really motivated to play the next week. I think the motivation definitely helps you a shot or two; you're a little more focused mind-wise. Today was a struggle, I didn't hit it great, but stayed in the present and got it done."

Hunter, who played Cider Ridge once before in a high school substate tournament, shot a final-round 73 Friday for a 6-under-par 138. He won by two shots over former Jacksonville State player Bo Hayes.

He almost didn't play here. He lost a little fire after failing to advance through the first stage of Korn Ferry Tour Q-school and golf was the last thing on his mind last weekend attending a friend's bachelor party.

But he came around, did a good job staying in the moment and it paid off in a big way. It was his third win on the Rolling Red Tour this year.

He went into the final round with a two-shot lead, but the back nine became a battle between Hunter and Hayes and what an adventurous back nine it was.

Hayes grabbed a one-shot lead at the turn, but lost it on 10 after hitting two balls off the tee out of bounds and taking a 7. It wasn't as disastrous as it might seem. He was encouraged knowing he got up and down with third tee ball and had two par-5s and a gettable par-4 left to make up some ground.

Hunter gave a shot back when his drive on 11 hit the cart path and bounced high into the hill right of the green. He found the ball in the brush and attempted a shot, but moved it only a few feet and wound up taking bogey.

Hayes pulled into a tie with a two-putt birdie on 15, but the tournament turned two holes later.

Both players missed the par-3 17th on the right. Hayes' chip left him a chance for par, but the putt didn't break as he expected and then his bogey putt from inside two feet horseshoed the hole. Hunter, meanwhile, got up and down from the fringe for par.

"First one wasn't a bad putt, it just didn't break," Hayes said. "I didn't hit a great putt on the last one, just rushing, frustrated from the first one."

"That's definitely not how you want to win, especially because Bo's a friend," Hunter said. "It's tough to see that happen, you don't want to win like that. There's nothing you can do. It's just golf. I've done it a million times. It sucks, but he handled it well."

Both players birdied the final hole. Hayes had to make eagle and hit the green in 2, but hit his shot from 256 yards too good and it stopped on the back collar. Now with a two-shot lead, Hunter laid back to a desired 86 yards, wedged it to about 10 feet and smoothly made the putt for the win.

J. Michael Riley of Birmingham shot the low round of the day, a 2-under 70. The former Jax State and University of Mobile golfer got to even par with a birdie on 16 and made a 50-foot eagle putt on 18. He bogeyed both holes in the first round. He finished fourth.
Cider Ridge Classic
| | | | |
| --- | --- | --- | --- |
| Wesley Hunter, Birmingham $4,000 | 65 | 73 | 138 |
| Bo Hayes, Birmingham $550 | 67 | 73 | 140 |
| Matt Elliott, Hoschton, Ga. | 69 | 75 | 144 |
| J. Michael Riley, Birmingham | 79 | 70 | 149 |
| Alan Graves, Clinton, Miss. | 79 | 76 | 155 |
| a-Joseph Vinyard, Gardendale | 83 | 77 | 160 |
| Noel Sims, Phoenix | 79 | 81 | 160 |