Noah at the wire
Oxford's George holds off Southside's Holcombe at the wire to win Southern Showcase race; PV girls, Lincoln boys win Raider Invitational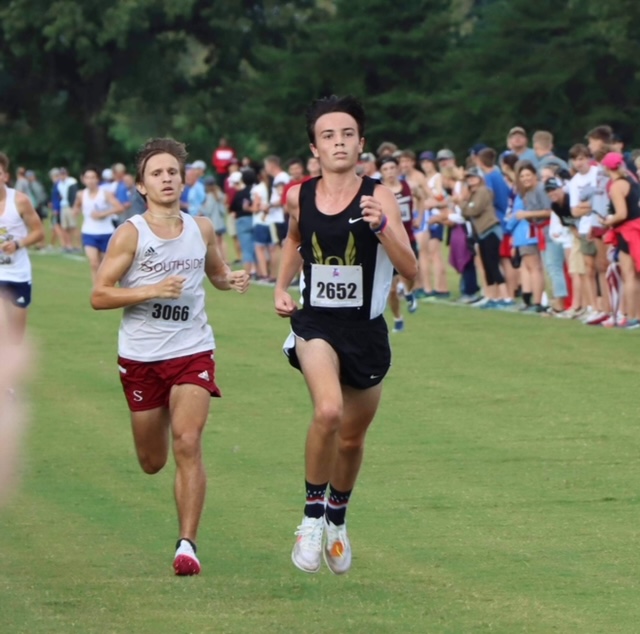 By Al Muskewitz
East Alabama Sports Today

HUNTSVILLE – Noah George has steadily gotten faster as he progressed in his career, but there was one question that burned within him as it does all runners that couldn't be answered until it actually happened.

Would he have the wherewithal necessary to hold off any challenger if things got really tight at the end of a race.

The Oxford junior proved he had the right stuff on the biggest of stages Saturday, fending off Southside's Luke Holcombe over the final 100 meters to with Boys Blue Division race in the Southern Showcase at the John Hunt Running Park by the slimmest of margins.

His winning time of 16:14.53 was a personal best and school record and beat Holcombe to the wire by 1.38 seconds. It was his second win of the season and biggest of his cross-country career.

"It felt pretty big to me, just with the time," he said. "It felt really good to do what I did today.

"I have wondered if I have enough speed and enough on the mental side to win (a race like that). I feel very happy I was able to kick in the final finish and be able to beat my opponent."

George, who won the Jackets' Waffle House Invitational earlier this season, went out fast and led most of the race. Holcombe passed him for about three seconds in the final 300 meters, but then George put his head down, found another gear and pulled back ahead with about 150 meters confident his challenger had expended too much energy to catch him.

"That's the first major final finish sprint that I've been in," George said. "I've been through a couple in track, but that was the first in cross country. I felt really confident. I knew the other guy was going to be really, really tired and all I had to do was get a little ahead of him and after that (hold on to the end)."

Oxford coach Landon Delozier was a little concerned about George's starting pace and even mid-race knowing Holcombe's reputation for having a "pretty rigorous last mile regardless what the race looks like to that point."

When he saw his running had a 15-meter lead, by mile one he started telling George if he was going to go, go on and win it. He did at the end.

"He boogied on and did what he had to do to take care of business," Delozier said. "It was mano-a-mano. Just the strength base of our workouts all summer allowed him to get the rollover going and pull out the win."

It's a win George hopes springboards him to greater heights. His next race in Anniston's first cross-country meet on the new course at McClellan Sept. 28. The Calhoun County Meet is on that course Oct. 21.

"I feel this win was really helpful just as a confidence booster," he said. "I think it's hopefully a promise of good things to come – as long as I keep working hard, of course."

Oxford's Katie Keur finished 14th in the Girls Blue Division race (20.42.94).
Raider Invitational
JACKSONVILLE – Pleasant Valley's girls and Lincoln's boys won the Raider Invitational at Pleasant Valley.

The Lady Raiders placed four runners in the top 15 and scored 52 points to beat Jacksonville by 18. The Golden Bears placed four counters in the top 10 and scored 42 points to beat PV by 23.

Jacksonville's Sarah Sloughfy won the girls race (21:56.32) and PV's Cayden Nelson won the boys race (17:25.27).

GIRLS
Pleasant Valley 52, Jacksonville 70, Lincoln 75, Sylvania 92, LAMP 110, Ohatchee 125, Clay Central 152, Cedar Bluff 196, Saks 249.

Top 10: Sarah Sloughfy, Jacksonville 21.56.32; Barit Snead, Sardis 22:33.56; Alexzandria Byrd, Lincoln 23:29.59; Macey Roper, Pleasant Valley 23:38.05; Ava Cain, LAMP 24:11.69; Lorelai Byrd, Lincoln 24:21.67; Emma Easterling, Jacksonville 24:27.24; Gracie Hood, Pleasant Valley 24:33.47; Molly Par, Sylvania 24:36.70; Kenia Leyva, Clay Central 24:48.73
BOYS
Lincoln 42, Pleasant Valley 65, LAMP 90, Gadsden City 112, Jacksonville 146, Sardis 156, Clay Central 165, Faith Christian 180, Ohatchee 263, Moody 275, Piedmont 309.
Top 10: Cayden Nelson, Pleasant Valley 17:25.27; Tanner Rice, Gadsden City 17:32.08; Landon Perdue, LAMP 18:06.49; Agustin Lemuz, LAMP 18:06.98; JaLeel Harris, Lincoln 18:09.97; Ben Boudreaux, Lincoln 18:59.37; Jaylon Rivers, Lincoln 19:04.34; Alec Vess, Pleasant Valley 19:08.32; Mithun Rameshkumar, Gadsden City 19:10.53; Aaron Davis, Lincoln 19:13.60.
Fairview Invitational
CULLMAN – Both Alexandria teams finished third in the Class 5A-7A races at the Fairview Invitatonal. Ben Wade (18:16.52) and Jonah Medders (18:32.97) were 5-6 overall to lead the Valley Cubs and Michaela Moore ran a 21:56.34 to finish 10th in the girls race.
GIRLS (5A-7A)
Lawrence County 19, Arab 59, Alexandria 75, Austin 122, Douglas 124, Guntersville 148, Boaz 190.
Top 10: Katie Mae Coan, Lawrence County 19:44.05; Katie Dumas, Lawrence County 19:46.68; Savannah Williams, Lawrence County 19:56.88; Grace Gosline, Arab 20:29.46; Olivia Marsh, Lawrence County 21:16.95; Julie Stapler, Arab 21:26.09; Carmen McMaster, Springville 21:29.13; Kenlie Nelson, Guntersville 21:32.71; Stella McDonald, Lawrence County 21:52.15; Michaela Moore, Alexandria 21:56.34.
BOYS (5A-7A)
Springville 41, Lawrence County 56, Alexandria 99, Douglas 118, Decatur 139, Russellville 176, Austin 185, Boaz 207, Fairview 213, Arab 219.
Top 10: Steele Joiner, Lawrence County 16:40.17; Alex England, Fairview 17:35.51; David Robles, Springville 17:49.15; Benjamin Chapman, Springville 18:09.32; Ben Wade, Alexandria 18:32.97; Jonah Medders, Alexandria 18:32.97; Yamilson Velasquez, Russellville 18:36.97; Trynt Allen, West Point 18:37.10; Houston Colley, Springville 18:39.92; Jeremiah Soria, Lawrence County 18:40.23.