Donoho county's No. 1
All critical factors lead to Lady Falcons pulling down top seed in upcoming Calhoun County Volleyball Tournament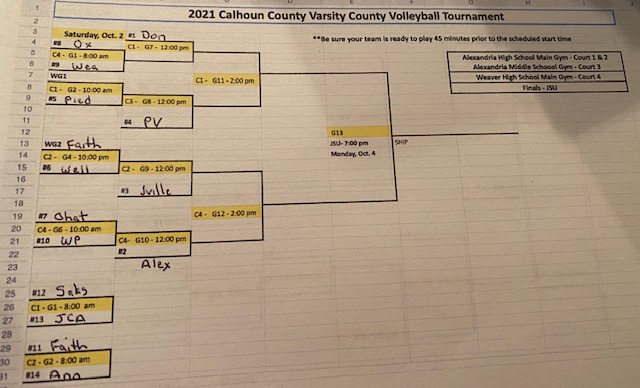 By Al Muskewitz
East Alabama Sports Today

WEAVER — The best record in town, undefeated against in-county competition, a No. 1 statewide ranking and a win over its most reasonable challenger all led to Donoho securing its first No. 1 seed in the County Volleyball Tournament in at least eight years Wednesday.

The Lady Falcons are 24-3, 8-0 against in-county competition and 9-3 against top 10 ranked opponents statewide. They beat Alexandria in two sets (25-21, 25-22) in their only meeting.

"It's pretty exciting," Donoho coach Jamie Clendenin said. "I've tried to get them to a point where we were getting better every year. I guess after this year there's nowhere to go but down, I guess, as far as seeding is concerned.

"Last year we were the 3-seed and we got beat. I know something I'm going to be telling the girls is just because you got the 1-seed doesn't mean you're going to make it to the championship game at County. I feel like it's pretty deserved especially since these girls have been putting in a lot of work over the last three or four years and I'm pretty proud of them."
NO. 1
SEED
(Since
2014)
2021
Donoho
2020
Alexandria
2019
Alexandria
2018
Oxford
2017
Pl. Valley
2016
Pl. Valley
2015
Oxford
2014
Oxford
The Lady Falcons were the No. 1 seed several times in the 90s, but East Alabama Sports Today records go back to only 2014. They last won the tournament in 2012.

Just like last year, the tournament will be staged at multiple sites before the finalists converge on Jacksonville State on Oct. 4. The preliminary rounds will be played at Weaver High School, Alexandria High School and Alexandria Middle with the semifinals scheduled at Weaver and Alexandria High at 2 p.m. Oct. 2.
Alexandria, coming off a week in which it beat four top 10 teams, pulled down the second seed with about as little debate as Donoho for the No. 1.

The two teams were supposed to play at St. Clair County Tuesday night, which could have flipped the top of the bracket, but the match was postponed out of respect following the passing of Alexandria teacher and football/wrestling assistant coach Tres Payne earlier in the day.

"I hate that we didn't get to (play); considering the circumstances it's definitely not the way I would have wanted it to play out," Clendenin said. "I'd rather have us had the game yesterday; it would have made today a lot more interesting had we had split (the two meetings), too."

The Lady Cubs, 15-6 and 6-1 in the county, have been on a roll of late. Last week the Lady Cubs handed No. 4 6A Chelsea only its second loss of the season and beat three ranked teams in the Hartselle Tournament before falling to the ranked host team in Gold Bracket play.
They have seven wins over top 10 teams this season.

The Lady Cubs had been the No. 1 seed each of the last two years.

"We have been playing well, but Donoho deserves the 1," Alexandria coach Whitney Welch said. "At the end of the day it's just a seed and I hope it motivates us. We need to keep working and be where our feet are so we can keep making positive strides."

Jacksonville (11-9) and Pleasant Valley (7-9, 4-4 county) were the other top 4 seeds. The four top seeds play their first matches at noon Oct. 2.

This story will be updated with the complete schedule.

CALHOUN COUNTY VOLLEYBALL TOURNAMENT
Records (overall, county) as of Sept. 15
Oct. 2 Matches
No. 8 Oxford (9-11, 1-4) vs. No. 9 Weaver (9-14, 3-9), 8 a.m. (WHS)
No. 12 Saks (6-13, 0-7) vs. No. 13 Jacksonville Christian (2-3, 0-1), 8 a.m. (AHS)
Saks-JCA winner vs. No. 5 Piedmont (17-4, 7-1), 10 a.m. (AHS)
No. 11 Faith Christian (3-11, 2-2) vs. No. 6 Wellborn, 10 a.m. (AHS)
No. 7 Ohatchee (12-4, 3-2) vs. No. 10 White Plains (3-17, 2-8), 10 a.m. (WHS)
Oxford-Weaver winner vs. No. 1 Donoho (24-3, 8-0), noon, (AHS)
Saks/JCA/Piedmont vs. No. 4 Pleasant Valley (7-9, 4-4), noon (AMS)
Faith-Wellborn winner vs. No. 3 Jacksonville (11-9, 1-2), noon (AHS)
Ohatchee-White Plains winner vs. No. 2 Alexandria (15-6, 6-1), noon (WHS)
Alexandria semifinal, 2 p.m.
Weaver semifinal, 2 p.m.
Oct 4 Match
Championship at Jacksonville State, 7 p.m.
WHS: Weaver High School, AHS: Alexandria High School, AMS: Alexandria Middle School

CALHOUN COUNTY JR. HIGH TOURNAMENT
(Double-loss elimination)
Records (overall, county) as of Sept. 15
First-round matches
Sept. 25
No. 5 White Plains (12-7, 8-4) vs. No. 12 Piedmont (1-9, 0-5), 8 a.m. (AHS)
No. 4 Oxford (9-6, 8-4) vs. No. 13 Jacksonville Christian (0-2, 0-1), 8 a.m. (AHS)
No. 3 Pleasant Valley (10-4, 4-3) vs. No. 14 Anniston, 8 a.m. (AMS)
No. 6 Wellborn (12-7, 8-7) vs. No. 9 Jacksonville (4-6, 4-4), 8 a.m. (WHS)
No. 8 Donoho (8-11, 5-7) vs. No. 11 Faith Christian (4-9, 1-6), 9:30 a.m. (AHS)
No. 7 Weaver (7-5, 6-4) vs. No. 10 Saks (3-15, 2-10), 9:30 a.m. (AHS)
Donoho-Faith winner vs. No. 1 Ohatchee (22-0, 15-0), 11 a.m. (AHS)
Weaver-Saks winner vs. No. 2 Alexandria (18-8, 11-3), 11 a.m. (AHS)
Championship match, 8 p.m. (WHS)
If necessary match, 9:30 p.m. (WHS)
AHS: Alexandria High School, AMS: Alexandria Middle School, WHS: Weaver High School