Bulldogs win big
Winterboro dominates Donoho in all three phases, extends region winning streak to 10 games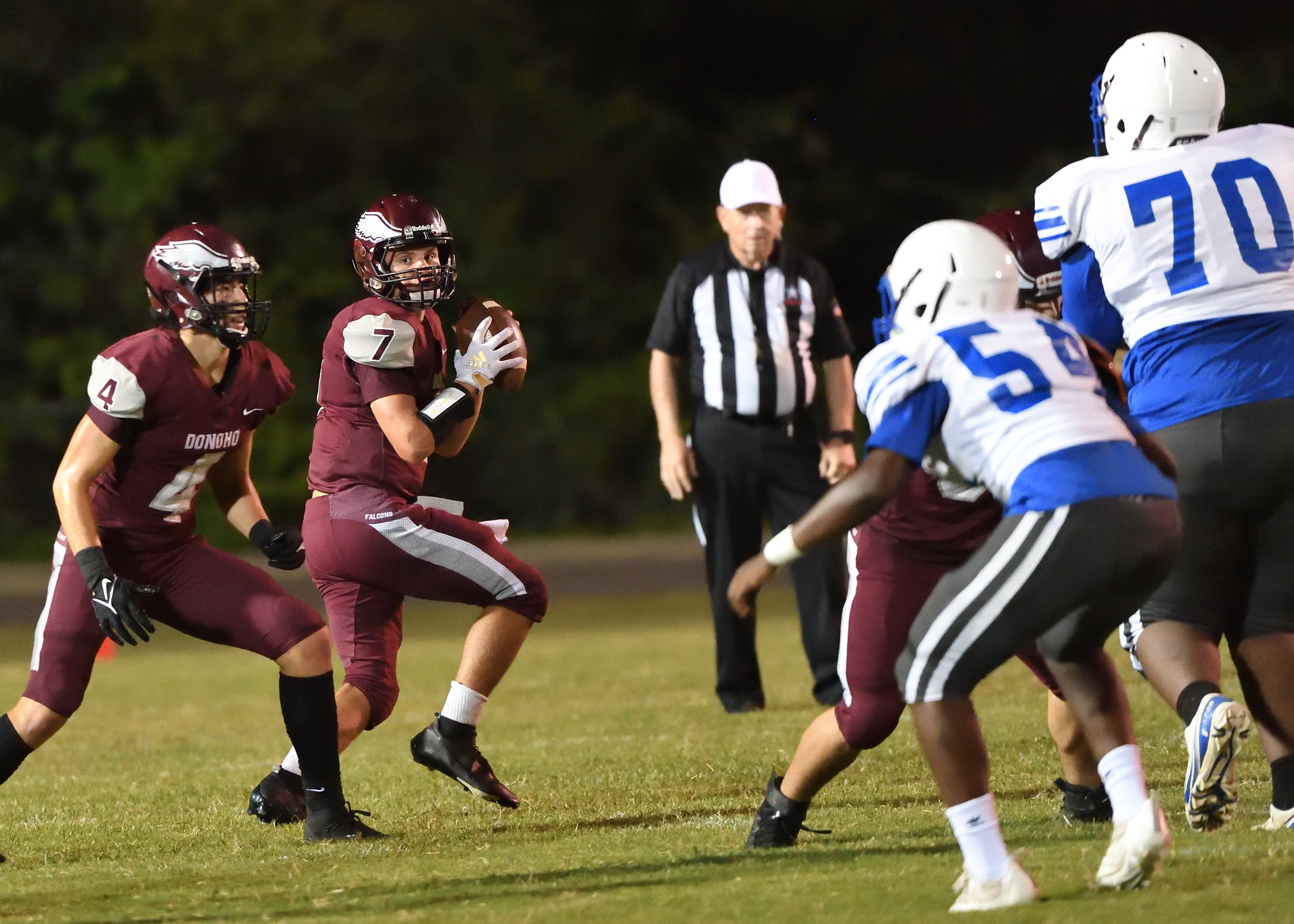 By Dean Harrell
For East Alabama Sports Today                  
The Winterboro Bulldogs have been boasting a consistent, high-powered offense for quite some time. Their second region game of the year Friday night against Donoho was certainly no exception.
The Bulldogs, coming off a high-scoring win against Ragland last week, were eager to continue their offensive prowess. The Falcons, meanwhile, losing quarterback Ridge Hopkins to illness along with five other injured players, were looking to light a spark in the young guns on their team.
Winterboro was able to exploit the young Falcons and come away with a 61-22 victory, improving to 2-0 in Class 1A Region 5. Donoho, meanwhile, lost its third in a row after a season-opening victory.
Winterboro was nothing short of unstoppable – on both sides of the ball. Jashaslin James was able to rush for a whopping 162 yards and two of the Bulldogs' four rushing touchdowns. The Bulldogs were able to put up 42 points by halftime, proving their overall control of the game.
"We were focused coming into this game," James said. "We watched a lot of film this week and attacked their weaknesses."
"We simplified our offense and have found ways to utilize our talents to our strength," said Bulldog head coach Skylar Mansfield.
But Winterboro's offense was not the only prominent part of the game. The Bulldogs defense was on a tear all game long, forcing five interceptions from Donoho backup quarterback Will Folsom.

Kamareon Curry was able to return one of his interceptions 70 yards for a touchdown late in the first quarter. In addition to the interceptions, the Bulldogs were also able to force two fumbles.
"We focused a lot on effort this week and were able to pressure the quarterback into rushing throws," said Mansfield.
The Bulldogs special teams contributed two kick returns for touchdowns. Both came in the first quarter from speedster Troy McKinney, who finished his night with 172 kick return yards. They answered a pair Folsom touchdown passes to Grant Steed.
The Falcons, still under interim head coach Karl Harris, are aiming to get back on track despite several injuries on the team. Head coach Mark Sanders, in COVID-19 quarantine, is set to return to the sidelines during Week 5.
"We had a lot of penalties tonight and had many players playing in positions they normally don't play in," said Harris.
Winterboro will be returning home to face Wadley next week in their third region game in a row; the Bulldogs are riding a 10-game region winning streak going back to 2019. The Falcons will be traveling to Woodland, eager to turn their season in the right direction again.
Winterboro 61, Donoho 22
| | | | | | |
| --- | --- | --- | --- | --- | --- |
| Winterboro (3-1, 2-0) | 28 | 14 | 19 | 0 — | 61 |
| Donoho (1-3, 0-2) | 14 | 0 | 0 | 8 — | 22 |
D – Grant Steed 64 pass from Will Folsom (Grant Steed kick), 8:02 1Q
W – Troy McKinney 71 kick return (PAT failed), 7:46 1Q
W – Jashaslin James 2 run (Jashaslin James run), 4:42 1Q
D – Grant Steed 11 pass from Will Folsom (Grant Steed kick), 1:40 1Q
W – Troy McKinney 82 kick return (Jashaslin James run), 1:26 1Q
W – Kamareon Curry 63 interception return (PAT failed), 0:41 1Q
W – Chris Tyler 4 run (Troy McKinney pass from Chris Tyler), 7:57 2Q
W — Jashaslin James 60 run (PAT failed), 2:42 2Q
W – Troy McKinney 68 pass from Chris Tyler (PAT failed), 9:57 3Q
W – Jemareo Clegg 3 pass from Chris Tyler (Jashaslin James PAT), 7:35 3Q
W – Deont'e Smoot 28 run (PAT failed), 3:34 3Q
D – Hayes Farrell 11 pass from Will Folsom (Lucas Elliott run), 3:07 4Q
| | | |
| --- | --- | --- |
| Win (61) | | Don (22) |
| 15 | 1st Downs | 8 |
| 31 – 225 | Rushing | 18 – 19 |
| 3 – 7 – 0 | C-A-I | 14 – 29 – 5 |
| 76 | Passing | 218 |
| 9-80 | Pen-yds | 9 – 55 |