Glad to be back
Ohatchee coach Hughes back on the bench after undergoing heart surgery right before the start of the season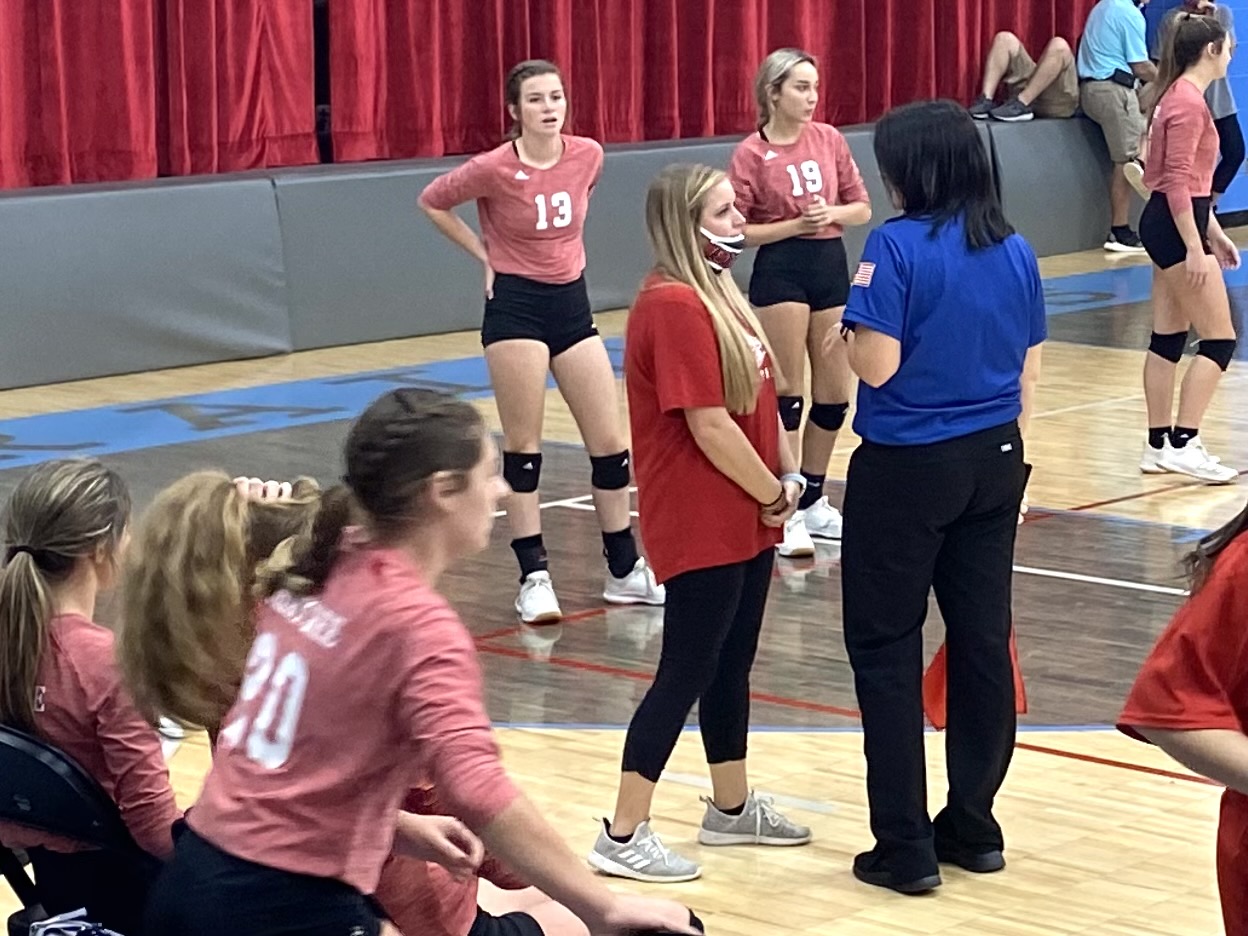 TUESDAY'S SCORES
Cleburne County 2, White Plains 0
Donoho 2, Cleburne County 0
Glencoe 3, Collinsville 0
Munford 2, Childersburg 0
Munford 2, Talladega 0
Ohatchee 3, Weaver 0
Oxford 3, Pell City 0
Oxford 2, Woodlawn 0

By Al Muskewitz
East Alabama Sports Today

OHATCHEE – Rebecca Hughes and her Ohatchee volleyball team went into this season with all kinds of anticipation. The way their season ended last year, the Lady Indians couldn't wait to get back on the floor to take care of what clearly was unfinished business.

Adding to the excitement was the arrival of the coach's her first child, Zane, into the world in April. Things couldn't have been better. And then they weren't.

Hughes began to experience bouts of fatigue, which she attributed to just having had a baby. But the situation turned ominous after her doctors discovered a hole in her heart, a congenital defect that went uncovered through all her physicals as a high school athlete.

Doctors at UAB performed a robotic procedure to successfully repair the issue Aug. 3, but the recovery kept Hughes away from her team for the first three weeks of the season. Had it been open-heart surgery, she would have missed the season entirely.

She returned to the sidelines for last week's match with Donoho in a supporting capacity. She got more involved during last weekend's runner-up showing in Lincoln's tournament, and was all in Tuesday night when the Lady Indians swept Weaver 3-0 to win their Class 3A Area 11 opener.

"I feel like the whole last month of my life has kind of been a blur," Hughes said. "It's nice to have normalcy back and be back with the girls in a routine. It's been crazy, but I'm definitely glad to be back with them."

Hughes had always had a fast heart rate and never suspected a life-threatening issue. She asked her doctors how her type of defect gets discovered and they told her most of the time it's found on the autopsy table.

"I never thought I'd have heart surgery at 27," she said. "I told my husband it's kind of funny – we kept going to all these doctor's appointments and we were clearly the youngest people in there. They were all like what are you doing in here?"

This was expected to be a big year for the Lady Indians, and it still promises to be. They had a strong team last year but had the season cut short by COVID-19 quarantine on the eve of the area tournament. Hughes called it at the time the hardest phone call she ever had to make to her players.

The Lady Indians played a largely junior varsity lineup in the tournament in hopes of maintaining the team's post-season eligibility, but fell in the opening round. Their area includes perennial power Pleasant Valley and improving Piedmont and Weaver.

Coaches Kina Teaford and Kendall Poe directed the team during Hughes' recovery and the head coach praised her players for "really stepping up" through the adversity. The Lady Indians were 5-1 during her absence and are now 11-3 on the season.

There are still some things Hughes can't do since the operation. She can do light exercise, but can't lift anything heavier than 20 pounds and still can't lift her left arm over her head.

"I tell the girls my heart is repaired, but don't put me through those stressful situations," she said.

No worry about that Tuesday. The Lady Indians won 25-12, 25-14, 25-15, and everyone contributed.

Jorda Crook had 12 kills, five aces and seven digs. Rachel Dunaway had nine kills and 10 digs. Gracyn Snow had four kills, eight digs and 11 aces. Gracie George and Hannah Fitch each had five kills and four aces. Ellie Carden had eight digs and Millie Rainwater had 21 assists.
Best night of the year
The Oxford volleyball team enjoyed its best night of the season, beating Pell City for its first area victory 3-0 and Woodlawn 2-0 to double its victory total for the season.

The Lady Jackets (4-7) dumped Pell City 27-25, 25-20, 25-18 and Woodlawn 25-18, 25-10.

Abbie Mitchell led Oxford with 20 kills and 13 digs. Ashley Paulson had 22 digs, and Adrionna Foster had nine digs and 27 assists.

OXFORD 3, PELL CITY 0
OXFORD 2, WOODLAWN 0
KILLS – Oxford: Kara King 9, Abbie Mitchell 20, Shay Montgomery 7, Mileah Prince 5, Daelyn Bozeman 4.
ASSISTS – Oxford: Ashlynn Burns 5, Adrionna Foster 37.
DIGS – Oxford: Cohlee Boone 9, Ashlynn Burns 7, Adrionna Foster 9, Ashley Paulson 22, Abbie Mitchell 13.
Senior sweep
Munford celebrated Senior Night with a double sweep over Childersburg (25-5, 25-4) and Talladega (25-12, 25-11), and all six upperclassmen contributed.

Kelsey Goodson had seven kills, five aces and six digs. Kirsten Rogers had 10 aces and three digs. Mekiah Mosley had four aces and seven digs. Jessica Anderson had three digs, Abigail Daniel two digs and Kambrya Meadows two kills.

Sophomore Ellie Rose Jones had eight kills, 11 aces and two digs for the Lady Lions (14-8).

DONOHO 2, CLEBURNE COUNTY 0
CLEBURNE COUNTY 2, WHITE PLAINS 0
Cleburne County defeated White Plains 25-18, 25-10, but fell to top-ranked 1A Donoho 25-18, 26-24. Libby Altman had 26 assists for the Lady Tigers in the Donoho match, while Kynsi Hazzard and Karley Boyd had 11 kills apiece.