Finishing in style
Setterstrom birdies last two holes to win Alabama Open for his second win in as many weeks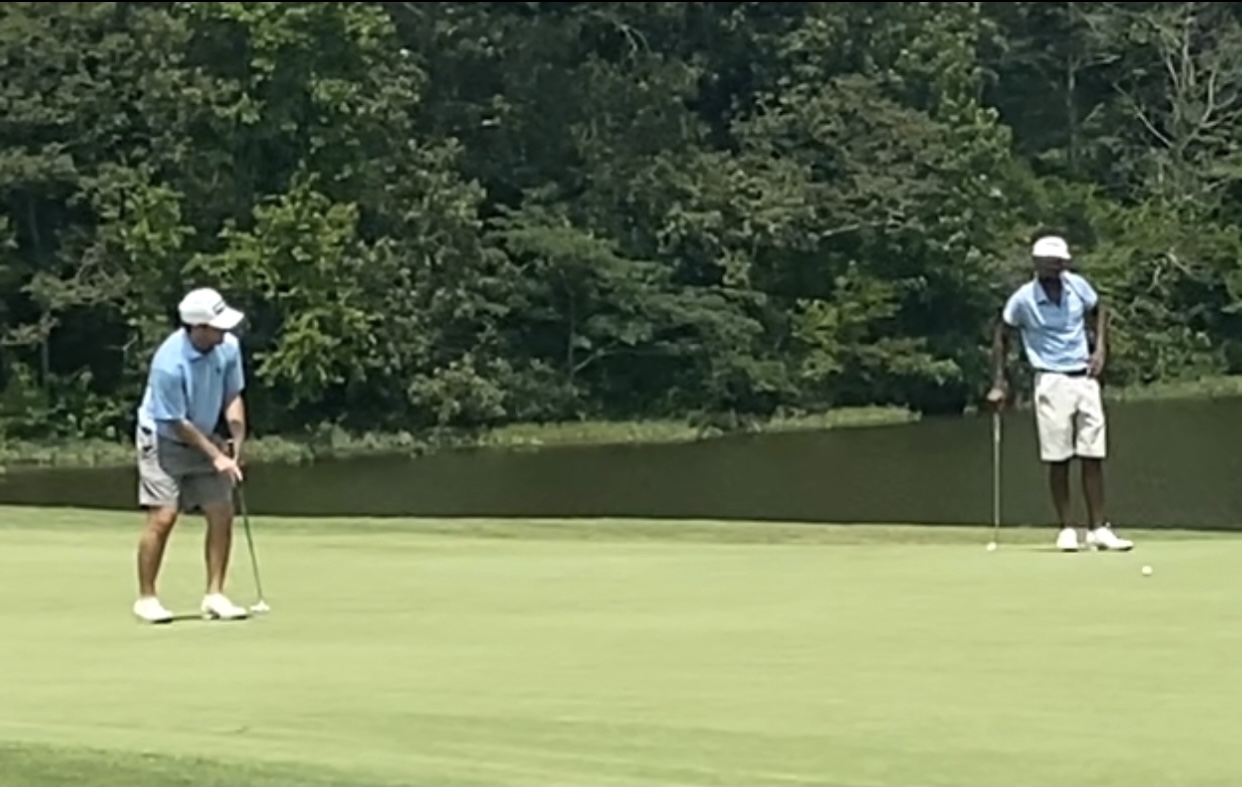 By Al Muskewitz
East Alabama Sports Today
GADSDEN — Steven Setterstrom has always been a good final-round player, but there are times he wishes he could finish a little cleaner.
On Sunday, he was as good as ever in the final round and this time he was even better at the close.
The former Alabama All-American birdied each of the last two holes, including a dramatic 20-footer on 18, to win the Alabama Open at Twin Bridges Golf Club by one shot over amateur playing partner Hunter Hawkins.
Setterstrom and Hawkins both shot 6-under-par 66 in the final round. Setterstrom's winning birdie took him to 20-under 196 for the championship. Hawkins, the only player in the field to go bogey-free for the entire 54 holes, shot 197.
It was his second win in as many weeks, bookending with the Capital City Classic he won last Sunday in Montgomery in a playoff. The 25-year-old from Mobile earned $5,000 for the effort.
"I had a talk with my uncle and my dad after last week's tournament," Setterstrom said. "I actually three-putted the last hole and had to go to a playoff. I always had a little time struggling finishing on 18.
"When I got up and down (on 16 for par) I just told myself I can birdie these last two. I needed to finish strong because that's a little weakness of mine. I've been trying to work on that."

The issue creeped into his opening round this week, but he got through it. He played in the first group of the first day and made nine birdies over his first 17 holes, then finished with a bogey on 18. He still led the tournament, but lunch didn't taste as good as it could have.
He also had a lesson Monday after Montgomery to correct a small swing flaw he'd been fighting the last few weeks and it "really helped" coming into the week. His ball-striking was sharp and his putter remained hot.
The two front-runners already had some separation on the field when the day started, but it clearly became a two-man horse race after Setterstrom made five birdies between 6 and 11 and Hawkins followed him with four in the same stretch.The run left the cart partners tied at 18-under for the tournament.
Hawkins took a one-shot lead with a birdie on the par-5 15th after hitting the green in 2. His chances of becoming the first amateur to win the Alabama Open since Robbie Prater in 2014 looked even better when he stuck his tee shot on 16 in the middle of the green and Setterstrom found the right greenside bunker.
But Setterstrom nearly holed his bunker shot and tapped in to save par, while Hawkins two-putted for par. Setterstrom then made a 12-foot birdie on 17 to pull even with one hole to play.
"Going down the stretch I knew I was probably way clear of winning the (pro's) check for the tournament, but I really wanted to win the whole thing," Setterstrom said. "I kind of told myself let's just birdie these last two because I really wanted to win. That'll give me a lot of confidence going forward, too."
Both players had about 110 yards into the green at 18. Hawkins' ball was sitting in a little depression that made it difficult to catch it solid. His gap wedge cleared the bunkers but settled into the fringe. Setterstrom's gap wedge hit the green and settled 20 feet left of the pin. Hawkins' birdie attempt came up short and Setterstrom ran his putt home for the win.
"I just didn't hit it close enough, didn't make the putt," Hawkins said. "I didn't lose it, he won it."
NOTES: Austin Gean of Florence was the second low pro and third overall at 11-under 205 after his Sunday 66. Six players tied for fourth at 208 … Calhoun County Golf Tour points leader Ty Cole was second low amateur and tenth overall at 209. Cider Ridge director of golf Jammie Lett finished T-31 and Pine Hill/Cider Ridge operator Cory Etter was T-33 … Mobile pro Drew Mathers six birdies in a row Sunday (9-14) and seven in an eight-hole stretch. He shot 30 on the back, 67 in the round and was among the six players at 8-under.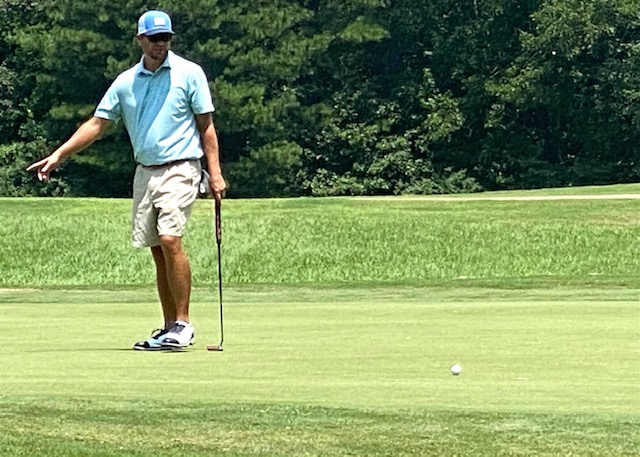 Alabama Open
| | | | | |
| --- | --- | --- | --- | --- |
| Steven Setterstrom, $5,000 | 64- | 66- | 68– | 196 |
| a-Hunter Hawkins, $750 | 68- | 65- | 66– | 197 |
| Austin Gean, $2,500 | 70- | 69- | 66– | 205 |
| Drew Mathers, $1,075 | 73- | 68- | 67– | 208 |
| Bo Hayes, $1,075 | 73- | 67- | 68– | 208 |
| Zach Portemont, $1,075 | 72- | 67- | 69– | 208 |
| Wesley Hunter, $1,075 | 67- | 70- | 71– | 208 |
| Wilson Furr, $1,075 | 71- | 66- | 71– | 208 |
| Rovonta Young, $1,075 | 66- | 69- | 73– | 208 |
| a-Ty Cole, $700 | 68- | 70- | 71– | 209 |
| Patrick Martin, $825 | 74- | 68- | 68– | 210 |
| Henry Westmoreland, $825 | 72- | 68- | 70– | 210 |
| Mike Genovese, $650 | 71- | 71- | 69– | 211 |
| Patrick Twesme, $552.50 | 71- | 72- | 69– | 212 |
| a-Noah Dennis, $552.50 | 71- | 72- | 69– | 212 |
| Sheldon Statkewicz, $552.50 | 71- | 72- | 69– | 212 |
| a-Frankie Wade Jr., $552.50 | 70- | 70- | 72– | 212 |
| a-Ross Napier, $480 | 72- | 72- | 69– | 213 |
| J. Michael Riley, $460 | 71- | 69- | 74– | 214 |
| a-Matthew Smith, $440 | 75- | 67- | 73– | 215 |
| a-Jake DeZoort, $392.50 | 72- | 74- | 71– | 217 |
| a-Brad Moultrie, $392.50 | 77- | 69- | 71– | 217 |
| Todd McCorkle, $392.50 | 76- | 68- | 73– | 217 |
| a-Garrison Guthrie, $392.50 | 69- | 74- | 74– | 217 |
| a-Dylan Moncus, $360 | 76- | 69- | 73– | 218 |
| Connor Slane, $345 | 76- | 73- | 70– | 219 |
| a-Tyler Hitchner, $345 | 72- | 76- | 71– | 219 |
| Joseph Haupt, $330 | 75- | 73- | 72– | 220 |
| David Pilkington, $315 | 77- | 70- | 74– | 221 |
| a-Gregory Jones, $315 | 74- | 73- | 74– | 221 |
| Jammie Lett, $295 | 76- | 71- | 75– | 222 |
| Todd Bailey, $295 | 69- | 72- | 81– | 222 |
| Cory Etter, $282.50 | 74- | 75- | 74– | 223 |
| Forrest Knight, $282.50 | 74- | 75- | 74– | 223 |
| Jordan Smith, $272.50 | 75- | 72- | 77– | 224 |
| Dominic Diaz, $272.50 | 71- | 77- | 76– | 224 |
| a-Brock McNeely, $265 | 75- | 74- | 76– | 225 |
| a-Sam Gargis, $260 | 73- | 75- | 80– | 228 |
| Robert Oppliger, $252.50 | 73- | 74- | 82– | 229 |
| a-Christopher Canterbury, $252.50 | 75- | 70- | 84– | 229 |
| a-amateur | | | | |