Soggy State Am start
White Plains' Okins shoots 72 in first State Am round, LeCroy caught in rain; play suspended for day, PM wave picks up Thursday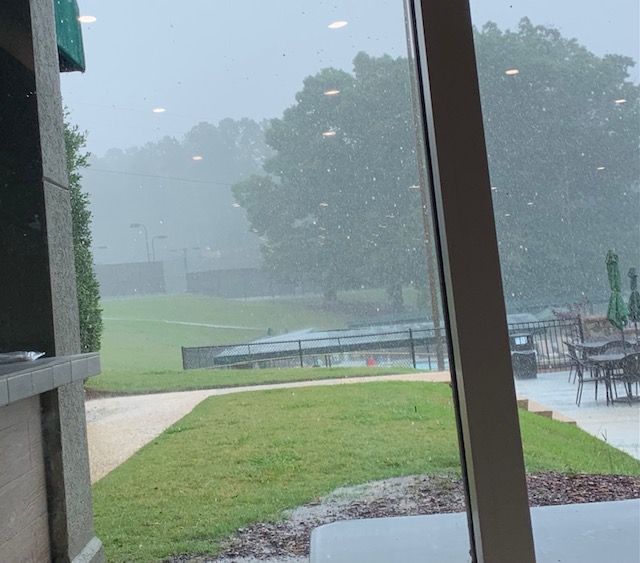 By Al Muskewitz
East Alabama Sports Today

BIRMINGHAM – If you looked at the way the exempt players into this year's Alabama State Amateur are listed, one could make a case for Kenny Okins being the last player in the field.
After four holes of Wednesday's opening round he was leading the tournament and he was tied for third when his first group off finished for the day. Sounds like a John Daly kind of story in the making.

Okins, the recent White Plains grad heading out to help start the Southern Union golf program, posted a 1-over-par 72 at Pine Tree Country Club in his first-ever appearance in the State Am. He was one shot off the lead when he finished and is currently T-34, three shots off the lead, when play was suspended due to unplayable course conditions.

"I played really good," Okins said. "The course is set up really long – it's pretty tough for a par-71 – but overall I hit the ball really well. I got a few bad lies out of the fairway, but overall I played well. It was a good first day."

Okins earned his way into the field as one of the top 15 juniors (and ties) in the Alabama Junior Boys Rankings as of March 1. It is the 22nd among 24 exemptions listed on the entry and Okins is the last name on the list.

Daly was the ninth alternate when he won the 1991 PGA Championship at Crooked Stick.
"I definitely never felt like I was the last guy in the field, I can tell you that," Okins said. "I think it's funny, too, with the way it's listed. I think those top 15 juniors, a lot of them would be pretty high up there because there are a lot of good players on the list."
Including defending State Am champ and 2020 State Player of the Year Gordon Sargent of Birmingham.
Anniston's Jacob LeCroy also is in the field. The former Anniston CC Invitational and Sunny King Charity Classic champion teed off at 1:20 p.m. and is currently even par through two holes (T-12).

LeCroy's afternoon wave will pick back up Thursday at 8:30 a.m. with its second round tentatively scheduled to begin at 1 p.m. The Wednesday morning wave gets Thursday off, but plays Friday to be followed by Round 3.

"Gotta be prepared to play," LeCroy said. "I don't know when it will be, but we are going to play eventually and you've got to stay in it mentally. That's more than half the battle."
When Okins reflected on his opening round it was mixed bag of good, bad and ugly. The good was holding the lead after a birdie on his fourth hole (No. 13). The bad was a three-putt double bogey on his 14th hole (No. 5) – between two birdies – and the ugly were those bad lies, including his ball sitting on three pine cones on his final hole of the day that led to a walk-off bogey.
"Overall I played pretty solid all the way through, outside of the double with three putts, and that was a crazy anomaly that shouldn't have happened," he said. "I took advantage of the most of the opportunities I had for birdie. It was a solid round of golf."
J.P. Cave of Mobile and Connor Newton of Auburn are currently atop the leaderboard at 2-under-par. Cave is through five holes and Newton is through four. Matt Smith of Athens and Harrison Sims of Homewood lead among the players who have finished (1-under 70).