Donoho denied
Fresh Bayshore Christian dominates Donoho, sweeps Wednesday doubleheader to deny Falcons 1A baseball crown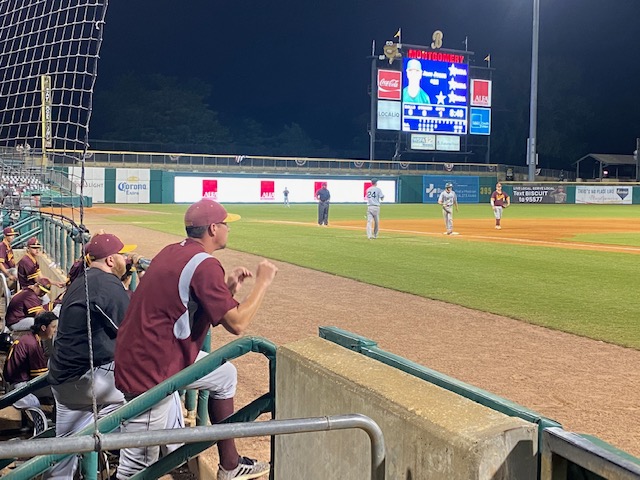 By Al Muskewitz
East Alabama Sports Today
MONTGOMERY – There was no dog pile. There was no ice bucket bath. There was no chance for Judson Billings to go all Pablo Sandoval in the infield. There were none of the trappings that come with winning a state championship. All that was left was a sense of what could have been.

Donoho went into the second day of the Class 1A baseball state championship series with Bayshore Christian Wednesday needing just one win to claim its first ever state title, but the Eagles spoiled those plans, sweeping both ends of what proved to be a championship doubleheader at Riverwalk Stadium, 10-0 and 18-0.

It was Bayshore's first ever state title in its first year of AHSAA title eligibility.

"Momentum is a big part of high school athletics and I knew they had a good arm and he pitched well in both games," Donoho coach Steve Gendron said. "Baseball's awesome, but it ends for everybody at some point.

"What did we learn from today? I don't know yet, but we'll figure it out. Obviously, you want to walk away with a win but there are only two teams in 1A that got here. I'm super thrilled and excited that we got the opportunity to be here.

"To get to this game where it's the last game of the season, the last two games for 1A baseball, is something to hold our hats on. It's something to talk about in the summer. Something these guys are going to text me about in 10 years."

The Eagles (28-9) forced the winner-take-all Game 3 with a five-inning no-hitter by John Malone. It was the sophomore right-hander's second Game 2 no-hitter in as many series, having shut down Brantley to force a Game 3 in that semifinal series.

They walked it off when Mikael Bryant hit a ball through right fielder Dean Harrell that went to the fence and he circled the bases.

In the clincher, the Eagles scored three in the second inning off Billings and broke it open with eight in the fourth. They added seven in the fifth as the Falcons (24-12) struggled to get out of the game.
The Falcons had never been shutout in back-to-back game this season prior to playing in the Montgomery Biscuits home park Wednesday. They had been blanked only three times in the regular season, and they all came in the first seven games of the year.

After winning Game 1 with eight hits Tuesday, the Falcons were outscored in Wednesday's doubleheader 28-0 and outhit 30-2.

"They just came in and were unconscious at the plate," Billings said. "Every time they swung they hit the ball. Even when they put in those younger kids they started hitting the ball, too. They were the better team today.

"When I saw that first kid hit the ball, I was like, 'Oh God.' You could tell they were on fire. Just the passion they were playing with, we didn't have today."

Bayshore coach Jeff Hauge put his team's Game 1 shortcomings on a tight baseball schedule combined with a busy early week of exams for the numerous underclassmen on his roster. The Eagles took it easy Tuesday night and Wednesday morning and it reflected in their play at Riverwalk.

"We were tired yesterday," Hague said. "It was like we hit a brick wall every time. We had a new look in our eyes. We were fresh and I knew today we were going to compete and were going to compete hard."

The Falcons gave the ball to Billings in Game 3. Billings threw 25 pitches in the seventh inning to close out Tuesday's win and was free to throw his entire pitching limit in Game 3. He lasted 50 pitches before being lifted in the third.

Bayshore touched Billings for three runs in the second. The Eagles loaded the bases on a single and two walks, then Jace Jones singled home the game's first run and kept the bases loaded. Bryant brought one home on a fielder's choice and Cole Dean singled home the other with a single into left.

The Eagles brought back Malone in Game 3, and he was just as sharp as he was in Game 2. He worked the first two innings before giving way to Bryant. In seven combined innings against the Falcons, Malone gave up one hit and struck out 10.

Malone left the nightcap with a 3-0 lead. Tyler Allen greeted Bryant with a leadoff double off the left field fence to open the home third, but was stranded there.

In Wednesday's first game Bayshore jumped on Donoho senior starter Blake Willingham for four in the first inning and opened an 9-0 lead after three. It was the first time the Falcons trailed in the series – and only the fifth time in the playoffs. 

Dean tripled home Bryant on a ball that hit just inside the first base bag and went down into the right field corner. Luke Werneth hit a shot past Allen at third into the left field corner for a two-run double and Werneth came home on Malone's chopper that bounded past shortstop Thompson.

The Eagles added another run in the second to go up 5-0, then batted around in the third to go up 9-0. It was the largest deficit the Falcons have faced this playoff season – they trailed Marion County 5-0 in the fourth inning of Game 2 in Round 3, and they won that one.
As sharp as Malone was that was going to be difficult. The only base runner Malone allowed was Willingham, who he hit leading off the game. The Falcons didn't hit a ball out of the infield in the game.

"Nothing'd go right for us and everything all went for them," Willingham said.
The run to the baseball title series brought a close to a pretty good athletic year for Donoho. The Falcons claimed four red state runner-up team trophies this academic year – volleyball (to Bayshore Christian), girls soccer, girls tennis and baseball.
"I think we're blessed with a lot of kids who are gifted athletically and they work their tails off to be that way," Gendron, the athletic director, said. "It's been an exhausting spring but I would do it again every single year because I knew we had COVID spring last year.

"I'm proud of our track, our tennis, our soccer. I'm super pumped about these guys because I'm directly around them. Getting to the state championship at any level in any sport is something to be really proud of."

CLASS 1A CHAMPIONSHIP SERIES
(Bayshore Christian wins series 2-1)
Game 2
Bayshore Christian 10, Donoho 0
Donoho 000 00 — 0 0 5
Bayshore 414 01 — 10 11 0
WP: John Malone. LP: Blake Willingham. 2B: Luke Werneth (B), Cole Dean (B), Jace Jones (B). 3B: Cole Dean (B).

Game 3
Bayshore Christian 18, Donoho 0
Bayshore 030 87 — 18 17 0
Donoho 000 00 — 0 2 0
WP: Mikael Bryant. LP: Judson Billings. 2B: Cole Dean (B), Jack Malone 2 (B), Jack Wheeler (B), Jace Jones (B), Tyler Allen (D).