A good start
Atchley sends his new Weaver football team into action for the first time, winning half vs. Meek makes two weeks of spring practice 'all worth it'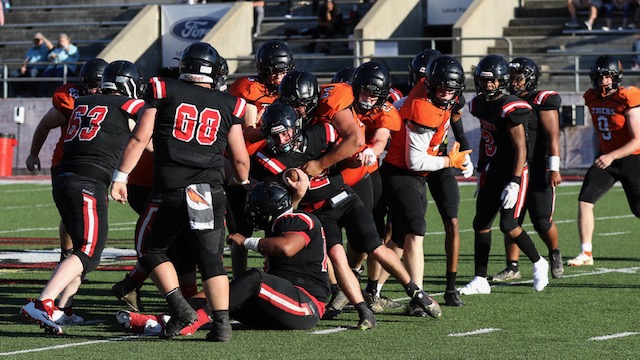 Saturday's spring schedule
At Jacksonville State
Woodland vs. Armuchee (Ga.), 9 a.m.
Central-Tuscaloosa vs. Fultondale, 10:45 a.m.
Thorsby vs. Horseshoe Bend (half), 12:30 p.m.
Thorsby vs. Addison (half), 1:30 p.m.
Horseshoe Bend vs. Addison (half), 2:30 p.m.
Center Point vs. Minor, 3:30 p.m.
Anniston vs. Talladega, 5:15 p.m.
Plainview vs. New Hope, 7 p.m.

By Al Muskewitz
East Alabama Sports Today

JACKSONVILLE – Gary Atchley really wanted to be the Weaver football coach when the Bearcats went looking earlier this spring and after Friday night he can't wait for August to get here.
The Bearcats saw their first live action under their new head coach at Jacksonville State and it had a little bit of everything. After not winning anything for two years, the Bearcats won a half against Meek 17-14 on a field goal with four seconds left and then lost a half to Coosa Christian 35-7 under a hail of turnovers.
"This spring was not about wins and losses," said Atchley, the former OC under Daryl Hamby who follows Justin Taylor as head coach. "It was about playing hard and getting after peoples' tails, and we did both of those things. It was a two-week gut check to see who wanted to play football for Weaver High School.
"I never thought the boys would catch on playing to the style of the way I coached as fast as they picked it up. I want things done a certain way and they picked up on it quick. It was everything I could have asked from a spring."
Atchley took over a program that hadn't won a game since 2018, but the Bearcats won in their first live competition together. Jeffrey Miles made a spectacular one-handed catch for about 35 yards in the closing seconds of the half and Miguel Canchucaja kicked a 20-yard field goal with four seconds left in the win over Meek.
"I won a lot of games in my time, but I almost felt like we won a playoff game when we kicked that field goal," said Atchley, who also coaches softball and had been the girls basketball coach. "I almost teared up seeing how excited they were. When the ref put his hands up (signaling a good field goal), the kids and the fans erupted. It was something awesome to see. It made the two weeks of practice all worth it."
But the Bearcats still had some more football to play. They were in a 7-7 tie with Coosa Christian with about 10 minutes to play, then about three minutes later it was 28-7 as the Conquerors converted three second-quarter Weaver turnovers into touchdowns.
Atchley attributed the miscues to fatigue. It also didn't help the Bearcats effectively lost the bulk of their playbook when quarterback Kaden Gooden became limited by a wrist injury.
"The players played hard; that's all you can ask for," Atchley said. "I couldn't be happier."