One more time
Donoho's girls reach 1A-3A soccer state title match, gives Jenkins' wig one more chance to do its magic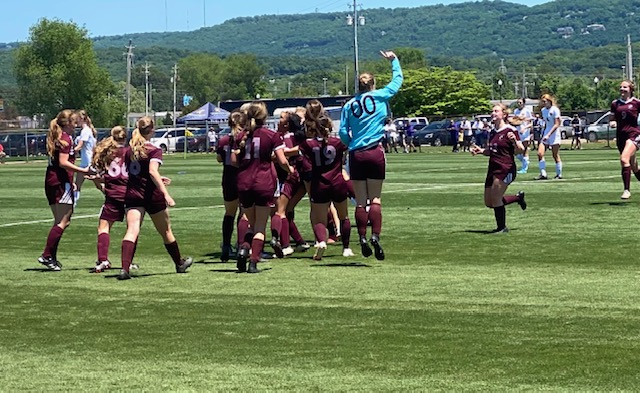 By Al Muskewitz
East Alabama Sports Today
HUNTSVILLE — Does the wig have one more win in it?
The Donoho girls soccer team — and, therefore, the floppy wig of coach Jay Jenkins — earned a spot in the Class 1A-3A state title game with a 4-0 win over essentially home standing Whitesburg Christian Thursday at the John Hunt Soccer Complex.

It's the Lady Falcons' first trip to the state finals. They lost in the semifinals on this same field two years ago against West Morgan.

"We were sitting on the right bench tonight," Jenkins reminded. "I told the girls we had the winners' bench today."
Tosin Sanusi scored the first goal 123 seconds into the match and the Lady Falcons (21-0-1) were off and running. Erin Turley scored a natural hat trick in the second half with three goals exactly 12 minutes apart.
The Lady Falcons will play Trinity Presbyterian for the title Friday at 7 p.m. Trinity was a 3-2 winner over Cottage Hill on an adjacent field.
"Gosh, I hope so," Jenkins said when asked if there was one more in the wig. "It'll be on tomorrow night. I'll be sporting it. We'll see. It remains undefeated. I can't believe it. I just can't believe we're here."
It was their 15th straight win and extended their carryover unbeaten streak to 23 straight.
It also was keeper Maggie Wakefield's 17th shutout of the season, tying the Lady Falcons for sixth most in state history with Vestavia (2019) and Oak Mountain (2014).
They've only allowed five goals all season — two of them own goals. The state record for goals allowed is six (Oak Mountain 2015), so a shutout in the final would preserve that place in history.
Wakefield faced a few challenges, but for the most part Donoho dominated the match in what basically was a home game for the Lady Warriors (12-5). Donoho's team hotel is right across the highway from the school.

The Lady Warriors' best chances came with 12 minutes left in the first half when she stopped two shots in a minor collision and with 7:50 to play that was turned away by Anna Grace Jones.

"For all the goals that we scored and all the things we've done, our defense is really the unsung heroes in this team," Jenkins said. "We score a lot of goals and put a lot of pressure on teams up top, but that's our 17th shutout. That defense is unbelievable. It's hard to get to our goal and when you do you got the best keeper in the state staring at you."

"The hard thing about defense is it's a position nobody gets stats for," Wakefield said. "We're so lucky to have such a great defense. They don't have the stats, but if there were stats for defense, man, they'd be absolutely insane. They work so hard and they make my job look easy."
The three-goal explosion by Turley in the second half seemed a sudden turnabout. Her body language in the first half seemed to indicate she was tired or hurting – she suffered a nasty fall at the state track meet last weekend, and still sported the bandages to prove it – but Sanusi, Sam Wakefield and Zoe Christopher kept the Lady Falcons in control.
Actually, it was a matter of running against the wind. And when the Lady Falcons had the wind with them in the second half, combined with Jenkins moving her to the top, Turley just took off.

"We had the wind going against us so I was running a lot up and down the field and it really wore me out," Turley said. "At halftime Jay was talking about how it as going to be a big advantage for us whenever we switched. That was true because when we started playing the wind kind of carries you.

"First half as a lot of challenges and kind of like settling into the game and really figuring out what was going."
Throughout the year, the Lady Falcons have rallied behind the curly wig Jenkins donned in the first match of the season to help take their minds off a particularly anxious opener.
They won the match and haven't lost since.

"That wig, everyone was talking about it last night," Turley said. "Tosin made a joke if he didn't wear the wig then she wasn't going to play. That wig has really helped us get through the season and brought everyone together."

Good thing he did and she did. Sanusi got the Lady Falcons on the board when fired into a wide open net after the Whitesburg keeper turned away Christopher's initial shot. Christopher had a hand in Donoho's first two goals.

"We kind of went over everything I needed to do and whenever people tell me to score I take that advice and I kind of do it," Sanusi said. "I was like, 'wow,' because I get so nervous before games even if I don't show it. For that to happen, I was like, finally, because last game I didn't score and I really wanted to this game."

So what happens to the wig after the final game Friday?
"We'll burn it or bronze it, I don't know but something's going to happen to it," Jenkins said.