State provides relief
AHSAA approves 'Handley Rule,' providing relief for football teams caught by forfeits, state also approves a fourth classification for wrestling, breaking 5A into a class of its own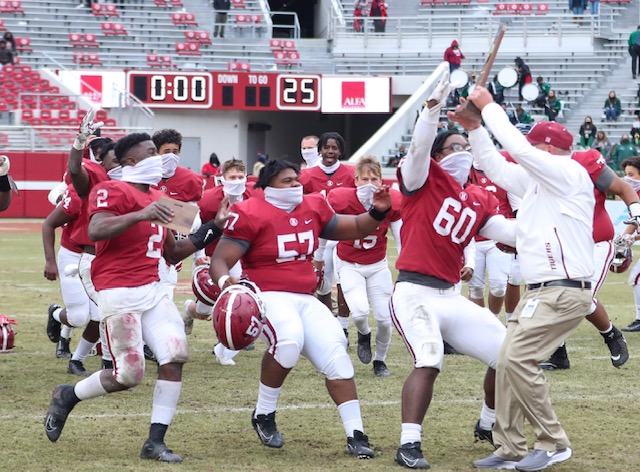 By Al Muskewitz
East Alabama Sports Today

Handley High School administrators estimated the Tigers' state championship football program lost around $40,000 last fall due to several COVID-related forfeits and head coach Larry Strain wasn't really sure it could ever make any of that back.

He was looking for relief and the AHSAA gave it to him and all the other football programs caught in similar situations in the form of a policy change Wednesday.

The AHSAA Central Board approved a Handley proposal that sought visiting schools that forfeit on the front end of a two-year contract to travel in what would be the return game of the deal. The proposal was written by Handley principal Todd Cole with much input from Strain, who had "a lot of assistance" from Piedmont football coach Steve Smith.

The revenue from ticket sales during the Year Two game would be split between the schools, but the home team would still get the parking and concessions it was denied by the forfeit.

"My thing is why would it be fair for me to have to go to the school who forfeited to me last year; why should I have to travel to them," Strain said. "Football is a unique sport in that it's a two-year contract sport. I know you have areas in basketball, but it's a home-and-home.

"Why should I have to travel and play (there) when it's not my fault. That was my whole underlying reason for writing it."

The Tigers lost games to COVID or COVID-related forfeits in five of the first nine weeks last season and had only two regular-season home games – Munford Sept. 4 and Clay Central Oct. 30. 

They lost a road jamboree with Lafayette, a game with Randolph County after rearranging their schedule, a home game with Lamar County (Ga.) when Georgia delayed the start of its high school season and makeup dates didn't match, and home region games with Jacksonville and Anniston.

The Tigers, who played two other games shorthanded because of their own COVID issues, would have had to travel to Jacksonville and Anniston this coming season to fulfill those contracts, but Wednesday's approval forces those teams to come to Roanoke instead. The Tigers now have seven home games.

The Lamar County game has been canceled to accommodate the Tigers playing Guntersville in the Champions Challenge.

"When I felt somebody did not (forfeit) because of COVID, my opinion of that is turnabout is fair play; you've got to be fair in this thing," Strain said. "If I had forfeited a game to someone and I didn't make the trip up there, I would feel obligated. I'd go to them because it's not their fault."

Piedmont also has aa dog in the hunt. The Bulldogs lost games with region opponent Weaver and Jacksonville in back-to-back weeks last season games. Those teams will come to the Field of Champions to fulfill the contracts.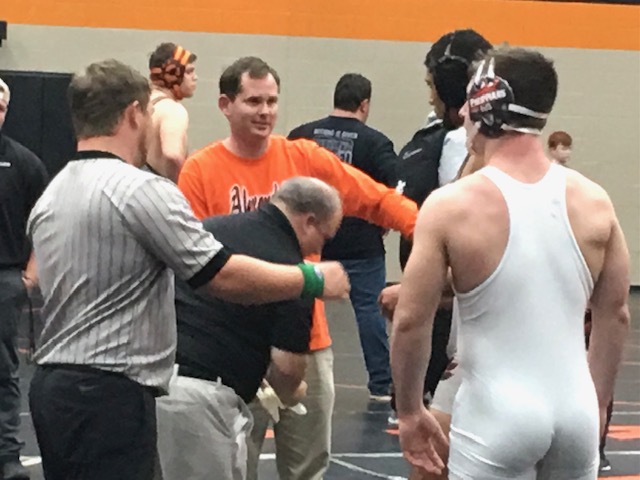 Wrestling: 5A in class by themselves
When Alexandria started its wrestling program eight years ago, the Valley Cubs were among the biggest fish in their competitive pond.

This year and next, after unprecedented growth in the sport, they found themselves the small fish in their pond. The programs they left behind were relieved to be rid of the dominating giant, of course, but the Cubs were now among the smallest guys in the game.

Now, they have a home of their own. They're truly in a class by themselves.

The AHSAA Central Board approved another change to the state's wrestling alignment Wednesday, accepting a recommendation from the Competition Committee to split the sport into four classifications starting in the 2022-23 academic year – Class 1A-4A, 5, 6 and 7.

"That's the best thing that's happened for the sport of wrestling as far as growing it since I've ever been involved," Alexandria coach Frank Hartzog said.

Hartzog and Jim Davis, head coach of 6A Opelika, both set forth proposals for the change, but Davis' apparently gained more traction because it linked the percentage of teams competing to make another classification viable as stated in the AHSAA bylaws.

The state currently has three wrestling classifications – 1A-4A, 5A-6A and 7; it previously had been 1A-5A, 6A and 7A.. Class 5A-6A has the largest number of teams – 71, 30 more than 1A-4A – but the competition within it leans heavily towards the 6A schools.

At this year's state championships, only 14 of the 84 placers in 5A-6A came from the smaller classification. The Valley Cubs went from being sectional champs in 1A-5A to 16th in the 5A-6A state meet.

"I have been pushing for four divisions for three or four years now," Hartzog said. "My train of thought was when we first swapped recently all we did was swap the classification, we didn't create another division. I thought it was great for the 4As, but I just didn't see it having the most potential to grow the sport.
"In the 90s when I wrestled there were three divisions. You're telling me we haven't warranted a fourth. Now that we finally have it, finally. This is probably the best thing that's happened since I've been part of wrestling period as far the continued growth. I think now we've taken a huge step forward."