County track
Oxford's boys, Alexandria's girls run away with Calhoun County Track Championships at Choccolocco Park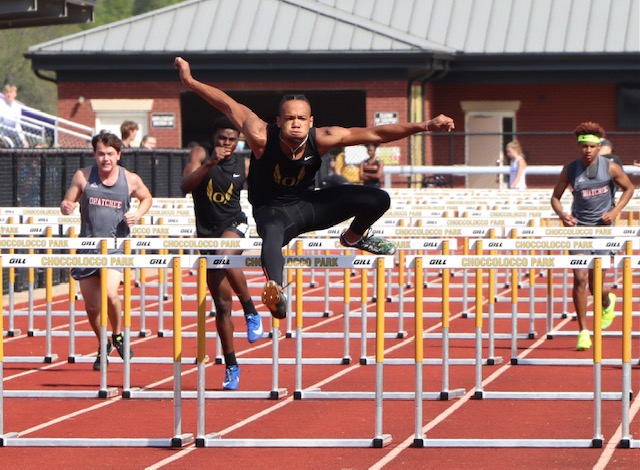 By East Alabama Sports Today

OXFORD — In one of the most dominating showings in recent memory, Oxford won 12 of 18 events Wednesday and ran away with the boys championship in the Calhoun County Track and Field Championships at the Choccolocco Park track.

The Yellow Jackets scored 244 points, more than double the output of their closest challenger (Ohatchee 96), in winning for the fourth year in a row.

The Alexandria girls were equally as impressive. The Lady Cubs won their championship — for the third year in a row — with 178 points.

Oxford's Javon Glenn won three individual events (200, 400, 100 hurdles) and ran a leg on one of the Jackets' two winning relay teams (4×100). Noah George won both distance races (1600, 3200) and ran the anchor leg on their other winning relay (4×800), and basketball high flyer Justin Moore (high jump and long jump) won two.

Jacksonville's Emun Young also was a double winner, taking the shot and discus.

On the girls side, Alexandria and White Plains each won five events and Ohatchee won three.

Alexandria's Karlee Walker won three individual events (100, 200, 400) and White Plains' Anna Strickland (800, 1600) and Saks' Sa'Nya Fleming (long jump, triple jump) each won two.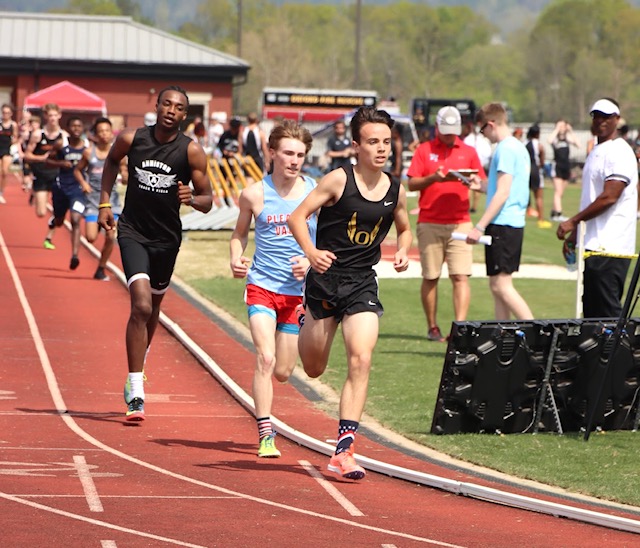 Calhoun County Track Championships
Team scores
BOYS
Oxford 244, Ohatchee 96, Anniston 73, Alexandria 48, Pleasant Valley 48, Jacksonville 40, Saks 40, Weaver 30, White Plains 29, Piedmont 24, Donoho 21, Wellborn 12.

GIRLS
Alexandria 178, Oxford 108.5, White Plains 91, Ohatchee 69, Donoho 53,5, Piedmont 48, Anniston 45, Pleasant Valley 32, Weaver 31, Saks 27, Jacksonville 7, Wellborn 6.
Event winners
Event
Boys
Girls
100
Damon Morgan (Ox) 11.24
Karlee Walker (Al) 12.87
100 H
Javon Glenn (Ox) 15.76
Morgan Foushee (Oh) 19.41
200
Javon Glenn (Ox) 22.19
Karlee Walker (Al) 26.59
300 H
Kendric Croft (Ox) 45.73
Shaniya Calloway (WP) 52.92
400
Javon Glenn (Ox) 50.58
Karlee Walker (Al) 1:01.12
800
Jake Moore (WP) 2:02.85
Anna Strickland (WP) 2:31.30
1600
Noah George (Ox) 4:54.51
Anna Strickland (WP) 5:43.04
3200
Noah George (Ox) 10:37.45
Michaela Moore (Al) 13:29.60
4×100
Oxford 43.38
Oxford 51.35
4×400
Anniston 3:41.24
Alexandria 4:21.83
4×800
Oxford 8:58.79
White Plains 10:33.92
Discus
Emun Young (Jax) 109-7
Malijah Johnson (Pied) 79-5
High Jump
Justin Moore (Ox) 6-7
Jorda Crook (Oh) 5-0
Javelin
Tyler Butler (Ox) 145-4
Lele Ridley (Pied) 93-11
Long Jump
Justin Moore (Ox) 22-2
Sa'Nya Fleming (Saks) 16-6
Pole Vault
Chris Ferguson (Oh) 12-6
Troy Galloway (Oh) 12-6
Savannah Yates (WP) 10-6
Shot Put
Emun Young (Jax) 44-3
Gracie George (Oh) 32-7.5
Triple Jump
Brendyn Knight (Wea)
40-5
Sa'Nya Fleming (Saks) 35-5