Good as gold
Ruedas' golden goal lifts Oxford's boys to third straight Calhoun County Soccer Tournament title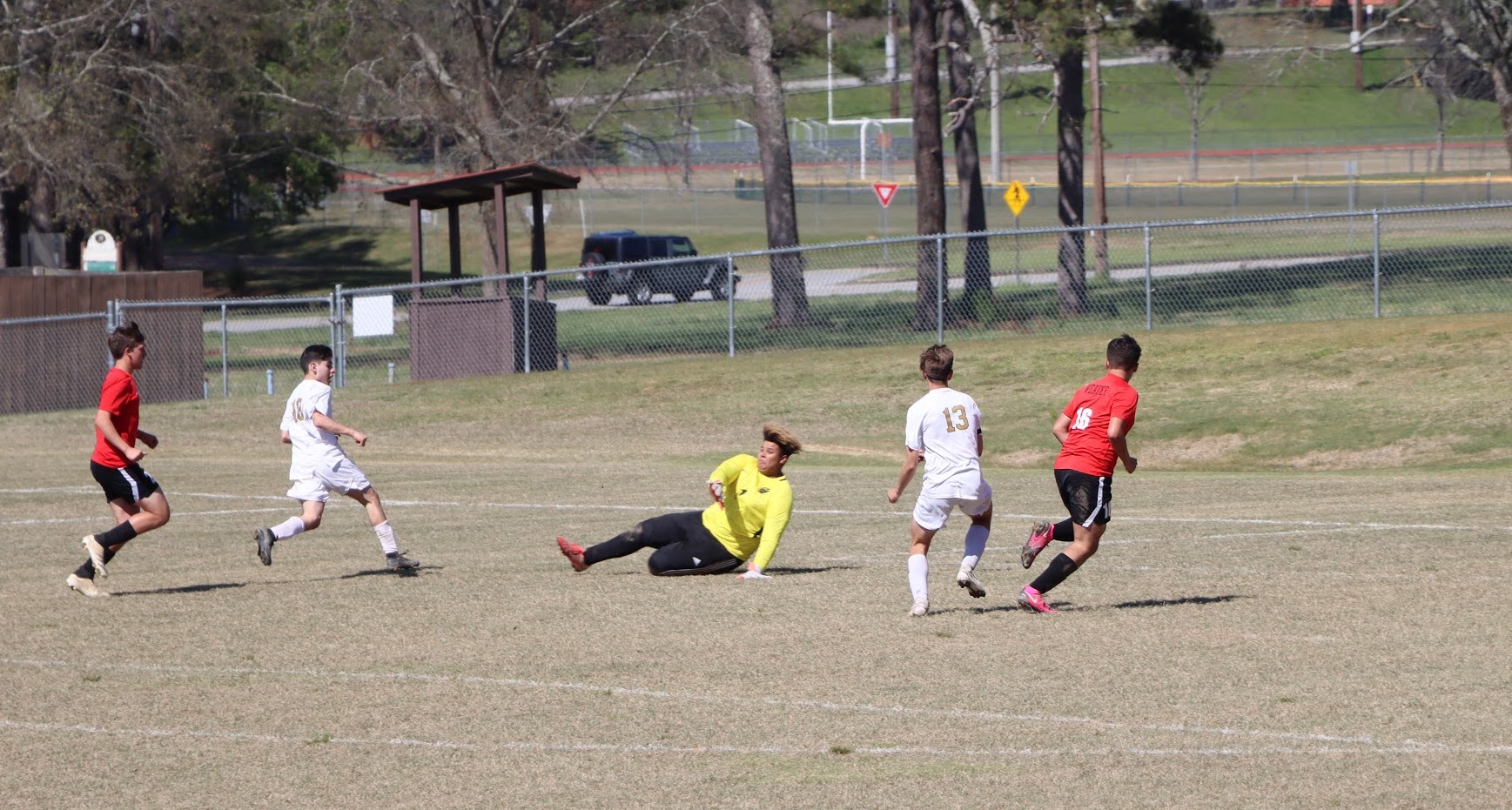 CALHOUN COUNTY BOYS SOCCER TOURNAMENT
Championship game
Oxford 5, Weaver 4 (OT)

By Al Muskewitz
East Alabama Sports Today

Sergio Ruedas' fourth goal of the game was just golden.

The Oxford senior scored his fourth goal of the game, a somewhat controversial golden goal with 1:27 gone in overtime, lifting the Yellow Jackets to a 5-4 come-from-behind win over Weaver for their third straight Calhoun County Boys Soccer Tournament title.

The fourth-seeded Jackets trailed 3-1 in the first half and 4-2 in the second before banging home the final three goals of the game.

"Crazy game," Oxford coach Arnaldo Ostolaza said. "It shows the fight and resilience of these young men."

There was controversy at the end.

Ruedas worked a give-and-go with Noah George, broke in on Weaver keeper Brayden Character and knocked the ball into the bottom right corner of the cage.

Weaver protested that the linesman on the far side of the field had his flag up for offsides; the Bearcats were even quick to offer video evidence. It was later explained to them the linesman was raising his flag to signal a goal and the play stood.

"We did a 1-2, I saw four defenders, one behind me, I passed to the left side where Noah was there and it was an easy shot," Ruedas said.

Ostolaza said he didn't see offsides.

"We were playing offsides all day," he said. "They played to that, their runners come up and we were too high. On that last play Junior (Ruedas) fixed it and I didn't see offsides. I'm a little biased, but I didn't see offsides."

The Bearcats were even more upset with Ruedas' third goal that tied the game with 5:52 left in regulation, claiming goalie interference on a high boot in a goal-crease collision. Mize said the interference was called initially and then overruled resulting in the goal.

"There was other stuff that went on in the game that was more concerning to me (than the last goal)," Weaver coach Chelsea Mize said. "I think we had that game, we just got tired and a couple of the calls just didn't go our way. At the end of the day, that's what it was.

"At the end of the day – and I always say this because I feel like I try to teach class more than anything; that's so important to me – you don't lose the game because of refs. Even if you really do, you don't. Because there's always something you can do better."

Scoring four goals in the championship game on the winning team, Ruedas was named tournament MVP, a goal he set for himself at the start of the season because "I wanted to go out strong." He played the game in No. 18, because he left his familiar No. 7 at home, but his father got it to McClellan Fields in time for the striker to wear it at the awards ceremony.

His performance trumped the four goals from Weaver's Kyle Knight. The Bearcats' speedy striker had a hat trick in the first 14 and a half minutes of the game, scoring three times about six and a half minutes apart between Ruedas' first two goals and staking Weaver an early 3-1 lead.

His first goal came 17 seconds after Ruedas' game-opening goal. There were five goals in the first 20 minutes of the match and four in the final 20 minutes, including the overtime.
"It hurts a lot, because we're here for a purpose," Knight said. "We wanted to win, of course, but we were trying to do it for our friend Isaac and it hurts that we couldn't put it through. You want it so bad and nothing goes your way. I tried, we all tried, but nothing went our way."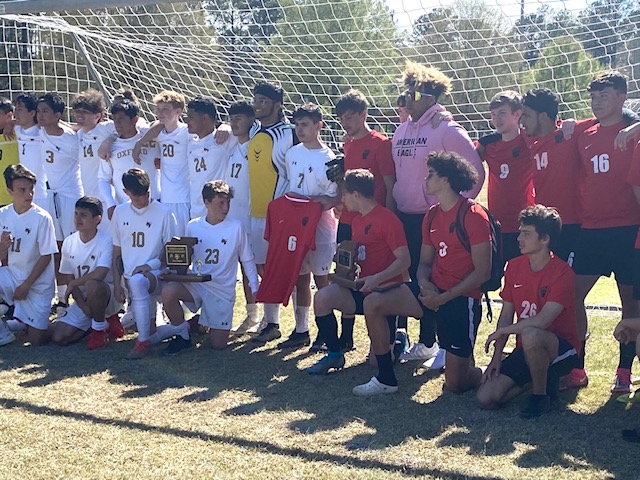 The Bearcats have dedicated their season to the memory of late teammate Isaac Crook and plan on retiring his jersey number in ceremonies later this month. Crook would have been a senior defender on the team, but the Bearcats lost him in December after he collapsed and later died during an offseason run at the school track.

The team had Crook's No. 6 jersey hanging in their bench area and both teams posed for pictures with the jersey after the game.
Ostolaza knew that incentive made the Bearcats a dangerous team in the finals.

"I've got to give it to the Weaver squad," he said. "They played lights out from beginning to end. We told the guys this game is bigger than County. They played with a purpose today. I told the guys that this is not just a game for them. It's for 6.
"But (the Yellow Jackets) held together and at the end of the day one of us had to win. If Weaver would've won I would've been happy. I'm glad we won, no question. At the end of the day, one had to win, I'm proud that we won."

Oxford 5, Weaver 4
Oxford                   2   2   1  –  5
Weaver                  3   1   0  –  4
GOALS
First half: 1. Sergio Ruedas, Oxford, 33:07 left; 2. Kyle Knight, Weaver, 32:50; 3. Kyle Knight, 28:44; 4. Kyle Knight, Weaver, 26:25; 5. Sergio Ruedas, Oxford, 20:33.
Second half: 6. Kyle Knight, Weaver, 18:15; 7. Sebastian Perez, Oxford, 15:29; 8. Sergio Ruedas, Oxford, 5:52.
Overtime: 9. Sergio Ruedas, Oxford, 3:23.
All-Tournament Team
Most Valuable Player: Sergio Ruedas, Oxford
Offensive Player of the Year: Josue Alvarez, Oxford
Defensive Player of the Year: Jaylen Barnwell, Weaver

All-Tournament
Daniel Blackstone, Faith Christian
Athiwat Projraj, Sakas
Hunte Skelton, Weaver
Kyle Knight, Weaver
Brandyn Knight, Weaver
Carlos Martinez, Oxford
Noah George, Oxford
Nicco Guitterez, Oxford
Alex Reyes, Oxford
Ethan Miles-Jameson, Donoho
Spencer Wigley, Donoho
Fisher Anderson, Jacksonville
Gleymar Perez, White Plains
Brandon Mendoza, White Plains