More than the game

Thomas, Kerr throw out Ohatchee's first pitch; Thomas to enroll at Clemson this summer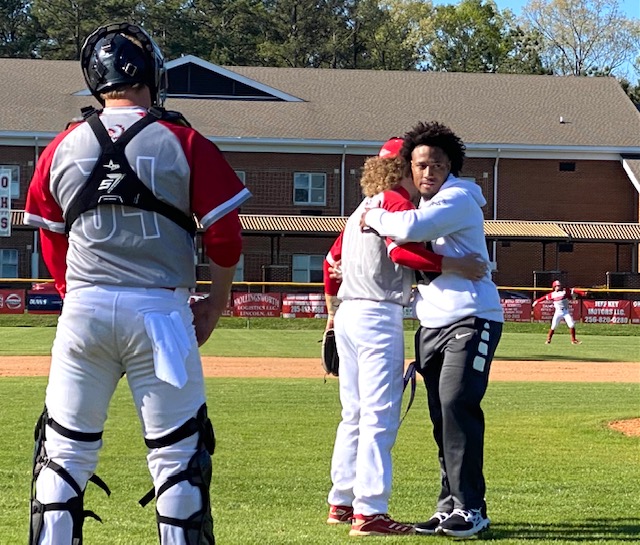 By Al Muskewitz
East Alabama Sports Today
OHATCHEE — Domonique Thomas and Zack Kerr both got big hugs from Ohatchee baseball coach Blake Jennings as they walked off the after throwing out ceremonial first pitches prior to the Indians doubleheader with Piedmont Thursday afternoon.

It was an important doubleheader, one with area championship implications. As much as the Indians wanted to win, Jennings said the day "wasn't about the game."
A week ago Thomas, a multi-sport standout at Ohatchee now playing football at Union College in Kentucky, lost his mother and grandparents in the EF3 tornado that tore through Ohatchee. Kerr, a JV baseball player who transferred from Spring Garden, lost his house. 
The school donated everything it took in from the game – the Indians' first home game since the storm – for tornado relief (they paid the umpires out of the baseball account) and recognized the players in the solemn pre-game ceremony. They raised $1,400.

"That's what it was all about," Jennings said. "You come over here to win that second game because it means so much to the area, but tonight was more about Domonique and about Zack and having people come out here and support these kids."
The Piedmont players passed the hat during the week and gave coach Matt Deerman an undisclosed amount of cash to give Ohatchee officials.

"It wasn't a whole lot, but it was a little something to help them out," Deerman said. "When a community gets devastated that's a small town like we are, people always come together, and Ohatchee's no different. This is what small towns do. They come together and try to help each other out and other communities help each other communities out.

"The players wanted to give me some money. Some of them gave me 5, some of them gave me 10, some of them gave me 20. You'd be amazed at some of the kids who gave me a 10-dollar bill who ain't got nothing. I was proud of them for doing that."
The outpouring of support for Thomas, who was traveling with his college team to play a football game when he got the devastating news of the storm, has been overwhelming and inspiring.

Visitation is scheduled for Friday and the funeral for all three family members is Saturday in Alexandria. The Indians have canceled their game with Jacksonville that day so the players could attend.
"The support I'm receiving now means more to me than any touchdown that I've ever scored," Thomas said as he came off the field.

He always thought about what it'd be like throwing out a ceremonial first pitch, but it was always in the context of doing it in the city of which he became an NFL draft pick.

"I guess doing it a little early wasn't bad," he said. "I didn't put a lot of heat on it, but I still know how to throw."

Thomas was wearing his mother's military dog tags, which were found on his grandparents' property among the rubble. He said he was never taking them off.

He planned to return to Union at some point, but also said he would transfer to Clemson in June with the anticipation of joining the team. He made his choice in order to be close to where his sister, seventh-grade Ohatchee softball player Ontarriah Braxton, would be living after she's released from the hospital. 
Ohatchee took the early lead in Game One of the doubleheader, but Piedmont wound up sweeping the day, 11-5 and 10-0. The Indians won the series opener Tuesday.