Jackets get 'our guy'
Oxford approves, introduces Hillcrest-Tuscaloosa head coach Sam Adams as its new head football coach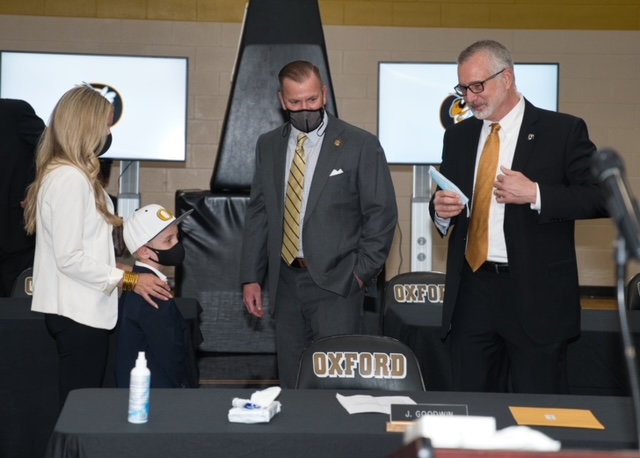 By Al Muskewitz
East Alabama Sports Today
OXFORD — Sam Adams already was excited about the idea of being Oxford's new head football coach. Then he got inside the Sports Arena, where the band, the cheerleaders, the players and an assorted group of well-wishers had gathered, and changed his tune.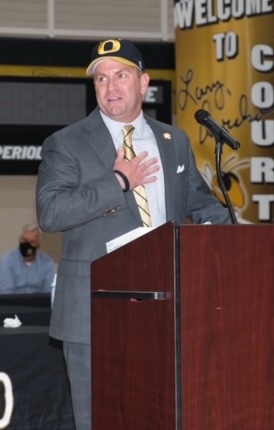 "My family and I are unbelievably excited and honored to lead this program," he said Monday night when introduced to the crowd. "Let me rephrase that: I think I was excited before I walked through the door to see what it looks like inside this building tonight and feel the energy in this room. I think I've moved on from excited to ecstatic."
Adams, the head coach at Hillcrest-Tuscaloosa the past seven years, was approved by the Oxford board at a specially called meeting.

The 41-year-old coach comes aboard full-time Monday with a base salary of $115,000 with other items to be negotiated. He succeeds Keith Etheredge, who left the Jackets after two seasons (one with a state title), to become head coach at Auburn High School, ironically a job for which Adams also was a finalist.
Adams was one of 15 candidates interviewed for the job, a pool that was narrowed to "four or five" finalists that were interviewed by principal Heath Harmon. Oxford officials would not identify the finalists, or even if any were members of the existing staff who interviewed, but offensive coordinator Will Wagnon reportedly was in the mix.

"He's our guy, that's the only guy I'm going to talk about," Oxford athletics director Larry Davidson said. "Coach Adams brings a wealth of knowledge and experience from both the college and high school level. Our athletic program is about we, us and ours, and Coach Adams fits that mode perfectly."

East Alabama Sports Today first reported Adams as the leading candidate Thursday. School officials waited until Monday to make its announcement in order to give Adams a chance to speak to his players who were just returning from spring break. He admitted it was emotional breaking the news to his players.

"It's emotional, but it's part of the business, though," he said. "You're going to have a chance to move on and go to a really good place, you obviously have to be willing to have those kinds of conversations."

Adams cut his teeth coaching with some of what he called the "legends" in the business – Bobby Petrino (Louisville), Tommy Tuberville (Auburn), John Grass and Josh Niblett among them – and weaved pieces of all those experiences into his coaching tapestry. He was a finalist for the Oxford job when it went to Etheredge two years ago.
He coached alongside and succeeded current Ohatchee head coach Scott Martin at Hillcrest in 2014. He is 56-29 in seven seasons with the Patriots, with a team that was known for its up-tempo style. He took them to the playoffs six times (missing only in 2019) – twice as a No. 1 seed and three times as a No. 2 – and always making it to at least the second round. They went to the semifinals in 2017.
Interestingly, he has called the shots in a game in Lamar Field before. He brought the Patriots to Oxford for the 2017 season opener, where the Yellow Jackets won 21-0.

He called the Oxford job one of the best in the state regardless of classification. He's coming into it just a multi-million-dollar facilities project is getting underway.

"It's a community you want to live in, a school system that you want your kids to come up through and it's a place that, honestly, you can win a heck of a lot of ballgames," he said. "They have a whole lot of things that are going right right now. To me the bigger challenge is just figuring out what's working less than optimally and fine tune and figuring out how can we take small steps forward."

Davidson called the hire a "collaborative effort" and said it was made based off Adams' resume and the presentation he made. His 16-minute introductory remarks to the crowd may have hinted at that presentation as he outlined for them his vision, mission, goals and core values for a program he hopes to develop into one the players not only want to be a part of, but one "they cannot live without."

He said the program will accomplish every goal it sets based on establishing its culture and developing its players.

"Any time I start a new journey I always have an image of a mountain in my mind," Adams said. "Right now, we're at the bottom of this mountain. We have not started the trek up this mountain as of yet. In this type of situations there are three types of people in the whole world – quitters, campers and climbers. I challenge all of us in this room every single day to keep climbing toward the top and never be OK with where we are."
Sam Robertson and Miguel Mitchell were in full baseball mode Monday morning while their Oxford baseball team was routing Deshler in Choccolocco Park, but soon after the victory their attention shifted to football and the anticipation of meeting their new head football coach.
Robertson, a sophomore with the potential to be the Jackets' starting quarterback in the fall, learned of the new coach's identity when he pulled into the ballpark this morning. He didn't know much about him, but was "looking forward to meeting him."
"I'm looking forward to seeing what type of guy he is, what he's trying to do for us, what he has to bring to the table and getting to know him and see how he is," he said. "He came from Hillcrest and they throw the ball a lot so I feel like he's going to like to throw the ball out and I like that."

"I'm looking forward to it, something new," Mitchell said. "It's not going to change anything for me. We're still going to play ball, we're still going to do things the right way. We're going to keep playing ball, keep winning games."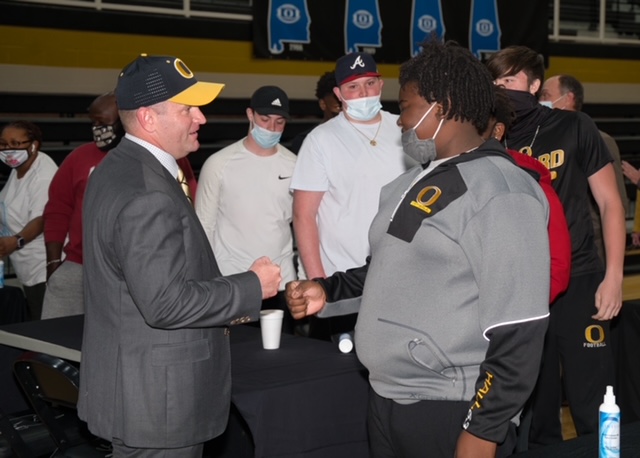 To see more pictures from the board meeting and Adams' introduction, click this link https://rb.gy/iogsrz