Setback in showdown
Pisgah ends Spring Garden's 29-game winning streak in 2A Northeast Regional final between two reigning state champs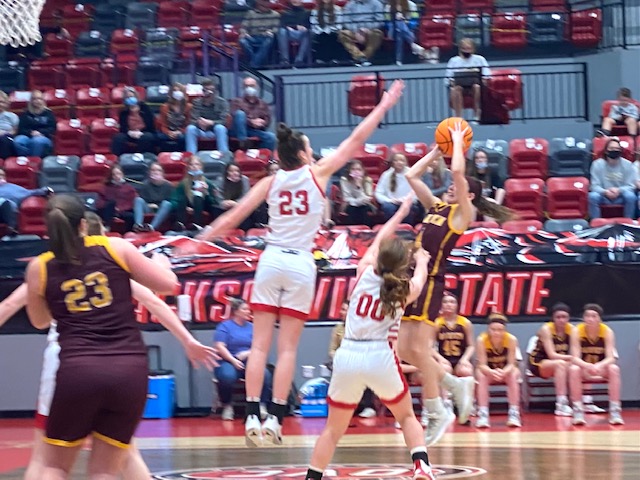 By Al Muskewitz
East Alabama Sports Today
JACKSONVILLE – It was 1 vs. 2. It was two reigning state champions. It was overtime. It was everything you'd expect.

The reigning Class 1A girls champion and reigning Class 3A girls champion met in the middle one year later Thursday – the Class 2A Northeast Regional final – and in the end it was Spring Garden on the outside looking in.

No. 2 Pisgah, the reigning 3A champions, hit a momentum-changing 3-pointer near the end of regulation to tie the game and hit 9-of-10 free throws in the final 64 seconds of overtime to end the Lady Panthers' 29-game winning streak and bid for the Final Four 72-65 at Jacksonville State.
The matchup was anticipated from the moment both teams were shuffled into Class 2A in the latest round of AHSAA reclassification and it certainly didn't disappoint.
In a game that had 17 lead changes – six in the fourth quarter – Spring Garden (32-3) appeared to have it won in regulation, but in a matchup of this magnitude nothing is certain until the end.
"It was exactly what it was billed to be," Pisgah coach Carey Ellison said. "I hated that a team as good as Spring Garden and us had to meet in the regional final instead of somewhere down the line, but all that said, it's an honor to be able to play with a team like that and the coach that they have. Just really overjoyed … with the effort we gave and the poise we showed when we had to."

"They're good; I mean, they're good," Spring Garden coach Ricky Austin said. "I give them all the credit in the world. They make play after play after play. I am proud of my bunch. We didn't ask to be moved up to 2A and I'm sure they didn't ask to be moved down to 2A and our crosshairs were on them all year. We thought if we're playing Pisgah at the end of the year something good is happening to us. Obviously, it's been a great year. It didn't end the way we wanted to, but I'll take this same team and I'll play Pisgah tomorrow."
Ace Austin converted a one-and-one with 37.2 seconds left in regulation to give the Lady Panthers a 57-54 lead. The free throws came after Lexi Adkison rebounded a free throw Austin missed that had Spring Garden won coach Ricky Austin would've called the biggest rebound of her career.
It looked as if they would survive Pisgah's final assault as it didn't appear the Eagles (23-6) were going to get the shot they wanted to tie. But Kallie Tinker got free through a series of screens and hit a 3-pointer with 18.7 left to make it 57-57. Tinker scored 20 points and was 5-of-7 from 3-point range.
Both head coaches considered it the play that changed the game. Ellison called it "a difference-maker, for sure."

"We came out of the time out (saying) no 3s, absolutely no 3s," Austin said. "She made a big play in a big moment. I felt good right there; if we could just get them to miss I thought we can finish this, we're good enough to finish it. But when it went into overtime I was real worried because it seemed like it ignited them. They hit the 3 and it energized them and they knew they had a second chance … and they took advantage of it." 
Still, the Lady Panthers had a chance to win in it the closing seconds.
Neely Welsh drove the lane, started losing the handle, tried to adjust and was called for a charge with 4.9 seconds to go. Pisgah's Molly Heard took the last shot, but it wasn't a very good one right before the horn and the game went into overtime.
Riding the momentum of the game-tying 3, Pisgah scored the first six points of overtime and Spring Garden played catch up the rest of the game. Still, the Lady Panthers were confident in their ability to rally. They came back from an early seven-point deficit to tie it at the end of the first quarter and were down six early in the third before taking a lead in the fourth.
They did get within 63-59 in overtime, but the Eagles closed them out with their free throw shooting down the stretch. Pisgah was 16-of-21 from the line in the game, 10-of-13 in overtime.

"We got shook a little bit at the end of regulation and then Kallie's big 3 seemed like it might have set the tone – like it was destiny, for lack of a better description," Ellison said. "After that it felt like it was a new game – let's go take care of business now.

"We were in trouble and when she made it, it was like we're supposed to win this. It's like there was a calmness suddenly. It's hard to describe other than it was all of a sudden everybody had different look about them like, OK, we survived, now let's go get them."

Spring Garden's Ace Austin led all scorers with 26 points. She also had six assists and three steals. Welsh had 16 and Adkison had 13 points and nine rebounds.
Heard had 18. Bella Bobo, who hawked Austin all game, had 12 and Emma Ellison had the biggest game of her two-year career with 10 points. Ellison was particular effective in the fourth quarter, scoring eight spelling Kennedy Barron.
"I knew it was in there," Ellison said. "She works so hard. She finishes at practice more often than she finishes in the game, but she hit one confidence groove and it was a huge stretch. That little high-low with Molly and Emma was a game-changer. There were so many of them on this game. It's kind of mind-blowing how many there were."
And the Eagles just made a few more of them in the end.
"Even to our shootout this morning they were so confident and so hungry," Austin said. "It's almost like the same years we've had in the past where we just didn't win but everything else has been pretty smooth. It's been a smooth ride.
"Outside of Kayley Kirk getting hurt the first quarter of the season and the COVID stuff we've dealt with, which hasn't been much on our end, it has been one awesome year with this group. We've won some big games, had great days of practice, so all year long it's been fun. It's been fun up to this moment and I even told the girls to start overtime this is fun. It's been a great year and we're looking forward to next year and we hope we're in this same position next year."

CLASS 2A NORTHEAST REGIONAL
Girls Championship Game
Pisgah 72, Spring Garden 65
SPRING GARDEN (32-3) – Ace Austin 11-21 2-3 26, Sarah Kate McKay 2-9 0-0 4, Lexi Adkison 6-10 0-0 13, Neely Welsh 5-10 4-8 16, Abbey Steward 2-5 0-0 6, Abbie Woods 0-0 0-0 0, Maggie Jarrett 0-0 0-0 0. Totals 26-55 6-11 65.
PISGAH (23-6) – Bella Bobo 3-6 4-7 12, Kallie Tinker 6-8 3-3 20, Kennedy Barron 1-3 2-4 4, Molly Heard 5-12 7-7 18, Karlee Holcomb 3-9 0-0 8, Lila Kate Wheeler 0-2 0-0 0, Emma Ellison 5-6 0-0 10, Hannah Duncan 0-2 0-0 0. Totals 23-48 16-21 72.
Spring Garden    18  10  17  12    8  –  65
Pisgah                   18  16    9  14  15  –  72
3-point goals: Spring Garden 7-19 (Austin 2-4, McKay 0-3, Adkison 1-3, Welsh 2-4, Steward 2-5); Pisgah 10-29 (Bobo 2-4, Tinker 5-7, Heard 1-8, Holcomb 2-6, Wheeler 0-2, Duncan 0-2). Rebounds: Spring Garden 30 (Adkison 9, Steward 8); Pisgah 32 (Heard 10). Fouled out: Austin, Heard. Total fouls: Spring Garden 17, Pisgah 15. Officials: Ingram, Putnam, Stoudimire.