County's big day
Eight Calhoun County wrestlers bring home Class 1A-4A state titles; Weaver finishes second as a team, Bearcats' Souder named MVP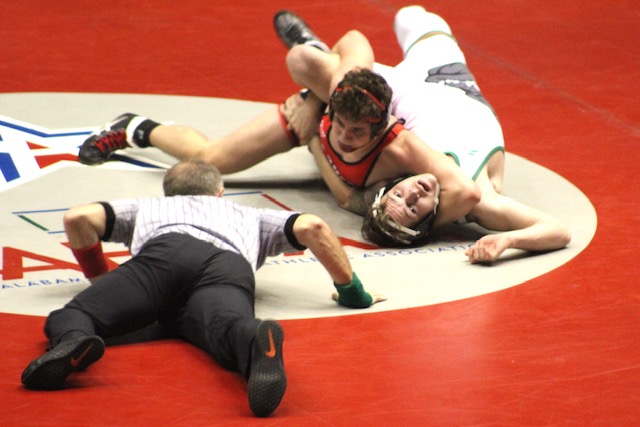 By Al Muskewitz
East Alabama Sports Today

MONTGOMERY – The rise of wrestling in Calhoun County has been tremendous over the past few years, what with schools starting up programs and established programs getting stronger, but never has it had the kind of break out day it enjoyed Saturday in the Class 1A-4A state championship.

From Weaver's Cody Souder finally breaking through after three previous trips to the finals (and winning the MVP) to White Plains producing the first champions in its history, the county produced eight state champions in 14 weight classes and two runners-up. A total of 17 county wrestlers left Garrett Coliseum as medalists (top four).

The numbers swell to nine champions and two dozen medalists if you include neighboring Cleburne County, Ranburne and Cherokee County.

There will be an opportunity for more state champions from the county next week when the Class 5A-6A wrestlers have at it in Huntsville's VonBraun Center.

Weaver finished second as a team, behind Ashville, which won its first state title without having an individual state champion (0-4 in the finals).

In addition to White Plains' two winners, Weaver had three – all of whom finished the season undefeated with second-period pins – and Piedmont, Ohatchee and Saks each had one.

Of course, the state's reshuffling the sport's classifications last year helped, taking the 5As out and putting them with the 6As, but that shouldn't diminish the work the wrestlers put in to reach their ultimate goals.

"That's pretty awesome," Weaver coach Andy Fulmer said. "There are a lot of good kids and programs in our county. A lot those kids are putting in some offseason work and some that aren't doing offseason work are just athletic and tough. I just think the county has really good wrestlers because they're some really good kids and I think we've got some good coaching in the county, too. We've got a solid group in the county and the kids showed out for the most part.

"The 1A-4A thing, that's big for small schools. It gives us a chance to compete and feel good about what we're doing. It gives the kids a realistic expectation of I've got a chance. And it's the right thing to do for the small school. If they want to grow the sport that's the way to do it, especially for small schools because they're more likely to start a program if they know they have a chance and can compete against somebody their size and not somebody who has 1,000 kids to their 200 or whatever."

Ashville piled up 174 points heading into the championship round and that's all the Bulldogs would need to claim their first title since starting the program in 2006. Weaver posted 142 points, sweeping all three of its championship matches to seal second place over Saint James, which led the Bearcats by eight points after the consolation finals. Ohatchee was fifth.

Ranburne sophomore heavyweight Carson Hall (26-0), the runner-up at 220 as a freshman, won his fourth and final match by pin to earn most pins in the competition. He spent a total of 5 minutes and 27 seconds on the mat in his four wins.

The tournament's best match was the 138-pound final, won by American Christian junior River Scruggs 7-5 by ultimate tiebreaker over Houston Academy eighth-grader Andrew Gill. The match lasted eight minutes, 30 seconds before Scruggs got the win.

Weaver finished second after enjoying what Fulmer called "the best last day of the state tournament I've ever been a part of."

The Bearcats went 3-for-3 in the finals – Joshua Johannson (152), Souder (160) and Devin Anderson (182). Anthony Usry wrestled back to finish third at 145 and five of the six Bearcats who placed Saturday won their final matches of the season.

"We wanted to win, we wanted the blue (championship trophy), but (Friday) we had a little bit of a rough start," Fulmer said. "We wrestled really good today."
Of all 14 individual titles, undoubtedly the most satisfying belonged to Souder. He had lost in the finals each of the last three years (at 106, 132 and 145), twice to Alexandria's Jaden New and all to Class 5A wrestlers he wouldn't have to contend with this year after the reshuffle.
He finally broke through in his final high school match – winning at 160 with a pin – on the same day his older brother Nick, a three-time state champion for the Bearcats, won the 149-pound division in his college conference championship.

"I'm so happy; I'm just to tickled I finally won it," Souder said. "After three years of not winning it, it kind of broke me a little bit, but I'm just glad I finally got to pull it off the list.
"It was a huge relief. My brother would give me a little bit of crap about it every once in a while, but now that I've finally won it, maybe he'll file back a little bit. It's a huge relief just knowing I finally won and can call myself a champ. I knew it would happen eventually. I just had to have faith in myself and I did and I pulled it out."

He also pulled out of the arena with a piece of hardware his brother never won – the outstanding wrestler award. Cody figures it trumps the most pins award Nick won back in his day.

White Plains has sent three qualifiers to state the past two years, but had eight in the tournament Saturday and two came home with the biggest prizes.

Freshman Gavin Kilgore earned the distinction as the school's first state champion – and the first champion crowned on the day – when he scored a major decision over Saks' Aden Davis in the 106 final. It was one of two all-Calhoun County championship bouts.

Kilgore lost only one match all season and went through the field here with a pin, a tech fall and two major decisions.

"He really wanted it this year and he kind of proved it," White Plains coach Todd Manning said. "He dominated in the matches. Before the final match he asked if they were going to announce I'm the first state champion if I win. I told him yes, everybody is going to know you're the first one."

A short while later senior teammate Jaylen Thomas had his arm raised in victory after pinning Dora's Xander Stewart in the 145 final. He was the Wildcats' only state qualifier last year.

Thomas finished the season undefeated (22-0). He was one of seven champions from the county and eight overall to finish the year undefeated.

"This year he had the mindset he was going to win the state tournament," Manning said. "He put the work in, cut the weight. He went through a lot of adversity this year … It was one thing after another all season long and he finished the season an undefeated state champion like he wanted to."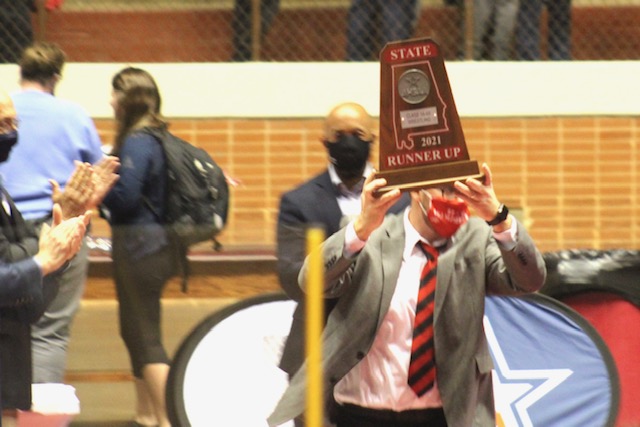 66TH AHSAA STATE WRESTLING CHAMPIONSHIPS
At Garrett Coliseum, Montgomery

Team scoring (top 10): Ashville 174; Weaver 142; Saint James 122; Westminster Christian 120; Ohatchee 103; Cleburne County 99; Piedmont 85.5; Ranburne 85; New Hope 82.5; Saks 82.

Championship matches
106
1st Place Match
Gavin Kilgore (White Plains) 23-1, Fr. maj. dec. over Aden Davis (Saks) 24-9, Fr. (13-2)
3rd Place Match
Baron House (Pleasant Valley) 24-2, Fr. def. Zeke Dernlan (Bayshore Christian) 19-2, 8th. (SV-1 11-9)

113
1st Place Match
Marcus Wright (Westminster Christian) 28-1, So. maj. dec. over Logan Hartson (Saint James) 22-4, Fr. (12-1)
3rd Place Match
Shamar Heard (Cleburne County) 33-3, So. pinned Jayden Rouse (Dora) 20-3, Fr. (3:17)

120
1st Place Match
Dylan Melendez (Piedmont) 43-1, Sr. pinned Tennison Norton (Saint James) 31-2, Sr. (3:15)
3rd Place Match
Anthony Champion (Cleburne County) 28-7, Sr. pinned Jack Voneschembach (St. John Paul II) 24-7, Fr. (1:24)

126
1st Place Match
Luke Richman (Westminster Christian) 28-1, Jr. pinned Nathan Boone (Ranburne) 15-2, Sr. (1:59)
3rd Place Match
Joseph Rodriguez (Montgomery Catholic) 21-4, So. def. Granger Hicks (Saint James) 23-4, Jr. (11-10)

132
1st Place Match
Nathan Deaton (Deshler) 31-2, Sr. def. Titus Franklin (Montgomery Catholic) 23-1, Jr. (13-7)
3rd Place Match
Nick Spears (Ashville) 29-5, Sr. def. Cody Herrick (Cherokee County) 23-2, Jr. (7-3)

138
1st Place Match
River Scruggs (American Christian) 24-0, Jr. def. Andrew Gil (Houston Academy) 23-3, 8th. (UTB 7-5)
3rd Place Match
David Herrick (Cherokee County) 22-5, Fr. def. Brendan Steder (Westminster Christian) 16-6, Jr. (7-0)

145
1st Place Match
Jaylen Thomas (White Plains) 22-0, Sr. pinned Xander Stewart (Dora) 16-3, Sr. (1:42)
3rd Place Match
Anthony Usry (Weaver) 32-3, So. maj. dec. over JT Weathington (Ohatchee) 26-7, Sr. (12-2)

152
1st Place Match
Joshua Johannson (Weaver) 34-0, So. pinned Blain Hines (Beulah) 15-2, Sr. (3:10)
3rd Place Match
Ethan Hendrickson (New Hope) 18-4, Sr. def. Matthew King (Ohatchee) 27-6, So. (7-2)

160
1st Place Match
Cody Souder (Weaver) 35-0, Sr. pinned Jabe Burgess (Ashville) 27-6, Sr. (2:42)
3rd Place Match
Ricky Toney (New Hope) 25-1, So. maj. dec. over Tylor Cornwell (Ranburne) 21-5, Sr. (14-5)

170
1st Place Match
Cade Atkins (Westminster Christian) 29-2, Sr. pinned Dylan Harris (Ashville) 31-2, Jr. (2:20)
3rd Place Match
Zeke Curvin (Pleasant Valley) 24-3, So. pinned JT Coheely (Piedmont) 41-8, Sr. (1:40)

182
1st Place Match
Devin Anderson (Weaver) 29-0, Jr. pinned Luke Harris (Ashville) 31-2, Sr. (3:39)
3rd Place Match
Jalon Helm (Piedmont) 43-5, 8th. def. Devon Jeffreys (Deshler) 23-5, So. (10-4)

195
1st Place Match
Troy Galloway (Ohatchee) 32-0, Jr. pinned Hunter Sallee (Pleasant Valley) 21-4, Sr. (0:53)
3rd Place Match
Mason Ellis (Madison County) 23-2, Fr. pinned Trenton Martin (Ashville) 24-5, Sr. (4:07)
220
1st Place Match
Treveon Bolton (Saks) 24-0, Sr. def. Jacob Ebner (Ashville) 28-5, Sr. (9-2)
3rd Place Match
Hunter Bass (Montevallo) 30-1, Sr. pinned Billy Vercher (American Christian) 20-6, Sr. (2:13)
285
1st Place Match
Carson Hall (Ranburne) 26-0, So. pinned Cole Dennis (Montevallo) 27-3, Jr. (2:37)
3rd Place Match
Mason Wilson (Ashville) 26-8, So. pinned Thomas Walls (New Hope) 29-6, Sr. (4:24)