Roc solid in Memphis
Oxford WR picks Memphis 24 hours after Tennessee pulls his offer at last minute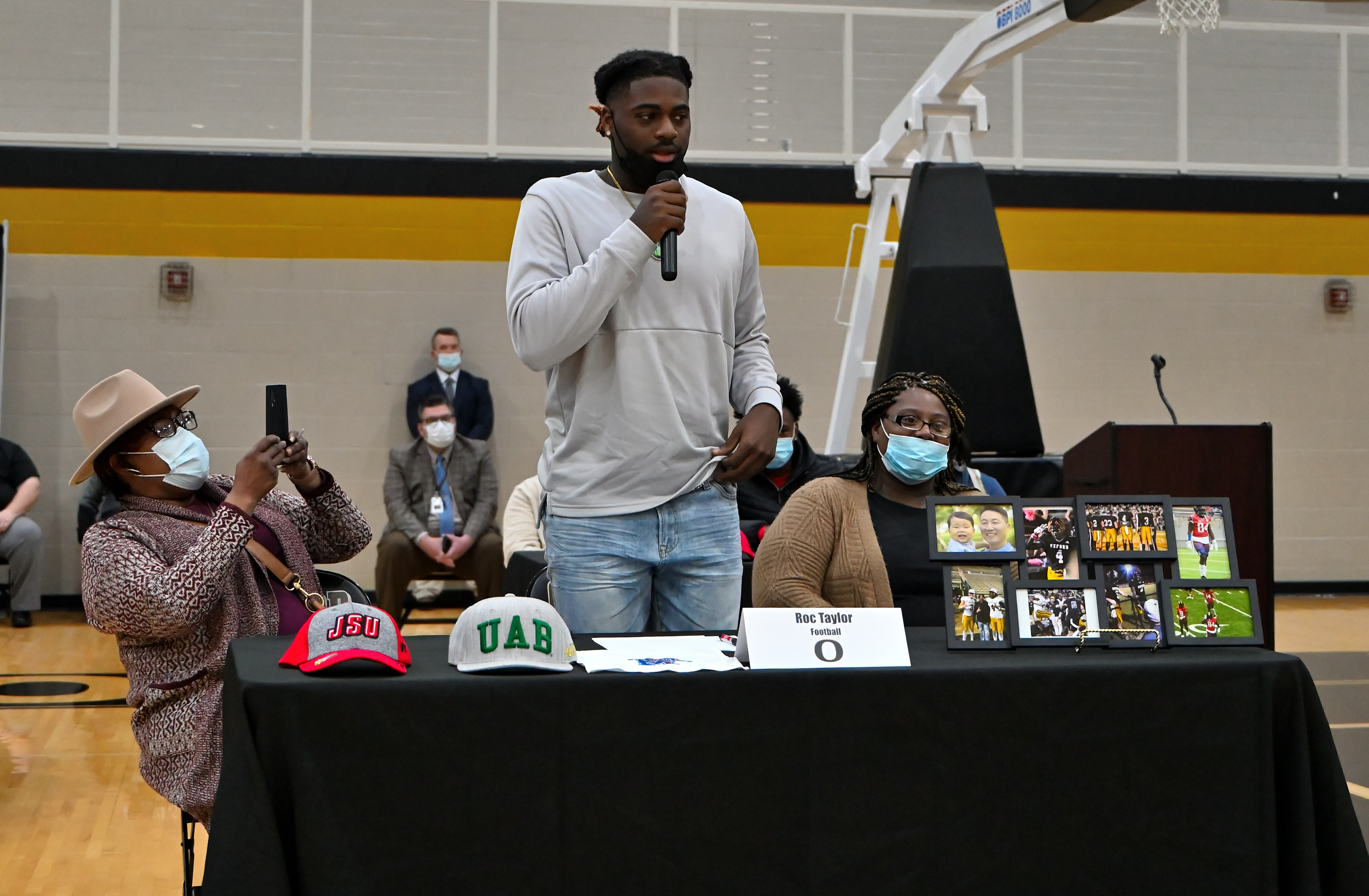 By Al Muskewitz
East Alabama Sports Today
OXFORD — Roc Taylor woke up Wednesday morning to announce the biggest decision of his athletic life after getting one of the most restful sleeps he's had in a while.
Some might find that a little surprising considering the previous 24 hours were some of the most tumultuous of his life.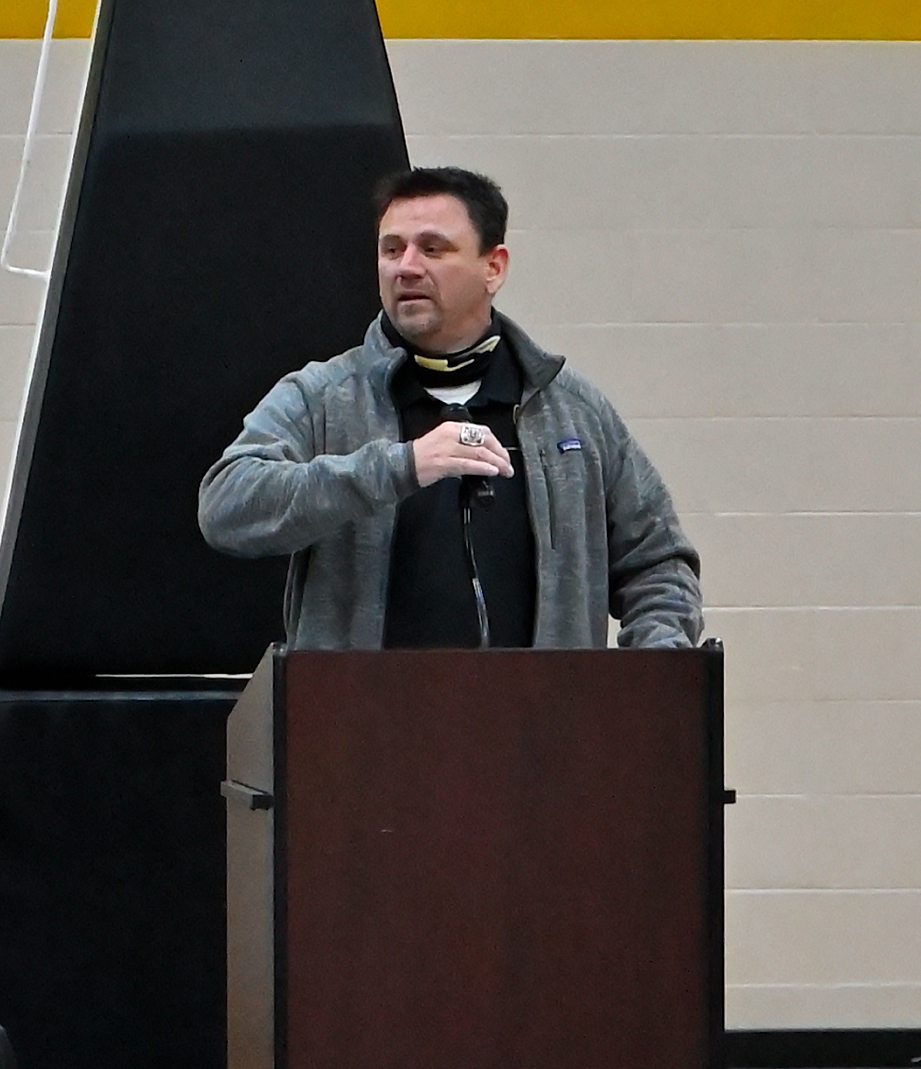 Imagine being a prized college football recruit anticipating the day you could finally sign with the program you've been committed to for two years and then the day before it's supposed to happen said program pulls its offer through no fault of your own.
Crushing might sum it up mildly, but Taylor took the high road. The Oxford receiver landed safely, announcing Wednesday he was indeed staying in the state of Tennessee to play his college football – just a few hours west of the original target.

The three-star hybrid receiver signed with the University of Memphis, about 24 hours after Tennessee turned him away without explanation. He is expected to be an inside and outside receiver for the Tigers, just as was planned at Tennessee.

"They gave me an opportunity; I'm going to take the opportunity and go there and do my best," he said.

Taylor had been committed to the Vols for two years and professed his loyalty to them to East Alabama Sports Today as recently as two weeks ago even through the program's recent coaching change and NCAA compliance issues. He said Wednesday he would have been "OK with any coaches who came in there (because) I was just going there to play."
But the new coaching staff called Tuesday and said it was pulling his offer. Social media was livid. So was Oxford coach Keith Etheredge. Taylor said substance of the call was matter of fact.
Felt thrown to the side
"It was like, well, we just want you to know, want you to continue your future somewhere else and that was it," he said. "They never gave a reason why. … It felt like they just threw me to the side and didn't care. Just threw me to the side."

From that point there were a lot of fast phone calls, both incoming and outgoing, many from programs he had turned away earlier as he professed his commitment to UT.

"It's been a long 24 hours," Etheredge said. "He went through a lot yesterday, but he handled it like a champ. Most players who have great ability are like that. They can take a punch. They can roll with it. They do a great job of just doing things the right way."
"There was a lot of thinking I had to do the last 24 hours," Taylor said. "But I had to sit and talk to my mom and my girlfriend about the decision I make to make sure it's the right one and that it's a good place for me."

He made his decision late Tuesday evening and quickly was at peace with it.

"I slept good, thinking I had an opportunity to go to another school that I'm wanted at and woke up this morning feeling very good to know I'm committed somewhere," he said.
Memphis was in the mix before Taylor committed to the Vols and the Tigers were back quickly after the news of his 'free agency' hit the media. There were hats from Jacksonville State and UAB on his station at the signing ceremony in the Oxford Sports Arena and shortly before making his decision someone in the media gallery handed him a Memphis hand towel, which he later flashed while making his announcement.

He said he hadn't talked with the Memphis staff about playing basketball for the Tigers as well, but thought the chances of that happening were better there than in Knoxville.

He's a powerful forward on the Oxford basketball team – and luckily had a game Tuesday night to take his mind, for a while, off the situation – and his size, build and career track as a basketball player turned football star remind many of former Jacksonville State and Buffalo Bills Super Bowl tight end Keith McKeller.
Taylor confirmed the story that several of the returning suitors were willing to move some pieces around their recruiting board to find him a space, but he was adamantly against having another player endure the same last-minute rejection he had gotten from Tennessee.
"I didn't want to put anybody else in that predicament," he said. "It's not a good feeling at all to have to choose what school you want to go at the last minute. It's not a good feeling."
Loyalty is important
Taylor made the announcement at a mass signing of Oxford football players Wednesday. Eight of his teammates also were announcing their future plans. Loyalty was a hot topic at the ceremony.

"That's huge to me," said Jackets quarterback Trey Higgins, on hand to celebrate his signing of a baseball scholarship with Mississippi State. "Seeing what happened to Roc and everything it's just crazy. It just goes to show you it's a business out there. They (Mississippi State) stayed loyal to me so I'm going to do the same. I can't ask something out of someone if I don't do it myself. That loyalty's been huge for me."

Etheredge made his feelings about Taylor's situation quite clear when it unfolded Tuesday and it still frustrated him some Wednesday. It hasn't soured him on the recruiting process as a whole — there are plenty of other schools out there that will pursue his players and he'll have plenty of them behind Taylor — just the way this situation was handled. Suffice to say the current Tennessee staff isn't going to be welcome.

"There has to be some things looked at as far as when a kid commits," Etheredge said. "I know it's both sides. There are kids who decommit on the day of Signing Day, which hurts the colleges who have guys lined up. It goes both ways, but when you're dealing with a kid I think it's kind of different, especially a kid that's been committed to you for so long.

"It talks to the kid's character that he stayed committed. He did everything he was supposed to do. And even though he didn't sign there, things worked out best for him. I always say good things happen to good people and the Lord's got a plan that's devine, and I think both of those come into play here.

"I think it was handled in a way that is unbecoming of the way people are supposed to handle kids. It could have been handled in a lot different way. I just think in a lot of ways it was wrong, but, everything's worked out for the best."

Here the destinations of the Oxford players who signed Wednesday:

Zion Dark – Ellsworth (Iowa) Community College
Rod Elston – Jacksonville State
x-Delvon Fegans – Northeast Mississippi Community College
Brandon Kirksey – West Alabama
Emrik Hamilton – Aurora (Ill.) University
y-Trey Higgins – Mississippi State
Chanceton Holifield – Culver-Stockton (Mo.)
Roc Taylor – Memphis
x-Fegans did not sign during the ceremony for family considerations, but his intentions were announced during the assembly.
y-Higgins signed for baseball; he was the Jackets' quarterback and wanted to participate with his teammates.

"I think everything has worked out for the best for Roc," Etheredge said. "He's going to be in a great place. All these guys are in great places where they've got coaches who are going to care about them. I think it's going to be a great situation for every single one of them."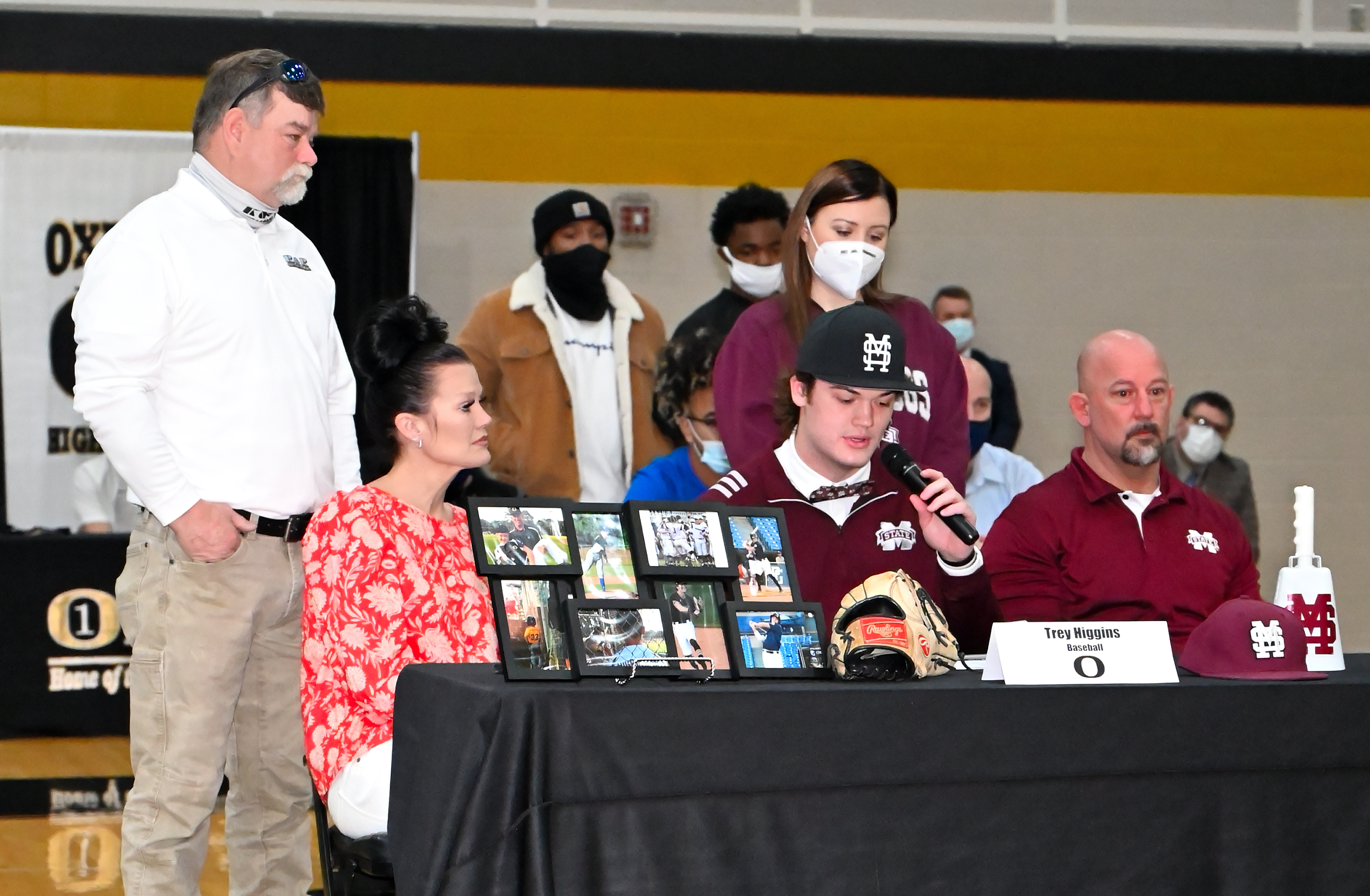 To see pictures of all the Oxford signees Wednesday click this link: www.bjfranklin.smugmug.com