Gulf Shores getting Royal treatment
Young star withdraws from Alexandria, will begin classes at Gulf Shores Tuesday, same day he was named MaxPreps National Freshman of the Year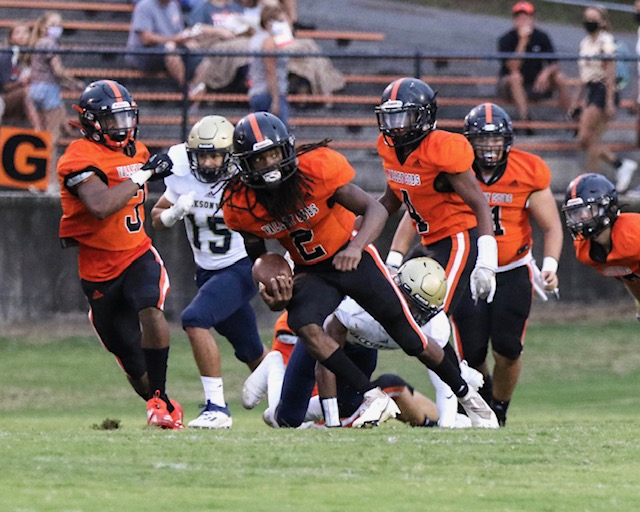 By Al Muskewitz
East Alabama Sports Today
Ronnie Royal, the young Alexandria football star on the cusp of going supernova, is taking his considerable talents to south Alabama.

Royal confirmed exclusively to East Alabama Sports Today on Monday that he has withdrawn from Alexandria and will begin classes at Gulf Shores High School starting Tuesday.

Royal, 16, was a first-team Class 5A selection each of the two years he played for the Valley Cubs – as an athlete as an eighth-grader and as a running back last season as a freshman. He had more than 2,400 all-purpose yards and 35 touchdowns this past season.

He already has major college scholarship offers from South Carolina, Florida State and UAB.

(UPDATE: On Tuesday, Royal was named MaxPreps National Freshman of the Year. He is listed as a defensive back on the service's Freshman All-America Team.)

Both the 5-foot-11, 175-pound freshman and his older brother, Ronnie Jr., who already lives in Gulf Shores, said the change was made solely for academic reasons and there was no animosity towards the Alexandria football program.

"It's a good opportunity for my academics, trying to make it to college and a good score on my ACT," Royal told East Alabama Sports Today. "I was kind of nervous for a minute, but I'm excited now. I was kind of down and sad, but I've got to do what's right for me and my academics, so I had to get over it and suck it up."

Ronnie Jr. said his brother withdrew from Alexandria on Friday, but the family has been talking about a move for about a year.

"As a family we sat down and talked about this, it's been something we've been talking about," he said. "I've been living down there for a whole year and I saw how good their academic program was there, so I thought it would be a great opportunity for my little brother. It's all about the academics. It's a bigger school, it's a 6A school, and they have more resources and it's a better feel academic-wise.

"It's part of the maturity process. If he feels like he needs to better himself … I think everybody should be more mature about it and accept the fact. At the end of the day some things have got to be done for what's best for the child, sometimes hard decisions have to be made, but you've got to put your feelings to the side and everybody should be on the same page and do what's best for the child."

Athletically, Ronnie Jr. was confident his brother would excel on any field. He certainly was the best athlete on the field most times when the Valley Cubs played. Twice this year he rushed for more than 300 yards in a game.
He rushed for 1,906 yards and 30 touchdowns this past season, but was a multiple threat. He caught 19 passes for 358 yards and four touchdowns, and completed 5-of-7 passes for 88 yards and a score. He also had 57 tackles and returned his only interception for a touchdown on defense.

"I think we were pretty good; it was pretty fun my first two years," he said of his time with the Valley Cubs. "It was good for me and the team."

The Valley Cubs still have considerable speed in the backfield with Javais McGhee and Antonio Ross returning.

Royal played basketball for the Valley Cubs, but left the team earlier this month to play in his brother's Gulf Shores-based 7-on-7 program and concentrate on his football future. He said he hasn't made a decision about returning to play in what's left of this basketball season.

His parents are moving to the beach as well, making it a bona fide move and making him immediately eligible. He plans to participate in the Dolphins' spring practice.

"I'm just waiting for it to come around," he said. "I'm looking forward for anything that's got to do with football."

The Dolphins hired former college coach Mark Hudspeth as their head coach Jan. 8. Royal met him for the first time Monday during his introduction to the school and described him as "pretty cool. I like him."

This story will be updated.