Defending No. 1
Top-ranked 1A-4A Ashville takes down No. 2 Weaver with a pin in the final match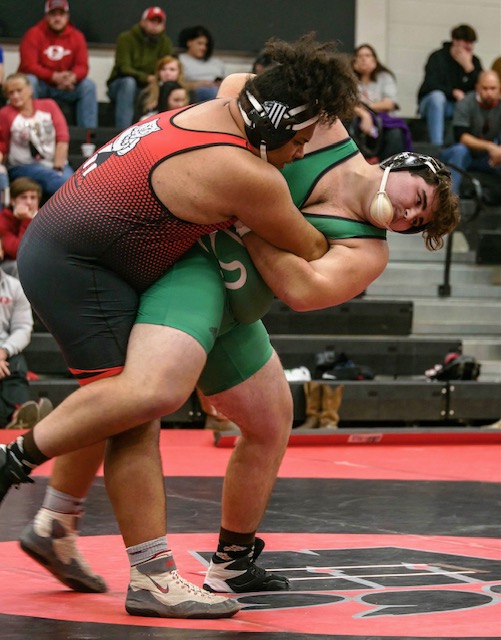 By Al Muskewitz
East Alabama Sports Today

WEAVER – When the AHSAA changed the wrestling alignments last spring there were winners and losers before anyone ever took the mat.

Programs like Alexandria were moved into a grouping – against the coaches' recommendation – with 6A folks like Oxford and were no longer the biggest fish in their pond.

What it also did was get the Weavers of the wrestling world away from the Arabs, Alexandrias and Southsides who for many years stood in their way of state tournament success.

Now in a smaller pool there's always going to be somebody bigger, but now the feeling is the mat is a little more level for the 1A-4A teams.

"I'm a fan of it because I think it gives the smaller schools a chance to compete a little bit better; I think it gets them a little more excited," Weaver coach Andy Fulmer said. "I know Ashville's excited about the realignment. I'm excited about it. Our kids are excited about it.

"I just think it changes their mindset where they feel like they're contending again for the first time in a really long time."

For the last two weeks 4A Ashville and 3A Weaver have been sitting 1-2, respectively, in the SE Wrestle 1A-4A coaches poll (two points apart) and they went head-to-head to validate their positions for the first time Thursday.

It was as close a match as everyone expected with Ashville pulling out a 42-39 victory when sophomore 285 Mason Wilson pinned Cameron Thornton in 3:09.

Weaver won the first two bouts and Ashville pinned each of the next three. Weaver won five of the next six to open a 39-24 lead and force the Bulldogs to pin the last three matches to win – which they did.

"To me, it was huge that we just got to wrestle this match, because we don't know day-to-day," Bulldogs coach Jim Browning said. "We've had several matches forfeited because of COVID and everything, so we never know.

"One versus two is huge. Ashville has never been in this position. For it to be the new 1A-4A classification, to get that No. 1 ranking and then come in here and defend it against a very, very good program traditionally today, it really speaks volumes to our kids and how hard they work. It speaks volumes just about how far this program's come."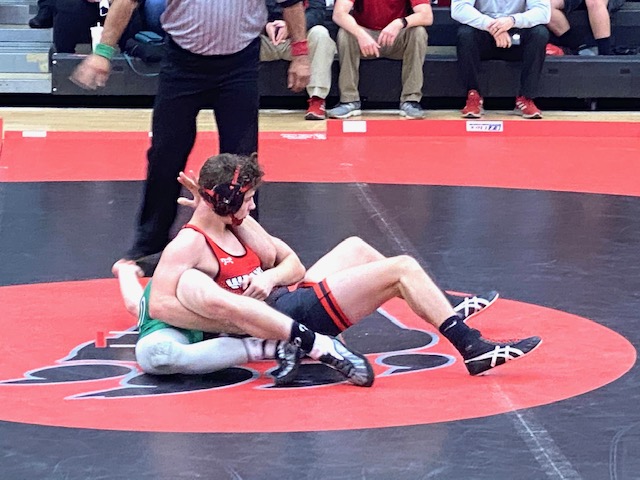 Pins by Travis Bellar, Anthony Usry, Joshua Johannson and Cody Souder and a decision by Devin Anderson in the heart of the lineup gave the Bearcats a 39-24 lead. Trenton Martin and Jacob Ebner scored first-period pins at 195 and 220 to bring it all down to the big boys.

Thornton scored the first two points of the bout and held a 4-3 lead in the second period before Wilson got the Weaver junior on his back and finished off the pin to win the match.

"It feels great, I can tell you that," Wilson said. "I had everybody cheering after you win, come off the mat and everybody patting you on the back; it felt good. I just went out there and wrestled my best."

The coaches poll tells Weaver it's the second-best team in the division, but Fulmer said the Bearcats are still figuring out how good they're going to be. They should get a better idea after the weekend when they face No. 3 Cleburne County and No. 4 St. James twice in two days of quad meets that take the place of their Gene Taylor Classic.
"I would have loved to have won that match, but we beat (Ashville) last year and they ended up beating us after that every time," Fulmer said. "It's early in the season. Our kids are not where we need to be right now, but we'll get there. I felt like at times last year we peaked a little early. Today was a measuring stick of what we need to do to get better.

"I told our kids this don't make or break our season. We're getting mat time and we're getting better. We know what we have to work on."

To see more of Nick Wilson's photos from the match, visit www.AshvilleAthletics.com
ASHVILLE 42, WEAVER 39
106: Dalton Fink (W) pinned Ethan Weaver, 1:54
113: Trevor Morris (W) won by forfeit
120: Jaden Harris (A) pinned Gianluca Torres, 1:14
126: Tyler Edber (A) pinned Tanner Starr, 2:32
132: Nick Spears (A) pinned Hunter Hise, 0:41
138: Travis Bellar (W) pinned William Simpson, 3:11
145: Anthony Usry (W) pinned Austin Hale, 3:18
152: Josh Johannson (W) pinned Justin Autry, 2:44
160: Cody Souder (W) pinned Jabe Burgess, 3:14
170: Dylan Harris (A) pinned Miguel Canchucaja, 3:16
182: Devin Anderson (W) dec. Luke Harris, 9-6
195: Trenton Martin (A) pinned Richard Knowlton, 0:23
220: Jacob Ebner (A) pinned Taylor Thompson, 0:55
285: Mason Wilson (A) pinned Cameron Thornton, 3:09

WEAVER 70, OHATCHEE 12
120: Gianluca Torres (W) won by forfeit
126: Tanner Starr (W) won by forfeit
132: Hunter Hise (W) won by forfeit
138: Travis Bellar (W) pinned Deacon Engle, 2:38
145: J.T. Weathington (O) pinned Anthony Usry, 2:39
152: Josh Johannson (W) maj. dec. Matthew King, 18-4
160: Cody Souder (W) pinned Colton Quinn, 0:11
170: Miguel Canchucaja (W) won by forfeit
182: Devin Anderson (W) pinned Cody Freer, 1:47
195: Troy Galloway (O) won by forfeit
220: Taylor Thompson (W) pinned Tristin Kiker, 0:29
285: Cameron Thornton (W) won by forfeit
106: Dalton Fink () pinned Briley Carter, 5:56
113: Trevor Morris (W) pinned Zane Calhoun, 2:32
ASHVILLE 54, OHATCHEE 30
106: Briley Carter (O) pinned Ethan Weaver, 0:57
113: Zane Calhoun (O) won by forfeit
120: Jaden Harris (A) won by forfeit
126: Tyler Edber (A) won by forfeit
132: Nick Spears (A) won by forfeit
138: William Simpson (A) pinned Deacon Engle, 0:46
145: J.T. Weathington (O) pinned Austin Hale, 0:20
152: Matthew King (O) pinned Justin Autry, 2:17
160: Jabe Burgess (A) pinned Colton Quinn, 1:11
170: Dylan Harris (A) won by forfeit
182: Luke Harris (A) pinned Cody Freer, 1:09
195: Troy Galloway (O) pinned Trenton Martin, 4:39
220: Jacob Ebner (A) pinned Tristin Kiker, 3:58
285: Mason Wilson (A) won by forfeit