Wellborn's Russell honored
Panthers defensive line coach recognized as Class 3A Assistant Coach of the Year by state coaches association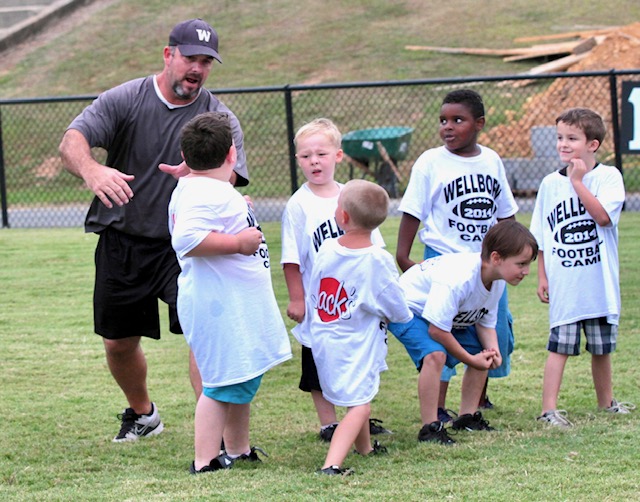 By Al Muskewitz
East Alabama Sports Today
Allen Russell has been dedicated to coaching football and Wellborn head coach Jeff Smith for 17 years.
How else do you explain his willingness to drive back and forth from Maylene to Wellborn – an hour and a half each way "on a good day" – each of these last 11 years to help Smith coach the Panthers' defensive line. And he was with Smith at Hueytown for six years before that.

For that body of work, Russell, 52, was recognized by his peers in the Alabama Football Coaches Association as this year's Class 3A Assistant Coach of the Year.

"I'm humbled by it," Russell said. "There's a lot of good coaches out there who deserve it as much or more than I do."

Russell's defensive line helped hold opponents to 140 points and three shutouts in 11 games this season. They were the fewest points in a season since they gave up 122 in 2001 (7-4). Until they lost to eventual state champion Fyffe in the second round of the Clalss 3A playoffs, they had not yielded 100 yards rushing in a game.

"He's a very loyal and hard-working assistant," Smith said. "We've been together 17 years. He does a good job every year with them. We've been very fortunate to have him.

"I look at the award last year with me (as 3A Coach of the Year) and with Coach Russell as the body of work we've done for years. This is basically coming from our peers and they recognize the job we've done all these years. It's just not a one-year deal Coach Russell has been good with us for years and years and years."

As for their long-standing connection, Russell knew it would be strong from the moment the two men from rival colleges met for their very first interview. Smith played at Jacksonville State and Russell went to Troy.

"I'm thankful for my job," Russell said. "But 17 years ago when I met Coach, I don't know if you've ever met somebody like this, but if you shake a man's hand and look in their eye who automatically know something about him. That's how this was.

"I shook his hand and I knew in my heart that's where I was supposed to be. Over that 17 years we've become more than coaching colleagues. We're family."

Russell was joined on the list of other honored assistant coaches by Millry's Larry Boykin (1A), Falkville's Greg Tomlin (2A), American Christian's George Pratt (4A), Rehobeth's Michael Stevens (5A), Athens' Drew Phillips (6A) and Auburn's Scott Goolsby (7A).
Four state championships head coaches were named Coach of the Year: Thompson's Mark Freeman (7A), Pinson Valley's Sam Shade (6A), Mars Hill's Darrel Higgins (2A) and Linden's Travis Lockett (1A). The others were Montgomery Academy's Robert Johnson (3A), Gordo's Ryan Lolley (4A) and Faith Academy's Jack French (5A).
Former Oxford and JSU coach Bill Burgess was among three honored with a Lifetime Achievement Award. The others were former Auburn head coach Doug Barfield (UMS, Andalusia, Oneonta) and retiring Vestavia Hills coach Buddy Anderson, the winningest coach in the history of Alabama high school football.