Too much talent
Alexandria's season ends as Perryman (4 TDs) passes Pleasant Grove into the Class 5A semifinals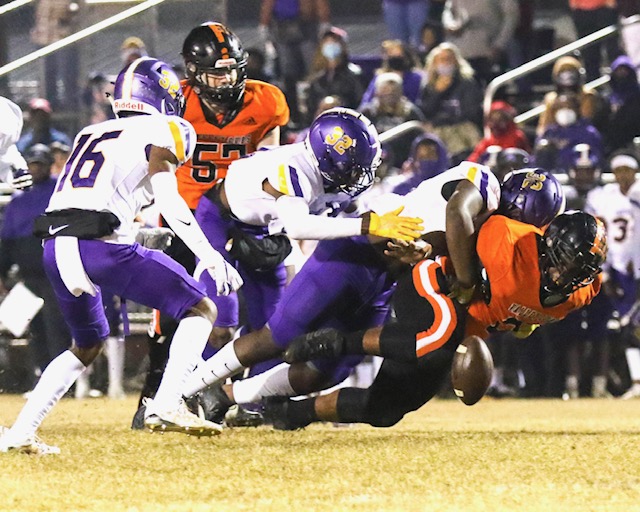 CLASS 5A QUARTERFINALS
Faith Academy 37, UMS-Wright 16
St. Paul's Episcopal 27, Clay Central 13
Pleasant Grove 35, Alexandria 7
Ramsay 54, Russellville 14

By Al Muskewitz
East Alabama Sports Today

Todd Ginn has been around Alexandria 42 years. He's seen a lot in the Valley Cubs' athletics program in that time. As much as he appreciates the talent on his own team, the one it played Friday night he said later might be the most talented team he's seen "in a while."
When teams get this deep in the state football playoffs, the playing field is pretty level; that's why there are so many nail-biters. But when one team has two Division I commitments in its arsenal, the balance of power tilts.
Quarterback Zyquez Perryman and receiver Christian Lewis are the tip of the spear for Pleasant Grove on most nights. On this one, they proved a little too much for the Valley Cubs to handle and the Spartans left Lou Scales Stadium with a 35-7 victory in the Class 5A quarterfinals.
Perryman, committed to Charlotte, completed 17 of 23 passes for 270 yards and four touchdowns. He threw many long balls that his tall receivers simply went over Alexandria defenders to get. At one stretch between the second and third quarters he completed eight straight passes, three for touchdowns.
Lewis, a Kentucky commit, caught 10 balls for 146 yards and two touchdowns. The other two touchdown passes went to Jamaryon Furlow, both in the second quarter as the Spartans (10-2) built a 21-0 halftime lead. Furlow caught three passes for 54 yards.

"We ran into a buzz saw," Ginn said. "I told somebody earlier in the week we've got some special guys – y'all have talked about them all year – I think the only difference you saw tonight was their guys were seniors. I thought (Lewis) was an exceptional player and their quarterback was so good. You put our guys in this game a year from now … "
Perryman avoided any contact with the Alexandria rush and had completions in the game of 43, 56, 27 and 26 yards.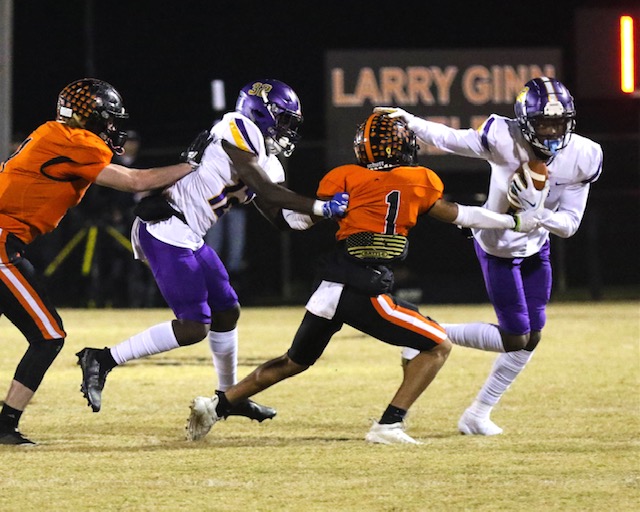 "You can't practice the way that cat throws," Ginn said. "He throws the ball so long, so high, it's almost like a punter. When you've got a really good punter there's no way a guy back there can practice catching the ball at practice because nobody can kick it like that. The same with him. It made us look a little bit bad a couple times. He's throwing it 60 yards, to the moon, and most of our guys are like I've never seen a ball thrown like that in my life."

The Spartans scored the first time they had the ball on a 13-yard slant to Lewis on fourth down, but the first sign Ginn had the Spartans knew they were in for a game was when they went for it on fourth down from their own 37 on that drive and just were able to move the chains.

The Valley Cubs were looking to answer, but fumbled inside the Pleasant Grove 40. It stayed 7-0 until Perryman threw the first of his two touchdown passes to Furlow.

"To be in that game, to have a chance in that game, I thought we had to score early and weather the storm," Ginn said. "If we would have come in 14-7 at half … 21-0 makes us kind of try to have to get out of what we're trying to do."
The Spartans had a little luck, too. They extended their lead to 28-0 after recovering an accidental an onsides kick to open the second half and converted it into a score.It was really a miskick as the Spartans wanted to squib it away from Ronnie Royal. Instead, the ball came out sideways and Pleasant Grove was able to recover it.

Four plays later, Perryman threw his second touchdown pass to Lewis after hitting him with a 27-yard pass on the first play of the drive.

"Sometimes the ball bounces your way and it was one those nights it bounced our way," Pleasant Grove coach Darrell LeBeaux said.
The Valley Cubs (11-2) avoided being shutout when Wesley Wright hit Antonio Ross on a 39-yard touchdown pass on fourth down late in the third quarter.But the Spartans answered that with Covaunte Harrell's 2-yard touchdown run. Perryman had a 26-yard completion to Lewis in the drive.

"The biggest thing besides the talent they've been blessed with is the fact of the experience," LeBeaux said of the Perryman-Lewis combination. "Those guys have been playing together since the seventh grade and they're best friend. So, anytime you have that connection, that maturity of a group, you can kind of lean on them a little bit."
The Spartans' defense never gave Alexandria's explosive offense a chance to get going. On several occasions they had multiple defenders on the corner to turn back plays the Valley Cubs usually turn into big gains. The Cubs did have nine plays that netted 10 yards or more, but five of them came in the fourth quarter after they were behind 35-7.

The Spartans held Alexandria to 117 yards rushing and 209 yards of net offense. They held Royal to just 87 yards and not even changing a ripped jersey at halftime could confuse the Spartans.

"When you're in the playoffs you've got to be able to play defense, in order to win you've got to be able to run the ball," LeBeaux said. "Coach (Charles) Graves has been doing an awesome job, the kids buy into what he's got going on and they're playing fast, physical and disciplined football.

"(Royal) is one of those kids if you don't hit him before he gets to rolling he can hurt you and he can definitely put you away. He's special. I told somebody earlier in the week by the time he's a senior if he's not one of the top football players in the nation then something's wrong. I think he's one of the best backs, best football players, in the state, I don't care what grade he's in and he's got a bright future. Not only him but 1 (Javais McGhee) and 3 (Ross); those jokers play ball."

"I think Ronnie showed you tonight (he's) every bit as athletic and special," Ginn said. "I'm not sure he wasn't the best player on the field tonight, but in a year he'll be by far the best player on the field."

Pleasant Grove 35, Alexandria 7
Pleasant Grove 7 14 14 0 – 35
Alexandria 0 0 7 0 – 7
P – Christian Lewis 11 pass from Zyquez Perryman (Andre Watts kick), 6:53 1Q
P – Jamaryon Furlow 24 pass from Zyquez Perryman (Andre Watts kick), 6:15 2Q
P – Jamaryon Furlow 12 pass from Zyquez Perryman (Andre Watts kick), 0:45 2Q
P – Christian Lewis 10 pass from Zyquez Perryman (Andre Watts kick), 10:23 3Q
A – Antonio Ross 39 pass from Wesley Wright (Cleat Forrest kick), 2:31 3Q
P – Covaunte Harrell 2 run (Andre Watts kick), 0:51 3Q

| | | |
| --- | --- | --- |
| PG (10-2) | | Alex (11-2) |
| 16 | 1st Downs | 14 |
| 35-86 | Rushes-yds | 35-117 |
| 17-23-0 | C-A-I | 8-16-0 |
| 270 | Passing yds | 92 |
| 1-0 | Fum-lost | 3-2 |
| 3-33.3 | Punts-avg | 0-0 |
| 16-172 | Pen-yds | 12-115 |