Minor distraction
Defending champion Oxford dominates on both sides of the ball, takes care of Minor in opening round of the Class 6A playoffs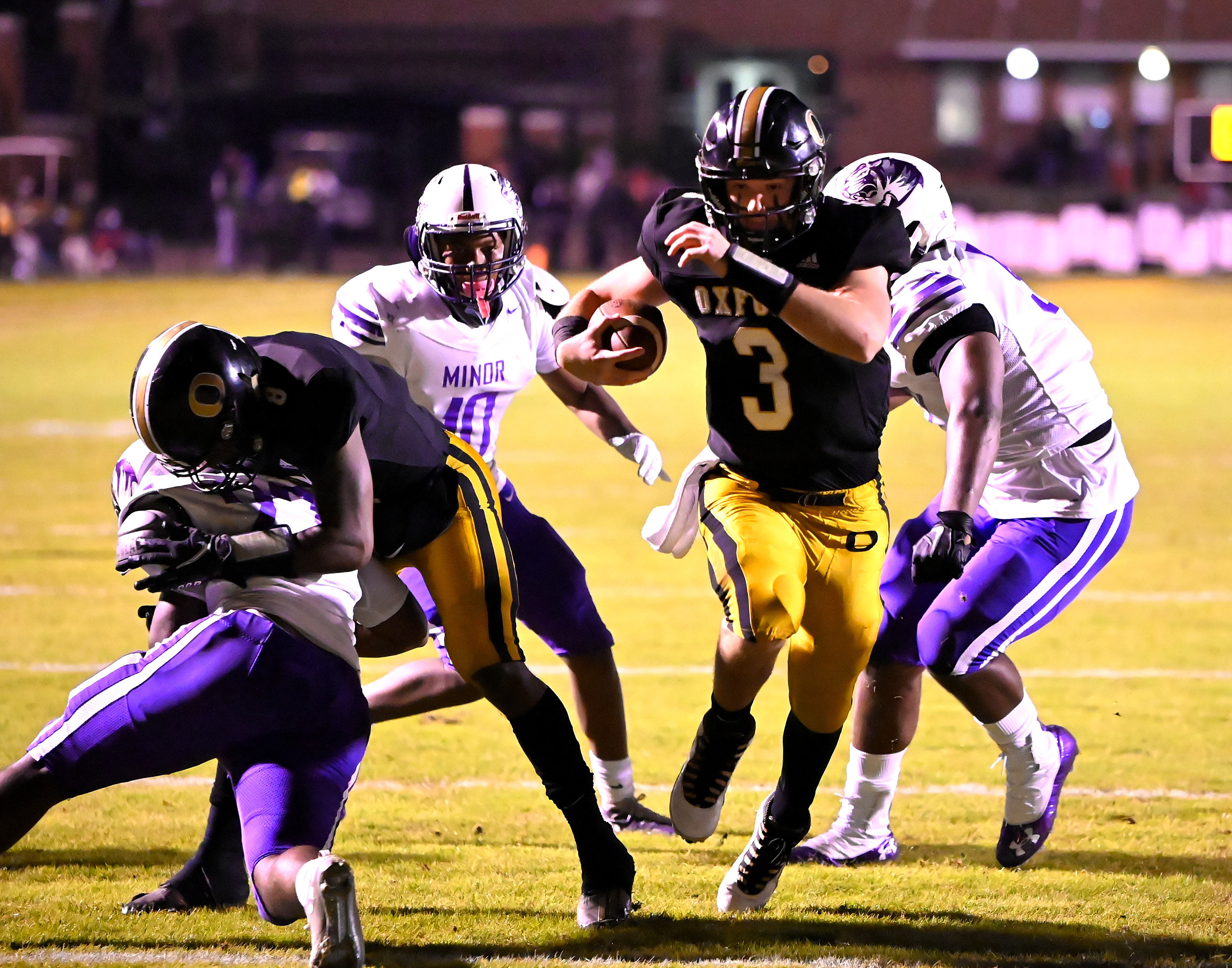 By Brant Locklier
For East Alabama Sports Today

OXFORD – It was supposed to be a tough game against a very good Minor team in the opening round of the Class 6A playoffs. Instead, in turned into another one-sided Oxford victory.

The Tigers finished fourth in Region 5 and the three teams that finished ahead of them in the standings – Clay-Chalkville, Pinson Valley and Gardendale – all won first-round playoff games Friday night. They weren't expected to be an easy out.

The top-ranked Yellow Jackets weren't having any of it. They had the look of a defending champion as they drove the length of the field on their first nine possessions – six touchdowns, a field goal and two TD runs by Trequon Fegans called back on penalties – en route to a 44-6 victory.

"They were a tough football team, but our coaches had a great game plan," Jackets quarterback Trey Higgins said. "We have so many options on this team and if they load up the box, we can adjust and we have so many good receivers too and so many good running backs that teams have trouble adjusting to what we can do."
The dominance was just as complete on the defensive side of the ball as the Yellow Jackets (10-1) held the Tigers to one first down – on a pass interference penalty – and minus-10 yards of total offense on 30 plays. Minor only had three offensive plays of more than two yards on the night. Twenty-one of 30 plays were for zero or minus yards.
"Our defense is really playing well," Oxford coach Keith Etheredge said. "We had to replace our whole defensive line from last year and these guys are getting better and better with each game."

It took the Yellow Jackets just four plays to cover 63 yards in their first possession. All four plays were for more than 10 yards and Trequon Fegans had a 40-yard touchdown run called back on a holding penalty. On the next play, Roc Taylor got behind the Tigers secondary for a 29-yard scoring pass.
After a three-and-out from the Jacket defense, the Yellow Jacket offense moved it 55 yards in five plays with Keeshon Siosi scoring on an 8-yard run.

After another three-and-out the Jackets threatened to blow the game open, but they were stopped on downs at the 19.
They did blow the game open in the second quarter scoring on their next four possessions. Bakari Dailey hauled in a 48-yard touchdown pass from Higgins and Fegans brought an interception back 30 yards for a score.
"I read the quarterback's eyes," Fegans said. "There was a receiver standing next to me and it was like he threw the ball straight to me. So, I caught it and just started running and got some good blocks and got the ball in the end zone. I finally got me six points."

Fegans has had 10 touchdowns called back this year on penalties. He returns punts, kickoffs, interceptions and may be the best running back in the state. He rushed five times for 56 yards in this game, had runs of 47 and 40 called back on penalties and added interception return for a score.
Kicker Nicolas Gutierrez connected on a 33-yard field goal to extend Oxford's lead to 30-0.
At this point the Tigers had their game moment when Omar Conley returned the ensuing kickoff 92 yards for Minor's only score.
The Jackets rolled back down the field as Fegans ran four times for 43 yards and Higgins got the touchdown on an 8-yard run. They had a chance to add another score before halftime when they got to the Tigers 20, but Higgins had to leave the field for one play and the Tigers picked off a Sam Robertson pass to end the half.
Higgins had another impressive night, connecting on 15 of 19 passes for 225 yards and three touchdowns. He ran for 49 yards on 11 carries and a touchdown.

Higgins has thrown for 38 touchdowns, ran for 15 touchdowns, completed over 75 percent of his passes and thrown for 3,265 yards in 11 games – five of which he did not play much in the second half.
"This team is hungry, but we got to play them one at a time," Etheredge said. "Our line is playing well and giving our runners some good holes and giving Higgins time to sit in the pocket and find the receivers."
The Jackets will be home next week against Briarwood Christian in the second round of the playoffs. A win sends them to meet the winner of the Pinson Valley-Shades Valley game.
Oxford 44, Minor 6
Minor 0 6 0 0 – 6
Oxford 13 24 7 0 – 44
O – Roc Taylor 24 pass from Trey Higgins (kick failed), 11:15 1Q
O – Keeshon Siosi 8 run (Nicolas Gutierrez kick), 6:23 1Q
O – Bakari Dailey 48 pass from Trey Higgins (Nicolas Gutierrez kick), 11:22 2Q
O – Trequon Fegans 30 interception return (Nicolas Gutierrez kick), 10:25 2Q
O – Nicolas Gutierrez 33 FG, 8:05 2Q
M – Omar Conley 92 kickoff return (kick blocked), 7:48 2Q
O – Trey Higgins 8 run (Nicolas Gutierrez kick), 4:13 2Q
O – Warren Britt 8 pass from Trey Higgins (Nicolas Gutierrez kick), 3:20 3Q

| | | |
| --- | --- | --- |
| Min (7-4) | | Oxf (10-1) |
| 1 | 1st Downs | 24 |
| 20-(-5) | Rushes-yds | 41-237 |
| 4-10-3 | C-A-I | 16-22-1 |
| (-5) | Passing yds | 233 |
| 0-0 | Fum-lost | 0-0 |
| 8-27.3 | Punts-avg | 2-35.0 |
| 9-64 | Pen-yds | 10-82 |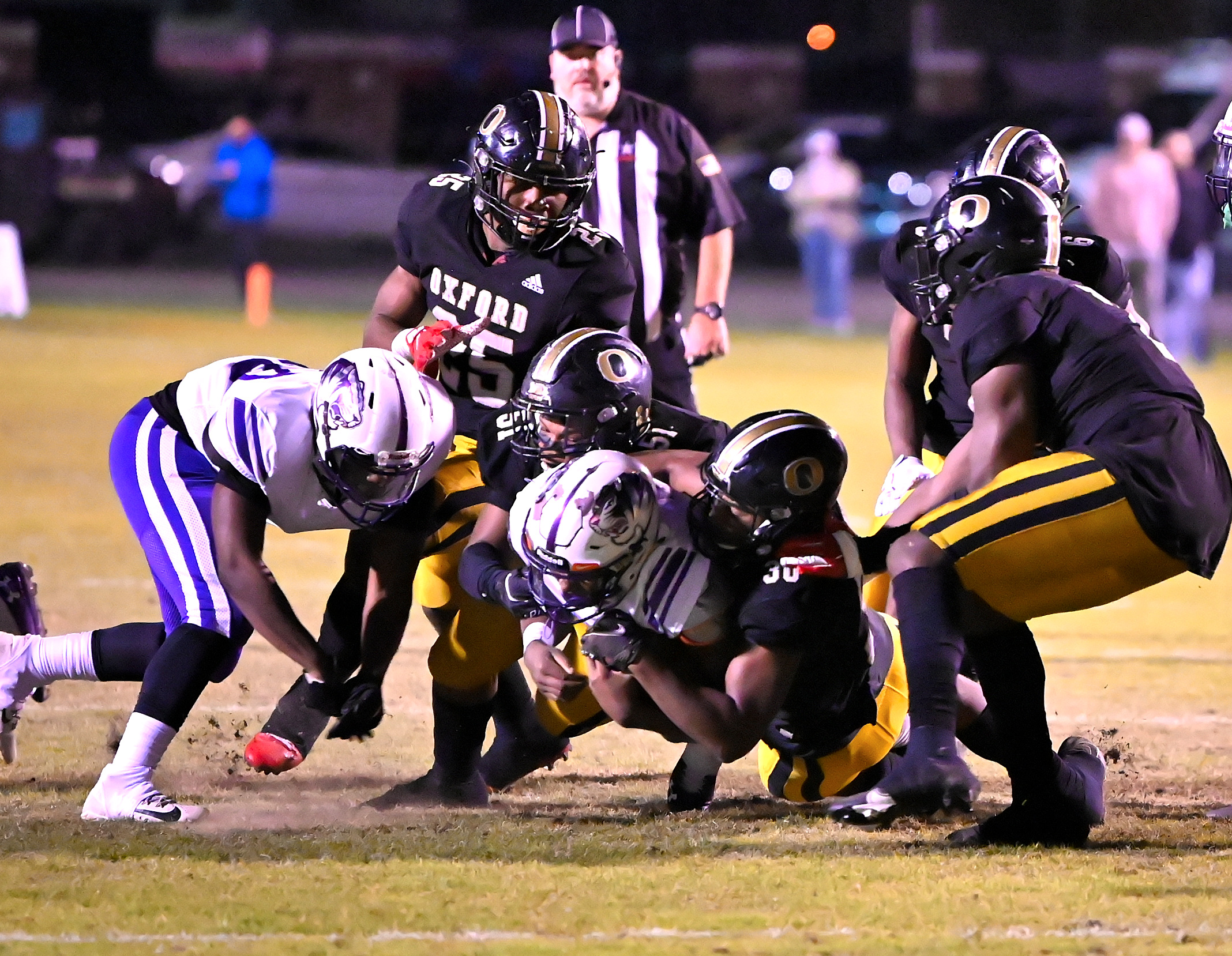 To see more pictures from the game, click here www.bjfranklin.smugmug.com