Running for state
Calhoun County sending 12 teams, 10 at-large runners to the state cross country meet; PV sweeps, White Plains boys, Alexandria girls going as sectional champs, Ohatchee's Fair individual winner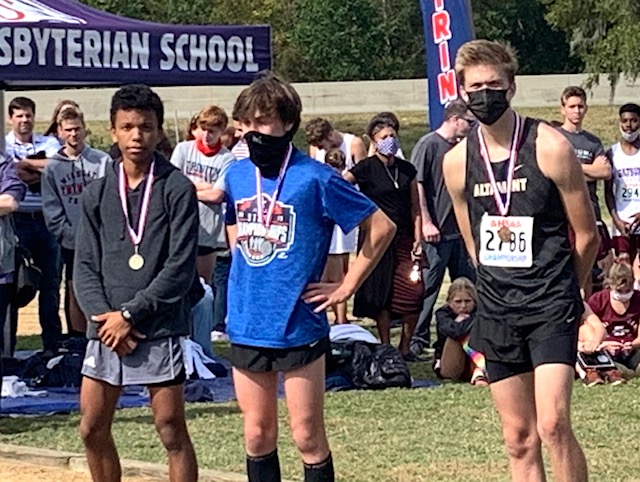 By East Alabama Sports Today
Last November, Luke Fair stood at the finish line at the sectional meet and watched his sister Jayda lead the field across the line to win the race. Two Saturdays later, he was at the finish line again watching his sister become the first girls cross country runner from Calhoun County to win a state championship.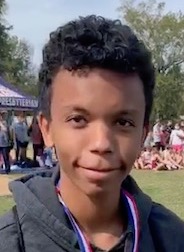 It was inspiring to him then, and the Ohatchee senior is hoping to follow a similar path this year. He got the first part of it Thursday when he won the Class 3A Section 2 boys race at Gateway Park in Montgomery.

"Seeing her win definitely motivated me to go out and do the same; she did it, now I've got to do it," Fair said. "There's definitely competitiveness between me and her. That kind of drives me in what I'm going to do and I'm not going to do."

Fair won the race in a school record 17:06.30, shaving more than 17 seconds off his previous personal best. He won by 14 seconds over Jack Nichols of team champion Altamont.

Taking a page from his sister's racebook of going out quickly but deviating from his own, he led the pack off the line and after an "iffy" spot midway through the second mile pulled away to win wire-to-wire.

"I didn't let anybody pass me," he said.

"It was the best ran he's ever run," Ohatchee coach Casey Lipscomb said. "He gave it everything. He crossed the finish line and he was give out."

Fair was among 10 at-large runners and a dozen teams from Calhoun County to qualify for next Saturday's state meet at the Oakville Indian Mounds Park through various sectionals around the state.
He was the county's only individual winner, but Pleasant Valley's boys and girls, White Plains' boys and Alexandria's girls all won team titles.
Among runners from the area, Munford's Dakota Frank outran two-time Calhoun County champion Jake Moore on his own course to win the 4A sectional boys race, Glencoe's Katie Giles won the girls 3A race and Lincoln's boys won their 5A sectional at Clay Central.
Pleasant Valley swept the two Class 3A races despite each team missing key runners in their top six.

The boys were without their No. 2 runner, but won a sectional with three of the top five teams in the state by 12 points by placing all five scorers among the top 12 counters.

Cayden Nelson was second overall (16:59.31), less than three seconds behind the No. 1 runner in the state, and two freshmen were the Raiders' third and fifth finishers. Even their eighth runner came across the line before the third-place finisher's fifth counter and all nine ran 20:01 or better.

"If we just do what we can do and do what I know we can do we can definitely be a red trophy this year," PV coach Brad Hood said. "State is possible. We beat (No. 1 St. Bernard) once and they beat us twice."

The girls team placed five runners in the top 10 and Hood noted their third mile was actually their fastest "which is something I had not seen them do in years." County champion Trinity Roberts was second overall and the four PV runners behind her were all 40 seconds faster than what their two-mile projected.
"It's almost like they were on a tear," Hood said. "The back half of the roster is getting closer to the front and it's pushing everybody. If we can cut 30 seconds in the next 10 days we've got a chance to win it."

The two White Plains teams were having a little fun at each other's expense over a post-race lunch. The boys, running their third timed race in 10 days, placed their top four counters in the top 15 overall and scored 45 points, 16 points ahead of runner-up Ashville. Moore was second overall, Kayd Hightower fourth and Carson Limbaugh seventh.

The girls placed three in the top six and four in the top nine, but Ashville had three of the top four and put all five of its counters in the top 12 to edge the Lady Wildcats by six points.
"The boys were saying their first-place trophy was bigger than the girls," Wildcats coach John Moore said. "The boys were back-to-back sectional champions, the girls were back-to-back county (champs). Neither one do I want. I mean, I'll take a sectional or a county, but I'd definitely go 100 years without either one for a state championship."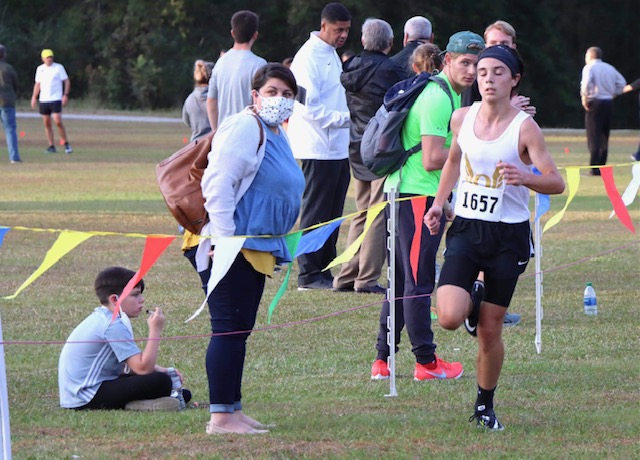 AHSAA CROSS COUNTRY SECTIONALS
(Top 4 teams, 6 at-large individuals qualify for state meet)
CLASS 1A-2A SECTION 2 (at Cold Springs)
Boys team qualifiers: Cold Springs 26, Westbrook Christian 69, Locust Fork 72, Faith Christian 75.
Top 5 individuals: Ethan Edgeworth, Cold Springs 16:16.56; Asher Curp, Westbrook 17:43.21; Jayden Allred, Cold Springs 18:21.98; Steve Kamau, Cornerstone 18:24.98; Jake Taylor, Locust Fork 18:40.40.
Local at-large qualifiers: Tyler Doggrell, Jacksonville Christian; Carter Stremmel, Donoho.
Girls team qualifiers: Cold Springs 18, Locust Fork 64, Faith Christian 71, Donoho 87
Top 5 individuals: Reagan Parris, Cold Springs 20:53.36; Macie Huffstutler, Cold Springs 21:35.50; Taylor Simmons, Donoho 21:51.10; Clarie Huffstutler, Cold Springs 21:51.12; Emma Hancock, Cold Springs 22:04.37.
Local at-large qualifiers: Maggie Morgan, Westbrook Christian; Claire Goodwin, Westbrook Christian.
CLASS 3A SECTION 3 (at White Plains)
Boys team qualifiers: Pleasant Valley 38, JB Pennington 50, Hokes Bluff 65, Holly Pond 78.
Top 5 individuals: Collin Mayfield, Geraldine 16:56.62; Cayden Nelson, Pleasant Valley 16:59.31; Christopher Putman, Holly Pond 17:29.60; Paul Gonzalez, JB Pennington 17:38.63; Sam Green, Hokes Bluff 17:53.13.
Local at-large qualifiers: Conner Cothran, Glencoe; Cason Arthur, Glencoe; Robert Edgar, Glencoe.
Girls team qualifiers: Pleasant Valley 36, JB Pennington 46, Glencoe 54, Holly Pond 102.
Top 5 individuals: Katie Giles, Glencoe 19:42.61; Trinity Roberts, Pleasant Valley 21:31.69; Blakely Baggett, Holly Pond 21:32.64; Autumn Sansing, JP Pennington 21:45.63; Allie Jo Amos, Glencoe 22:08.74.
Local at-large qualifiers: Elizabeth Edge, Hokes Bluff; Kiera Johnson, Hokes Bluff.

CLASS 3A SECTION 2 (at Gateway Park, Montgomery)
Boys team qualifiers: Altamont 39, Montgomery Academy 61, Prattville Christian 66, Trinity Presbyterian 95
Top 5 individuals: Luke Fair, Ohatchee 17:06.30; Jack Nichols, Altamont 17:20.72; Jesse Hungerpiller, Altamont 17:56.13; Stewart Miller, Montgomery Academy 18:10.31; Cohen Palmore, Prattville Christian 18:21.81.
Local at-large qualifiers: Luke Fair, Ohatchee; Joseph Kelley, Ohatchee; Colten Dover, Ohatchee.

Girls team qualifiers: Altamont 20, Montgomery Academy 62, Trinity Presbyterian 68, Ohatchee 96.
Top 5 individuals: Frances Overton, Altamont 20:23.29; Margarette Berdy, Altamont 21:42.73; Emilyn Etheredge, Trinity 22:07.48; Kate Nichols, Altamont 22:12.33; Averry Rogers, Prattville Christian
Local at-large qualifiers: Jay'Onna Cobb, Saks.
CLASS 4A SECTION 2 (at White Plains)
Boys team qualifiers: White Plains 45, Ashville 61, Oneonta 62, DAR 101.
Top 5 individuals: Dakota Frank, Munford 16:59.59; Jake Moore, White Plains 17:20.08; Wyatt Knight, Ashville, 17:39.66; Kayd Hightower, White Plains 17:47.46; Joe Stevens, Ashville 17:50.82.
Local at-large qualifiers: Dakota Frank, Munford; Evan Garner, Jacksonville; Jesse Baldwin, Handley; Walker Bolt, Jacksonville; Fisher Anderson, Jacksonville.
Girls team qualifiers: Ashville 25, White Plains 32, Jacksonville 88, DAR 101.
Top 5 individuals: Taylor Knight, Ashville 21:46.08; Meghan McCarthy, Ashville 22:04.13; Anna Strickland, White Plains 22:15.52; Kathleen McCarthy, Ashville 22:23.94; Maddyn Conn, White Plains 22:33.68.
Local at-large qualifiers: Sidney Johnson, Cherokee County; Emelia Askew, Handley; Destiny Moncrief, Munford; Shelby Moncrief, Munford.

CLASS 5A SECTION 3 (at Clay Central)
Boys team qualifiers: Lincoln 35, Alexandria 69, Tallassee 72, Clay Central 135.
Top 5 individuals: Woodrow Dean, Tallassee 16:09.36; J.R. Proctor, Lincoln 17:30.88; Jonah Medders, Alexandria 18:13.69; Mason Williamson, St. Clair County 18:23.59; JaLeel Harris, Lincoln 18:41.33.

Girls team qualifiers: Alexandria 27, Clay Central 63, Boaz 73, Lincoln 83.
Top 5 individuals: Molly Conway, Beauregard 20:31.78; Barit Snead, Sardis 22:04.97; Michaela Moore, Alexandria 22:24.56; Bella Rhodes, Holtville 22:43.07; Michaela Watts, Alexandria 23:20.02.

CLASS 6A SECTION 5 (at St. Bernard)
Boys team qualifiers: Cullman 25, Southside-Gadsden 64, Oxford 97, Springville 109.
Top 5 individuals: Jack Lowe, Pell City 16:43.39; Nicholas Wood, Cullman 17:08.40; Arturo Rodriquez, Fort Payne 17:12.39; Troy Adkison, Cullman 17:13.93; William Nichols, Cullman 17:21.38.

Girls team qualifiers: Fort Payne 45, Southside-Gadsden 69, Springville 90, Pell City 91.
Top 5 individuals: Beth Ann Tucker, Springville 19:57.95; Maddie Jackson, Fort Payne 20:05.23; Madelynn Grace Mathews, Springville 20:07.40; Camryn Davis, Southside-Gadsden 20:41.42; Reese McCurdy, Fort Payne 21:20.71.
Local at-large qualifiers: Emerson Maniscalco, Oxford.