Bulldogs don't flinch, clinch
Johnson's touchdown with 15 seconds left lifts Piedmont over Wellborn to clinch region title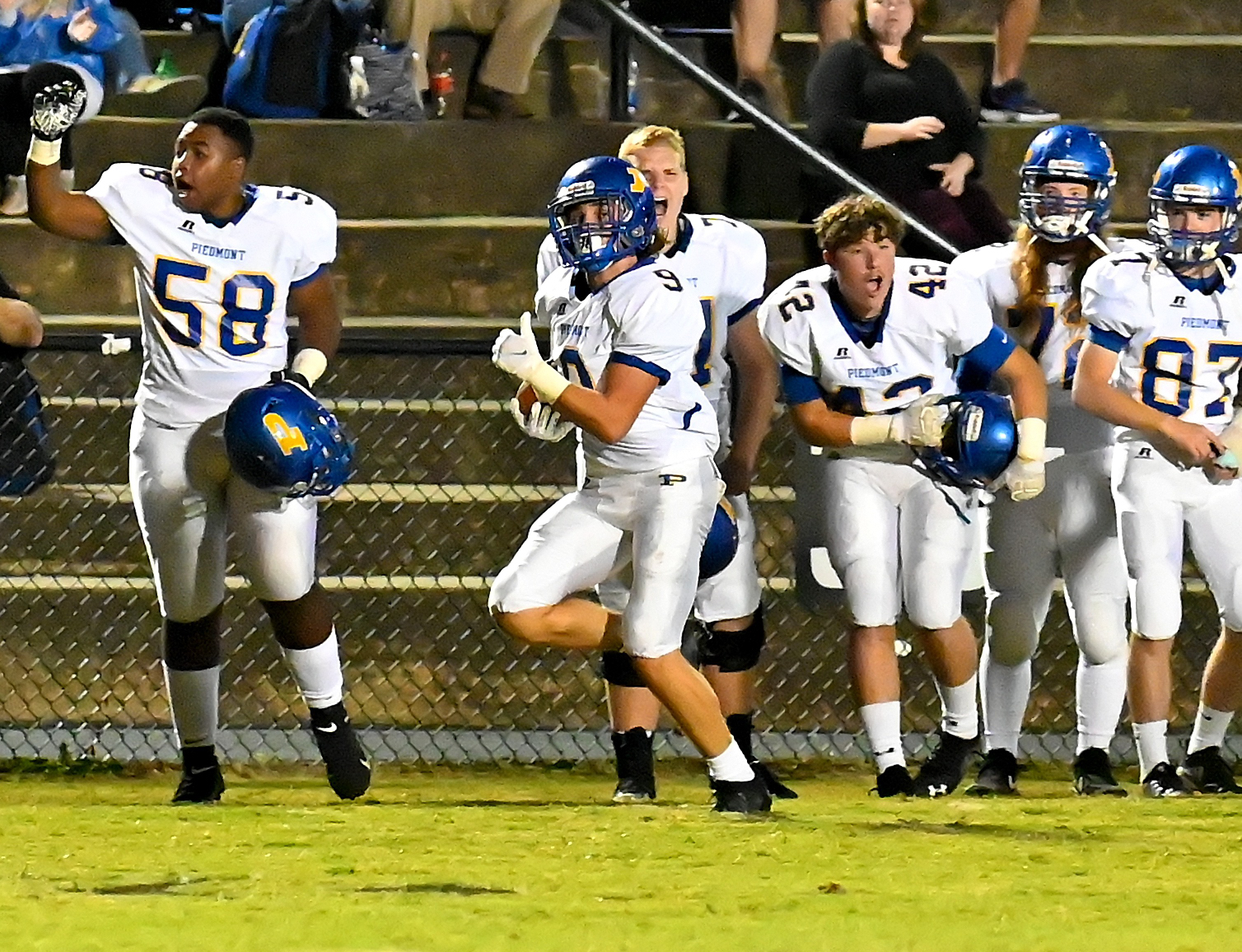 By Al Muskewitz
East Alabama Sports Today
If a player spends any amount of time in the Piedmont football program he learns no moment is ever too big.

The Bulldogs have played so many big games and been in so many big situations during Steve Smith's era as head coach, there's simply no flinching when they get in a spot with the game on the line.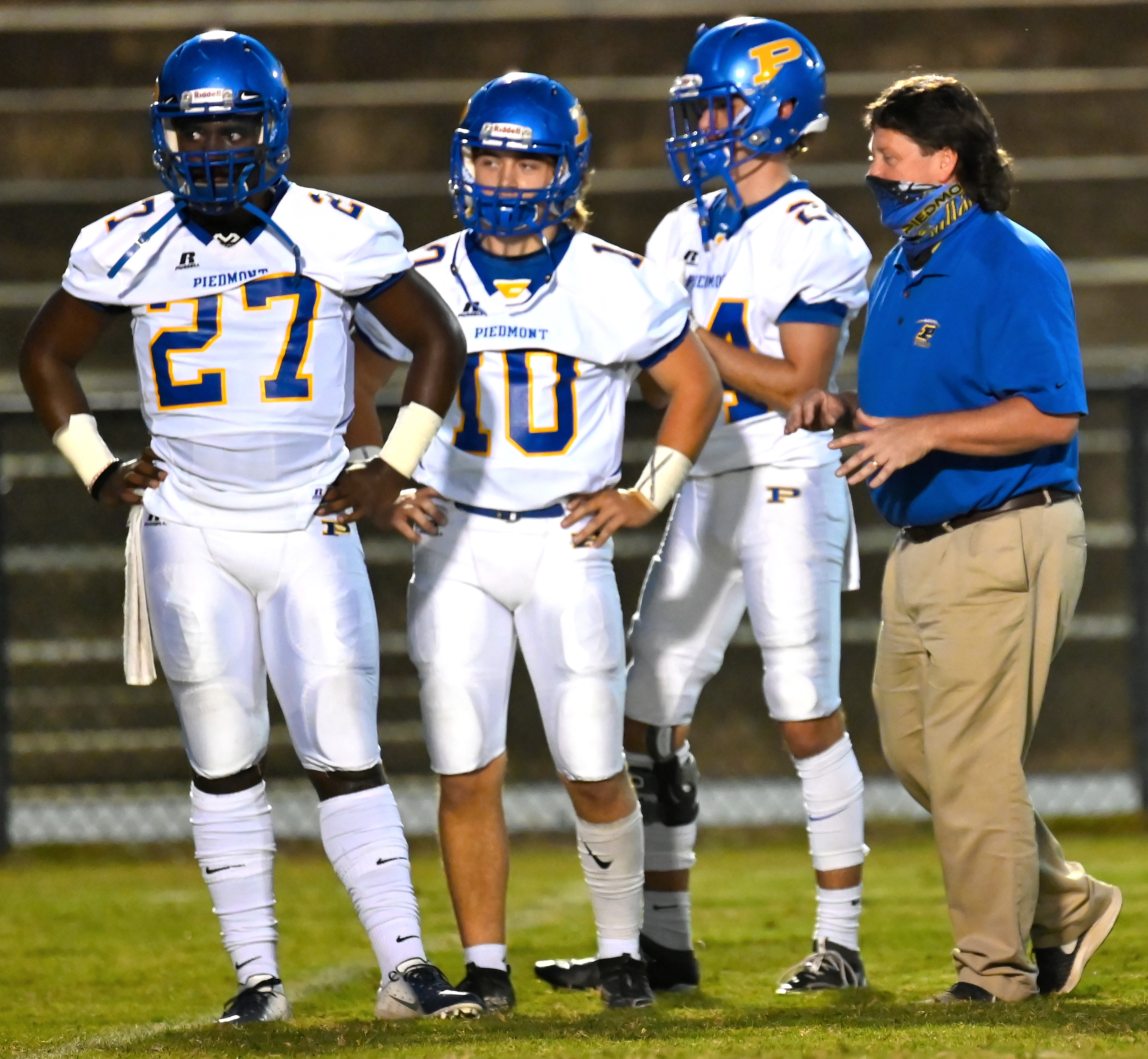 They were in one of those spots Friday night and, as usual, delivered with a calmness of a team used to going through the grinder.

Elijah Johnson scored a touchdown on an 11-yard sweep with 15.5 seconds left to lift the fifth-ranked Bulldogs over No. 2 Wellborn 27-21 to win their sixth straight region championship.

"The goal every year is to try to win the state championship," Piedmont senior Sean Smith said. "That's what we look for. We watched the guys when I was little do that in '09. I watched T (Taylor) Hayes and that group went back-to-back in '15 (and) '16. Got to stand on the sideline and watch one in '16. It's just a great job by us."

Actually, the victory threw Class 3A Region 5 into a three-way tie for first place on the final week of region play, but the Bulldogs (8-1, 6-1) will earn a No. 1 seed in the playoffs by virtue of their victories over the non-region opponents they defeated.

Wellborn (8-1, 6-1) will be the second seed in the region and No. 3 Ohatchee (8-1, 6-1) is third. All three teams won the games among them on the road, all by six points or less and all decided in the last minute or overtime. Saks is the region's No. 4.

Both teams will await the outcome of a three-way tiebreaker in Region 8 among Phil Campbell, Clements and Colbert Heights before discovering their first-round playoff opponent. Ohatchee is headed to Lauderdale County and Saks to East Lawrence.

Johnson's winning touchdown capped a three-play, 60-yard drive with the Bulldogs having no any timeouts available, but experience has taught them not to worry.
"That's what I told our guys," Piedmont coach Steve Smith said. "The moment should not be too big for us. We've played in a lot of big games.
"You had two outstanding football teams here tonight playing the game the way it's supposed to be played – everybody leaving it all on the field. … We felt like that big-game experience would work in our favor. We've played in those types of environments before and our guys did a good job of just not panicking."
Bulldogs quarterback Jack Hayes got the winning drive started with a 17-yard pass to Austin Estes to get into Wellborn territory. He then broke off a 32-yard run after Wellborn shut down the original play, elegantly tip-toeing down the sideline past the Panthers bench and managing to stay in bounds by inches before getting knocked down at the 11. Johnson scored on the next play when he swept around left end.
"Jack came to the huddle and was like, 'We're going to run 27 sweep, just keep your head down and keep your feet moving,' and that's what I did," Johnson said. "I told my team I'd come through when they needed me. I told myself just don't fall, don't trip."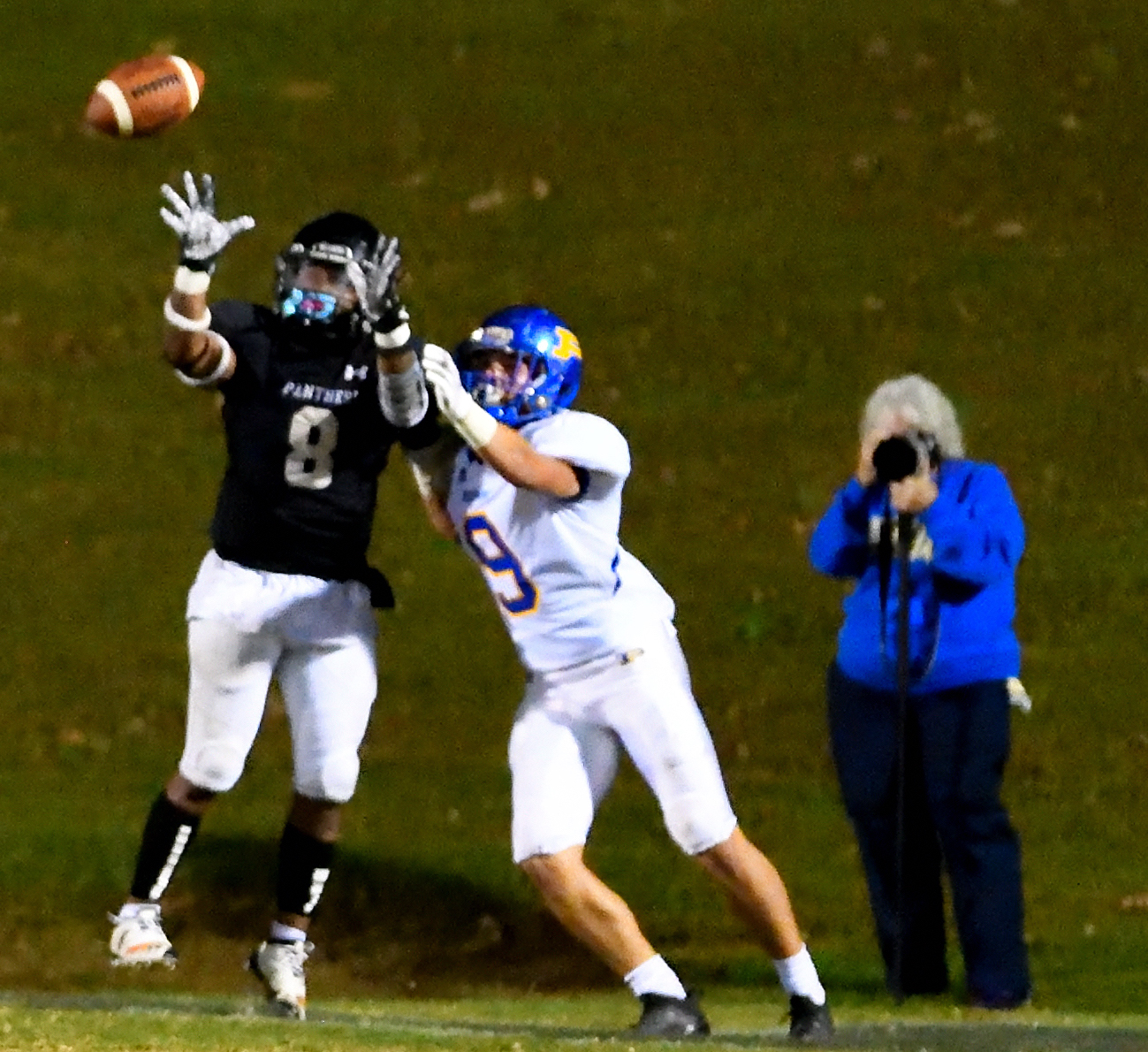 Wellborn, bidding to complete its first undefeated regular season since 1977 and win its first region title since 1995, had the first chance to snap the 21-21 tie when it took over with 1:21 to play after Hayes lost the handle on a fourth-and-inches at the 36.

But the Panthers ran Logan Brooks three plays into the line that netted one yard and had a five-yard penalty in between. The Bulldogs used their timeouts in the drive hoping to get the ball back with some time to work.

"We thought we'd have a chance if we could get the ball back there," Steve Smith said. "We've got some guys who are good after-the-catch guys and had a couple big plays tonight on yards-after-catch. I thought we'd get it around the 35 or 40 if we could stop them there and if you hit one of those and get 20-25 yards you start thinking maybe get within field goal range and maybe have a chance there.

"To be honest I wouldn't have been real excited about going into overtime here with this bunch. They're mighty difficult from the 10-yard line-in so we wanted to try to have an opportunity to win it there in regulation and that kind of factored in to what we did what we did."

And that's what happened. The Panthers punted the ball across midfield but the Bulldogs had just under a minute left to win it or send the game into overtime.

"I looked at the clock and there was a minute left and just told the guys we had to score so we wouldn't have to go into overtime and risk it," Hayes said. "We drove the ball down the field and scored and Eli finished it off like the player he is. He's got that dog in him.

"We've been there before, we've done it before. I wouldn't say it's comfortable, it's still a little bit nerve-wracking, but we've just got to keep our best to keep our cool and stay the way we play like on a normal game."

"We practice two-minute probably more than anybody in the state and I think we're one of the most comfortable two-minute drill teams in the state," Sean Smith said.

Hayes ended up rushing for 77 yards on 11 carries, but he threw for 213 yards and three touchdowns on 10-of-17 passing. His touchdown passes covered 45 yards to Jadon Calhoun to open the scoring, 57 yards to Estes to produce a 14-7 halftime lead and 43 yards to Sean Smith for a 21-14 lead in the third quarter.
Wellborn answered each Piedmont score within one or two possessions until the final drive of the night. Jett Smith tied the game 7-7 with a 21-yard touchdown pass to Tanner McQueen in the second quarter, Brooks tied it at 14 on a 37-yard run midway through the third quarter and Calvin Spinks tied it at 21 on a 1-yard run with 16 seconds left in the third quarter.

"I've got a great bunch of young men and they fought so hard," Wellborn coach Jeff Smith said. "The worst thing you can do as a coach is have to walk down to that locker room and talk to them after a hard-fought loss like that because what do you say. They left it all on the field. You couldn't ask them to play any harder. It just didn't go their way."

Spinks rushed for 75 yards in the game. Smith rushed for 104 yards on 25 carries, threw for 34 yards in limited passing and was a physical presence on the Wellborn defense that held Piedmont to 100 yards rushing. Smith now has 1,060 yards rushing and 116 tackles on defense this season.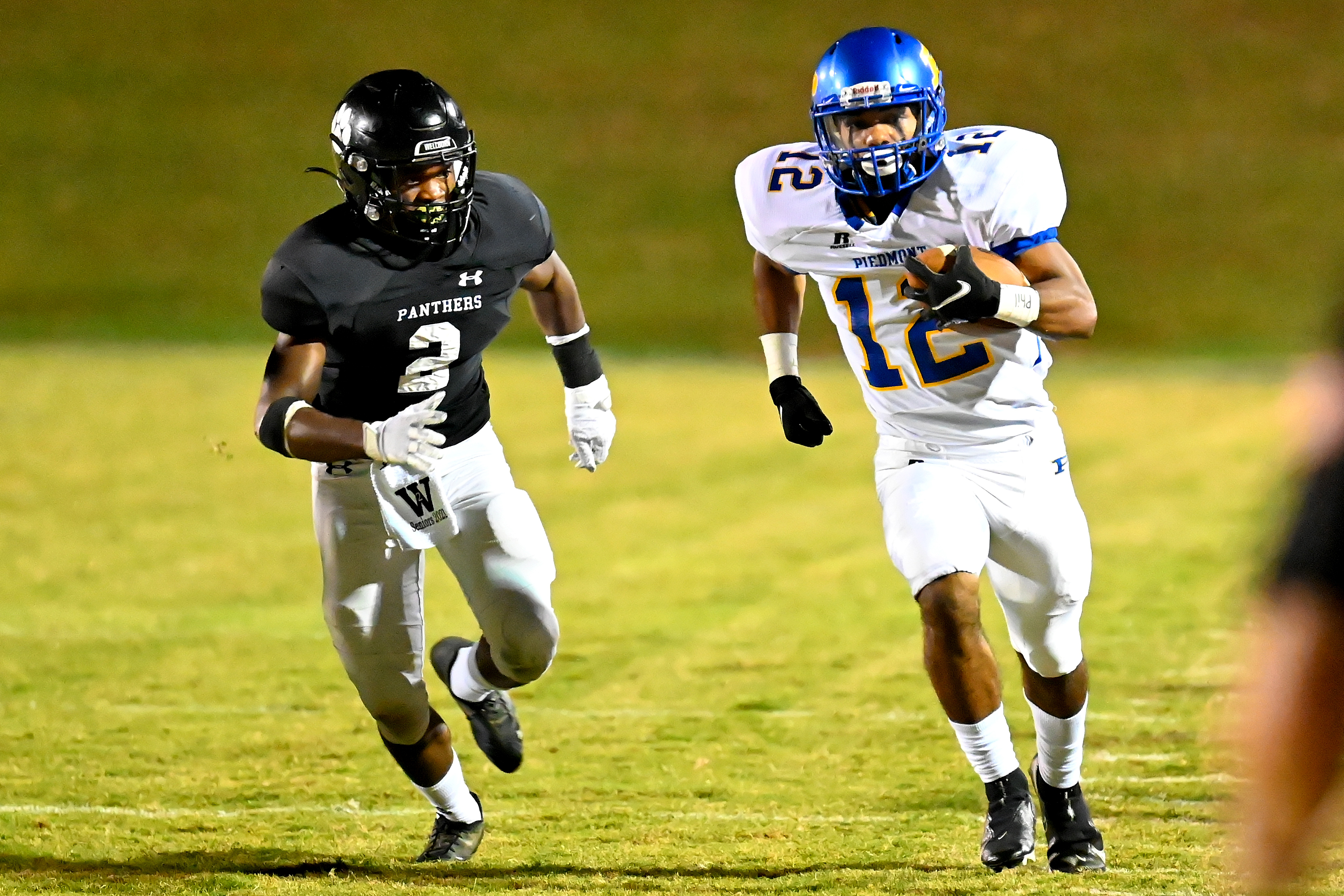 PIEDMONT 27, WELLBORN 21
Piedmont 7 7 7 6 – 27
Wellborn 0 7 14 0 – 21
P – Jadon Calhoun 45 pass from Jack Hayes (Sloan Smith kick), 7:21 1Q
W – Tanner McQueen 31 pass from Jett Smith (Brandon Morales kick), 9:32 2Q
P – Austin Estes 57 pass from Jack Hayes (Sloan Smith kick), 3:33 2Q
W – Logan Brooks 37 run (Brandon Morales kick), 7:05 3Q
P – Sean Smith 43 pass from Jack Hayes (Sloan Smith kick), 4:58 3Q
W – Calvin Spinks 1 run (Brandon Morales kick), 0:16 3Q
P – Elijah Johnson 11 run (run failed), 0:15 4Q

| | | |
| --- | --- | --- |
| Pied (8-1, 6-1) | | Well (8-1, 6-1) |
| 12 | 1st Downs | 13 |
| 26-100 | Rushes-yds | 50-230 |
| 10-18-1 | C-A-I | 2-7-0 |
| 213 | Passing yds | 34 |
| 1-1 | Fum-lost | 1-1 |
| 5-35.2 | Punts-avg | 6-28.7 |
| 5-35 | Pen-yds | 13-80 |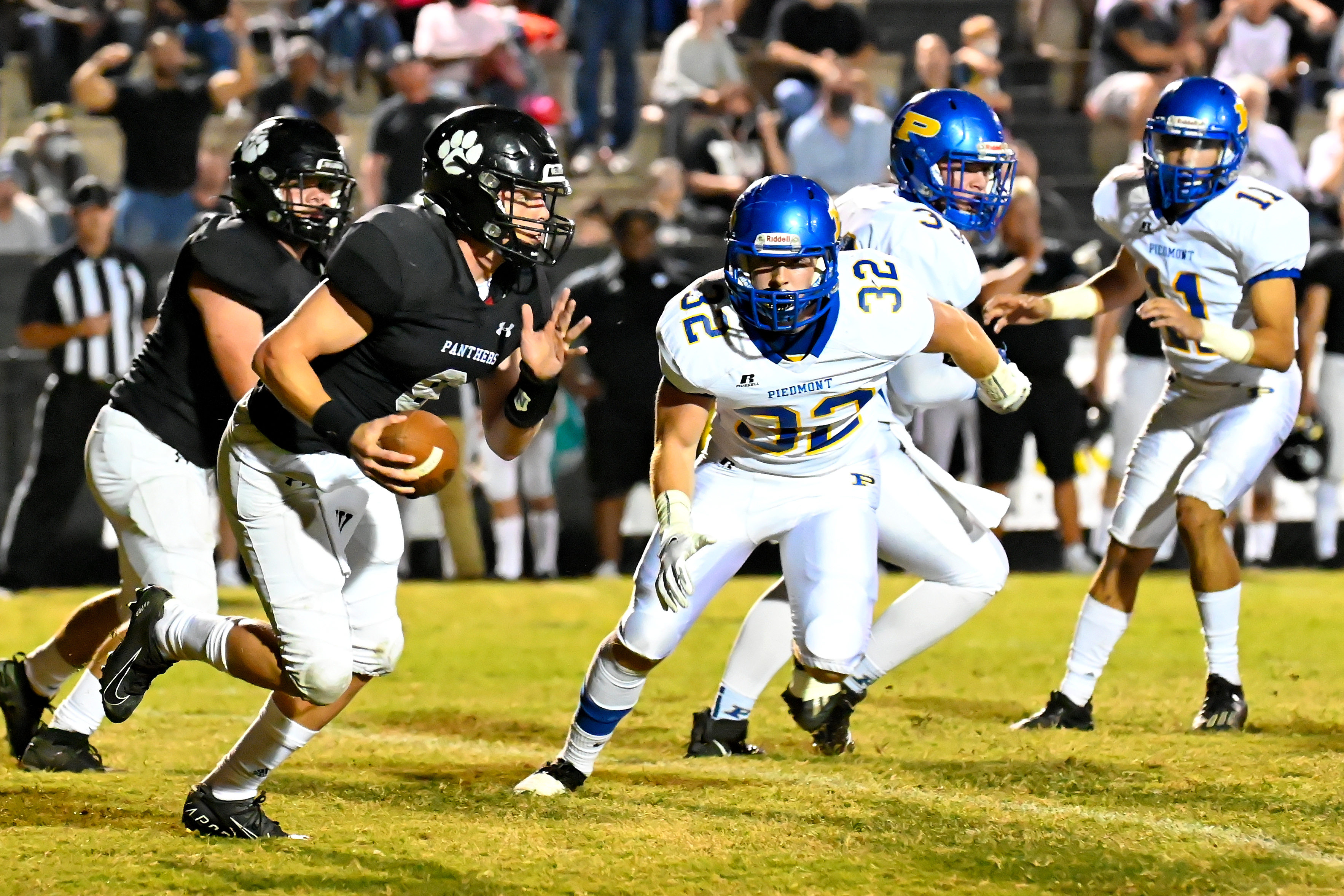 To see photos from the game visit www.bjfranklin.smugmug.com and www.camerainnandbikes.com