Caleb clutch
Caleb Bowen makes birdie putt in playoff to win Pine Hill CC club championship for second time

By East Alabama Sports Today

A little over a month ago Caleb Bowen felt the sting of losing a tournament in a playoff. On Sunday, the worm turned.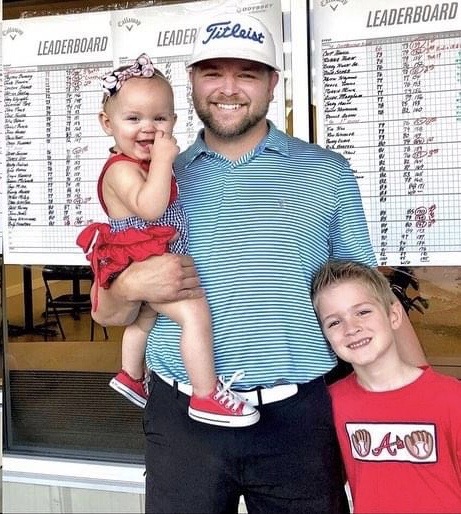 Bowen sank a birdie putt on the first hole of a sudden death playoff with Landon Straub to win the Pine Hill CC club championship for the second time.
"I felt like it was a complete role reversal and a payback for the Buddy Moore ending," said Bowen, the first-round co-leader.
Five weeks ago Bowen and partner Cory Etter lost in the Buddy Moore Tournament at Anniston Municipal when Straub and Jason Johnson tapped in a short par putt on the second hole of sudden death.

Bowen, the 2016 Pine Hill club champion, and Straub both shot 1-over-par 145 for 36 holes of regulation. Bowen shot a final-round 74 and Straub 73.

Straub carried a one-shot lead into 18. He made a bogey after a testy putt from the fringe rolled to the front of the green. Bowen lipped out a five-footer that a would have won it in regulation, made his par and headed back to the tee to start the playoff.

On the playoff hole, Bowen chipped up to three feet and made his birdie after Straub missed his putt for par.

Chip Howell completed a wire-to-wire win in the Senior Division. He backed an opening-round 66 with a 73 and won by 12 shots.

Pine Hill Club Championship
| | |
| --- | --- |
| Championship flight | |
| x-Caleb Bowen | 71-74–145 |
| Landon Straub | 72-73–145 |
| Peyton Bradley | 71-75–146 |
| Gary Wigington | 72-74–146 |
| Chris Hubbard | 75-72–147 |
| Jonathan Pate | 73-75–148 |
| Josh Poole | 74-74–148 |
| Adrian Geeting | 72-78–150 |
| Will Brown | 74-77–151 |
| Daniel Black | 75-78–153 |
| Cole Fuller | 74-79–153 |
| David Hurst | 75-85–160 |
| John Grubbs | 75-85–160 |
| First flight | |
| Adam Johnson | 76-71–147 |
| Chad Watson | 78-70–148 |
| Billy Thompson | 80-69–149 |
| Gage Miller | 77-74–151 |
| Mark McCaig | 77-75–152 |
| Wesley Jenkins | 76-77–153 |
| Cameron McCareeth | 77-76–153 |
| James Lett | 76-81–157 |
| Tyler Dopson | 76-81–157 |
| Ethyn Roberts | 77-81–158 |
| John Sears | 80-78–158 |
| Rodney Grubbs | 77-86–163 |
| Danny Whittaker | 80-85–165 |
| Greg Rainey | 80-87-167 |
x-won on first hole of playoff
Second flight
Ricky Hurst Jr.
82-74–156
Bradley Elliott
83-75–158
Marcus King
82-78–160
Mike Lett
81-79–160
Lamar Carter
83-78–161
Jason Rich
84-78–162
Tony Hicks
87-77–164
Phillip Sanderson
82-82–164
Ricky Carden
85-80–165
Terry Cobb
81-85–166
Steve Taylor
81-86–167
Josh Hicks
81-86–167
Eddie Burks
84-85–169
Wayne Boyd
84-86–170
Blake Jones
85-91–176
Brian Irwin
85-WD
Third flight
Tyler Teneyck
89-81–170
Ray Doss
89-83–172
Johnny Barnes
87-85–172
Lenn Coffey
86-86–172
Chris Reaves
92-82–174
Mickey Sheppard
89-87–176
Jacob Sears
88-90–178
Riley Boyd
94-88–182
Todd Hamilton
89-95–184
Warren Sewell
95-91–186
Rodney Ford
95-93–188
Steve Perry
98-94–192
Nick Machowicz
97-108-205
Ladies
Bailey Webb

80-85–165
Isabel Rogers
84-86–170
| | |
| --- | --- |
| Sr. Championship | |
| Chip Howell | 66-73–139 |
| Keith Haywood | 76-75–151 |
| Robbie Hurst | 73-79–152 |
| Doug Sears | 76-76–152 |
| Glenn Heathcock | 78-75–153 |
| Morris Mink | 77-76–153 |
| Ricky Hurst Sr. | 75-79–154 |
| Bruce Collins | 77-77–154 |
| Allen Mangham | 77-79–156 |
| Jerry Irwin | 77-79–156 |
| Dennis Austin | 78-82–160 |
| Sr. 1st flight | |
| Rick Barthel | 80-74–154 |
| Tim Hill | 79-76–155 |
| Frank Toland | 81-76–157 |
| Ron Wheeler | 79-79–158 |
| Buddy Eiland | 79-80–159 |
| Michael Crews | 81-78–159 |
| Carter Gable | 82-78–160 |
| David Roden | 82-82–164 |
| Robbie Robertson | 82-83–165 |
| Randall Doss | 82-87–169 |
| Ken Boyd | 83-88–171 |
| Tim Steward | 83-WD |
| Steve Williams | 83 |
| Sr. 2nd flight | |
| Jim Kelley | 85-79–164 |
| David Medders | 87-80–167 |
| Ben Surrency | 85-85–170 |
| Richard Banks | 89-84–173 |
| Greg Thrower | 91-85–176 |
| Wayne Conner | 92-89–181 |
| Frank Cobb | 90-94–184 |
| Tommy Beck | 90-97–187 |