Well, well, Wellborn
Panthers erupt for 50 points in the first quarter against Weaver, can win region title outright with a win over Piedmont at home next week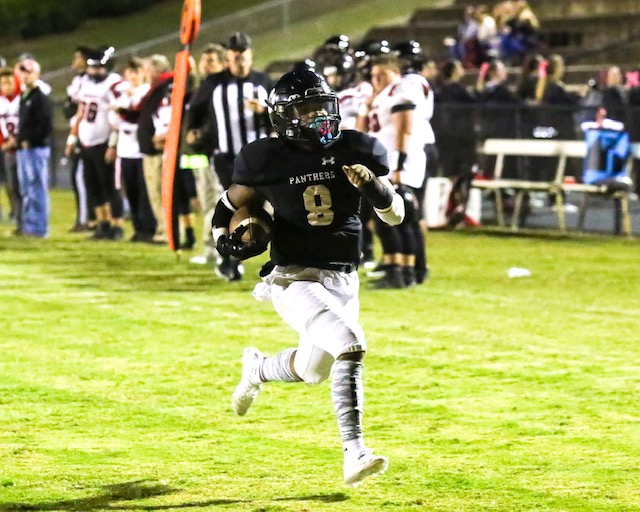 By East Alabama Sports Today

Wellborn has one of the highest scoring offenses in the state this season and Friday night it produced one of the all-time highest scoring quarters in state history.

The undefeated second-ranked Panthers erupted for 50 points in the first quarter on the way to a 69-0 pasting of winless Weaver. They are now one of only four teams to score at least 50 in a quarter, according the AHSAA record book.
55 – Homewood (75) vs. Ramsay (13), 2012, first quarter
54 – Thomasville (81) vs. Gulf Shores (14), 2004, first quarter
50 – Demopolis (64) vs. Eutaw (12), 2004, second quarter
50 – Wellborn (69) vs. Weaver (0), 2020, first quarter
"Unbelievable," Wellborn coach Jeff Smith said. "We were not trying to, it just happened. It was not a goal. We weren't trying to set any scoring record or goal or anything like that. Weaver's just down, they've got a bunch of young kids and we've got a bunch of older kids. It's just not a good mix."

The Panthers (8-0, 6-0) have scored 307 points in eight games this season. They have scored 49 or more in four of their last five games and have outscored their last four opponents 206-16.

You can't have a quarter like they did Friday without a lot of big plays, and they had plenty.

Calvin Spinks returned the opening kickoff 80 yards for a touchdown, the Panthers added the two-point conversion and it was on. Before the quarter ended, TiQuan Thomas (68 yards), Logan Brooks (17), Tae Traylor (15-yard pass from Jett Smith), Spinks again (51), Smith (49) and Jesse Lewis (55) all scored touchdowns.

They were scoring touchdowns in the quarter on an average of every 90 seconds.

For Thomas, Spinks, Smith and Lewis the touchdown runs were their only carries of the game. Spinks also returned a punt for a touchdown in the second quarter.

Omarion Curry and Beau Neely had touchdown runs in the second quarter. The teams played with an eight-minute running clock in the second half.

The Panthers amassed 507 yards of offense. Their defense held Weaver (0-8, 0-6) to zero net yards in the first half and 68 yards total. The Bearcats have been shut out in their last two games and have been outscored 191-8 in their three games since returning from COVID-19 quarantine. They have now lost 19 in a row.

The win puts the Panthers on course to win the Class 3A Region 5 title against No. 5 Piedmont Friday. If they win the game, they will claim the title outright – their first region title since 1995. If they lose, the region falls into a three-way tie for first (with Ohatchee) and the tiebreakers, which favor Piedmont, take over.

"We feel very fortunate to getting to do that," Smith said. "Some players don't get to play for a championship and they get to play for it on their own field. I think that's huge."

Wellborn 69, Weaver 0
Weaver            0   0  0   0   –   0
Wellborn         50 19 0   0  –   69
Well – Calvin Spinks 80 kickoff return (conversion good), 11:44 1Q
Well – TiQuan Thomas 68 run (kick good), 9:21 1Q
Well – Logan Brooks 17 run (kick good), 7:54 1Q
Well – Tae Traylor 15 pass from Jett Smith (kick good), 5:26 1Q
Well – Calvin Spinks 51 run (kick good), 3:56 1Q
Well – Jett Smith 49 run (kick good), 2:34 1Q
Well – Jesse Lewis 55 run (kick good), 0:34 1Q
Well – Omarion Curry 6 run (kick good), 9:54 2Q
Well – Calvin Spinks 85 punt return (kick failed), 8:05 2Q
Well – Beau Neely 34 run (kick failed), 0:30 2Q