Takin' care of business
County roundup: Jacksonville gives coach what he was looking to see after two weeks of COVID quarantine; Ohatchee, Saks, JCA score big wins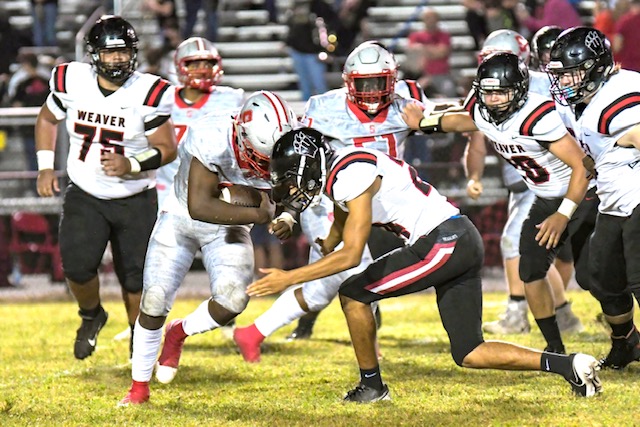 CALHOUN COUNTY GAMES
Faith Temple (JCA) 50, Russell Christian 35
Jacksonville 33, Cleburne County 0
Ohatchee 57, Glencoe 14
Oxford 42, Arab 14
Saks 60, Weaver 0
Wellborn 33, Hokes Bluff 9

By Gregory Kirby
Special to East Alabama Sports Today

JACKSONVILLE – Jacksonville returned to the field after two weeks of COVID-19 quarantine and didn't miss a beat.

The Golden Eagles returned to the winning ways they enjoyed before the shutdown and shut out Cleburne County 33-0. It was their second shutout of the season.

Omarion Adams returned a punt 69 yards for one touchdown (with an assist from Dreylan Fomby) and hauled in a 60-yard pass from Jim Ogle for another. Ogle also threw a 17-yard TD pass to Jacob Zackery.

JaeTaj Morris scored on a two-yard run. Mason Terrell kicked a 23-yard field goal and the Golden Eagles scored a safety on Drew Pridgen's sack in the end zone.

"We're excited to get back at it," Jacksonville coach Clint Smith said. "We had some of the guys out for two weeks and just tried to do what we could in practice to keep our timing down and stay in shape. This kind of solidifies our playoff spot, gives us an opportunity for a chance (in two weeks against Cherokee County) to play a first-round game at home.
"I really wanted to see the guys come out and execute and take care of business tonight. I thought we played really well defensively and did some good things offensively as well."

Ogle was 12-of-19 passing for 277 yards. He was 6-for-6 for 181 yards in the second half. At one point he had consecutive completions of 30, 60 and 40 yards. Adams had four catches for 102 yards.

"It was boring for not playing for two weeks, you miss the field, but being out here doing what I love, it feels good," Adams said. "For us to be not playing for two weeks and coming back and get a 'W' it was a good thing."
Jacksonville 33, Cleburne County 0
Cleburne Co.        0   0   0  0   –   0
Jacksonville        14 0  14 5  –  33                  
J – Jacoby Zackery 17 pass from Jim Ogle (Mason Terrell kick), 2:21 1Q
J – Omarion Adams 69 punt return (Mason Terrell kick), 0:28 1Q
J – Omarion Adams 60 pass from Jim Ogle (Mason Terrell kick), 8:36 3Q
J – Taj Morris 2 run (Mason Terrell kick), 3:37 3Q
J – Mason Terrell 23 FG, 8:38 4Q
J – Safety, Drew Pridgen tackles Matthew Brown in end zone, 0:11
Ohatchee 57, Glencoe 14
GLENCOE – The Indians had no letdown after their big win over Piedmont, their first over the Bulldogs in 17 years that elevated them to a season-high No. 4 in this week's Class 3A rankings.
Noah Fuller scored four touchdowns and Konner Basewell had two as the Indians (6-1) put 50 on the board for the second time this season. They have won four in a row since suffering their only loss to Wellborn in overtime.

Fuller scored on runs of 1, 22, 17 and 67 yards. Basewell scored two touchdowns in the second quarter and set up the Indians' second touchdown of the game with an interception. Eli Ennis, Wyatt Hamilton and Malachi Goble also scored touchdowns for Ohatchee.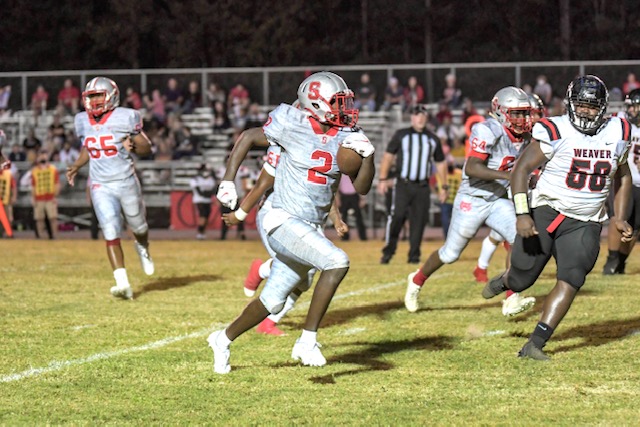 Saks 60, Weaver 0
The Wildcats scored in all three phases of the game in handling routing Weaver to remain in the hunt for a playoff spot.

Sean Parnell had two touchdown runs and two touchdown passes in the first half. Jordan Cosper returned an interception for a touchdown, Tray Whitus returned a fumble for a score and Jalen McCants scored brought a punt all the way back. Even lineman Treveon Bolton got in on the act, scoring on a three-yard run.

The loss was Weaver's 18th in a row.
JCA 50, Russell Christian 35
The Thunder's 8-man football team knocked off the No. 1 team and three-time defending champion of the state's Christian Football Association.