Jackets play lights out
Elston, Higgins have big nights as No. 1 Oxford thwarts former assistant's plan to control the clock, clinches playoff spot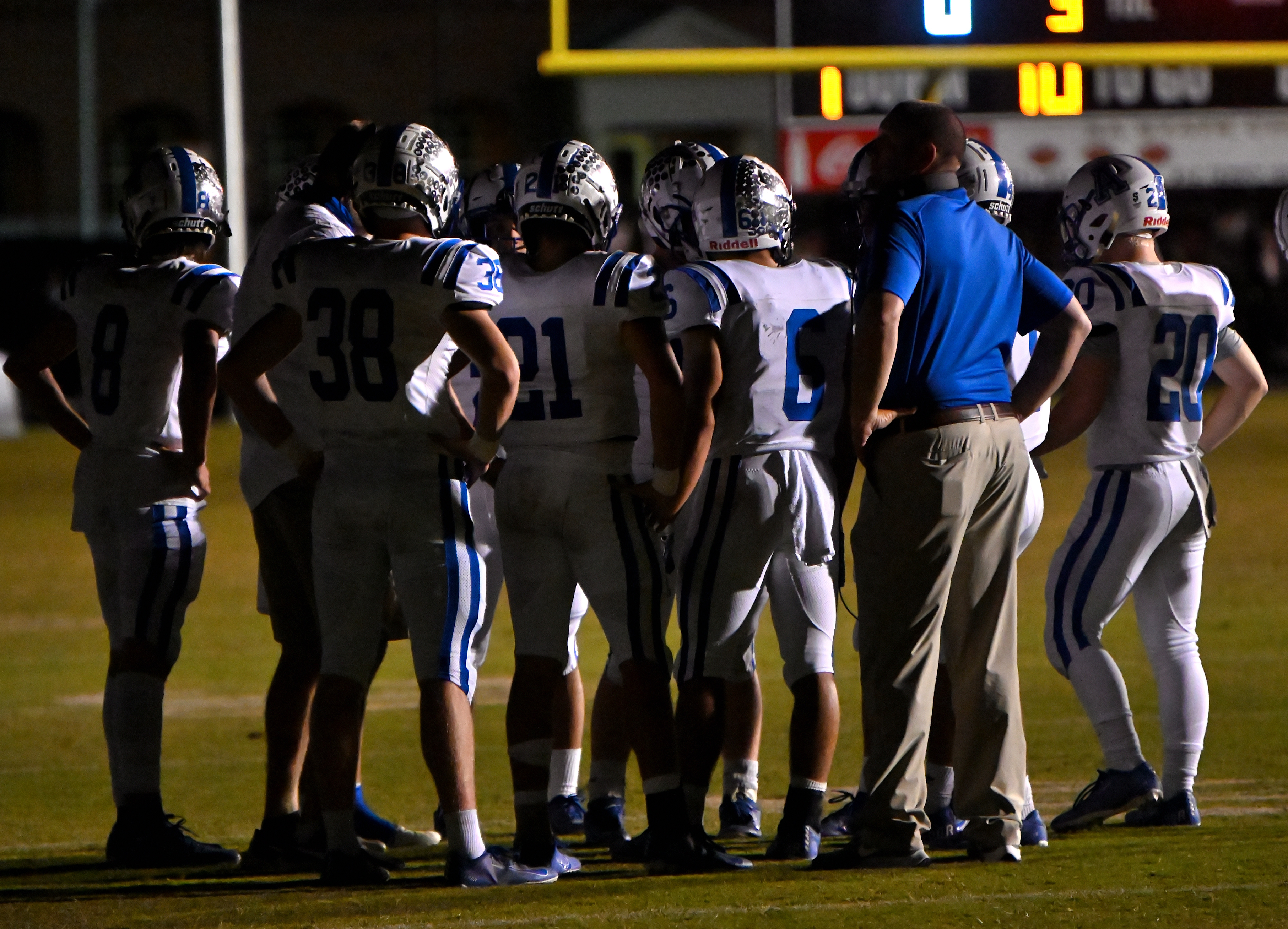 By Brant Locklier
For East Alabama Sports Today
OXFORD – Oxford returned to the field for the first time as the No. 1 team in the state Thursday night and guaranteed itself a spot in the Class 6A playoffs with a 42-14 victory over Arab at Lamar Field.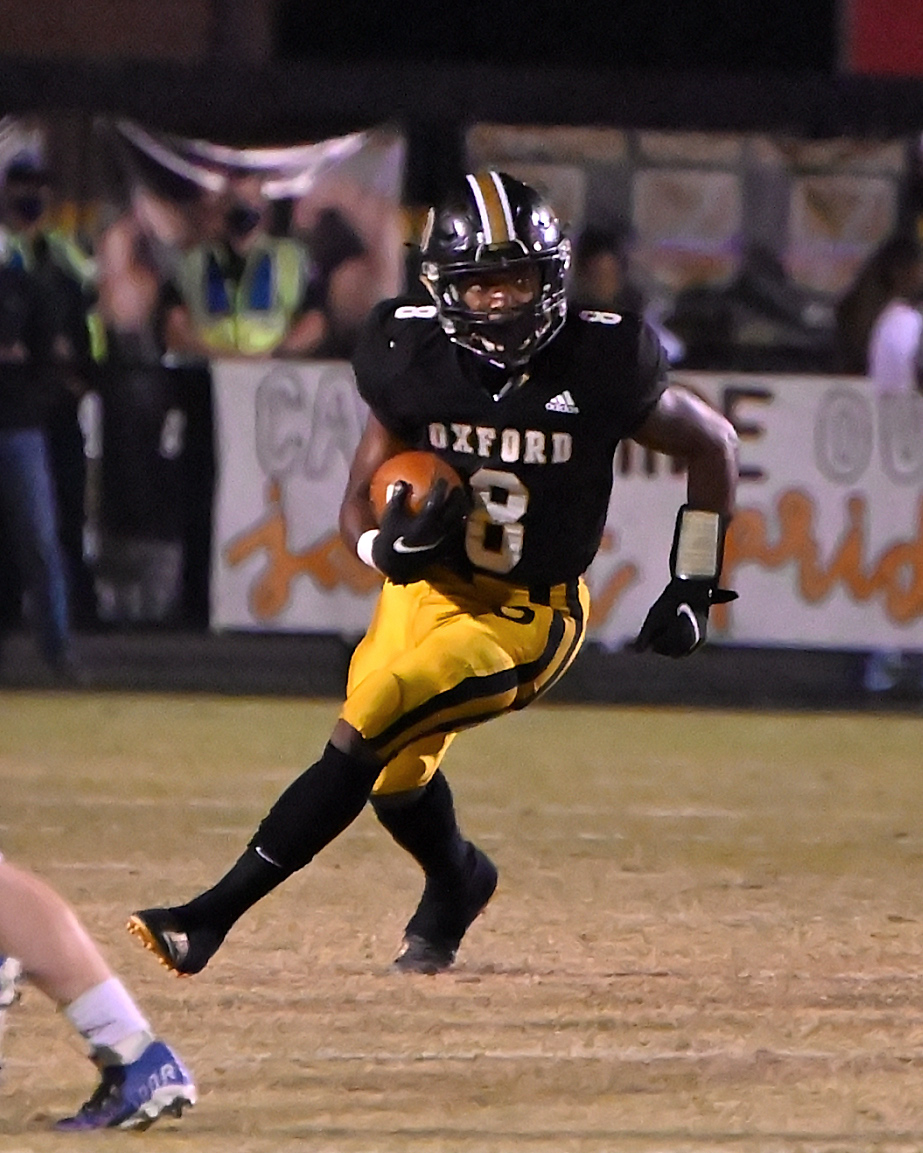 The Yellow Jackets (6-1, 4-0) were installed as the 6A No. 1 two weeks ago and held it through its open week. It was their first in-season No. 1 since 1994. They were the 6A preseason No. 1 after winning the state championship last year, but lost the distinction after dropping their season-opener to 7A state champion Thompson. 

The Jackets wasted no time getting on the board, putting together an eight-play, 66-yard drive on their first possession. Quarterback Trey Higgins connected on a slant pass over the middle to Javon Glenn for the score. It was Glenn's first score of the year.

It was then the lights went and after several minutes waiting the teams agreed to keep playing in the limited lights. The Knights (4-3, 2-3), coached by former Oxford assistant Lee Ozmint, took advantage as they drove it 80 yards in eight plays and scored on a 37-yard run by Matthew Turnage to tie the game.

The lights came back on for Oxford on its next possession and the Jackets quickly drove down the field. However, the drive ended when Higgins underthrew a pass to Roc Taylor and it was picked off by the Arab defense. Undeterred, Oxford opened things up, scoring on its next two possessions.
Higgins capped a 60-yard drive with a six-yard touchdown pass to tight end Camden Etheredge and Rod Elston scored on a four-yard run to give the Jackets a 21-7 halftime lead.

Ozmint, who spent three years at Oxford as defensive coordinator, put together a solid plan against his former team in the first half. The Knights put together a lot of short passes, would use almost all of the play clock and just tried to keep the ball away from the Oxford offense.

It was successful to a point as the Jackets only had four first-half possessions compared to their usual seven.

Oxford amassed 260 total yards in the first half, while Arab was able to grind out 114. The Knights ran 24 plays, while Oxford had 29. Elston had a big first half rushing for 83 yards on eight carries and Higgins rushed for 55 yards on just seven carries.

"They did a great job of running the clock," Oxford coach Keith Etheredge said. "They were well coached and they never wavered from their game plan and kept the ball away from us."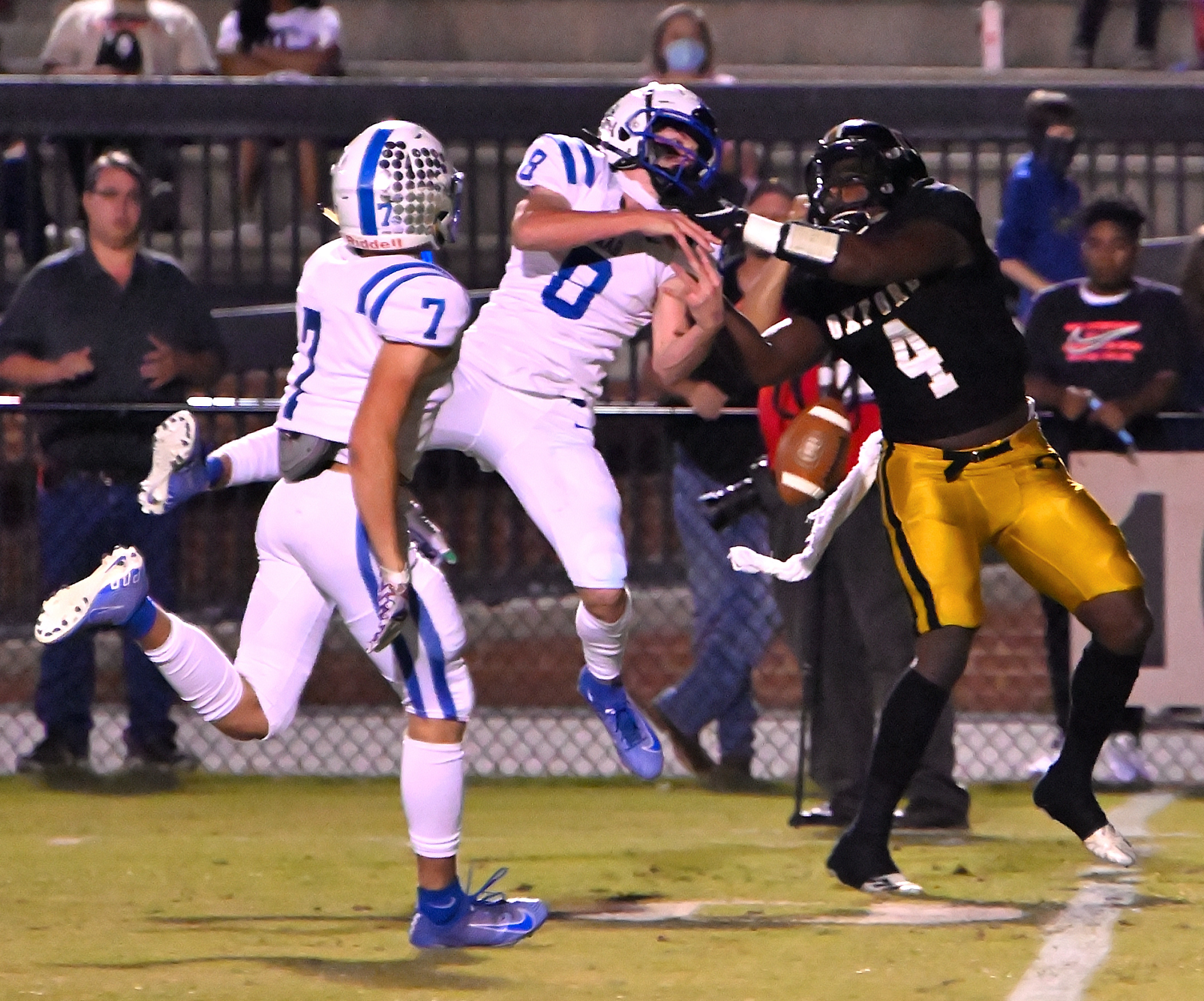 Oxford came out in the second half and scored on a 57-yard strike from Higgins to Roc Taylor on a post pattern.

"Roc dislocated his finger on the interception earlier in the game, so we had him just stand out there as a decoy, so that two defensive players would be on him," Etheredge said. "Then he came to me and said he could catch the ball now with his fingers taped up. So, we went to him and got the touchdown."

The Knights showed some grit as they took it down the field and cut the lead to 14 points on a 14-yard pass from Aiden Cox to Spencer Strickland. Turnage had a 43-yard scamper in that drive.

Oxford roared back down the field again only to fumble at the 1. The Jackets decided to give lineman Brandon Kirksey a chance to run the ball for a touchdown and it backfired when Kirksey fumbled.

"I love that kid and wanted to give him a chance to score," Etheredge said. "When he didn't on the first score, I should have put the regular offense back, but I would do it again."

Elston picked off a pass to set up the next Oxford score, which was a one yard sneak by Higgins. The quarterback added a four-yard run in the final minute to seal the victory.

Higgins finished with 76 yards rushing on nine carries. He also had a quiet 285 yards passing on 16-of-23 passes and caught one pass himself.

"They got after us and blitzed a lot," Higgins said. "But our line picked them up well and it turned out the reads early were for me to run (he finished with 76 yards on nine carries). I feel like if I am able to run, it opens up everything else. They came ready to play and we did not have that many possessions and it was kind of hard to get any momentum going out there." 

Arab's ability to maintain ball-control kept the game close. Oxford's first-team offense only had eight possessions in the game. The Jackets scored on six of them and were stopped at the 1 and 3 on the other two while piling 510 yards of total offense.

"It was Homecoming and after a week off and we had the Feganses out with close contact on the Covid-19, but they were negative and will be back on Monday after the two weeks quarantine," said Etheredge.

This created more work for Elston, but the transfer from Donoho rushed for 83 yards on eight carries, had an interception, ran back punts and kick-offs and held the secondary together.

"He had to do more tonight and he played great," Etheredge said. "He is a ball player. I just love that kid."

"It just feels good to be helping the team," Elston said. "Our line was great in picking up the players they were sending and giving me time to get some yards. The line was just amazing out there." 

On the cover: Oxford quarterback Trey Higgins tries to change direction against Arab's Caleb Roe (59) and Mitchell Duquette (25). To see a gallery of photos from the game visit this link: www.bjfranklin.smugmug.com

Oxford 42, Arab 14
Arab        7   0  7    0   –   14
Oxford   7  14 14  7   –   42
O – Javon Glenn 48 pass from Trey Higgins (Nicolas Gutierrez kick), 7:03 1Q
A – Matthew Turnage 37 run (Gavin Currier kick), 3:56 1Q
O – Camden Etheredge 6 pass from Trey Higgins (Nicolas Gutierrez kick), 9:08 2Q
O – Rod Elston 4 run (Nicolas Gutierrez kick), 4:35 2Q
O – Roc Taylor 57 pass from Trey Higgins (Nicolas Gutierrez kick), 10:30 3Q
A – Spencer Strickland 14 pass from Aiden Cox (Gavin Currier kick), 7:50 3Q
O – Trey Higgins 1 run (Nicolas Gutierrez kick), 0:00 3Q
O – Trey Higgins 4 run (Nicolas Gutierrez kick), 6:08 4Q

| | | |
| --- | --- | --- |
| Arab (4-3, 2-3) | | Oxf (6-1, 4-0) |
| 10 | 1st Downs | 22 |
| 26-149 | Rushes-yds | 28-232 |
| 10-20-1 | C-A-I | 17-24-1 |
| 108 | Passing yds | 288 |
| 0-0 | Fum-lost | 1-1 |
| 5-33.0 | Punts-avg | 0-0 |
| 4-28 | Pen-yds | 7-58 |