Power summit
Top 3 seeds in County Tournament all meet in Jacksonville, everybody goes 1-1; Alexandria tops Jacksonville, Donoho stuns top seed Lady Cubs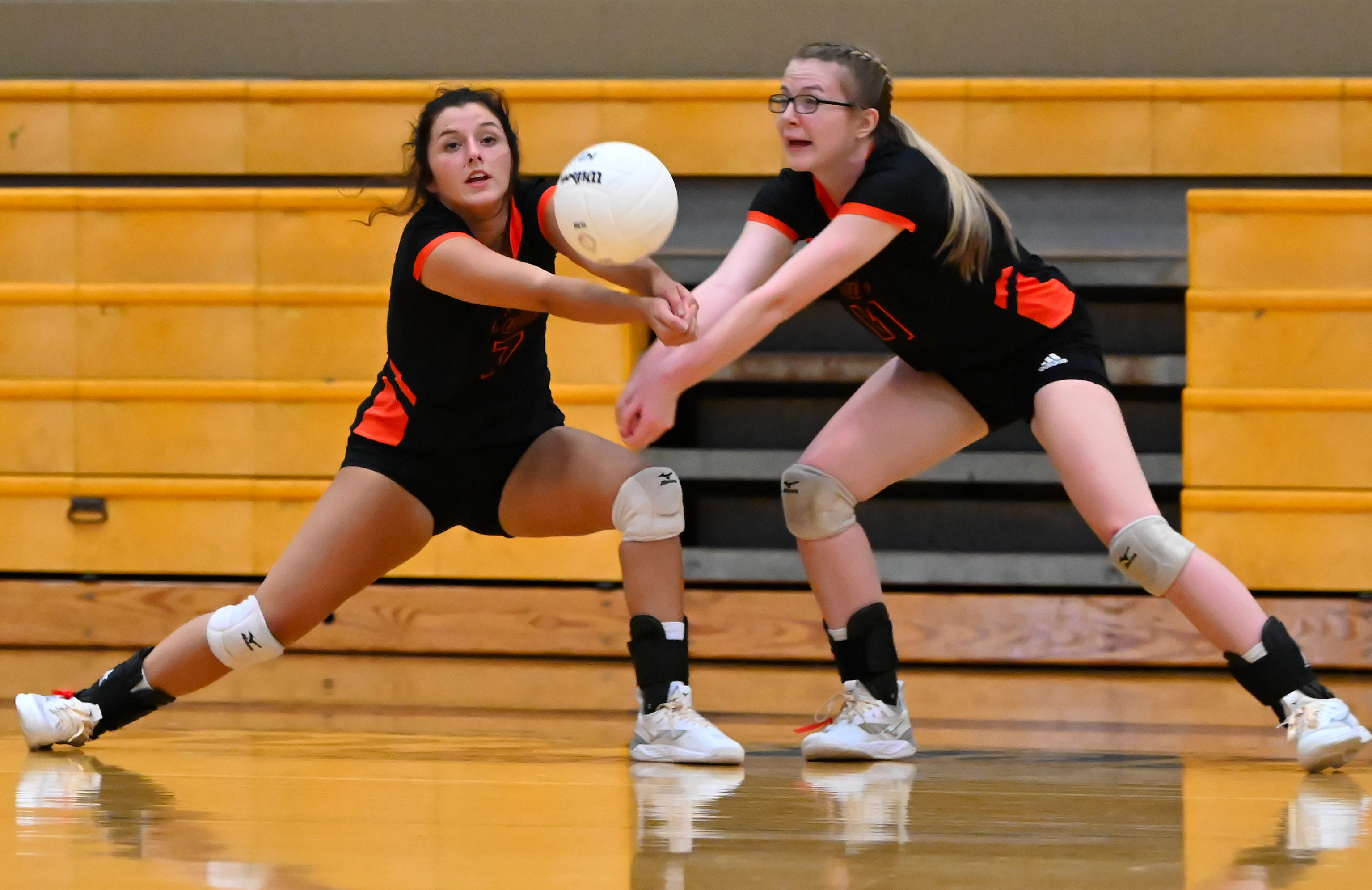 Monday's matches
Alexandria 2, Jacksonville 1 (25-22, 14-25, 22-20)
Donoho 2, Alexandria 1 (25-17, 20-25, 15-11)
Jacksonville 2, Donoho 0 (25-19, 29-27)
Oxford 3, Pell City 0 (25-21, 25-19, 25-20)
Pleasant Valley 3, Weaver 0 (25-7, 25-9, 25-10)
Saks def. Childersburg
White Plains 3, Cherokee County 0
By Al Muskewitz
East Alabama Sports Today

JACKSONVILLE – Everybody got something out of Monday night's convergence of the top three seeds in this weekend's Calhoun County Volleyball Tournament, but the biggest winner just might have been the smallest team.

All three went 1-1 and while the results won't shake up the seedings for the tournament they will have people thinking about them.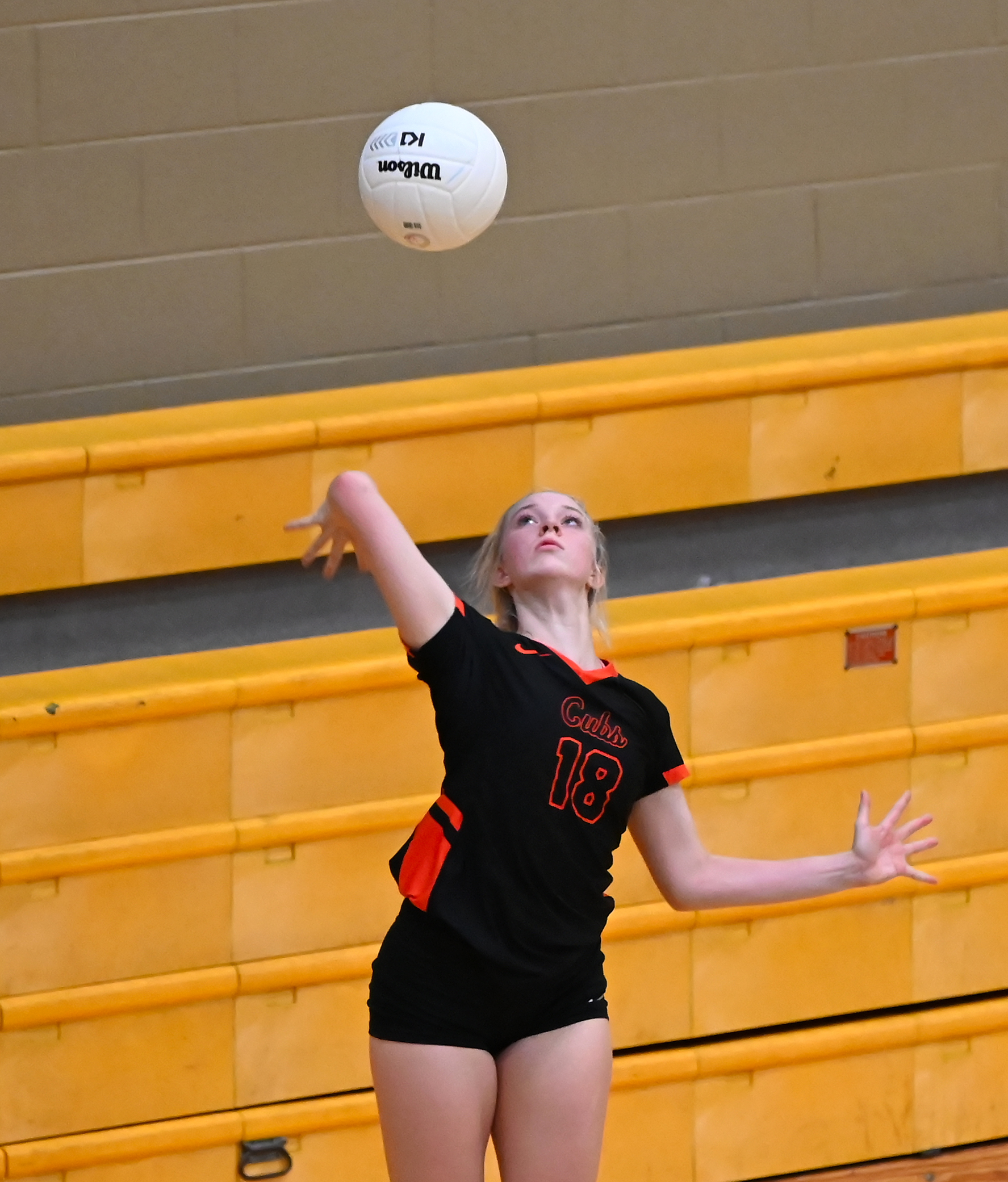 Alexandria, the No. 1 seed, took a 2-1 nailbiter from Jacksonville, the No. 2 seed and presumptive opponent in the tournament finals. Jacksonville took a 2-0 win from Donoho, the No. 3 seed and a team if the seedings hold the Lady Golden Eagles could play in the tournament semifinals.

But it was Donoho that made the biggest splash of them all. The top-ranked team in Class 1A, beat 5A No. 3 Alexandria for the first time in three tries this season 2-1 and gave 4A No. 3 Jacksonville all it could handle in two sets, extending the second set to 29-27 – all the while playing without injured middle Maggie Wakefield (ankle) for the second time this year.

"Absolutely," Donoho coach Jamie Clendenin said when asked if his team was the biggest winner of the night. "We're the 3-seed and I think we needed a win tonight. I'm not going to sit here and tell you Alexandria had their best game, but I almost feel like we played better against Jacksonville than we did against Alexandria.

"That win against Alexandria boosted our momentum … I felt like it was important for us to say we were very competitive. We're not supposed to win that one, are we? Realistically."

But the Lady Falcons (22-12) got big games from a lot of players. Lily Grace Draper had seven kills against Alexandria and eight against Jacksonville. Estella Connell, playing in Wakefield's spot, had four kills against Alexandria and three against Jacksonville. Mary Marshall Perry had three kills and two blocks against Alexandria, Naira Rehman had 10 digs and Maggie Miller had 13 assists. Miller had 14 assists against Jacksonville.

"In this scenario, with the injury they had, I think it was big for them because it lets those other kids know hey we can still compete and move on," Jacksonville coach David Clark said. "I think it's a great day for them. I think they've gotta feel good about it. His kids beat the 1 seed and played with us down to the wire, that tells his kids we can do this and as a coach that's all you want, to give yourself a shot. You don't want to get beat before you start. I think it was a great day for them."
The Lady Falcons took down Alexandria after the Lady Cubs outdueled Jacksonville 22-20 in the third set.

The first set of Alexandria-Donoho was tight until the Lady Cubs used a 12-1 run to pull away from a 12-11 lead. The Lady Cubs (25-11) were up in the second set, too, 14-8 before Donoho starting climbing back three points at a time. The Lady Falcons took the lead at 17-16 and stayed out front to tie the match.
Donoho jumped out 7-2 in the third and led 12-6. Alexandria closed to 12-11, but the Lady Falcons scored the last three points to post their biggest win of the season.

Jacksonville won the first set of the Donoho match pulling away from a 17-17 tie with eight of the set's final 10 points. The Lady Golden Eagles (26-7) led by seven three times in the second set, but the Lady Falcons rallied with an 8-0 run to take a 21-20 lead. Jacksonville was serving set point at 25-24 and fought it off twice, the last time at 27-26, before scoring the last three points of the match to win, clinching it on a volley ruled beyond the side boundary that left the finish sort of the flat.

"We did really good against a really good team," Draper said. "This makes us feel really good going into the County Tournament. I know we can do really good against both teams. I think we have a good chance. The odds were against us tonight and we really pulled through against Alexandria and we played a really great game against Jacksonville."
The feeling wasn't the same in the Alexandria camp.
In the Alexandria-Jacksonville match, the Lady Cubs fell behind in the first set 12-5 then used a 9-1 run with Jacksonville stars Brenna Stone and Kayla Broom on the back row to take the lead in the first set. It was tied at 17 and 20 before the Lady Cubs got some big points from Kandyn Blankenship down the stretch.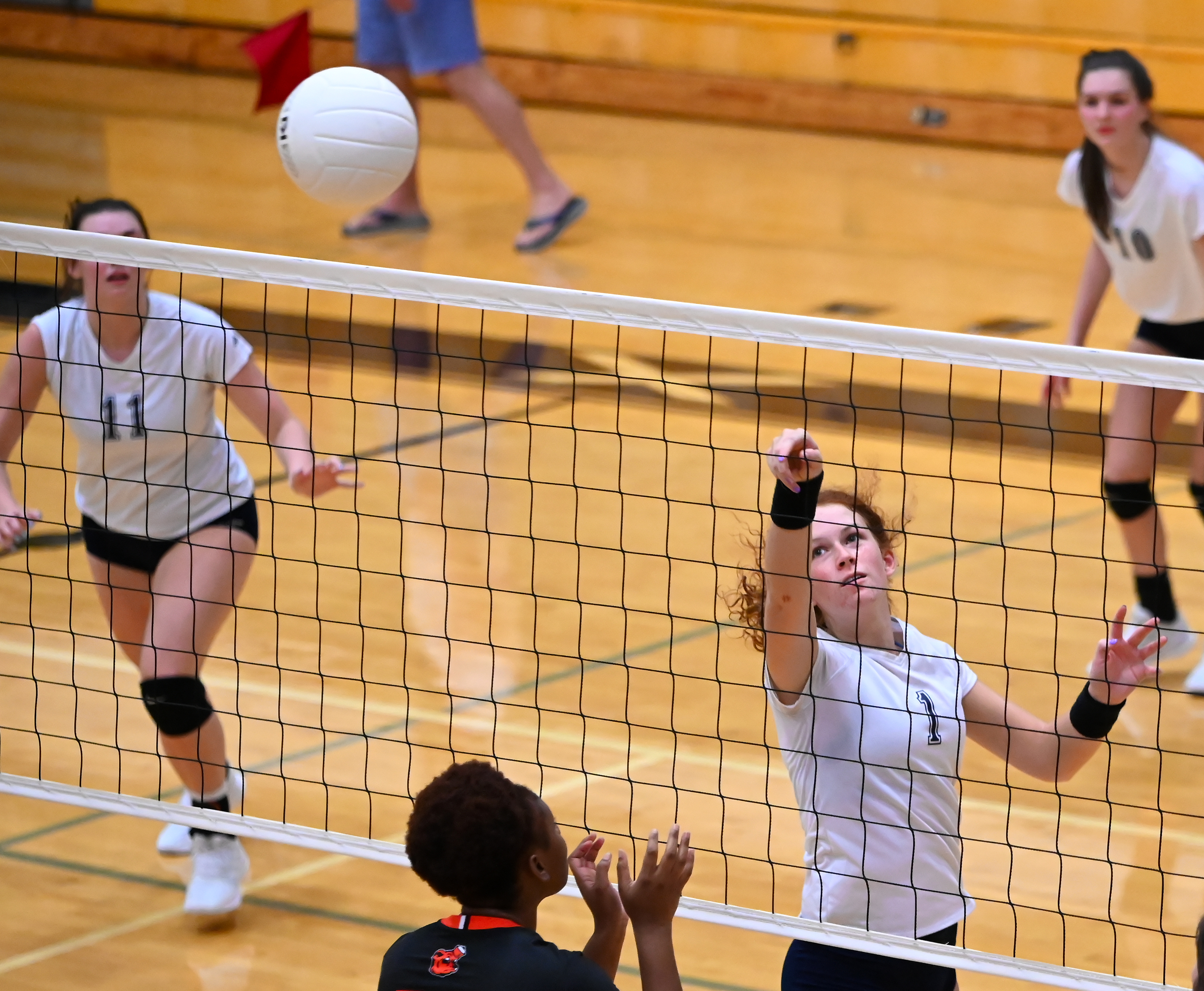 Jacksonville jumped out to a 5-1 lead in the second set, then pulled away with a 7-1 run that was all Stone and Broom. The third set was tight throughout. There were only two lead changes, but 12 ties. Blankenship scored the winner that clinched Alexandria's victory. All three matches between the two teams this year have gone to the third set.

"I didn't think that we controlled the ball at all tonight," Alexandria coach Whitney Welch said. "Sure it was a big win against Jacksonville, but we can control the ball way better and it cost us in this (Donoho) game. It was a big swing of emotions and it is a lot, but our girls have to be more mentally tough than that and we weren't tonight and it cost us that game. We did not play our best. I'm very, very unhappy with how we played."

What's it all mean for predicting the county tournament? Absolutely nothing.

While it gives the Lady Falcons confidence going into Saturday's run through the semifinals, that race is as tight as it was before the teams got together for a power night of volleyball in Jacksonville's gym.

Clark has said numerous times previously it's all a matter of who plays best on Saturday and then in the finals Monday at Jacksonville State, and that was still his position after Monday's matches.
"It's like I told you when I came out of the county meeting I think there's legitimately three to five, six teams that can win it," he said. "It just takes an average day and somebody a good day and you get beat. I do think we learned that there are legitimate teams that if you don't do what you're supposed to do they'll beat you. It's one of those years where, I won't call it parity, but we're getting close … There's been some great volleyball in this county and I'm glad to see it getting back to where you're going to have several competitive matches."

One tangible thing Jacksonville did get out of the night was with White Plains' victory over Cherokee County, the Lady Golden Eagles clinched another No. 1 seed in their area tournament.
ALEXANDRIA 2, JACKSONVILLE 1
(Alexandria statistics)
KILLS: Jordan Beason 9, Anna Johnson 1, Sarah Pelham 1, Lexi Weber 9, Kandyn Blankenship 7.
ASSISTS: Jordan Beason 1, Anna Johnson 23, Kaylee Smith 2.
ACES: Sarah Pelham 1, Kandyn Blankenship 1.
DIGS: Jordan Beason 8, Anna Johnson 8, Sarah Pelham 8, Lexi Weber 3, Kandyn Blankenship 5, Kaylee Smith 8.
BLOCKS: Kandyn Blankenship 1, Rylee Garris 1.
DONOHO 2, ALEXANDRIA 1
KILLS – Donoho: Mary Marshall Perry 3, Mercy Mangum 5, Lily Grace Draper 7, Estella Connell 4, Yana Osovska 2, Sam Wakefield 1; Alexandria: Jordan Beason 9, Lexi Weber 13, TyShica Woodgett 2, Kandyn Blankenship 2, Blakeley Mobbs 2, Ashley Wells 2, Lizbet Torres 1.
ASSISTS – Donoho: Maggie Miller 13, Sarah Waggoner 1; Alexandria: Anna Johnson 18, Sarah Pelham 1, Kaylee Smith 1, Crossley Sparks 1.
ACES – Donoho: Lily Grace Draper 1, Mercy Mangum 2, Mary Marshall Perry 1, Ayesha Siddiqua 1, Maggie Miller 2; Alexandria: Sarah Pelham 1, Lexi Weber 1, Blakeley Mobbs 1.
DIGS – Donoho: Mercy Mangum 3, Lily Grace Draper 4, Ansley Simmons 1, Sam Wakefield 7, Sarah Waggoner 2, Naira Rehman 10, Ayesha Siddiqua 4, Maggie Miller 2; Alexandria: Jordan Beason 9, Anna Johnson 4, Sarah Pelham 4, Lexi Weber 5, Kandyn Blankenship 4, Blakeley Mobbs 2, Jolie Weathington 3, Kaylee Smith 3, Rylee Gattis 1, Crossley Sparks 2, Lizbet Torres 1.
BLOCKS – Donoho: Mary Marshall Perry 2, Yana Osovska 1; Alexandria: Lexi Weber 7, TyShica Woodgett 3, Rylee Gattis 1.
JACKSONVILLE 2, DONOHO 0
(Donoho statistics)
KILLS: Estella Connell 3, Lily Grace Draper 8, Mercy Mangum 5, Mary Marshall Perry 4, Yana Osovska 1.
ASSISTS: Maggie Miller 14, Sam Wakefield 1.
ACES: Ayesha Siddiqua 2, Lily Grace Draper 2, Mercy Mangum 1.
DIGS: Sam Wakefield 7, Sarah Waggoner 7, Naira Rehman 7, Ayesha Siddiqua 8, Maggie Miller 3, Estella Connell 1, Lilly Grace Draper 3, Mary Marshall Perry 1.
BLOCKS: Estella Connell 1, Mary Marshall Perry 2.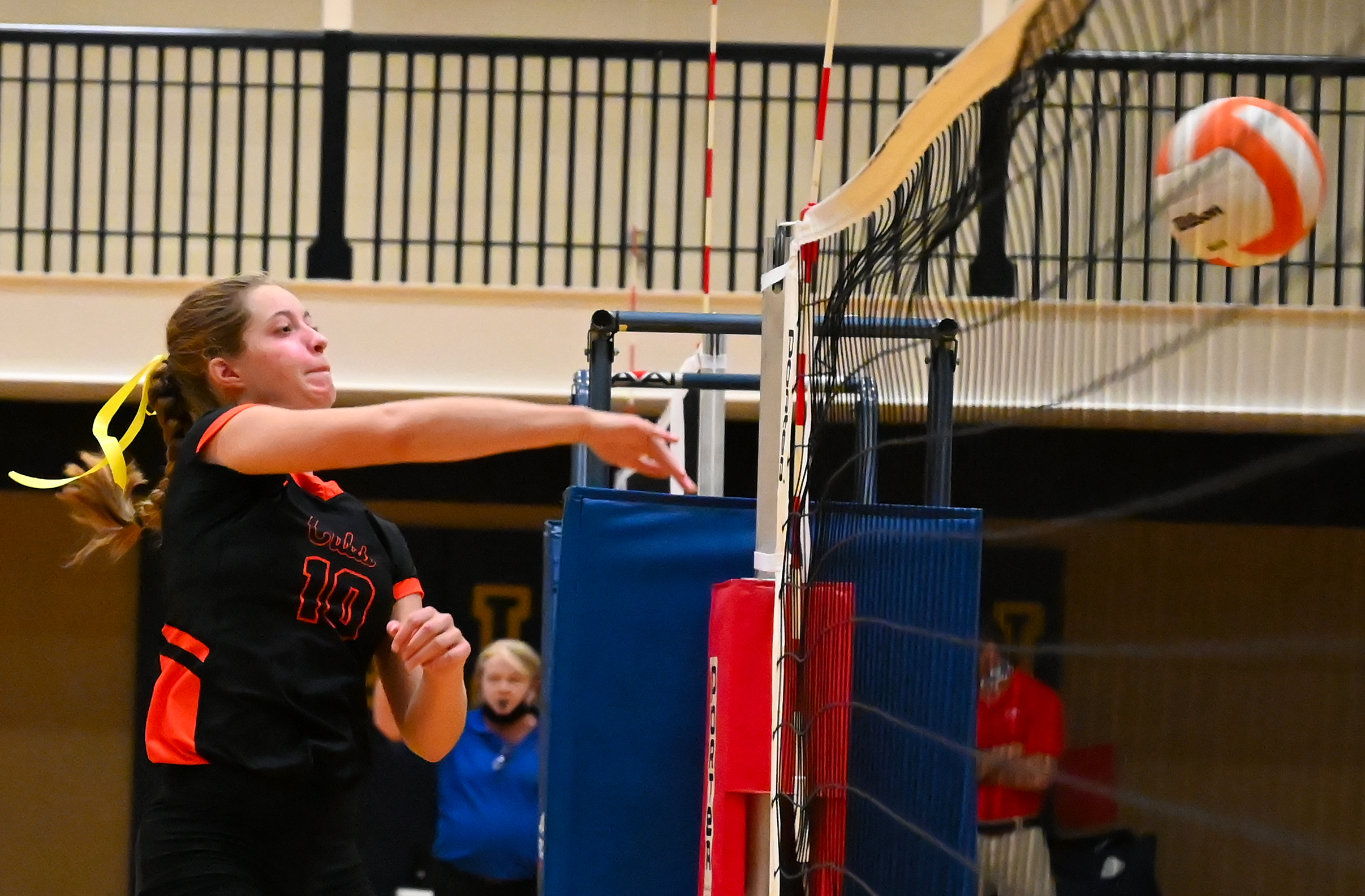 To see more pictures from the Alexandria-Jacksonville match click this link: www.bjfranklin.smugmug.com
Pleasant Valley 3, Weaver 0
WEAVER – The Lady Raiders returned to the floor for the first time after a two-week COVID quarantine and were thrown right into an area match and didn't look the least bit rusty.
Leah Patterson had 21 kills to lead the Lady Raiders (15-3). Rylee Haynes delivered 26 assists. Allie Bryant scored six aces."The girls played very well," PV coach Dana Bryant said. "They were very excited to get to play again.
"I'm so thankful to be back. We all are. Sometimes we forget how much we love something until it's taken away."
PLEASANT VALLEY 3, WEAVER 0
(PV statistics)
KILLS: Leah Patterson 21, Madison Borders 4, Lily Henry 7, Maddie Schwabe 4, Rylee Haynes 2, Allie Bryant 1.
ASSISTS: Rylee Haynes 26.
ACES: Lily Henry 5, Maddie Schwabe 1, Rylee Haynes 4, Allie Bryant 6.
DIGS: Leah Patterson 4, Madison Borders 1, Tori Turner 2, Lily Henry 5, Maddie Schwabe 4, Rylee Haynes 1, Allie Bryant 6.
BLOCKS: Leah Patterson 2.
White Plains 3, Cherokee Co. 0
The Lady Wildcats clinched the No. 2 seed in their area tournament with a straight-sets win. Gracie Morgan scored 11 kills, three aces and eight digs for White Plains. Ashlyn Cryer had six kills, three aces and 10 digs.
Oxford 3, Pell City 0
The Lady Jackets moved into position to clinch the No. 1 seed in their area tournament with a straight-sets win. Channing Gallahar and Lisa Montgomery combined for nine kills. Adrionna Foster had nine assists, Cadie Burn had seven assists, Ametria Wilson had five digs and Abbie Mitchell had three kills and one dig.
The Lady Jackets (20-16, 4-1) can clinch their top seed with a win at Southside Tuesday.