Unleashing more beasts
Oxford defensive stars Fegans, Elston move into roles on offense and prove just as effective on that side of the ball against Gadsden City
By Brant Locklier
For East Alabama Sports Today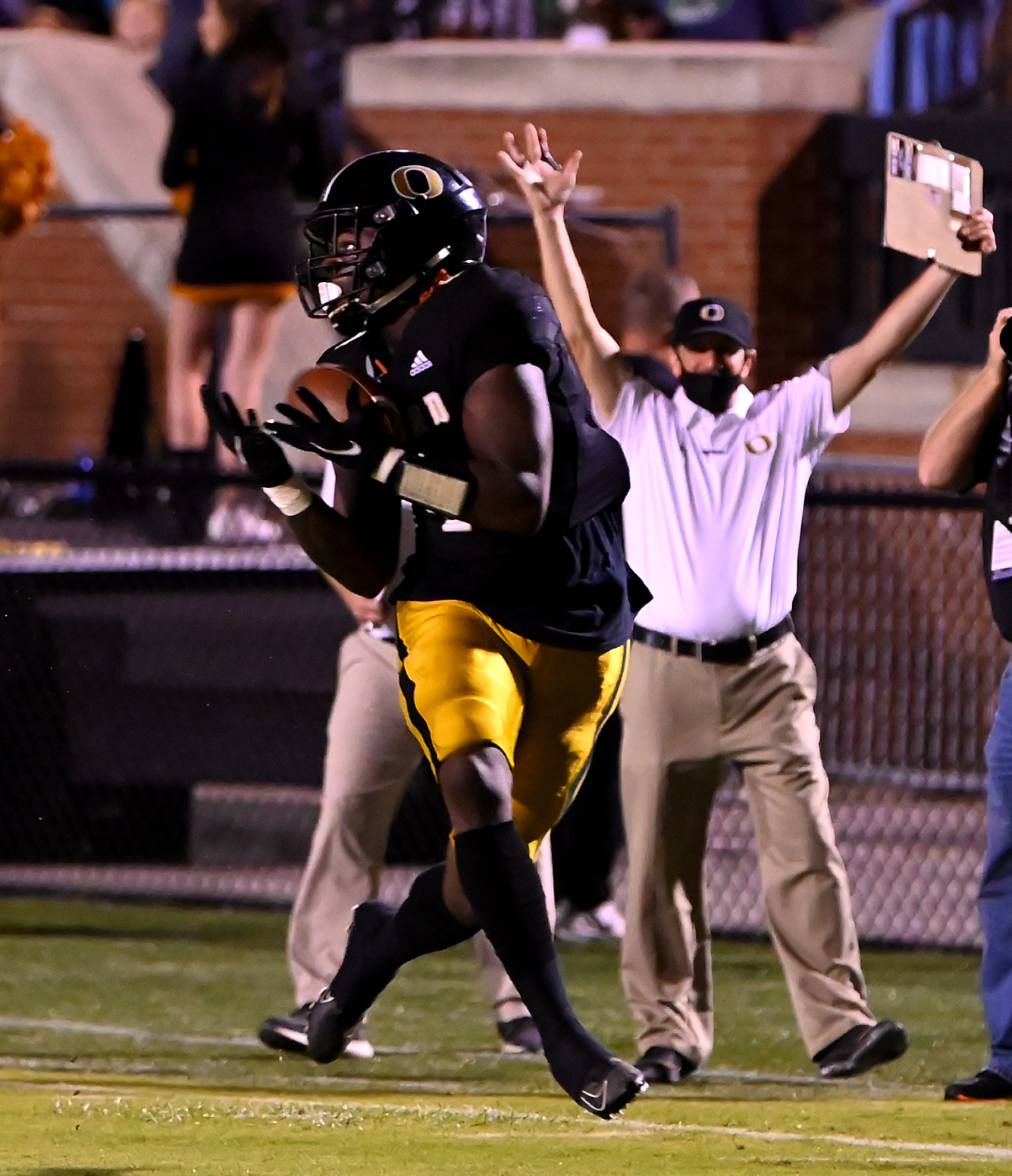 OXFORD — Trequon Fegans and Rod Elston may be the best 1-2 combination in the state at running back. And they got a chance to show it Friday night.

Fegans was an all-state defensive back last year while Elston was an all-state performer at Donoho. Both currently play key roles on an Oxford first-team defense that had not been scored upon in its last four games.

Oxford coach Keith Etheredge has been saving the duo for the most part of the season as they are too valuable on the defensive side of the football. On Friday, however, Etheredge unwrapped the surprise package on the 7A Gadsden City Titans (3-3), who were coming off a big win over Spain Park last week.
Fegans ran wild in the first half with a 30-yard touchdown run, an 8-yard touchdown run and a 67-yard punt return for a third score as the second-ranked 6A Yellow Jackets (5-1) steamrolled the Titans 49-14 at Lamar Field. He touched the ball four times and produced 115 all-purpose yards in the first half.
"Trequon is unbelievable to watch," Etheredge said. "He just glides through people. He has had three or four touchdowns called back on punt returns this year. He got three tonight, so I guess he is glad that they were not called back to a penalty. He is a quiet, likeable kid and a lock-down defender."

Quarterback Trey Higgins and receiver Rock Taylor took care of the Jackets' other two first-half touchdowns on pass plays of 49 and 58 yards. Oxford led 35-0 at the half and were inside the Titans 20 when time ran out in the first half.
Elston, meanwhile, complemented him by ripping off 59 yards on just six carries in the first half. The Jackets rushed for 196 yards on the night against an outmanned Titans defense.

"He has great speed and is a sparkplug on offense," said Etheredge. "He played real well tonight."
Higgins was 12 of 14 passing for 210 yards and four touchdowns. Three went to Taylor, who caught four passes altogether for 126 yards and three touchdowns. The Titans put a small defender on Taylor in single coverage and Higgins found Taylor with ease.
"We felt like we could score on them anytime we wanted to," Taylor said. "They talked a lot about how bad they were going to beat us during the week and on the field, but we played a great game against them and they toned it down after a while."

"We just went out an executed as a team and do what we do best," said Higgins. "The line blocked great and I just followed my reads. Rock came ready to play on this night. I always say 3 (his number) to 4 (Taylor's number) makes 7. Gadsden City has a very good team and we had to play well to beat them."
The Titans came out on defense to stop the running of Higgins and they held him to minus-2 yards on 3 carries; he had 378 yards for the year coming into the game. However, they were not ready for Elston and Fegans who shredded the Titan defense in that first half.
The Jackets' first team played three quarters in the game as Higgins hit on a 14-yard pass to Taylor and a 20- yard pass to Warren Britt and they were up 49-0.

Gadsden City scored on a 50-yard punt return and a 49-yard pass in the last seven minutes of the game to finalize the score.
Gadsden City came out trying to intimidate Oxford and push the Yellow Jackets around, but it did not work as they were penalized for 185 yards in the first half.

"We tell our kids to not listen to any of that kind of stuff, but just play football and do not let them get to you," Etheredge said.
The times have really changed in a series Gadsden City used to dominate. Oxford has won the last five games by a combined scored of 189-50 and now leads 9-7 in the all-time games played.

It also was Senior Night in which 30 Yellow Jackets were honored.
Oxford will take next week off for a much-needed rest and then come back the following Friday for a first-ever meeting with Arab. The Knights are coached by Lee Ozmint, who was an assistant coach at Oxford for three years ending in 2018 and before that had some great teams as head coach at Glencoe.

OXFORD 49, GADSDEN CITY 14
Gadsden City  0   0  0  14 –  14
Oxford            28  7  7  7   –  49
O – Trequon Fegans 3 run (Nicolas Gutierrez kick), 9:50 1Q
O – Rock Taylor 49 pass from Trey Higgins (Nicolas Gutierrez kick), 6:17 1Q
O – Trequon Fegans 67 punt return, (Nicolas Gutierrez kick), 4:04 1Q
O – Rock Taylor 58 pass from Trey Higgins, (Nicolas Gutierrez kick), 0:46 1Q
O – Trequon Fegans 8 run (Nicolas Gutierrez kick), 2:27 2Q
O – Rock Taylor 14 pass from Trey Higgins (Nicolas Gutierrez kick), 9:51 3Q
O – Warren Britt 20 pass from Trey Higgins (Nicolas Gutiererez kick), 0:07 3Q
GC – Rodney Johnson 50 punt return (Jake Malone kick), 7:05 4Q
GC – Jaquon Woods 49 pass from Demarcus Macon (Jake Malone kick), 2:10 4Q 
| | | |
| --- | --- | --- |
| GC (14) | | Oxf (49) |
| 7 | 1st Downs | 22 |
| 25-74 | Rushes-yds | 33-196 |
| 6-14-0 | C-A-I | 13-15-0 |
| 87 | Pass yds | 230 |
| 1-0 | Fum-lost | 1-0 |
| 4-28-0 | Punts-avg | 7-45.4 |
| 16-185 | Pen-yds | 11-118 |
To see more photos from the game, click this link: www.bjfranklin.smugmug.com