'Hi … Wanna Play?
Jacksonville two-way senior Omarion Adams brings Chucky to the games, channels the horror film icon's persona on the field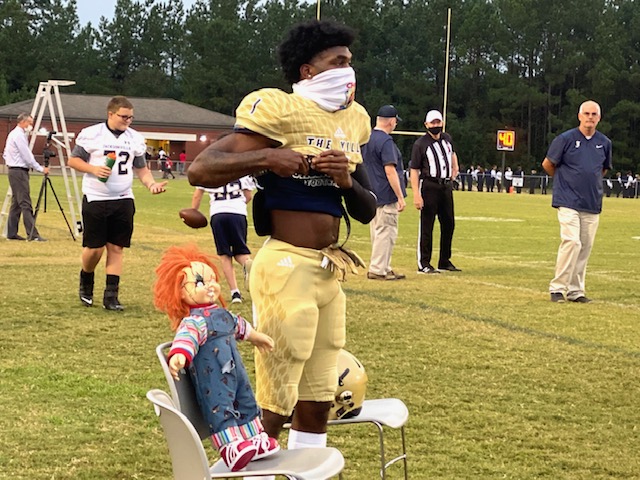 By Al Muskewitz
East Alabama Sports Today

JACKSONVILLE – Omarion Adams sat at his locker shortly before Friday night's game against Munford. He had a Homecoming King's crown on one side of him and a two-foot Chucky doll on the other.

The crown represented his popularity in the school. The doll represented his personality on the football field.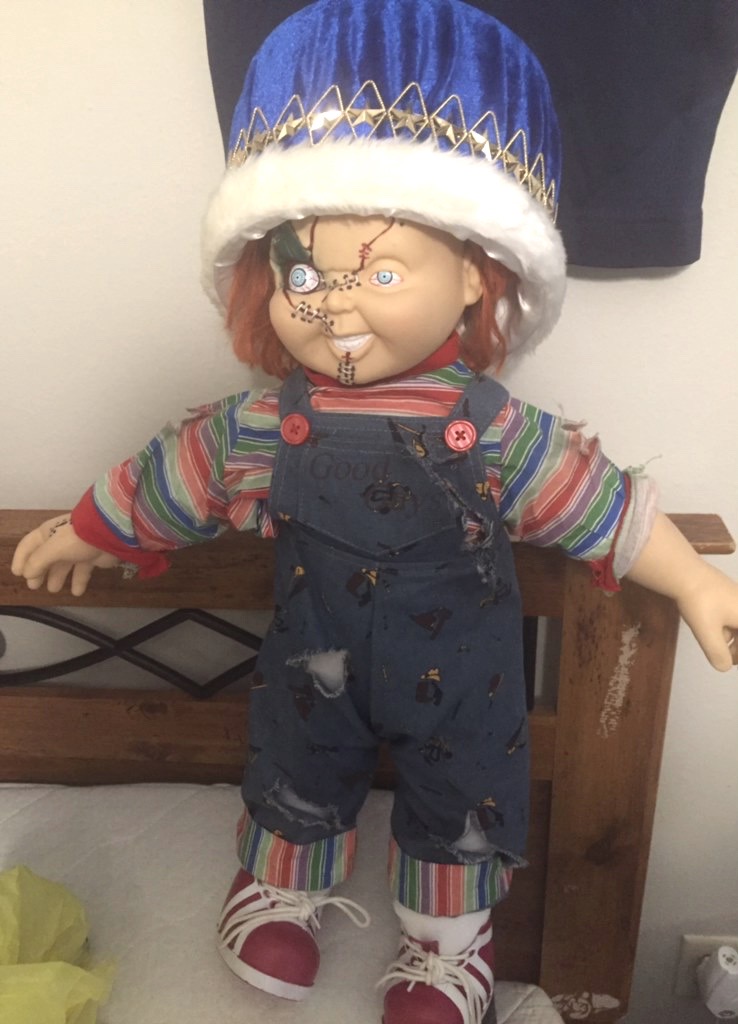 Say what you will about the contrast, but the Jacksonville senior is nothing if not colorful. There might not be another player in the county this year where the contrast fits so well.

"It's perfect him," Golden Eagles defensive coordinator Cordell Hunt said. "It fits his personality good. He's such a likeable kid in school and all of a sudden when he gets on the football field or basketball court – anything he does – it's like, wow, this kid's good. If you're on his side in the movie you're in good shape, but if you're on the other side, oh man."

The movie, of course, is the horror cult classic, "Child's Play," and after Adams saw it this summer, the wide receiver/outside linebacker knew Chucky was the persona he wanted to adopt for the coming football season.
"I was watching the movie before the season and I just decided I'm going to get a Chucky doll, and since I be going crazy on the field I just thought it's Child's Play, ain't nobody safe on the field," he said. "The fans like it, my players like it. It just motivates us to go crazy out on the field. That's why I bring it out there every Friday night."

He actually got Chucky from another dynamic Calhoun County athlete. Anniston basketball guard Antonio (Spoodie) Kite had two and gave one to Adams. Now, Peanut doesn't go anywhere without his alter ego; well, except maybe for the time they forgot to take him to the White Plains game.
You can find Chucky in the bench area – with a COVID mask on – before and during games. You can find him at the neighborhood Sonic after the game mingling with the guys. Adams even carries his little friend through the banner when the Golden Eagles run through the spirit line. (Maybe it's Chucky's knife that slices through the paper.)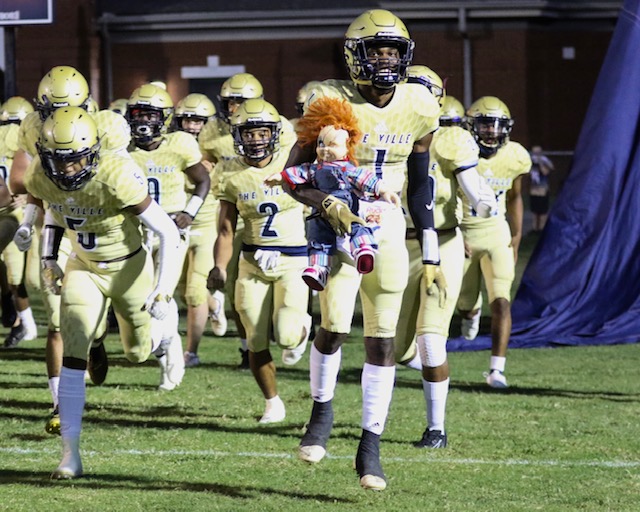 "I might take him to the mall if I go to the mall," Adams said. "When we're on the field I just give it to any one of the players whoever wants it. It's really a team Chucky, for everybody. But he knows where his home's at."
Make no mistake, Chucky is as much a part of the team as any flesh and blood player who takes a snap.

"Every Friday when we come in I take Chucky's temperature just like I do the kids' temperatures," Jacksonville head coach Clint Smith said. "He's a part of the team right now and our kids have rallied around him. It's just something fun."
What's also fun is watching the way Adams plays. He has scored at least one touchdown in each of the Golden Eagles' first five games. As a rusher he's gained 346 yards with three scores. As a receiver, he's caught 20 passes for 287 yards and four touchdowns. He's even got a 140.73 passer rating, completing 5-of-6 passes for 41 yards.

Several colleges are interested in him as a strong safety and as fierce linebacker in the Golden Eagles' defense he has 17 tackles, three for loss and two sacks. He's returned both of his interceptions for a touchdown and he returned a kickoff for a score.

When the Golden Eagles had to shift their personnel because quarterback Jim Ogle was in COVID quarantine, Adams was the point man in the wildcat and rushed for 203 yards against Anniston and 97 yards against White Plains. Returning to his normal receiver spot last week against Munford he caught 11 passes for 185 yards and two scores.

"The Chucky side comes out when I get on the field," he said. "I just turn into a whole different breed. I turn crazy."

Of course, Adams and Chucky will be in time out for the next two weeks as the Golden Eagles shut down for another COVID-19 quarantine. The school announced Tuesday it was canceling Friday's game at Piedmont and next week's region showdown at Handley due to a positive test within the ranks and related contact tracing.
Adams, for one, was disappointed by the news, saying he and Chucky were looking forward to crashing Piedmont's Senior Night party.

"I think Chucky gives us a lot of motivation; he's a little charm," Adams said. "I didn't bring him to the White Plains game and we were kind of slacking a little, but we finally pulled it off. The first game we won, this (Munford) game we won, so I think he's a charm."