J'ville big games canceled
Golden Eagles hit with another wave of COVID; updates with Smith, Strain comments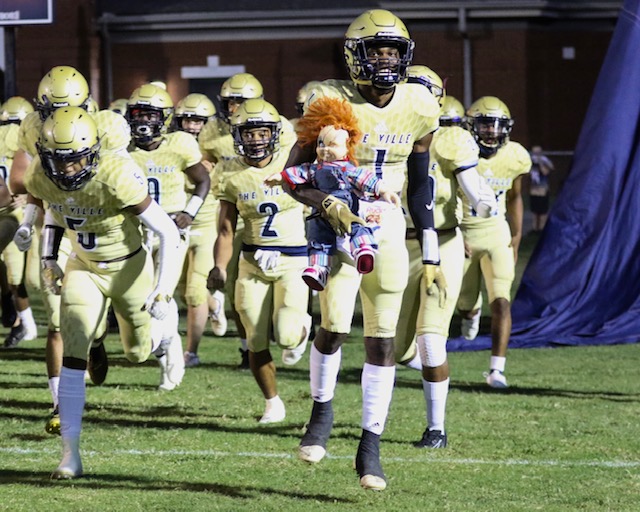 By Al Muskewitz
East Alabama Sports Today

Jacksonville's next two football games are among its biggest of the season and now they are canceled due to COVID-19.

The high school put out an announcement just moments ago saying the Golden Eagles' games with Piedmont Friday and Handley next week have been canceled after a varsity football player who is a virtual academy student tested positive for COVID-19.

As a result, the school said, additional players were identified as "close contacts," so "to maintain the safety of the student-athletes" the games have been canceled. Sources have said it was a lineman and the rest of the unit is out due to contact tracing.

"Jacksonville High School has taken all contact tracing steps outlined by the Alabama High School Athletic Association, Alabama State Department of Education and the Alabama Department of Public Heath," the school said in its notification. "The parents of all players identified as close contacts have been notified.

"Parents are strongly encouraged to monitor students closely for any signs of potential illness."

Head coach Clint Smith was seen busily attending to his cell phone Monday afternoon when East Alabama Sports Today arrived at the field house for an unrelated interview.

"You hate to have to forfeit a game or forfeit two games, but it's where we are right now," Smith said. "Everybody's dealing with this to some extent, so out of caution and trying to do what's best for our kids and to keep them safe, that's what we're going to do. We hate it, but we'll get to the other side of it and two weeks from now we'll strap it back on."

The Golden Eagles (4-1, 3-0) were schedule to play Class 3A No. 1 Piedmont (4-0) Friday night in the Bulldogs' Homecoming Game, which was changed from last week after Weaver suspended play for two weeks because of the virus. They were scheduled to play Handley (2-0, 2-0) in a potential Class 4A Region 4 championship game the following week.

Their next game will be Oct. 9 against Cleburne County.

They will still be able to practice during the two weeks they'll miss games, just without the impacted players.

Jacksonville senior receiver/linebacker Omarion Adams was disappointed to hear the news the games were off.
"I wanted to play Piedmont because they got us last year and we were supposed to get revenge this year," he said. "It was going to be a good game, but me and 'Chucky' were planning on crashing their Senior (Night).
"I wanted to play Handley because that was going to be a good game and a lot of experience for us because we'd never played them. It would have been fun to play a team with a 5-star player on it (defensive end Dylan Brooks, a Tennessee commitment)."

The Golden Eagles do have open dates Oct. 16 and 30. Smith said the non-region Piedmont game "probably" was not going to be made up. Handley, meanwhile, has no open dates available, but does have a non-region game scheduled Oct. 30 against Clay Central.

The Tigers already had lost three games to COVID-19, one (Randolph County) that was their regular-season opener they moved because of coronavirus cancelations to a Week 0 non-counter.

"We obviously were wanting to play that game; nobody wants to get wins by forfeit," Handley coach Larry Strain told the Randolph Leader. "There are some teams that are avoiding playing, no doubt, but that ain't the case with Jacksonville.

"…What's he got to gain by it. He just played in the state championship game last year, so he's not fearful at all. He knows either we've got to go through them or they've got to go through us … They were the next hurdle. Really, the next two region games is the hurdle, but I guess now it's only the next region game (Cherokee County) because I won't have the Jacksonville game."
The Golden Eagles have to be wondering if they'll ever shake this thing.

It's the third time this season they've been hit with a COVID crisis. They had one starter miss the Alexandria game. They had to adjust their lineup and offensive scheme for the Anniston and White Plains games after several players were quarantined; they won both games. Quarterback Jim Ogle returned to the lineup just last Friday after being quarantined due to COVID in the home and led the Golden Eagles to a region win over Munford.

"It's the world we live in right now; everybody has to deal with it to a certain extent," Smith said. "That's what we're doing and you have to deal with it the best way that you can. It's what we talk to our kids about all the time, about being able to overcome adversity and when life throws you curveballs you just have to pick yourself up and you have to move forward and that's what we're going to focus on. We'll get the other side of it."

Munford coach Michael Easley said there were "no concerns" about a COVID spread within his program after playing Jacksonville Friday night.

"We had already been in contact yesterday and we did checking on our end and we have no concerns," he said.

Piedmont's next home game is Oct. 2, a major region clash with Ohatchee.