Oh so close
Weaver's Williams throws 3 first-quarter TD passes, but Glencoe rallies to keep Bearcats winless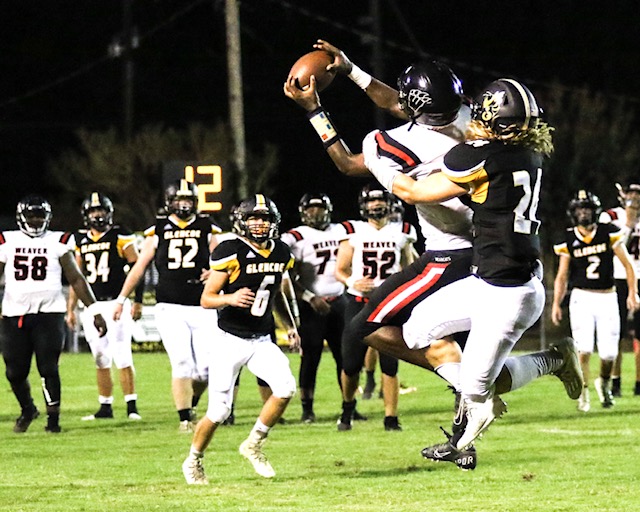 By Greg Warren
East Alabama Sports Today
GLENCOE – Weaver came its closest yet to bringing second-year coach Justin Taylor his first win in the program, but as all teams learning how to win experience, it's not how you start but how you finish.
The Bearcats scored three touchdowns in the first quarter, but couldn't maintain their momentum or their stamina and Glencoe scored 28 unanswered points – 14 in the fourth quarter – to score a 28-20 victory.
Jackson Williams threw three touchdowns passes in the first quarter – two to Brendyn Knight and one to Armane Burton – to give the Bearcats a 20-0 lead with 32 seconds left in the first quarter. The 20 points were the most they've scored in a game under Taylor.
"The start was awesome," Taylor said. "We talked to the guys before the game about getting out of the gate and firing off the ball. We say 'AT&T,' we answer the call. We talk about their alignment, their task and their technique and then give great effort doing that. We started talking about two weeks ago after we watched our Douglas film.
"We felt like if we did those things … we would have a chance in any game we played. We big-played them early on, hit some good balls, made some fantastic catches, and the defense was playing tough. It was good … I just wish we could've sustained it."
The Bearcats rotated a lot of players into the lineup in hopes of staying as fresh as possible, but they still weren't as fresh as they'd like and it caught up to them.
The Yellow Jackets scored two touchdowns in the second quarter to cut their deficit to 20-14 at halftime, then scored twice in the fourth quarter to win. Levi Long scored the winning touchdown on a 2-yard run – his second touchdown of the game – with 3:08 to play.
The Bearcats returned the ensuing kickoff 97 yards – and with the two-point conversion would have tied the game – but had it called back for a block in the back.
"It takes three to four weeks to get in shape and we were a little behind and we were going to fix that," Taylor said. "We were better tonight, but we weren't quite there. We made it a lot farther than we had before. We're not quite there but we're a lot further along than we were."
Long rushed for 126 yards on 15 carries. Elijah Huff, who scored the Yellow Jackets' go-ahead touchdown with 11:05 to play, rushed for 81 yards on 13 carries.
Williams was 13-of-22 passing for 167 yards. Knight caught six passes for 58 yards and Burton caught four for 62.
The Bearcats have lost 13 in a row since their elimination from the 2018 playoffs. The Yellow Jackets beat them last year for their only win of the season.
"It was a tough loss," Taylor said. "I hate losing. We didn't lose much in high school. We didn't lose much at Centre, so I hate losing, but you had to sit back and go where we were last year and where we are now is a world of difference.
"We're playing football now. Last year we had a couple guys who were pretty good and could play, but we had a lot of guys who hadn't played before and they were getting on the field for the first time. Now we can make suggestions in the game and do different adjustments and we weren't able to do that last year.
"It hurt tonight. We were close. We're a lot closer than the kids realize and if they sit back and see they'll realize that. I'm proud of our kids and our team and we're just going to keep battling. We're going to get back to work and try to see if we can get one next week."
The Bearcats get another chance to break into the win column next week when they host a Pleasant Valley team that has lost its last six games going back to last season and its first two games this season by a combined score of 83-22.

GLENCOE 28, WEAVER 20
Weaver                   20 0   0  0   –   20
Glencoe                  0  14 0  14  –   28
W – Brendyn Knight 22 pass from Jackson Williams (Brendyn Knight kick), 9:54 1Q
W – Armane Burton 39 pass from Jackson Williams (Brendyn Knight kick), 6:21 1Q
W – Brendyn Knight 15 pass from Jackson Williams (Brendyn Knight kick), 0:32 1Q
G – Jacob Perry 45 pass from Nolan Fairley (Gavin Bray kick), 7:47 2Q
G – Levi Long 18 run (Gavin Bray kick), 3:08 2Q
G – Elijah Huff 2 run (Gavin Bray kick), 11:05 4Q
G – Levi Long 2 run (Gavin Bray kick), 3:08 4Q
| | | |
| --- | --- | --- |
| Wea (20) | | Glen (28) |
| 10 | 1D | 20 |
| 22-27 | Rush | 45-248 |
| 13-22-2 | C-A-I | 4-12-1 |
| 167 | Pass | 66 |
| 2-2 | F-L | 2-2 |
| 4-32.3 | Punt | 3-32.0 |
| 12-85 | Pen | 8-70 |