Murphy's moment
Montevallo senior wins Gadsden Invitational by 2, first international to win on County Tour; runner-up Wigington clinches Player of the Year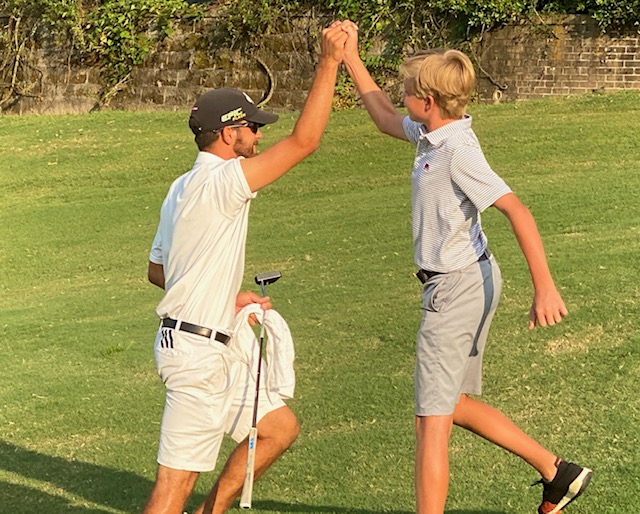 By Al Muskewitz
East Alabama Sports Today

GADSDEN – It was a little after midnight back home when Paul Murphy sank his final putt to win the Gadsden Invitational Sunday, but somewhere back there the lads at Rosslare Golf Links were raising a pint to their man.

Murphy capped a successful summer away from home Sunday when he won the Gadsden CC Invitational, his final event before returning to Montevallo for his senior college season.

It was sure to be a win well received by his buddies back in Ireland who regularly keep up with his exploits on the golf course through social media – no matter the hour of the day.

"Those guys are probably in bed right now," Murphy said. "They would be very psyched, for sure."

The 22-year-old champion, the first international player to win on the Calhoun County Golf Tour (106 all-time events), completed his wire-to-wire victory with a final-round 1-under-par 70 for a three-day total of 7-under 206. He won by two shots over Gary Wigington and five over third-place past champion Chris Hummel.

Second-round co-leader Brennan Clay shot a final-round 78 and finished tied for fourth with Michael Rich and Corey Ray.

And with his runner-up finish, Wigington clinched the County Tour's Player of the Year award without even having to play in the County Championship in two weeks. He has won four times and had two seconds in six starts this season. The County is the last points tournament on the schedule.
Murphy's victory was well-received on this side of the pond, too. He had planned a return to Ireland for a summer of honing his game, but those plans were scuttled by the worldwide coronavirus pandemic. He was forced to remain in the States, away from friends and family, but had plenty of support locally from his Montevallo teammates, their families and the membership and staff at Trussville Country Club.
With that backing, he posted several solid finishes on the Emerald Coast pro tour, finished second in a tournament at Musgrove CC and set the course record at Trussville when he shot 58 (with a bogey) there last week.
"If it wasn't for them, I honestly don't know what I would have done," he said.
Murphy had a plan for the final round and stuck with it. He purposely didn't look at any of his playing partners' scores during the round, but the young charge he brought with him from Trussville, Miles Darnell, let the results slip after 13, but he didn't let it faze him.
He led by four after a birdie on 10 that he called the turning point of the round. Wigington cut into the margin with a birdie on 12 and drew another shot closer when Murphy bogeyed the par-3 15th. The champion bogeyed three of the four par-3s in the round. 
"It brought back memories to a tournament I had in Ireland; I had a four-shot lead with four to play and I lost it," he said, referring to the Kilkenny Scratch Cup last August. "This time, with the work I've put in … I knew I was ready.
"My dad, he always had great belief in me and that's a key word he says to me – believe in yourself – and I just believed in myself that I could do it."
He parred 16 and 17 and just had to play steady at the last to bring home the win. His drive on 18 left him a hanging lie below the driving range, but he stuck his approach to within 10 feet. Needing basically two putts to win, his first attempt raced past the hole, but he calmly sank the five-footer coming back to seal the deal.
"This really caps off the summer well," he said.
Clay was looking for his first County Tour win and was in his best position to get it since the 2018 Gadsden Invitational when he had a two-shot lead with three holes to before being chased down by Ty Cole. Sunday, he just couldn't get on track.
He actually took the lead briefly when Murphy bogeyed No. 2, but the eventual champion got back even with a birdie on 3, then Clay bogeyed the next two holes while Murphy added a birdie at 5.
"I hit four fairways today, so I was behind the eight ball a lot," Clay said. "I just didn't really give myself much of a chance off the tee and the back nine it just kind of snowballed.
"I had pretty good birdie chances at 1, 2 and 3 and just burned the edges. I don't feel like I putted really bad, it was mostly speed early, but a lot of putts would just barely go by, barely short. I think I missed one short putt all day. I rolled it pretty good, they just weren't going in. That's golf. It could be there one day and gone the next."
With Clay falling back, it gave Wigington a chance to pull off another improbable victory. He started the day four shots back, but back-to-back birdies on 3 and 4 had him within two of the lead. He passed Clay on 11 and was back within two shots with two holes to play. His tee shot on 17 caught a tree and kicked back towards the fairway but settled to the bottom of the rough. He gouged it out to the back collar but couldn't make birdie.
"He's a very solid player," Wigington said. "I just could not capitalize on some putts on the back nine."
NOTES: The best international finish on the County Tour before Murphy's win was back-to-back runner-up finishes by Gonzalo Berlin, a Jax State player from Brazil, in 2012 (Pine Hill, County Championship) … Murphy's swing coach is former JSU player Hernan Rey … One of the overseas buddies who keeps up with Murphy on social media is retired Irish international soccer star Stephen Hunt, who retweeted several EA Sports Today updates during Sunday's round … For Wigington, it was his 25th second-place finish on the Tour. He has 20 all-time wins … Under the County Tour points system Wigington would have 1,450 points without even playing in the County Championship. Even winning the County, closest challengers Ty Cole (1400), Jeremy McGatha (1347.5) and Clay (1149.2) would come up short. It's Twig's fourth POY award and first since 2014 … The County Championship is Aug. 29-30 at Anniston Municipal.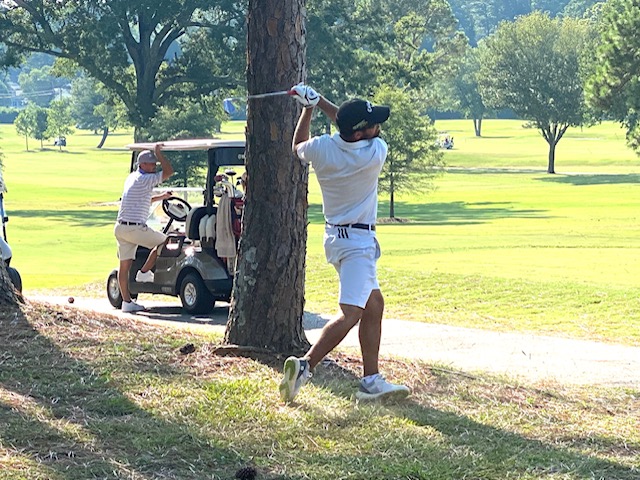 GADSDEN INVITATIONAL
Championship A Flight
Paul Murphy 66-70-70—206
Gary Wigington 74-66-68—208
Chris Hummel 70-70-71—211
Brennan Clay 70-66-78—214
Michael Rich 70-71-73—214
Corey Ray 70-71-73—214
Dane Moore 68-73-74—215
Richard Douglas 72-69-74—215
Jody Wooten 74-68-73—215
Sam Audia 72-70-76—218
Randy Lipscomb 70-73-76—219
Championship B
Chad Calvert 74-70-71—215
Tanner Roberts 76-68-71—215
Shawn Ledbetter 69-76-72—217
Carter Goodwin 76-71-71—218
Ty Cole 74-70-75—219
Max Basler 69-79-73—221
Harrison Hughston 71-75-78—224
Alan Smedley 76-71-77—224
Jake Goggans 74-73-81—228
Clay Calkins 74-75-79—228
Luke Armstrong 73-76-80—229
Drew Anderton 72-77-81—230

Championship C
Frank Brady 74-78-72—224
Corbin Holland 75-78-75—228
Mason Dennis 76-75-79—230
Tanner Wells 74-79-78—231
Matt Rogers 76-77-79—232
Morgan Cunningham 70-81-82—233
Ryan Limbaugh 76-77-80—233
Braden Lovely 75-82-77—234
Jackson Stephens 75-82-77—234
Logan McCracken 74-83-80—237
Chandler Richards 73-77-87—237
Charlie Smith 76-80-83—239
Daniel Black 75-85-80—240
First flight
Jeremy McGatha 70-71–141
Chris Cox 71-70–141
Scott Smith 72-69–141
Will Manuel 70-72–142
Matthew Bennett 71-72–143
Sam Bone 72-71–143
Chad Hare 68-78–146
Richard Schmidt 72-75–147
Trey Rouse 71-78–149
Jason Britton 72-79–151
Blake Grisham 71-84–155
Second flight
Chris Leonhardt 73-71–144
Chase Hollingsworth 73-74–147
Ryan Huff 73-77–150
Blake Gilchrist 73-77–150
William Kirkland 75-75–150
Josh Ashley 75-77–152
Casey Harmon 73-80–153
Clayton Chandler 75-78–153
David Kyatt 75-80–155
Jeff Chapman 75-80–155
Third flight
Norman Clifton 76-72–148
Austin Smith 79-74–153
Timmy Woodard 79-74–153
Chris Messer 78-78–156
Jared Waits 79-77–156
Bumper Jones 78-79–157
Matt Greer 77-81–158
Steve Cantrell 79-81–160
Mark Dillard 76-85–161
Patrick Cooper 79-85–164
Ted Heim 79-86–165
Mason Aulsbrook 76-89–165
Kevin Third 78-90–168
Fourth flight
Cameron McCareeth 80-77–157
Will Brown 82-75–157
Ernie Blankenship 80-78–158
Cain Hollingsworth 82-77–159
Chase Thomas 82-81–163
Graham Morrow 81-84–165
Donnie Sutton 84-82–166
Chuck Brand 82-85–167
Drew Steele 84-85–169
Joseph Zieman 84-85–169
Jake Pennington 83-93–176
Fifth flight
Steve Davis 87-80–167
Tyler Dobson 86-82–168
Greg Hare 89-84–173
Kenny Fulmer 85-91–176
Dre Davenport 92-84–176
Justin Goree 86-91–177
Danny Owens 89-89–178
Mike Lett 92-86–178
John Lindsey 91-88–179
Trey Stone 97-84–181
Dustin Tucker 98-83–181
Scott Jimmerson 105-92–197
Dale Owens 94-WD
Jordan Means 106-WD
Senior flight
Jimmy Jones 76-73–149
David Lipscomb 78-83–161
Paul Gore 80-86–166
Bill Rhea 93-92–185