A look back – White Plains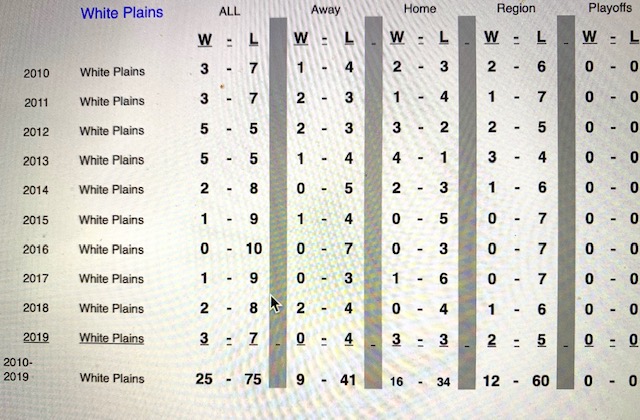 EDITOR'S NOTE: The coronavirus pandemic has turned our world upside down these past few months and the absence of sports has been tough on avid sports fans. We can only hope the football seasons can go off as scheduled this fall. As we wait, there has been plenty of time to reflect on high school football in Calhoun County.

The following is part of a 14-part series compiled by East Alabama Sports Today contributor Brant Locklier that looks back on the past decade of football for each of the 13 county football-playing schools. The 2020 season that may or may not be will be center stage for the first time at the Calhoun County QB Club Media Day July 24.

Special thanks goes to Ashleigh Jackson, who keyed in all the scores and the website, "The History of Alabama High School Football," for their information.

White Plains – Hungry for Success
Summary: Robertson Field is a great place to watch a football game. The loyal Wildcat fans fill up the stadium, the smell of barbeque fills the air and the fans are cheering on their team and having a blast. The fans are hungry for a winner at White Plains. The last decade was frustrating from a win standpoint as they posted a record of 25-75 and no play-off appearances.

After a 5-5 season in 2013, it looked as if the Wildcats were poised to break out and put together a string of successful seasons, but coach Heath Harmon left and the next four years would only see four wins in 40 games.

There is hope, however, as in the last three years the Wildcats have increased their win totals by one a season and ended up 3-7 in 2019 under first-year head coach Chandler Tyree. Tyree did a remarkable job of getting his team organized after becoming the coach only a few days before the fall camp opened up.

High Point: The Wildcats reeled off three straight wins to end the 2011 season and opened the 2012 season with a win. Four straight wins. There had to be some dancing in the stands. Another high point was when a winless Wildcat team ended their 24-game losing streak with an 18-0 upset of Wellborn in the last game of the 2017 season. Wellborn won the previous year 62-13.

Low Point: The week before the Wellborn upset in 2017, the Wildcats dropped their 24th straight game in a tough 26-20 loss to Ashville and with Wellborn coming up the next week it felt like rock bottom for the Wildcats. Head Coach Chris White pulled his team together and they got the season ending win against Wellborn to avoid back-to-back winless seasons.

Home Record: White Plains was a much better home team during the decade as it went 16-34, including a 3-3 record in 2019. The 2013 team was 4-1 at home for the best season record of the decade. The wins were over Ohatchee, Weaver, Ashville and Susan Moore. The only loss was 24-12 against Glencoe. The Wildcats won their last three home games by a combined score of 121-38.

Away Record: The Wildcats were 9-41 on the road in the decade. Four times they were winless on the road for the season, which included an 0-4 mark in 2019. The 2011 and 2012 teams posted 2-3 marks and were the best in the decade

Play-Offs: The only play-off appearance ever at White Plains came in 1994 when the Wildcats lost a 23-21 decision to Red Bay after posting a 9-1 regular season record. Teams like Anniston, Handley, Munford, Cherokee County and Jacksonville stand in their way of a play-off appearance in 2020.

Streaks: The decade had a 24-game losing streak and a 16-game region losing streak, but there was a four-game win streak against Ohatchee in the early part of the decade. The last three consecutive years their win totals as well as the offense has improved. The offense averaged 12 points a game in 2016 and 24 points a game in 2019.

Coaches: Four head coaches walked the sidelines in the decade. Heath Harmon (16-24) started the decade. Larry Strain (2-8) followed Harmon for a year and he was followed by Chris White (4-36) and Chandler Tyree (3-7).

Players: Two players received All-State recognition in 2019, which may be another sign that the program is about to emerge. Defensive lineman Will Osteen was a second team selection and Jaden Harris was an Honorable Mention selection. In 2018 Ethan Bozart was a second team selection at linebacker.

Toughest Opponent: Three teams loomed large on the Wildcat schedule in the decade. Most teams in the state would not want to see these teams on their schedule. Saks was 8-0 against White Plains, while Jacksonville and Piedmont were 4-0.

Easiest Opponent: The Wildcats defeated county rival Ohatchee and Pleasant Valley 4 times each. They ended the decade 4-4 against Ohatchee and 4-2 against Pleasant Valley. They were 4-6 against Ashville, the only team they played all ten years of the decade. They were 2-0 against Vincent and J.B. Pennington.

Best Offense: I am going to have to give the best offensive team to the 2013 team that averaged 25 points a game. They averaged 39 points a game over their last 4 games, while winning three of them. The 2019 was slightly behind them in scoring and the 2010 team was the only other team over 20 points a game as they averaged 22.1 for the season.

Best Defense: The best defense goes to the 2012 team, who only gave up 23.4 points a game. The second-best defense of the decade belongs to the 2018 team, which allowed 25.5 points a game. Even though their record was 2-8, they lost four games by a combined total of 20 points and with a break or two could have been 6-4.

Best Team: It is a toss-up between the 2012 and 2013 teams for the best Wildcat team of the decade. Both teams posted 5-5 records, but the 2013 team finished strong with a 50-26 win over Susan Moore and a 36- 0 win over Collinsville. They won three of their last four games in both seasons, but we will give the nod to the 2013 team, who was only outscored by 7 points in the whole season.

2020 White Plains Schedule
(Pre-pandemic, opponent 2019 record in parenthesis)
Aug. 21 vs Ranburne (10-2)
Aug. 28 – at Donoho (10-2)
Sept. 4 – at Cleburne Co. (2-8)
Sept. 11 – vs Jacksonville (12-3)
Sept. 18 – at Cherokee Co. (6-4)
Sept. 25 – at Elmore Co. (2-8)
Oct. 2 – Anniston (9-5)
Oct. 9 – Open
Oct. 16 – Munford (5-5)
Oct. 23 – Handley (7-5)
Oct. 30 – Pleasant Valley (5-5)