Finding history
Pandemic spring cleaning uncovers treasure trove of signed softballs from Alexandria's 2004 state championship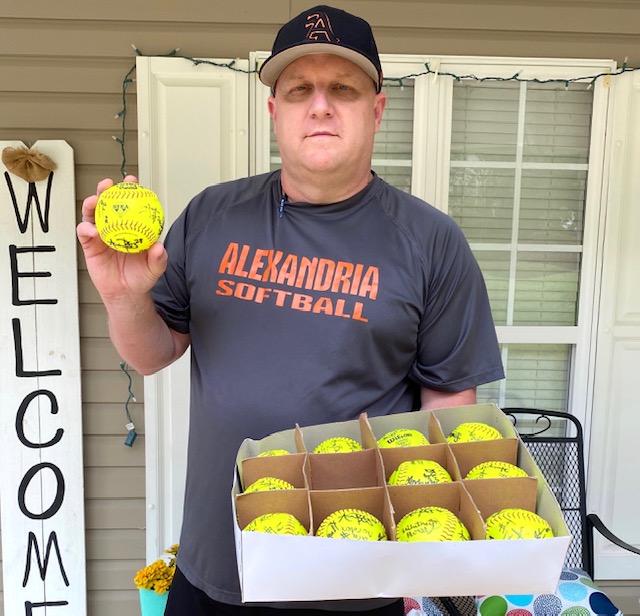 By Al Muskewitz
East Alabama Sports Today

You'd be surprised at some of the things you'll find cleaning out the garage. Alexandria softball coach Brian Hess sure was.

Suddenly finding himself with a lot of time on his hands due to the coronavirus pandemic that has shut down schools and ended sports since March, Hess went to work cleaning out a storage building on his parents' property across from Lou Scales Stadium when he came across a lost piece of Valley Cubs history.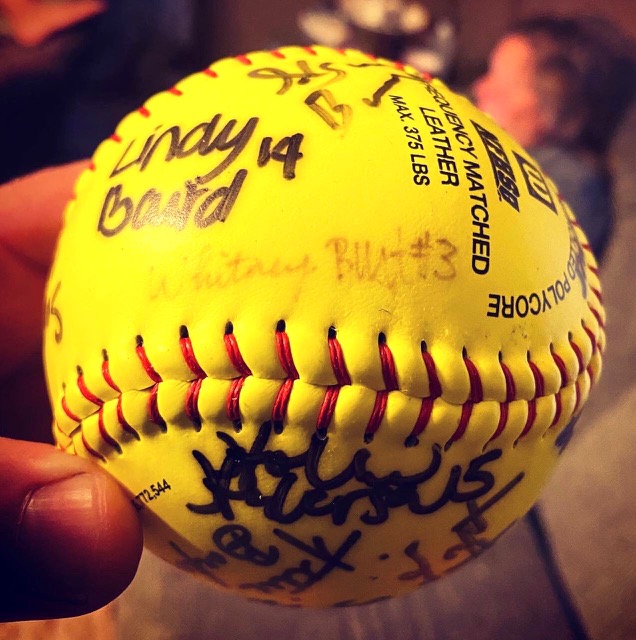 What he thought was going to be simply cleaning out some old Christmas decorations yielded a carton of signed softballs dating back to the program's first state championship in 2004.
 
Hess didn't know what he was going to find when he started the project, but when he swung open the door he immediately knew it wasn't going to be an easy task.
 
Working through the boxes of Christmas ornaments cleared a path to a bunch of filing cabinets. Looking over to see just how far the boxes extended he spotted it:

There, on a shelf along a back wall, was a box of brand new Wilson softballs.

His first thought was had he somehow forgotten about a bunch of new balls he could have used for the season. Then he opened the box and it revealed a treasure.
 
It was a dozen yellow Wilsons, every one signed by the team's 11 players right after they won the 2004 state championship, original Sharpie included. Historic Alexandria gold.
 
"When I opened it up one of my kids was standing there and they were shocked because my mouth just kind of dropped; oh, my gosh, I didn't even know they were in here," Hess said. "We had stuff in a burn pile, we had stuff we were giving away. I called my wife and said put this off to the side. I'm going to take this home and make sure all the stuff is on there. All 12 balls had every one of the signatures on it.
 
"I remember those being signed, but I don't know if they were supposed to be given to somebody or what and for whatever reason they didn't get them and we just put them in that building back there. Like I said, when I opened it up I was shocked. I did not expect to see anything like that. How in the world a box of softballs that's got all these kids' names on it got in a Christmas decoration building?"
 
Once he authenticated the find he put it out on his Facebook page. It took all of about four hours for the players to claim the lot.
 
"I told my wife if those players knew they were here I think they'll want them," Hess said. "I think it brought back lot of good memories for those kids. For them to claim them that quick, I think it was something they could have to remember how it all really got started."
 
The 2004 Lady Cubs loved to play and they loved to play together. They went 52-16 during the championship season, beat Gulf Shores in the title game 7-0 and had one memorable stretch in which they played 24 games in eight days. Amy Brown pitched 46 of the 68 games.
 
"(Finding those softballs) definitely brought a smile to my face because those were some good times," said Brown, now a surgical technician in Northwest Georgia. "That was such a special team. We were all friends and a lot of us from that teams remained friends. We had a whole community around us, people followed us here and there, we had so many people turn out. It's weird he found it in this time when everybody's trying to come together and help everybody else. It was cool he found them."
 
They were anchored by four seniors who were sophomores when Hess was hired to transition the program from slow pitch to fast-pitch – Whitney (Burt) Welch, Holly (Henderson) McReynolds, Stevie (Smith) Jones and Brown. Sara Borders, who went on to become one of the Lady Cubs' and JSU's all-time greats, was the team's bat girl. 
 
"It was a really good team" said Welch, now the Lady Cubs' volleyball coach. "One of the things about that team is we had to transition from slow pitch to fast pitch. The whole team had to do that and to me that was hard. My tenth-grade year was our first to play fast pitch. We did a lot of cool things. It was fun."
 
Hess said he'd take a day soon to get the softballs to his former players. The 12th ball will wind up in the school trophy case.
 
"They were all excited about it," Hess said. "One of them said I want to show my kids as they get older that their mom was part of something that was great. Some of them live out of town and they were like get it to my parents because they're the ones who are going to want it anyway. We'll get it to them. I told my wife last night I'm glad I can get them to really where they're supposed to be."